eventeen days—as of this writing—into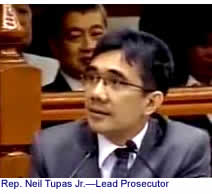 what had been billed as the impeachment trial to watch has turned out to be more like a daytime soap opera with a bad cast of characters. Here are our impressions of some of the major personalities involved in this ongoing televised spectacle.
Rep. Neil Tupas Jr.—Lead Prosecutor: Representative Tupas heads the House Judiciary Committee and has made himself the face of the Prosecution panel and although he may have all the necessary qualifications to lead the team he just doesn't look or sound the part. For starters, he looks like a law school undergraduate instead of a seasoned lawyer. His looks, his hairstyle and his courtroom demeanor all scream "adolescent" and then the inescapable question: "Are we letting this kid litigate our case?" Whenever Tupas speaks, he does further damage to the Prosecution, no matter what he says. His voice is too tiny, weak and acquiescing. In this televised impeachment trial where form is about as important as substance, Tupas just does not cut it—sadly. The other members of the court see this and walk all over Tupas and his team with impunity, and elicit barely a pip of protest from them.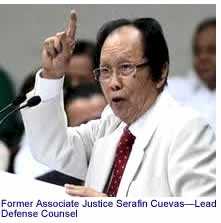 Former Associate Justice Serafin Cuevas—Lead Defense Counsel: Justice Cuevas is "the" lawyer you'd want to have defending you in court. He's annoying, he looks old and crabby, but he is a fierce defender of his client's rights and he knows the law like he knows the back of his hand. He pushes hard until he is called on it and made to stop. Cuevas seems to have endeared himself to the viewing public primarily because of his novelty. There just hasn't been anyone like him since Pugo (also popularly known as Mang Nano)—a cantankerous old man with a sharp mind and a quick retort. Many viewers hope that this heralds the start of Cuevas's second career as a media personality.
Senator Miriam Defensor-Santiago—Senator-Judge: Again we focus our attention on Senator Santiago because she has such an abrasive personality. Her grandstanding before the cameras by lecturing, browbeating, and on occasion giving 'pop quizzes' to the prosecution during the course of the trial has endeared her to no one but herself. The sight of her on the lectern is a signal for viewers to head to the bathroom, make a cup of coffee, or go online and tweet about the trial. When she finally departs for the ICC, many will breathe a collective sigh of relief.
Senate President Juan Ponce Enrile—Presiding Officer: Given Enrile's colorful past, some sectors bore initial reservations on whether the Senate President should even be allowed to adjudicate in any court. But in the days since, Enrile has proved himself as fair-minded, even-handed,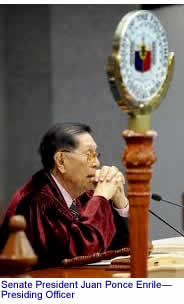 and even now at 88 years of age, a person with a first-rate legal mind. However, his advanced age also seems to have taken some toll. He sometimes seems hard at hearing and occasionally misunderstands the answers given by witnesses. He also appears reluctant to 'rein in' his fellow Senator-Judges for un-judgelike behavior and allows them to prattle-on well beyond their two-minute time limit. Overall, Enrile appears to be doing a good job, but a cup of espresso or a can of Red Bull might help to move things along at a faster clip.
Overall, our impeachment court TV drama doesn't seem ready for prime-time, and in reality falls far short when compared to televised proceedings of similar importance in other countries. And we believe, as Congressman Rudy Farinas had mentioned in one of his manifestations to the court, something is lost in translation. And since we Filipinos are not native English speakers, the trial might go more smoothly if everyone just spoke in Pilipino—like Senator-Judge Lito Lapid has suggested. Everyone would clearly understand what the other person is saying or asking, there would be less befuddlement, and no more groping for English words to translate from Pilipino. For the millions of TV and online viewers, that might just give the trial that missing element that would make it compelling to watch. Published 2/15/2012

Saved Comments
Name: James
City/State/Country: Pilipinas
IP Address: 112.198.82.215

Comments
Instead of criticizing the Prosecution Lawyer and commending the Defense Lawyer and Senator Judges & the Presiding Judge Senator; It would be much better, to suggest how to improve the Impeachment Trial in the future, by enumerating solution to problems that the current Impeachment Trial is facing. Such as, How you persecute Judges, SC Justices with too much pride; The Dollar/hidden accounts; Laws that will govern Impeachment Trials, including handling and presenting evidences and testimonies; Anyway, The Impeachment Trial of CJ Corona is much better, than those Trials on Saddam and Mubarak!
---
Name: HMS
City/State/Country: New York NY
IP Address: 67.241.96.149

Comments
The Saga Continues: An obviously Incompetent group of Congressmen trying to impeach an obviously Rotten and Corrupt Chief Justice before an obviously Self-serving bunch of Senators. "It's more fun in the Philippines".
---
Name: WDC
City/State/Country: California
IP Address: 64.160.201.46

Comments
We are seeing now what kind of lawmakers we have in the Philippines-bunch of morons. They don't deserve even a peso for their labors.
---
Name: Benjie
City/State/Country: Canada
IP Address: 76.10.163.206

Comments
Nothing will come out of it, what else is new? It's like a circus. Whenever I need a few laughs I read articles like this, just like watching cartoons.
---
Name: crisostomo ibarra
City/State/Country: alahsa, saudi arabia
IP Address: 78.93.229.5

Comments
To all foreign BIG time drug lords, gun runners, money launderers, bank robbers, kidnap for ransom, smugglers, corrupt leaders and others - welcome to the Philippines banking system because its MORE FUN to do it in our land and it is only in the Philippines that everything is possible. Bring it on whatever you had in our land of croc's, leeches, vultures, sychopants, liars and deceits where your money is absolutely safe & protected by our constitution & assured by our supreme court to fight & defend your right of secrecy even its obviously wrong just to follow the law crafted by our law maker, breaker & misinterpreter. Ignore Swiss banks, you are more absolutely safer in our banks backs by supreme court CJ & his cohorts with zero wisdom but whom you can trust. What you are waiting for?
---
Name: blumntrit
City/State/Country: Det. Don Cuevas
IP Address: 174.44.5.202

Comments
White suit wearing atty Cuevas must be tired. He needs to relax and take a good rest or vacation. Come to Miami, detective Don Johnson of Miami vice might need you to be his double. Leave Corona, his impeachment episode will take a long time and pro bono that's a no no. Do yourself a favor ka apin, tell him you need to spend also for dry cleaning that white suit.
---
Name: Kanada
City/State/Country: Kanada
IP Address: 99.226.123.71

Comments
After watching the Prosecution state their case and the bogus accusations despite the laughable excuses they make, stating Corona has 45 properties on TV with the media then later denying they were the ones who announced this revelation, then the "small little lady" but could not be seen on CCTV, even the witness PS Bank Branch manager says the bank record copies are fake, I only have to say that this is what describes these people and their followers who believe their BS -->
---
Name: Edward
City/State/Country: Angeles City
IP Address: 203.87.152.50

Comments
Only in the PI, where crooks pass laws so they can steal money and get away with it. You people are always crack me up.
---
Name: jab
City/State/Country: urbiztondo
IP Address: 121.54.54.37

Comments
The stupid congressman prosecutors are being bad lime-lighted again for fishing document illegally. You cannot fool the learned silent minority. Masa is bent on ignoring the rule of law and rights of others just to get the head of those they hate. This is the hard base of Aquino that is why he has the guts to pursue his vengeance by all means. Stupid masa... I say it again.
---
Name: A. Poli
City/State/Country: Anywhere
IP Address: 70.74.177.252

Comments
Oh ano ito? The PS bank manager admitting the bank document used by Umali and Tupas are fake! Unbelievable stupidity. Or deliberate misleading by the prosecution. I told you guys, people are being deceived in this impeachment of the CJ.
---
Name: GFJBHEDF
City/State/Country: Hercules
IP Address: 67.188.19.40

Comments
Once CJ Corona was accused by prosecution of owning 45 separate properties, which dwindled to half that number and still dwindling. Once there were 8 articles of impeachment. Now, prosecution said it may do away with 7, and just hang around with article II. They presented document purporting $700,000.00 deposit of the CJ. Document turned out to be fake. Prosecution Umali said document was handed to him by a "little lady" on the senate grounds/premises. Monitoring senate ground cameras showed no such thing happened from the time Umali arrived in the senate till he left. What will these poopsies try/do next?
---
Name: 220 Lange
City/State/Country: NY
IP Address: 166.137.137.198

Comments
Make no bones about it. The whole impeachment proceeding is a huge circus at taxpayers' expense. You've got a ring master, a barker, acrobatic artists, lion tamers, and human freaks. Everyone gets a big laugh for all it's worth.
---
Name: HMS
City/State/Country: New York, NY
IP Address: 67.241.96.149

Comments
PNL is so right! The only way to put up with this whole sorry spectacle is to be sarcastic. Otherwise I would vomit uncontrollably. Look at Miriam. There's only one thing wrong with her face - it shows! Neil Tupas is OK. He is just excessively stupid and therefore hopelessly incompetent. The Senator-Judges should not be faulted for their partiality. They are merely protecting their political interests. Corona and his masters, the Arroyos just happen to be the current amusements. Nothing will happen to them. Soon they will be forgotten. And the Filipino people? Well, they get the government they deserve.
---
Name: Lord Gago
City/State/Country: Chicago
IP Address: 209.129.16.80

Comments
Impeachment trial in Pinas is as alien as ET; it has no precedence in this country's judicial system, and no one in high office has been convicted of high crimes and misdemeanors; all are above and beyond the reach of the laws of the land. What's unfolding before our blurry eyes is theatrics and grandstanding among themselves; lawyers, politicians, media members who lack true grit to write a brave journalistic expose about anyone for fear of reprisal. Since the proceedings are English spoken, Pinas style, outsiders can't comprehend their utterances. Pinas people English are lost in translation; only they can understand; other English speakers can't. So impeachment might as well be called Showtime.
---
Name: deo
City/State/Country: flour city
IP Address: 66.66.170.77

Comments
Yes, the impeachment trial going on in RP is fun indeed! That to the observers around the world. These observers, I reckoned, are learning how not to do an impeachment trial, Philippine style.
---
Name: Phil Researcher
City/State/Country: LA County, CA USA
IP Address: 98.119.17.19

Comments
RE: The good thing about this Impeachment...If anything comes out of this proceedings , is that the public now is very much aware where the money is coming from in these "big cases".. the large law firms charge their clients by the hour .. in the 21st century, of course there are some law firms which charge..New York rates for lawyers.. so the Justices of the Court of Appeals and the SC know how much the private lawyers are making... they take advantage when a TRO is coming, there is I believe a going rate for TROs even in the Regional trial court.. Not all judges are corrupt, though some are and practicing lawyers know who they are.
---
Name: Carlos1
City/State/Country: NJ
IP Address: 136.166.251.100

Comments
Philippine laws are designed for personal gain. That will protect them from from being sued. The good laws are stuck in arguments and would never be passed because 99% would be placed in jail.
---
Name: Fear dot
City/State/Country: Fl.
IP Address: 98.82.108.146

Comments
Si Sen. Miriam Defensor Santiago may katok sa ulo. Naku nakakahiya Ito pag punta sa Haigue sa mga antics.
---
Name: OSS
City/State/Country: Ca. usa
IP Address: 112.202.28.108

Comments
It's just a waste of time and money to watch both the defense and prosecution team argue who's the better bullshitter. I thought it would be fun but it has become boring. What a waste and for what?
---
Name: John B.
City/State/Country: Sherman Oaks. Ca,US
IP Address: 76.216.152.14

Comments
If the whole exercise of the Impeachment trial is to depose corruption and impose liability and accountability on "dirty" officials in high government...why are there still a Marcos or an Estrada or a Lacson etc. sitting as 'respected' Senator judges adjudicating the trial. I am still hopeful for a true and legitimate democracy in our Philippines, but I don't think I will see it in my lifetime!
---
Name: lee buyagan
City/State/Country: k.s.a
IP Address: 94.97.96.187

Comments
The impeachment is a huge failure for the common Filipino people if Corona will be acquitted despite the fact of concrete evidences proving that he is guilty. It is just the start of catching a bigger fish but still a failure and how about the biggest one and the rest? My advice to some senator-judges especially Enrile and Cuevas: Kung hindi taon ay buwan na lang ang natitirang ilalagi ninyo sa ibabaw ng lupa, ano ba ang naitulong ninyo sa sambayanang Pilipino?
---
Name: Vanessa Lee
City/State/Country: Kuwait
IP Address: 94.128.158.204

Comments
I accede PNL's remarks regarding major personalities involved in the impeachment. I still have high hope it will have a meaningful conclusion notwithstanding all this mockery, fun happen in the court. Too many technicalities, too many hurdles including former Associate justice Cuevas' creation - to quit the impeachment in exchange to retain Gatdula's position, the muddles created by the defense panel with regard to 100M bribe to senators –all but just a mere strategies of the defense panel to delay the proceedings. Corona's deposit accounts movement as shown by PS Bank reflects a cloudy scenario, the mere fact he cleared his account the same day of his impeachment only gives the impression the money per se obtained from fraud.
---
Name: 1 UP
City/State/Country: GOTHAM CITY
IP Address: 74.101.61.3

Comments
The lack of or absence of interest in the ongoing impeachment process by the people inn the Philippines could be explained by watching a bad movie. The script was terrible, the actors did not remember their lines, and the director was misdirecting, unable to connect scene #20 with scene #1. Philippine audience are fascinated watching and listening to salacious testimonies of Hayden Kho and Katrina Halili more than purging the country of bad judges. If you take away Miriam out of the conversation, the impeachment becomes boring.
---
Name: 1 UP
City/State/Country: GOTHAM CITY
IP Address: 74.101.61.3

Comments
When someone refuses to allow anyone to look at that person's banking activities, that person is hiding something. These a must be some human remains like bones in that person's closet. Corona, as I have posted before, has more than bones in that grave. As reported in the papers, the bank deposits of Corona with different banks were closed before the impeachment notice. That is easy to read. Erase the paper trail. Even if the accounts were closed, the electronic fingerprints are still there. If the banks destroyed them intentionally, that would constitute as obstruction of justice. Issue SUBPOENA, SUBPOENA, SUBPOENA DUCES TECUM to the bank president and bank manager. Come on prosecutors, use your freaking brains! Hello, are you there?
---
Name: blumntrit
City/State/Country: He knows well
IP Address: 174.44.5.202

Comments
Judge Bongbong still silent. They need to hear from you with regards to ill gotten wealth. Someone on Reissas blog says you and family are experts on this subject. Please enlighten your fellow senators - yah..you surely are more knowledgeable on this topic. Go bong you can do it- don't be bashful. This IC circus is getting fun & better - more popcorn pls.
---
Name: WDC
City/State/Country: California
IP Address: 75.38.75.34

Comments
This impeachment is unprecedented in the Philippines and it will be a history that we Filipinos will never forget for many years. We should make a "HALL OF MORONS" in the Philippine Congress so that our next Filipino generations will never forget that the year 2012 is the year of the MORONS in the Philippines. The Filipino people deserved also to celebrate a "Morons Holiday" every year.
---
Name: blumntrit
City/State/Country: Go 4D underdog
IP Address: 174.44.5.202

Comments
["Are we letting this kid litigate our case?"] Kid Tupaz is doing fine. He's the prosecution team offense lineman taking all the bruises for now, even tho' small/tiny and looks weak or freshly recruited from college, you have to expect some fumbles here and there. 17th days of training and facing the old league court is not good enough yet for him to make a touchdown. Just be patient, if the defense (lawyers) lose their balls, you'll be surprise kid Tupaz will be doing the salsa all day long with the rest of us.
---
Name: HMS
City/State/Country: New York, NY
IP Address: 67.241.96.149

Comments
Neil Tupas reminds me of Alfred E. Neuman. Alfred is Mad Magazine's Poster Boy. He's got this permanent idiotic smile on his face and a gap between his teeth and says' "What, me worry?. No wonder Miriam is so smitten with him. Tupas and Miriam. They go so well together like The Beauty and The Beast. Of course the Beauty is Tupas and Miriam the Beast. Cuevas is so old and so immaculately dressed he looks like he's all set to be buried. The glaring difference between him and the great comic Pugo is that Pugo makes people laugh, Cuevas makes people sick.
---
Name: 220 Lange
City/State/Country: NY
IP Address: 166.137.136.104

Comments
There are so many things worth lovin in the impeachment process per se and those who participate in the discussion. You got freaks, retards, morons, and all sorts of characters. Many call it salad; others call it potpourri . I am lovin it! It is more than fun than I thought.
---
Name: 1 UP
City/State/Country: GOTHAM CITY
IP Address: 74.101.61.3

Comments
The impeachment proceedings in the Senate is more than fun; it is hilarious. It is more amusing to read the comments of those participating in the discussion. Many hated Senator Miriam Santiago for her loquaciousness; Tony0 for his fearless defense of Corona because Corona had been denied of DUE PROCESS and the impression of the rest that the impeachment was a waste of time that is going going no where. To me, everything in the impeachment of dishonorable Corona is an alternative form of entertainment surpassing the movies (that could earn an Oscar) and watching fake DVD's without being caught!
---
Name: HMS
City/State/Country: New York NY
IP Address: 67.241.96.149

Comments
ENGLISH. Filipinos seem to think that English is the be-all, end-all medium of communication. That a filipino who does not speak English is ignorant, uneducated, low class, etc. This goes to show that despite the passage of time filipinos are still colonial. Go to Paris. Ask a Frenchman for directions in English and watch their look of disapproval. Why can't Filipinos be allowed to communicate in their own country in a language that can best express their thoughts, their wit, their intelligence. It's just baffling. Corny though it may sound Balagtas is right, "Ang taong hindi marunong magmahal sa sariling wika ay masahol pa sa malansang isda."
---
Name: MARNY V
City/State/Country: 'PNL'-Puno Ng Lumbay
IP Address: 76.117.48.33

Comments
'The Devil Wears Prada', but gave Corona Louis Vuitton: This trial catches the attention beyond PH delight. The low key midnight appointee, now an everyday sensation, is catching fire. Even the devil himself was caught unaware bc he's expecting GMA, Abalos, Mrs. Lapid, etc, but not CJ. All is well & done. The devil reserves Corona a special place, not among the other corrupt politicians. Just like in prison, GMA is secluded fr the rest. It continues to amaze diablo & particularly his followers fr 'PNL', on his watchlist (TRO is obsolete), hala! And oh, the LV suitcase is for the untouchable PS Bank dollars that can be transported directly to hell... To hell w/ the impeachment trial, Knicks is Lintastik and more fun!
---
Name: kali
City/State/Country: Hawaii
IP Address: 66.91.35.33

Comments
Blumntrit; " Kid Tupaz is doing fine. He's the prosecution team offense lineman taking all the bruises for now, Just be patient, if the defense (lawyers) lose their balls, you'll be surprise kid Tupaz will be doing the salsa all day long with the rest of us". Hahaha, but Kid Penoy not patient, can't wait, he ran before hut hut hut was called, so he is foul, the ref called him back. I want to salsa already but if Penoy keep on fouling, salsa will just be a dream. Underdog will win.
---
Name: Aiota Capli
City/State/Country: Inland Empire
IP Address: 173.55.209.57

Comments
Oh, so this is an impeachment trial in The Philippines? All along I keep pinching myself because I thought this is a televised form of an initiation right of some sort or sorority or fraternity thing or brotherhood, sisterhood thing for legal eagles. They scold, they get angry, they wink, they laugh, they torture, they get verbally abusive and no one seems to win my trust. Fun? Who are they kidding?
---
Name: Eulogio
City/State/Country: Lake Charles
IP Address: 71.252.169.169

Comments
Did the Constitution intend the Impeachment to be conducted like a court hearing? What if all the senators are not lawyers? Can they just use common sense in deciding the veracity of the evidences presented?
---
Name: Paco Sa Cruz
City/State/Country: paking
IP Address: 113.170.208.74

Comments
The impeachment trial is a big circus with so many clowns. After all the formalities and comedies, the senator-judges will vote according to how it will benefit them and (most probably) not based on the merits of the case. Simply because these are politicians and being so, personal interest comes first before the welfare of the people. The impeachment trial is a window that is slowly showing the dark side of the CJ and the bunch of unqualified lawmakers acting as senator-judges. What a circus indeed!
---
Name: Steve R
City/State/Country: California
IP Address: 98.234.19.64

Comments
I hope CJ Corona is not gonna do a repeat of his sobbing episode while getting a hug from his wife who could be the world record holder of the most jobs (5) held in one company in the same year. It would be gross if next time, CJ will actually shed droplets of tears unless the CJ adopts a name Lolong. Then people could call his tears crocodile tears. Anticipation of a guilty verdict would make someone cry. Reopening bank accounts with initial balance in millions could become problematic. Well, defense lawyers have their work 'cut out' for them coz as reported they'll have to explain where CJ Corona's opening balance came from and why the Chief's SALN had a recorded P3.5 mil in 2010 but as reported at the end of 2010 3 bank accounts of Corona had a balance of P31 million.
---
Name: Phil Researcher
City/State/Country: LA County, Ca USA
IP Address: 98.119.17.19

Comments
Re: Some Posters here are writing that Pnoy should also show his SALN. Are you confused or what? There is only one person that is being impeached in this proceedings no other than CJ Renato "cash advance" Corona . The Pnoy is not the subject of impeachment why should he show his SALN. It was CJ Corona who in fact challenged the President to submit his SALN.. Mr. Corona has all that money blinded you.. You are the respondent here..Hindi ako magnanakaw. But please don't open my bank accounts especially the dollar ones. See now how foolish you sound.
---
Name: 220 Lange
City/State/Country: NY
IP Address: 166.137.137.56

Comments
The TRO is the most abused order used by Corona's Court. The court is using it for favored clients. It was given as a gift to both Gloria and Corona.
---
Name: MARNY V
City/State/Country: Corona is fun
IP Address: 76.117.48.33

Comments
Guilty verdict brings more fun in the Philippines: When the impeachment trial ends, the whole world will start to respect us. In a country that is branded as corrupt, true justice could still prevail against all odds. Look at my NAIA & LTO experience now & then; that is a good example of how people could change overnight. But, a not guilty verdict will mean proceed w/ graft & corruption(tuloy ang ligaya pangungurakot). All those senator-judges who will vote to convict will definitely be re-elected if not be the future President. So a truly enjoyable & more fun in the PHL begins !
---
Name: mockingmaya
City/State/Country: taft avenue, manila
IP Address: 67.182.75.243

Comments
Of course, it is more fun to watch the Senate impeachment trial of SC Chief Justice Corona because it "mirrors the fools & lost readers." Again, some critics like Arisophanes & 1UP will invoke " I am a scholar of Ateneo University or I graduated from Harvard University & you can't beat me." Baloney! In fact, a good, decent & dignified educated man will not abandon his ethical-moral views or principles about justice, law, democracy or politics per se "for handful of silver & just for a riband to stick in his coat." Indeed---it is more fun in the Senate impeachment trial because collective mediocrity & political change of heart are immense.
---
Name: LEE BUYAGAN LTB
City/State/Country: K.S.A
IP Address: 94.98.211.36

Comments
If Mr. Cerafin Cuevas did not successfully defend Mr. Corona, truly the impeachment is more fun because Mr. Lapid will convict Mr. Corona for sure. So it will be Cuevas vs. Lapid, what a big difference!
---
Name: 1 UP
City/State/Country: GOTHAM CITY
IP Address: 74.101.61.3

Comments
If it is fun reading the comments posted in this forum; it is even funnier watching the entire proceedings on TV (broadcast by TFC overseas) or in the halls of Congress. Everyone is trying hard to speak the English language with heavy accent and using high falutin legal terms in Latin which very few people understand. You begin to wonder how many "big" names in Philippine politics are acting in good faith or acting in front of TV cameras. TRYING HARD TALAGA as people usually say in the vernacular. Others see them as grandstanding (to impress onlookers)!
---