Most Filipinos believe they belong to a peaceful, fun loving, and gentle culture. The reality however is a bit more nuanced.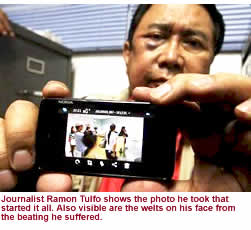 Sure, you get plenty of smiles and much acquiescence from those whose job it is to serve you. But beyond that, the Philippines of 2012 is a dog-eat-dog world. There is none of the gentility that one almost takes for granted in Europe and North America. In Manila people cut in line at cues, cut you off on roadways, barge into elevators before you can exit, avoid eye contact, and exhibit overall boorish behavior. And nowhere are these acts more prevalent than among the "privileged" class. Case in point is the assault on journalist Ramon Tulfo by movie celebrities Claudine Barretto and her husband Raymart Santiago. If one accepts their version of events, Tulfo who arrived from a Davao flight witnessed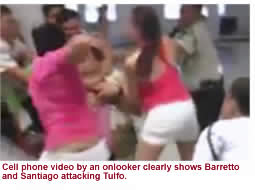 Barretto berating with an airline employee, pulled out his cell phone to photograph the commotion and then walked over to start attacking her. Such irrational behavior only happens in badly written Filipino movie scripts—something the couple may be more familiar with as actors than a journalist like Tulfo. The more likely scenario is that the couple attacked Tulfo after they saw him photograph Barretto as she was giving an airline staff member a severe dressing-down.
Sadly, such behavior is par for the course in the Philippines. The "upper" class always has its way with the lower classes. Even kids from families of modest wealth learn early on that maids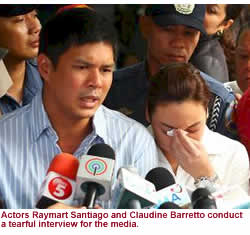 and other household help can be yelled at and bullied with little or no consequence. Filipinos eventually grow up showing little respect for those beneath them in society.
In Europe and America, even superstars put up with paparazzi that are way more dogged and intrusive but are not assaulted the way Tulfo was. In fact there ought to be a Philippine law that says that anyone has the right to take photos or videos in public places in the interest of transparency in society and government. Filipinos after all are far too secretive and way too authoritarian. Filipinos would rather sweep things under the rug and pretend a problem doesn't exist instead of facing it head-on and dealing with it. It's time Pinoys used their cell phone cameras to "tell it like it is."
What we'd also like to see is actual jail time for people like Barretto and Santiago to teach them, and all those like them a lesson that they won't easily forget. Published 5/12/2012
Saved Comments
Name: Phil Researcher
City/State/Country: LA County, Ca USA
IP Address: 98.119.17.19

Comments
Re: What we need to learn how to behave in public...Claudine Baretto's luggage was offloaded.. Maybe this is not the first time it happened to her? with that airline I don't really know But why do you put down other people. The person she was berating I'm sure was not responsible for the loss or mishandling the luggage. Ask for the form from the airline to be able to put your complaint formally. Being berated is not part of their job description. Ms Barretto it is time for you to apologize to that airline employee. You are not the queen. You only believe you are. OMG
---
Name: 1 UP
City/State/Country: GOTHAM CITY
IP Address: 207.38.182.120

Comments
The Thrilla in NAIA that involved Mon Tulfo, Claudine, Raymart and friends is a typical behavior seen in most people who have gotten fame and fortune. They have become abusive, arrogant and disrespectful of other people's rights. The public could not forget the LAX incident involving Senator Drillon's refusal to remove his shoes for security reasons prior to boarding on an international flight. Here comes the NAIA incident where Santiago resented Tulfo's action of taking photos of his wife Claudine berating a ground employee of the airline company on Tulfo's cell phone. Tulfo's action fall under public photography law and is part of the freedom of speech / expression.
---
Name: Vanessa Lee
City/State/Country: Kuwait
IP Address: 31.214.68.226

Comments
Not to be biased with Mr. Tulfo's side, the Santiagos were not supposed to react such incident in Airport. They should understand as journalist Mr. Tulfo has the right to record the unprofessional act of Barreto towards the airline's staff especially this incident happened in public. I agree with PNL, the authorities should not have second thought to castigate the couple - this will avoid repetition of the same in future.
---
Name: 1 UP
City/State/Country: GOTHAM CITY
IP Address: 207.38.182.120

Comments
continue.. If the Santiagos hate being seen in public, they should stay away from public places and remain in the safety of their private property where the privacy law applies. It is morally wrong on the part of the Santiagos to gang up and beat the crap out of Mon Tulfo.
---
Name: Manuel C. Diaz
City/State/Country: Antipolo City
IP Address: 180.191.218.27

Comments
The Santiago's are the aggressor. That is the problem with show biz people they behave like animals. There was a news worthy incident Claudine Barreto spilling her spleen on the ground crew of Cebu Pacific when Tulfo started filming the nasty incident the Santiago's resented the filming then tried to grad the cell phone of Tulfo then what ins-sued was a free for all the guards were inutile as usual.
---
Name: JRH
City/State/Country: Montreal, Canada
IP Address: 70.82.114.98

Comments
It's more fun boxing in the Phils, the land of champions & boxers-galore (amateurs & professionals) can join a bakbakan, suntukan, bugbugan, rumble, fisticuff, star-wars..whatever free of charge anytime esp on airports. So, who knows what really happened? The airport CCTV was non-functional & witnesses are reluctant to comment. Who do we believe.. from the statements from both camps? The cel phone photo might help but the unknown factor is still the crucial moment when the initial confrontation started. Who gave the first punch or kick? This is a sensationalized event for the media. Some shown on YouTube. Way to go.
---
Name: Bentong
City/State/Country: Corregidor
IP Address: 121.1.11.38

Comments
Filipino movies stars are typically have inflated egos. Movie producers just could not come up with movies worth watching. They produce arrogant spoiled brats no talent actors/actresses; nagkataong anak sila ng dyuhan "soytits" akala mo kung sino na silang umasta, but mind you, there are only two things they are good at; CRY and YELL! Good only for soap operas watched by the BAKYA CROWD. (atchays) Tsk tsk tsk...
---
Name: deo
City/State/Country: flour-flower city
IP Address: 74.65.9.69

Comments
Re these rich, famous and powerful people vs hoi poloi. The editorial says, the rich and famous and may I add the authorities daw, has always their will over the "mga anak ng pobreng oten". Or close to that. Of course, if you let them, they will walk all over you. Well, not on me. I'm probably successful on this because I always observed the "golden rule": Do unto others what others will do unto you but just be sure you do it to them first! especially when push turned to shove. Whatever. hehehehe.
---
Name: deo
City/State/Country: flour-flower city
IP Address: 74.65.9.69

Comments
Seriously, this Tulfo must have been acting like one of these paparazzi which some rich and famous (particularly in North America and Europe) are considered "pain in the ass". Tulfo may have video/ photographed the incident (the tongue-lashing given by the famous to a hoi poloi) because it was newsworthy, but the famous may have thought he is invading her/their "privacy" (although they really needed it in their profession) so they attacked him. Kayo mangyan! BTW, I guarantee you it always happened in the U.S.
---
Name: Shan
City/State/Country: Manila
IP Address: 112.210.8.45

Comments
I guess, the fault is all on the Santiago couple. How could this Claudine berate the ground airline personnel. They are very educated compared to this Claudine, who I learned is used to berating people. She should be brought to court.
---
Name: Ramon C. Balde
City/State/Country: Oxford, Michigan
IP Address: 76.238.193.2

Comments
Like I've been saying all along - 98% chimp DNA and 2% human DNA. Observe a chimpanzee society, the weak is always bullied by the strong. Really, I wouldn't mind China bombing this habitat. Then the US steps in and it's an all-out war. This will probably WAKE US UP! War, in this case, would do more good than harm in this unbearable society and misleading culture. Apparently, God has left the building.
---
Name: EDWARD
City/State/Country: LV/Angeles City
IP Address: 121.1.11.38

Comments
These movie stars kuno, should understand that the public viewers are the people who put them on the pedestal. They should refrain from being arrogant, instead they should serve as role models for the young generation. This barbaric behavior can only engender a bad reputation for Filipinos, it also will set a default for future copycat stars. Truthfully, I do not give a hoot because I don't watch Filipino movies anyway. He he he...These bad personalities will never win my respect. Tsk tsk tsk...
---
Name: Paco Sa Cruz
City/State/Country: Vietnam
IP Address: 113.170.211.47

Comments
Blame ourselves, because we treat celebrities like Gods and vote for them in politics. People ignore that most of these celebrities are unqualified for the positions they are voted for and we suffer the consequence. Barretto and Santiago are adored everywhere they go because of their good looks and probably thought they can berate and smash anyone that comes across their path. People in the entertainment industry are generally immoral, self-centered and thick faced. They have the nerve to run for a position in the government even if they are not qualified. Barreto and Santiago are typical examples of the arrogant people in the entertainment world. These type of people do not deserve to be adored and respected...much less, voted in the government. Wake-up Philippines!
---
Name: alicia
City/State/Country: canada
IP Address: 99.229.134.208

Comments
Why blame the Santiagos? How about Tulfo? Kung hindi pa si Tulfo nakikialam sa buhay nang maybuhay, the incident could not have happened. It is everyone's right to be upset for his/her missing luggage. Employees of Cebu pacific who can not take the pressures of their job has no place in that company.
---
Name: Marilou
City/State/Country: LONDON
IP Address: 213.106.167.111

Comments
I have lived in U.K for over 30 years and my late husband had worked in the film business for 40 years so I had the chance to interact with film people..sorry to say they act more humbly than the Philippine stars who thinks they are untouchable
---
Name: Steve R
City/State/Country: California
IP Address: 98.234.19.64

Comments
Among the circle of Filipinos at Seafood City & Malls, karamihan ay nagsasabing si Claudine at Raymart ang nagumpisa ng sapukan sa Airport. Alam din ng iba na dating sobra sa ugaling magalitin si Claudine. There was a survey that showed 66% believed Claudine started the brawl & 17% blamed Mr. Tulfo. I believe that Mr. Tulfo heard Claudine berating two ground crew at the Airport. Claudine should have complained to the Airport Management after she found out from the two ground crew that their hold baggages were delayed.
---
Name: Oykob
City/State/Country: USA
IP Address: 76.102.220.183

Comments
Arrogance and feeling of entitlement of the Santiagos must be dealt with legal repercussions. Prison time & fine must be imposed on these kind of behaviour. Nobody is above the law.
---
Name: JRH
City/State/Country: Montreal, Canada
IP Address: 70.82.114.98

Comments
Why do we have to discuss or comment on rude & ill-mannered people, be it celebrities, TV-movie personalities, or famous media people in the Phils? If such behavior is acceptable in the Phils, world-wide, it's not. Our Filipino behavior is complex. However, our actions must be based on proper social conduct & known etiquette based on polite & civil behavior. It's typical & customary practice that some people treat other Filipinos as lowly 2nd class citizens. These are bad traits beyond normal, decent, & proper. The cruel truth is some people in the higher echelon or class act as if they own the world & they're above the rest of us. It's not tolerated in other countries. It's not boorish, it is just plain stupid.
---
Name: Julie
City/State/Country: US
IP Address: 199.181.179.3

Comments
You have to find out the real truth before making accusation. You cannot just accuse somebody because you saw a part of a video. Remember paparazzi are responsible for the death of Princess Diana You have to remember the stars are also human being they get angry, frustrated, shout like everybody else. Tulfo's brothers shame on you.
---
Name: No name please
City/State/Country: Carson, California
IP Address: 96.229.212.184

Comments
Government all over the whole world should ban any people to make money against the will of any other people. I think the best thing to do is ask first before they click their fingers. either for money or personal benefits. Please give people the right to practice absolute privacy.
---
Name: LPiF
City/State/Country: Loob Mental Hosp
IP Address: 64.40.183.70

Comments
"Sure, you get plenty of smiles and much acquiescence from those whose job it is to serve you. But beyond that, the Philippines of 2012 is a dog-eat-dog world. " Somehow I am not surprised! It is more fun in the Philippines-- just watch your back!LOL!!
---
Name: Reynard
City/State/Country: Palawan, Philippines
IP Address: 213.181.164.247

Comments
Sinasabi sa panig nang mga Santiago na si Mon Tulfo daw ang nag umpisa at sinipa pa daw si Claudine, samantalang kung titignan mo sa Video ay pinagtutulungan suntukin si Mon Tulfo at pati na rin si Claudine Barretto ay nakikisali sa pagsuntok at hindi naman parang pilay kung maglakad at wala naman galos sa mga binti nang sumusuntok din siya. Ang isa pang halimbawa na pinakita niya sa publiko ang hindi maganda pagtrato niya sa ground crew nang Cebu Pacific Airlines, sa isang taong may pinag aralan at ginagamit ang pinag aralan hindi ganito ang tamang asal ginagawa, isa pa naman siyang artista na marami ang sa kanya ay mga fans, ano na lang sasabihin nila sa iyo, pinababa mo lang ang pagkatao mo at hindi magandang asal.
---
Name: 1 UP
City/State/Country: GOTHAM CITY
IP Address: 207.38.182.120

Comments
Being insolently proud is very descriptive of most people who have attained a certain degree of fame, authority or fortune. It is emblematic in Philippine society. There is no doubt that Raymart, Cluadine and their friends ganged up on Mon Tulfo. There is no truth to the allegation of Raymart that Mon Tulfo "kicked" his wife. It must have occurred as a reflexive response to ward off further advances by Santiago and friends. The use of superior strength is one of Tulfo's best legal defense argument. One man against a mob of 5 or six angry people? CASE DISMISSED. PRIVACY RIGHT DENIED.
---
Name: Wouter
City/State/Country: The Hague, Holland
IP Address: 94.209.151.103

Comments
Altogether I spent a good three years in Manila and Mindanao. This article exactly summarizes what I always wanted to say but felt I couldn't because in the Philippines this kind of criticism is seldom accepted from foreigners.
---
Name: JRH
City/State/Country: Montreal, Canada
IP Address: 70.82.114.98

Comments
The Phil Actors League or Guild should strongly recommend anger management or long rehabs for stupid celebrities or exceptionally rude people. This loud-mouthed hell-raiser actress must apologize to the 2 Cebu Pacific employees. They got nothing to do with the missing luggage of the couple. It's the airline's mistake. There's absolutely no reason for this public outburst now shown on YouTube. This I-don't-give-shit attitude is shameful, immature, & no class act at all. She should be given the Bad Person of the year Award.
---
Name: Marie
City/State/Country: Batangas
IP Address: 85.127.104.153

Comments
Walang ka-class-class si Claudine. Nakakawala ng gana ang kanyang imahen. Pasosyal-sosyal pa ugaling basagulera pala. Ay naku arrogante talaga. Baka akala niya ay nasa shooting siya. Ang manakit ng kapwa ay may multa o strafe.
---
Name: Steve R
City/State/Country: California
IP Address: 98.234.19.64

Comments
A Tulfo black eye vs. Claudine teary eyes. Whoever gets this case gonna have to do a lot of soul searching unless the Honorable Judge will do his/her short-cut & just consider how easy it is for Claudine to recall one of her eksena (crying scene) & shed tears as needed.
---
Name: 1 UP
City/State/Country: GOTHAM CITY
IP Address: 207.38.182.120

Comments
There are conflicting views about the "Thrilla in NAIA" involving Santiago's posse and Mon Tulfo. Some say Mon started it. Three witnesses testified in writing that it was Reymart who initiated the scuffle. Santiago claimed Mon pushed and "kicked" Claudine. It that was true, sole marks on the legs of Claudine would have been very evident and so were bruises. I did not see any of those on the video. Mon Tulfo incurred more visible injuries than any one of Santiago's posse (Claudine included) and that is a fact. Claudine joined the brawl or fray. That too could not be denied. This case is less of a simple assault but more of a battery (one defenseless older man against 5 or six younger men which caused physical injuries to the former).
---
Name: 1 UP
City/State/Country: GOTHAM CITY
IP Address: 207.38.182.120

Comments
continue.. Someone is lying here and it is not Mon Tulfo. As to the tears shed by Claudine in their first press interview, they may not have been human but crocodile.
---
Name: Palos
City/State/Country: Palo Alto
IP Address: 166.137.139.50

Comments
Politicians and celebrities could easily be identified on a crowd by surrounding themselves with mean-looking bodyguards or younger thugs respectively. Celebrities have hired to protect them. They do not want to be touched or looked at. When you do you are seen as a threat.
---
Name: Dahlia
City/State/Country: Alberta, Canada
IP Address: 50.99.98.181

Comments
It's so sad to know that the Barretto's are charging child abuse to Tulfo where in fact it shows clearly the harsh, violent and arrogant act of both parents to their children. If I was the mom, what I will do first is to keep my children safe, away from the chaos so they will be protected from seeing violence. Claudine should have let her husband do the "pacman" thing.
---
Name: 1 UP
City/State/Country: GOTHAM CITY
IP Address: 207.38.182.120

Comments
Since Pacquiao became a boxing celebrity he was joined by other Pinoy boxers. Politicians like Sarah Duterte was inspired by Pacquiao. Movie celebrities do not want to be left behind too with the fad of having some pugilistic skills as seen from the most recent incident involving Mon Tulfo and the Santiagos in the airport. Unknown to many is the case of Albie Casino who was mauled by friends of Andi Eigenmann's alalays. It's more fun in the Philippines. Let's have some fights! (not with the Chinese, pwede ba?)
---
Name: Alesander
City/State/Country: Bensalem, PA
IP Address: 68.84.77.147

Comments
I lived in the USA for 40 years and a few Filipinos who are living here in the U.S. assumed that they are "upper privileged class". They look down other Filipinos based on the clothing, education and occupation and can't speak Tagalog, Illonggo or Illocano. Please leave your arrogant at home (PHILIPPINES) I can speak binisaya and English
---
Name: agas rey gagui
City/State/Country: Chicago, Illinois
IP Address: 69.210.241.36

Comments
This airport brawl involving Barretto, Santiago and Tulfo, is a manifestation that, as a whole, Filipinos are so lacking in self-respect and self-worth for if they respect and value themselves, then they will know how to conduct their lives in public - we call it social propriety. Evidently, they don't have that aura of class and gentility wherever they are in this world, esplly when they travel. Refinement is lacking in their body movements, conversations, behaviors and all other demeanors that would define them as a people, unlike the people of the West. Barretto and Santiago are examples of this. To give the Philippines and its people a good name, the time to change values is NOW.
---
Name: Kano
City/State/Country: New York City
IP Address: 209.133.113.187

Comments
After living in the Philippines for more than four years it was clear there are the haves and have nots. I found it incredible how little respect people had for each other. The actors, politicians, mayors, and generally anyone with at bit of money thought they were invisible. Sadly this is the image being projected around the world...again. How is tourism ever going to pick up in the country where people are scared to visit. It is time for these actors and journalists to spend some real jail time for there actions. They are both guilty of battery and they should use this case to make an example that no one is above the law.
---
Name: Ed Pe
City/State/Country: SAn Diego, CA
IP Address: 68.6.136.186

Comments
Jail time is good for those two so that they can see clearly see in hindsight if their behavior were good or bad.
---
Name: 1 UP
City/State/Country: GOTHAM CITY
IP Address: 207.38.182.120

Comments
Steve R: Not matter how you slice or dice the whole incident involving Tulfo and the Santiagos. Mon Tulfo was the aggrieved party. The sympathy should go to Mon Tulfo. If I were a judge, no second thoughts: judgment in favor of Tulfo. The verbal threats of the younger brothers are mere distractions and should never be considered. They are separate issues.
---
Name: Marco
City/State/Country: San Diego, Ca
IP Address: 72.197.247.221

Comments
It doesn't make sense, bakit naman biglang sisipain ni Mon Tulfo si Claudine, for what? Eh si Mon Tulfo nga itong kumukuha ng picture, eh pagkuha ng picture, di naman pwedeng malapit at di makukunan silang tatlo, si claudine, at 2 ground stewardess. I believe Mon, sinungaling ang mag asawa, walang sense ang mga sinasabi. Child abuse? wow dapat i charge ng child abuse yoong mag asawa kasi kitang kita ng mga anak na ang mga parents nila ang nambubugbug sa isang matanda.
---
Name: 1 UP
City/State/Country: GOTHAM CITY
IP Address: 207.38.182.120

Comments
If I were the judge, I would not rely on the testimonies of Claudine's "witnesses" I would put more weight on the video clips and the injuries sustained by Mon Tulfo. Tulfo is the victim here and not Claudine. Mon's lawyer should dwell on Claudine's history as a troublemaker and as a verbally abusive actress.
---
Name: Reynard
City/State/Country: Palawan, Philippines
IP Address: 213.181.164.247

Comments
Siguro ang kultura na nakuha natin sa Kastila na minsan ang mga medyo nasa upper class family ay mababa ang tingin sa mga pangkaraniwan tao lamang. Ano kaya ang tingin nitong mga medyo nakaka angat nang kaunti sa pangkaraniwan tao lamang, parang wala silang galang sa kapwa nila. Gaya na lang sa nagyari sa Airport na si Claudine Barreto ay pinagagalitan at nakakabigkas pa nang hindi maganda ano kaya ang tingin niya sa empleyado ito nang Airlines,kung ang mayayaman nga sa ibang bansa makikita mo magalang at low profile alam nila umunawa,samantalang meron lang sumikat at kumita nang kaunti na galing naman sa mga fans ay kung akala mo sino nang makapag alipusta, Huwag ganon kung ang taong may pinag aralan at may modo hindi ganon ang kanyang magiging asal. Iyun lang po.
---
Name: 1 UP
City/State/Country: GOTHAM CITY
IP Address: 207.38.182.120

Comments
If Eddie Gutierrez could not control Annabelle Rama, the same could be said of Reymart Santiago controlling Claudine Barretto. These two women are just confrontational by nature and love looking down on people. They need to attend a long session on Anger Management classes. They need to be sued and get convicted to be convinced that a change in behavior is ABSOLUTELY necessary.
---
Name: deo
City/State/Country: flour-flower city
IP Address: 67.244.140.123

Comments
Seriously, ang hirap sa Pinas ay nakukuha sa areglo ang mga kaso, with or without financial considerations, this Tulfo/movie stars included. When this case reaches the Court and whatever agreement the parties may reached, the Judge may end up asking for the movie stars autograph.
---
Name: Lilia Sadang
City/State/Country: Honolulu,Hawaii
IP Address: 24.25.243.13

Comments
Well stated Mr. Philnews Editorial. Totally agree!!!
---
Name: Reynard
City/State/Country: Palawan, Philippines
IP Address: 213.181.164.247

Comments
Ang sabi ni Reymart Santiago sa mga interview sa kanya na tinuro daw sa kanya nang magulang niya na gumalang sa matatanda, pero dahil daw si Mon Tulfo ang nauna nanakit sa asawa niya kaya pinatulan niya si Mon Tulfo, per kung titignan mo sa Video ang grupo ni Reymart Santiago ang nanununtok, kasama si Claudine na sumusuntok din tapos at walang galos ang mga binti, pero pagkatapos nang insidente ito makikita mo sa camera iika ika at sinipa daw siya ni Mon Tulfo, maarii nga nang nasa malaipitan si Claudine na sinsuntok din si Mon ay duon siya nasipa.
---
Name: 1 UP
City/State/Country: GOTHAM CITY
IP Address: 207.38.182.120

Comments
Tony0: Unless a video surfaces on the internet showing Tulfo kicking Claudine, as claimed by one witness, or a medical report showing a bruise on the legs of Claudine, the veracity of the witness's statement is in doubt. Claudine has a history of going ballistic (American slang to mean enraged, lost her temper, freaked out) and that is a fact.
---
Name: 1 UP
City/State/Country: GOTHAMM CITY
IP Address: 207.38.182.120

Comments
Marie: Sa pagkakataong ito, agree ako sa iyo all the way tungkol sa pagiging basagulera ni Claudine. May history siya.
---
Name: mockingmaya
City/State/Country: taft avenue, manila
IP Address: 67.182.75.243

Comments
The Philippine Republic will continue to produce arrogant television celebrities, politicians, tsimoys or tsimays, & modern slaves. Again, it is common knowledge that Japan, India, & other Asian nations will continue to produce quality engineers, nuclear scientist, computer or software experts while Philippines is busy exporting Filipino modern slaves to finance the vanity & greed of corrupt politicians.
---
Name: Steve R
City/State/Country: California
IP Address: 98.234.19.64

Comments
At some point in life, we are bound to make a mistake or two. Claudine apologized for what she did at the airport and who knows, she'll not make the same mistake again.
---
Name: Palos
City/State/Country: Palo Alto
IP Address: 207.237.54.3

Comments
Alexander: I do not share the same experience and form the same opinion as yours when it comes to Filipinos in New York. Those who are well stationed in life in Manila would rather be silent. Those are not well off are empty vessels. They make more sounds. I had the same point of view for those in the West Coast.
---
Name: Fabian Falcon
City/State/Country: USA
IP Address: 75.42.73.232

Comments
These laos na mga artista think that they can just bully anyone without consequences. Just like the mataray actress, who bullied her maids, verbally, physically, and even pointed a gun at them. Incidentally, what happened to that case?
---
Name: Antonio Jr
City/State/Country: Manila
IP Address: 112.205.85.94

Comments
The brawl scene is the most damning part that hits peoples heart. Tulfo is much too old to be ganged up by a bunch of rowdies in a public place and Claudine in spite of her good looks makes herself look bad as a celebrity. The group ought to be jailed for their action and treated like hoodlums which they are. Piling up on an old man certainly deserves punishment. We need Tulfo in exposing the bad elements of our society on TV.
---