(Or how you can blow your case to smithereens and shoot yourself in the foot in one fell swoop).
If the Senate impeachment court somehow manages to acquit Chief Justice Renato Corona after what transpired in court on May 22,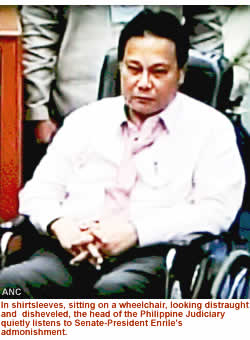 you can bet your last centavo that the Filipino people will be up in arms against the senator-judges. Sadly Corona's timing to throw the equivalent of a temper tantrum could not have been worse. He did it on live television on a day when most Filipinos who were anxious to hear what he had to say were glued to their TV sets. Sitting on the witness stand Corona ended his hours-long monologue with the words "and now the Chief Justice of the Republic of the Philippines wishes to be excused," folded his notes and walked out of the hearing—his wife Christina Corona by his side. The sheer arrogance of that act caught everyone by surprise, not the least of which was the impeachment trial's presiding officer, Senator Juan Ponce Enrile who, in what could be his brightest shining moment of the entire trial, ordered the Sergeant-at-Arms to block all exits and bring Corona back into the court.
Like his alleged benefactor, for President Gloria Arroyo, Corona reappeared in court around 20 minutes later, in a wheelchair, in shirtsleeves, looking disheveled,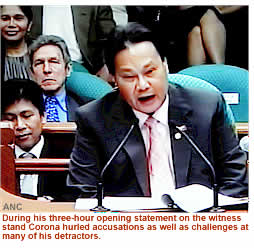 and appearing medicated. His defense team argued that being diabetic, their client was suffering from Hypoglycemia and could no longer continue on the witness stand.
Corona, it must be noted, spent the greater part of two hours reading a prepared statement that Enrile magnanimously allowed him to read, over the protestations of the Prosecution team. But in the end it became abundantly clear that Corona simply wished to hurl accusations at his opponents but had no intention to allow himself to be cross-examined—the highest judicial officer in the land believed he was answerable to no one.
Whoever advised Corona on this stunt could have likely been a "double agent," a plant from the Prosecution. But if Corona planned that stunt on his own, then all-the-more he should resign posthaste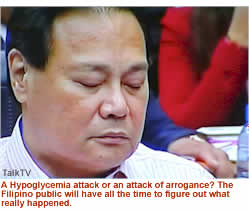 as only an idiot would think he could get away with it—an idiot or a Pinoy belonging to the country's arrogant ruling class.
In light of what transpired in court today, how can Corona remain Chief Justice for even another day? It would be heart wrenching if the Philippines were forced to continue with a chief magistrate of this caliber because in all honesty, the country can do much better. What Corona needs to do is step up to the microphone and repeat these words: "and now the Chief Justice of the Republic of the Philippines wishes to resign." Published 5/23/2012
Saved Comments
Name: Lydia Mandanas
City/State/Country: U.S.
IP Address: 67.116.238.208

Comments
No more appointments for Judges, please. Like the other branches of the government they too MUST BE ELECTED to hold office. Corona shamed not only himself but his family, the Judiciary, the Filipino people, and the nation as well by cowardly trying to escape from his impeachment trial. He was caught on camera heading to the elevator going to where his car was parked, before he was prevented by the guards. His driver had started the car in anticipation of Corona's coming. It looks like everything was planned. After being caught, then defense said he got sick and needs rest. Yes, may he REST IN PEACE, Amen.
---
Name: 1 UP
City/State/Country: GOTHAM CITY
IP Address: 207.38.182.120

Comments
I watched with interest the much awaited testimony of Corona and his sudden "walk-out". Nothing much was said in his arguments but ad hominem ("Appealing to personal considerations rather than to logic or reason."). He signed his waiver allowing anyone to peep at his financial records (real estate properties and monetary accounts) if and only if Drillon and his detractors in Congress would also do the same. He talked of BS Aquino and linked the latter to the impeachment. He justified his walk-out by claiming hypoglycemic attack. LIAR. Dizziness and fainting are common symptoms seen in such attack. SINO ANG NILOLOKO MO?
---
Name: Phil Researcher
City/State/Country: LA County, Ca USA
IP Address: 98.119.17.19

Comments
RE: Corona's excuse of being sick.. a common tactic of accused public officials, GMA, Gov. Ampatuan Sr. Congressman Ecleo of Dinagat Island they all at one time during their own pending case used the excuse of being sick.. The Senate President stated that if Corona does not allow himself to be cross-examined.. his testimony will be stricken off the record and the Senate woul decide the Impeachment based on the current evidence without considering what Corona stated. For the sake of credibility all justices of the SC should resign when Corona is ousted to give the President a chance to clean it up.
---
Name: El Presidente
City/State/Country: Chicago, U.S.A.
IP Address: 75.26.247.18

Comments
CJ Renato Corona should enter acting not as a Supreme Court CJ. I am a diabetic person for more than 10 yrs now & my experience here in the United States is that, as long as you're not using insulin, there's nothing serious about in dealing with diabetes. Ang ginawa naman ni Corona, instead of taking a pill of metformin tablet, nagpahatid pa sa hospital at na ICU pa, which is not supposed to be. Napaka OA naman, umiiwas lang sa kanyang impeachment interrogations ng mga senators yan. Dapat mag decide na lang si senate president JPE kung anong gagawin sa kaso niya dahil wala ng katapusan yan at umiiwas na lang siya sa mabigat na hatol na ipapatong sa kanya. Tama na, sobra na ang kaartehan mo Mr CORONA. Umalis ka na lang sa pwesto, mas mabuti pa kesa hintayin mo pa na ma impeach ka...
---
Name: Vanessa Lee
City/State/Country: Kuwait
IP Address: 31.214.68.226

Comments
If CJ Corona's conscience is clear (as what he said) this impeachment won't exist. Sinong public servant ang na akusahan me mali kung siya ay malinis? Why sudden illness? He lies, his classmate in Ateneo once said he lied regarding academic honor. If he can lie in small things how much more in big things? Virtually he crossed the limit this is it. If really he is a man of principle he should accept the truth, face the humiliation and leave the bench. I hope and pray justice will prevail.
---
Name: 1 UP
City/State/Country: GOTHAM CITY
IP Address: 207.38.182.120

Comments
No one is convinced that Corona sudden "walk-out" during his testimony in the senate was triggered by hypoglycemia. If he was not feeling well, he could have asked for a time out in his testimony from the presiding judge. No doubt, Enrile will grant such recess. Corona never did that and left in a rush. Diabetic people whose blood sugar level has gone down below the 80- 120 mg/deciliter range will experience "insulin shock" whose signs and symptoms include blurry vision, confusion, dizziness, fainting, sweating, paleness, etc. None of those were seen.
---
Name: 1 UP
City/State/Country: GOTHAM CITY
IP Address: 207.38.182.120

Comments
CONTINUE... Corona attempted to evade the inquiry and put an end to the prosecutor's cross examination until he was stopped by the senate's security group from leaving the senate compound. "Pictures speak a thousand words." Who are you trying to fool CJ Corona?
---
Name: Phil Researcher
City/State/Country: LA County, CA USA
IP Address: 98.119.17.19

Comments
Re: Waiver of Corona..He allowed the Impeachment to open all his bank accounts foreign currency and peso, however on the condition that Senator Drilon & the 188 Congressmen who Impeached him also sign the same waiver..But Mr. Corona the persons you are asking to waive their rights are not facing any impeachment trial you are the only one.. So because of your waiver you already consented to opening your accounts , as to your condition that the persons accusing you also waive is null and void because there are no cases against them you are the only respondent in this impeachment.. Are you sick? or out of your mind or both?
---
Name: Phil Researcher
City/State/Country: LA County, Ca USA
IP Address: 98.119.17.19

Comments
Re The Opening statement (3 hours ) of Renato Corona.. He attacked the Pres. Pnoy.. which should have been objected to as irrelevant and immaterial.. Now he says that he is waiving his rights under the bank secrecy law in open court provided that the 188 congressmen who voted to impeach him including Sen. Franklin Drilon should also waived the rights under the bank Secrecy law.. Mr. Corona have you gone delusional.. Those 188 Congressmen and Sen. Drilon are not facing any impeachment case it is only you who is the respondent.. They don't have any reason to waive their rights because they are not respondents here. It is only you who waive your rights to show to the Filipino people that you are not a thief
---
Name: Manuel C. Diaz
City/State/Country: Montclair CA USA
IP Address: 76.174.211.189

Comments
A guilty verdict will kill Corona next in line will be the Justice that has a pending impeachment case for plagiarism then other justices appointed by GMA. More fun coming in Islas de Ladrones.
---
Name: Lydia Mandanas
City/State/Country: U.S.
IP Address: 67.116.236.164

Comments
I thought Corona went only to a law school, but may be he also graduated from a drama school majoring in acting. Very nice performance indeed, but how come many were not impressed, especially when he walked out of the Impeachment Court? When he was returned to the Court, he looked different. Gone was his sense of superiority and appeared very subdued. I think he did not look much different from an accused in a criminal case caught telling lies. His return to the Court ordered by the Senate President only shows that Corona is not above the law and he better put that in his head.
---
Name: NCC
City/State/Country: Atlanta GA
IP Address: 75.131.201.82

Comments
Justice Corona has been diabetic for 20 yrs now. With his intelligence he had browse all the medical journals regarding the disease, the causes, complications and its preventions. It is stated on most of reports that without its control would have higher risk of complication. He have known by this time (again 20 yrs) that stress, no food intake, fatigue and weight problem would trigger the drop of sugar. Why did he not consider those things? (again after 20 yrs) Intriguing. Borrowed from the textbook on How to get away from persecution by GMA co authored by Ligot and Ampatuan.
---
Name: 1 UP
City/State/Country: GOTHAM CITY
IP Address: 207.38.182.120

Comments
It is amazing how the top dogs in the previous administration behave after facing charges. They all get "seriously" ill and they find themselves admitted at ICU or OR. I would not be surprised if Corona will ask the court's permission go to the US for treatment of being "too sweet." (diabetic)
---
Name: Benjamin Tan
City/State/Country: Sacramento, CA, U S
IP Address: 75.45.9.250

Comments
Mr. Corona is a Self Centered Selfish Moron, I will bet My Last Centavo that he will not vacate His throne and would rather Have a Constitutional Crisis, Because he thinks all Filipinos are fools and beneath him.
---
Name: JRH
City/State/Country: Montreal, Canada
IP Address: 70.82.114.98

Comments
He just walked out. The proper thing to do is simply ask for permission to be excused cuz he doesn't feel well. It did not happen that way..instead after of his lengthy remark & statement, he Just folded his notes & walked away. It only shows that he's an arrogant SOB as witnessed by those watching the proceedings. Even the defense panel could not explain what to do. He thinks he's higher than anybody else just because he's CJ. It's BS. The impression we get is he's an opportunist, big-time manipulator, & an outright crook 100%. He gave the senate hearing the finger. Hang Him. Magnanakaw par excellence.
---
Name: Manuel C. Diaz
City/State/Country: Montclair CA USA
IP Address: 76.174.211.189

Comments
Corona's "Goose is cooked" before the humiliation of a conviction Corona should tender his resignation otherwise a guilty verdict will kill him. If Corona's "goose is cooked" GMA and Mike Arroyo will stew in prison.
---
Name: Marie
City/State/Country: Batangas
IP Address: 93.82.142.144

Comments
The testimony of Corona is quite convincing but why he walked out without even giving a respect to all watching the trial. Is it a sign of pride? Maybe he hates to be cross examined because he's still considering himself the Chief Justice not suppose to be questioned. And I considered him not a good person for saying negative comments against our president during his testimony. Everybody knows that from the very start PNoy was against Corona for accepting the midnight appointment knowing that was illegal. The distribution of land to farmers was lately. Why Corona insinuated the issue of Luisita on his impeachment. Corona made so many blah blah - nuts!. If Corona will be acquitted, all the cases of Gloria Arroyo will be in trash like the case of Hello Garci.
---
Name: Aiota Capli
City/State/Country: Inland Empire
IP Address: 165.235.174.75

Comments
There is no other way for the CJ to end his term but to resign, as the editorial suggests. He has no respect for anyone. It does not matter if the person is dead, alive or you are a senator-judge. He only proved and showed he is unfit, never will be fit to continue to sit as CJ of the Philippines. He is a man who bullies using his power and he thinks he is accountable to no one. Throughout his impeachment journey, he kept talking and defending his actions everywhere he went but the one place where he could have cleared himself through cross- examination on what he said are half-truths, he walked away from instead. With that action, he showed a real bad example of a Chief Justice for our future generation, to say the least.
---
Name: 222 Lange
City/State/Country: NY
IP Address: 207.237.54.3

Comments
Seeing Corona in a wheelchair reminded all of us of the pathetic sight of Gloria when charged in court. The available video clips of both of them should be put side-by- side and label it " Justice on Wheelchairs. "
---
Name: GFJ...
City/State/Country: Hercules
IP Address: 67.188.19.40

Comments
Opening all his bank accounts, dollars and pesos, for scrutiny, after signing waiver, negates the profusion of fallacious 80+ bank accounts charges testified to by the Ombudsman.., supposedly not included in SALN. All for naught if CJ Corona don't return to the senate impeachment court for cross exam after he is released from the hospital.
---
Name: ronald ryan
City/State/Country: sacramento ca, usa
IP Address: 75.42.73.235

Comments
So sad the Filipinos have this kind of leaders of the country. From the CJ and below mostly corrupt. I would not be surprised if Bongbong Marcos will be the next dictator. Philippines is a hopeless case. Karma because 99 percent have no respect for one another. especially those who have been in other countries,
---
Name: HMS
City/State/Country: New York NY
IP Address: 67.241.96.149

Comments
A learned jurist once said, "The Innocent is as bold as a lion while the guilty flees like a thief in the night". This is how Corona painted himself - a thief fleeing. Any logical thinking person can only come to the conclusion that this man has reached the end of his rope. No amount of legal technicalities, religious backing, parades of frightened underlings, everyday masses/communion can sway the public from the concluding that this man must no be allowed to sit as Chief Justice of the Supreme Court a minute longer. He is as guilty as sin. He should be removed. (continued)
---
Name: HMS
City/State/Country: New York, NY
IP Address: 67.241.96.149

Comments
continued... Having said that I also caution against premature celebration. If there is one unpredictable animal in this world it's the Filipino politician. Those of us who may think these people will see a vote of acquittal as political suicide may be surprised. These Senator Judges have a convoluted way of coming to a decision. There are so many factors involved, such as money, bones in the closet, quid pro quo, etc. Their least concern is the well being of the country. And let us not forget this Corona saga is just the beginning. The country needs to be purified from the evil of the Queen of Crooks, the one who caused all these sufferings - Gloria Arroyo.
---
Name: Stan Laeno
City/State/Country: Los Angeles, CA
IP Address: 216.81.94.72

Comments
After watching what happened that day and the following day, I was curious what would the reaction be from Senator Santiago. I believe there was none coming from someone whom I expect would come out screaming mad at the slightest show of disrespect to her and to the court she represented. I was curious why would she come down very hard on the prosecutors to the point of ridiculing and demeaning them and not say anything about Corona's disrespecting the court. That said, she is just like Corona: Arrogant, Hypocrite, and Liar!
---
Name: Manuel C. Diaz
City/State/Country: Montnclair CA USA
IP Address: 76.174.211.189

Comments
Hats off to Senator Enrile the "architect" of Marcos martial who navigated the impeachment to its finality.
---
Name: Steve R
City/State/Country: California
IP Address: 98.234.19.64

Comments
A 5TH GRADER anywhere, PH or US would have the sense of self respect to ask for his teacher's permission to leave the classroom to use the CR or any personal reason but not the present Chief Justice of the Supreme Court in the PH. When Corona talked about how his parents raised him, he stated that his parents taught him good values & all that *#? 'stuff'. Oh well, all that stuff didn't stick on Renato's kokote, none of it, it seems. Renato to Sgt at Arms of the IC, "Are you arresting me?" Renato asked the Sgt at Arms when Renato & Cristina attempted to "exit through a door at the back of the session hall." Cristina also asked, "Is this martial law?" Similarities w/Bonnie & Clyde? The Sgt at Arms " insisted that they cannot leave and asked Senate security personnel to assist him."
---
Name: John B.
City/State/Country: Sherman Oaks. Ca,US
IP Address: 76.216.152.14

Comments
It only augments the fact that Philippine politics is the closest you can get to 'brainless' theater. The impeachment trial has somehow evolved from a circus, with clowns like Santiago who does her 'fire and brimstone' routine, donned in her purple gown and her thick red lipstick; to a comedy, with the defense calling the ombudsman as their own witness only to end up with a power point presentation (no less) that implodes their whole case. To slap-stick drama in the end with the waiver, and the infamous 'infirmed walkout', to his sorrowful submission to the Court in the end (all fake by the way). Yes, a "reality show" like non other. I just hope in the end, all these is 'useful' entertainment!
---
Name: LPiF
City/State/Country: Mental Hospital
IP Address: 64.40.183.70

Comments
One "aid-to-legislation" aspect of the Corona Impeachment circus-- there ought to be a law legislated vis-a-vis SALN that those holding "impeachable" positions in the government should be outside the secrecy provision of the Foreign Currency Bank Account law!
---
Name: 1 UP
City/State/Country: GOTHAM CITY
IP Address: 207.38.182.120

Comments
I find it amusing that key people like Arroyo, Corona, Ampatuan, Bolante, Garcia, find themselves looking sickly on trial; they had to be seated on a wheelchair and confined at the intensive care unit. There is no medical issue involved, in my mind. That is CONSCIENCE causing those sudden signs of weakness, paleness, and helplessness. These people are good actress and actors deserving of an OSCAR award.
---
Name: von hitman
City/State/Country: batangas, impyerno
IP Address: 109.52.45.128

Comments
justice must be done for Pilipinos, if not those prosecutor must come back again to law school of cowardice. Mag-isip naman kayo mga husgado, give him what he deserved. Nakakahiya na tayo, buti kaya pa nyo kumandidato ulit. Yong amo nyan, isama mo na rin sa selda, para may sarili silang government. Kung ayaw nyo ako ang huhusga. Wag siyang pupunta ng Batangas.
---
Name: Phil Researcher
City/State/Country: LA County, Ca USA
IP Address: 98.119.17.19

Comments
RE: CJ Corona upon the questioning of Sen Cayetano answered he (CJ Corona) has $2.4 million in his dollar accounts..Now if you convert that into pesos at P42 to 1 US dollar.. that is 100,000,000. + pesos.. Did he explain it? no it is still unexplained money..Now could he still be acquitted.. With the present senate membership..Yes .. He needs only 7 to acquit.. What will be the reaction of the Filipinos? outrage.. maybe.. another EDSA..If he goes back to his position then the people's case didn't prevail.. Business as usual in all the courts. How much would you pay to get a TRO? It depends on how big the case is. There is no prospect for reforms if you send him back to his position.
---
Name: MARNY V
City/State/Country: Present/Future CJ
IP Address: 76.117.48.33

Comments
Interview to Ombudsman Conchita Carpio-Morales re CJ after walkout: Corona is a certified LIAR. Re her SC retirement: I did not ask for reconsideration when he gave me a rock bottom amount of P500T. The favored ones got as much as P1.5M. Re conscience: Yes, I have a clean, clear conscience but Corona-nada ! There's this Spanish saying which goes, "El ladron piensa de otros, que todos, como el, son ladrones". Translation- "A thief thinks that all others, like him are thieves." Re guilty verdict: AMEN.
---
Name: juan de la cruz
City/State/Country: sydney
IP Address: 123.243.63.244

Comments
Usong uso ang wheelchair sa Pilipinas ah...si Arroyo, Ampatuan at ngayo'y si Corona...ala eh dapat electric chair ang gamitin!
---
Name: Edwin Alba Empestan
City/State/Country: Metro Manila
IP Address: 49.144.202.200

Comments
Again after insulting the whole Impeachment Court esp. JPE of his intended "walked out" pretending to be hypoglycemic, which actually deviates from the real issue re. his SALN he becomes the center of ridicule being a good actor. In short to make the matter worst Filipino people are all eager for his "IMPEACHMENT" he must let go his position for Filipino to respect the SUPREME Court again.
---
Name: Phil Researcher
City/State/Country: LA County, CA USA
IP Address: 98.119.17.19

Comments
RE: CJ Corona admitted on the witness stand that he has 2.4 million dollars in his dollar account and 80 million pesos. converting it to pesos he has cash h on hand of 180, million now based on his SALN counting all his allowances.. it still is an unexplained wealth. He said he has had dollar accounts since the exchange rate was 2 pesos to 1 dollar.. Mr. Corona that was in 1946 you were born in 1948 by 1954 when you were 6 years old the exchange rate was in the 4 to 5 pesos to 1 dollar.. so when you were 6 years old you already had a dollar account.. As Ombudsman Conchita C. Morales said "A thief thinks that everyone else are thieves."
---
Name: HMS
City/State/Country: New York, NY
IP Address: 67.241.96.149

Comments
That kiss-and-make up drama between the Coronas and the Basas made me wanna throw up. I felt like I was taken for a ride by the Basas. Over and over again these elites quarrel amongst themselves, and after the public had already taken sides the elites suddenly kiss and make up. Happy Ending! YUK! So, hindi naman pala api ang mga Basa at hindi naman pala mapang-api ang mga Corona. Tayo lang na publiko ang MGA GAGO at pumapatol tayo sa mga taong ito. They have nothing in common with the Filipino. (continued)
---
Name: HMS
City/State/Country: New York, NY
IP Address: 67.241.96.149

Comments
Continued.....Just as a decision is about to be rendered, La Gran Familia settled their differences. Lest the public be distracted by this Zarzuela, Corona had already admitted violating the law. And this happy ending with the Basas should not play a part in deciding the case. Where did these people come from? They just boggle the mind! After all the press conferences, the sounding off of a Nun, they just drop everything and embrace each other like WHAAA! Sorry na lang kayo!
---
Name: 1 UP
City/State/Country: GOTHAM CITY
IP Address: 207.38.182.120

Comments
If it is the perception of some that Corona's defense is disintegrating, put the blame on their client who thinks he is smarter than the impeachment court and very kosher. Corona is not very good to the judicial system. He is TOXIC!
---
---
Name: Amy
City/State/Country: San Diego, CA.
IP Address: 99.75.20.125

Comments
It's such a darn shame that the Filipino Government is always populated with corrupt officials such as Corona. The country is full of talented individuals that makes the country proud, and corrupt politicians makes everybody looks bad. It finally landed a good president but instead of working together, its still the same...whoever gets the biggest stash in their pocket wins. No wonder some of us here no longer wish to come home. Shame on you guys.
---
Name: Ed Bernales
City/State/Country: Anaheim, California
IP Address: 98.154.51.58

Comments
I am ashamed being a Pinoy now. How can our gov't appoint a C J of the SC with a wisdom like that? Let's assume he's innocent of the accusation. How can he say those statements which were coming from a suppose-to-be the pinnacle of all fairness and justice in the whole land? How can we rely on the SC now that we know their line of thinking is not "blind". That they were partisans with politics and not with unbiased wisdoms. Did the CJ feel he was "untouchable"? He can ponder with words he had said and think again if he deserve to be still CJ of the SC.
---
Name: 1 UP
City/State/Country: GOTHAM CITY
IP Address: 207.38.182.120

Comments
Latest PDI survey showed that people are of the opinion that Corona will be convicted 85 to 15. His "walkout" in the senate hearing was perceived by many that Corona has no desire to be directly examined; the claim of hypoglycemia was a convenient medical reason and confinement at ICU was necessary to draw public sympathy (GMA used her neck brace and wheel chair for optics). People are fed up with over 5 months of shenanigans from Corona's camp. It is time to allow the ax to fall where it may.Tony0 would be saddened by a conviction if it happens. It should not drive him to a depression. "Ang buhay ay weather weather lang."
---
Name: JRH
City/State/Country: Montreal, Canada
IP Address: 70.82.114.98

Comments
The bigger the kurakot (loot), the bigger the mess; US$2.4 million & P80 million in the so called sama-sama account in total deposits. Clearly, CJ Corona is hiding behind a clever loophole of the protected & confidential Foreign Currency Deposit Act. He did not declare them in his annual asset statements. Why or why not? Ombudsman Morales put it squarely, clearly, & exactly that CJ, the cry-baby, is a certified liar. At this point if the senate panel will still participate in this circus in a monkey cage, Filipinos will soon realize that this whole thing is a fiasco, a waste of time, & a weird spooky moro-moro act. Convict the crook. End the story & end the drama.
---
Name: deo
City/State/Country: flour-flower city
IP Address: 67.244.143.227

Comments
According to Santiago, Corona's not reporting his bank accounts in his SALN is not an impeachable offense. If that is not MISBEHAVING what is it to Santiago? The clause "while in good behavior" may read insignificant, but it carries a lot more weight than in seemed in impeaching misbehaving jurist(s). In fact it embraces all possible infractions in the book by people covered by the section of the Constitution.
---
Name: GFJ...
City/State/Country: Hercules
IP Address: 67.188.19.40

Comments
Most, if not all of Philippines' lawmakers; senate and congress, have dollar accounts they did not/ have not declared in their SALN. The same goes for the executive branch and the judiciary. That is why they are trying to finagle, hook or by crook, a way to convict CJ Corona on his none declaration of his FCDA, protected by RA6426, which has never been rescinded/voided/amended by congress or the 1987 constitution, and avoid being victims of their decision. To their chagrin, the law must be specific to the letter. the law can't be assumed, presumed, implied or rationalized. Otherwise, a law, the law can be philosophysed to no end.
---
Name: Jose Rizal
City/State/Country: calamba
IP Address: 110.54.144.59

Comments
This is not what I had planned for this nation! I knew I should have come out when I had a chance but they shot me before I could say "Gay Philippines!" A nation full of men who have no balls to rise against the real enemy... The Church and the Men behind The Government. The men behind these institutions are the greatest pretenders of all time whose mission is to bring the people to their knees while in ruin. Desperate and hopeless they are not... local TV networks produce shows that would drive them to insanity with a smile on their pathetic lives, and hope the next election would bring them a kilo of rice in exchange for their votes.
---
Name: Phil Researcher
City/State/Country: LA County, CA USA
IP Address: 98.119.17.19

Comments
RE: Corona's admission in Open senate court.. he has 2.4 million dollars in his dollar account If you look at the earlier reports the Dollar account was $700,000 dollars..the peso accounts (allegedly commingled accounts o his children.. P80,000,000. million cash on hand.. If Corona says that he had $$$ accounts in the 1960s , obviously he is a Certified liar (not my words please see interview of Ombudsman Conchita C. Morales.In that 3 hours that he spoke without cross examination did he explain where all this money came from no.Mr Corona where did the money come from?
---
Name: 1 UP
City/State/Country: GOTHAM CITY
IP Address: 207.38.182.120

Comments
According to Corona's biography, he was born 64 years ago in Tanauan Batangas and he had been working for almost 4 decades. For 17 years he was a faculty member of Ateneo University. According to his most recent testimony, he had accumulated 2.4 million dollars plus 80 million pesos in his bank account (he called mingled account). Ask any accountant and he would tell you that Equity= Asset- Liability. If we were made to believe that those amounts were real, his cash assets alone were growing at the rate of some 700,000 pesos a year.
---
Name: 1 UP
City/State/Country: GOTHAM CITY
IP Address: 207.38.182.120

Comments
continue... According to government's pay grade, the president is at grade 33 and the Supreme Court justice is a notch lower at 46,200 pesos monthly salary (600,000 a year including 13 month pay). In Greek mythology, King Midas is famous for turning everything he touches into gold. How cow, we have one in Renato J. Corona and it is not a myth!
---
Name: 7gtg
City/State/Country: regnsk
IP Address: 24.72.32.254

Comments
I think Corona is out already. As mentioned here, he is getting sick physically so it is an overkill to spend precious space in this forum by posters competting as who has the best 'tirada'. You people are competing like a mob, gustong sumali sa pagbugbog sa nahuling suspect na magnanakaw. I'm more concerned on what will happen next to the Supreme court. Who will be the replacement? Tauhan ni PNOY? I think the only thing that will satisfy pnl whiners is that if All supreme court justices are appointed by God and descended from Heaven.
---