In all honesty Chief Justice Renato Corona appears to be an embarrassment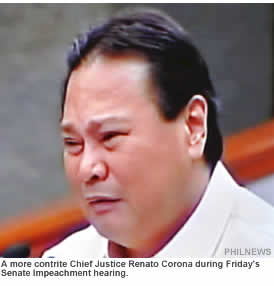 to the Filipino people. Is this the best we Pinoys can do? He is supposed to be the country's top lawyer; the leader of one of the three branches of government; the jurist who sits at the helm of the highest court of the land—as in other countries, people expect that individual to be a person of "unimpeachable" credentials—one who stands head and shoulders above the rest of us in his understanding of the law, his ethics, and his moral principles.
Instead what people saw during his two days of testimony during his impeachment trial was a calculating, vindictive person, hurling accusations at individuals who were not there to defend themselves, and his seemingly selective and pedestrian understanding of the law and the Constitution.
That such a person (who would most likely never even make junior partner of a third-rate law firm in a country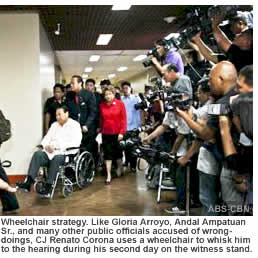 like the US) could become the Chief Justice of the Philippines also speaks volumes about how far the country has fallen these past decades. The question one might ask is: was he placed in that position because of his qualifications, or was he put there to protect Gloria and Mike Arroyo after she stepped down from office?
After two days of testimony and his irreverent court demeanor, for many the issue no longer is whether the Chief Justice broke the law or not, but whether Corona even deserves to hold that office. Though admittedly few and far between, the Philippines nonetheless has top-notch legal minds who would "fit the bill" far better than Renato Corona ever could. It's time we Filipinos replaced him with someone we can all look up to and respect. Published 5/28/2012