China is getting tough with the Philippines for a reason…it can easily afford to. As far as the Chinese are concerned,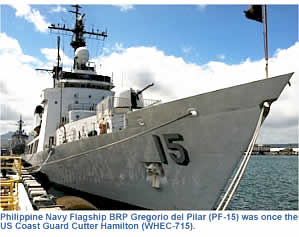 Scarborough Shoal is the "low hanging fruit" that is the easiest to pluck. Among the nations that claim ownership to parts of the Spratly and the Paracel Islands, the Philippine military appears the least able to stand up to China's military might. The Armed Forces of the Philippines (AFP) has no air force or navy that can pose a credible counter-threat to the Chinese. The Philippine Air Force (PAF) no longer has fighter jets that fly while the Philippine Navy (PN) ships are mostly of World War II vintage—except for the two Coast Guard Cutters the United States recently turned over to the Philippines, which were built in the late 1960s. How did the once proud Philippine military deteriorate to the state it is in today? The Philippines was the first Southeast Asian country to fly supersonic fighter jets, and now it has none.
If one has to point fingers—and in order to have a clear understanding of the issue one must—many are to blame. Start with Ferdinand Marcos and his use of the military to suppress freedom and keep himself in power. Before Marcos, Filipinos had a generally healthy and positive perception of their military. That all changed during Martial Law when the army was feared and despised for its brutal, heavy-handed treatment of the people. The Colonels and Generals at the time had become exceedingly powerful (as well as wealthy) in exchange for keeping Marcos in power. And there was nothing the ordinary "Juan" could do but grin and bear it.
When the Marcos clique was eventually forced from office by the EDSA People Power uprising, the military gained back a bit of its prestige, but the decade of martial rule had irreparably damaged the relationship Filipinos had with their military. Soldiers were a group you had best be wary of.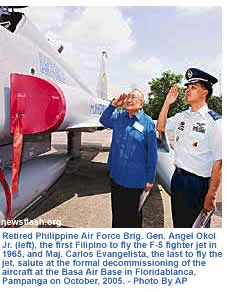 Then Gringo Honasan and his trigger-happy RAM (Reform the Armed-Forces Movement) Boys proved everyone right when they staged coup after coup during the 1980s. Those actions pushed an already distrustful President Cory Aquino to be even more guarded towards the military.
What the AFP brass at the time failed to comprehend is that the military needs to have both the government and the people on their side if they are to survive and even flourish. Because what sitting president would push to increase military spending after being strafed and shot at by coup plotters? What public would demand that their soldiers be given more tanks and powerful modern weapons when they fear that those weapons could be used against them? Even today the high esteem that other countries bestow to their men and women in uniform is noticeably absent in the Philippines.
For the most part, the military got itself into the pickle it is now in. More to the point: the men in uniform then are largely to blame for the atrociously sorry state that the men in uniform now are in.
And to make matters worse you have the NPAs, the MILFs , the MNLFs, the Abu Sayyafs and all the other armed bands of ideologues and brigands that continually do battle with Philippine soldiers—whittling away at both their numbers and their resources.
So now the powerful Chinese military is strutting around the West Philippine Sea rattling its sword and the Philippine military is caught with its pants down. Their flotilla of aging rust buckets and squadrons of propeller-driven aircraft are no match to the 21st century superpower that China is becoming. The Philippines can run to Uncle Sam for help but the US is saddled with its own problems. In addition, the wars it pursued in Afghanistan and Iraq have taken such a heavy toll in lives and resources that the American public seems to have no appetite for involvement in yet another conflict, especially with a world-class military power like China, regardless of what the US-Philippine Mutual Defense Treaty states. All we can say is "hold on to your hats 'cause it's a rough and bumpy ride ahead." Published 7/7/2012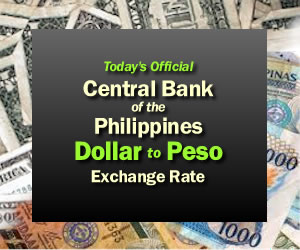 RECENT EDITORIALS
Pope Francis Admonishes Pinoys to End Scandalous Inequalities



We had a feeling this was coming. In his first major speech in the Philippines, Pope Francis called for an end to 'scandalous inequalities' in the country. And what better example of a scandalous inequality is there than that a preposterously ridiculous wedding of Dingdong Dantes and Marian Rivera which was officiated by 8 bishops and 7 priests. In addition, this crass wedding featured a 12-foot high wedding cake, a 2-million-peso wedding gown with an exaggeratedly long train that seemed to go on forever...you get the picture. And since the average Filipino subsists on a shockingly paltry $2 a day, what could be more scandalously inequitable than that? Published 1/16/2015
---
An Open Letter to Pope Francis; Please Read It Before Coming to the Philippines

Dear Pope Francis, your much anticipated visit to the Philippines is just a few days away. We expect that you will have been adequately briefed about the Philippines by the time you arrive. However, there might be a few things your Vatican handlers might have missed—or intentionally "forgot" to mention to you so we hope this letter reaches you in time for your historic visit. Before anything else, welcome! Published 1/9/2015
---
A Dingdong Fancy Wedding for a Third World Country

What is it with us Filipinos? We are a country of "all flash and no substance." Case in point: This ridiculously lavish wedding between two so-so movie stars that sought to outdo even the most "royal" of royal weddings. What was the whole point of this crassly extravagant display? Lest anyone forget, the Philippines is still a Third World country. And many, many squatter's homes (if you can call them "homes") do not have running water or even a toilet! Published 1/4/2015
---
Vice President Jejomar Binay's Aguinaldo

Money received from benefactors during Christmas in the Philippines is called "aguinaldo", a term and practice imported from Mexico during the Spanish colonial period where it now refers to the annual Christmas bonus given to employees. In the Philippines, it is now generally used to describe monetary gifts given by all benefactors, including godparents and employers. Published 12/25/2014
---
Do Filipinos Want America on Their Side or Not?

Given the Filipino penchant for "dramatics," not to mention the circus atmosphere that inevitably encompasses any event of even minor significance, one can hardly blame American government officials for refusing to hand over US Marine Lance Corporal Joseph Scott Pemberton over to Philippine authorities. The intriguing question in all this however is why some Filipinos are so insistent on having custody over the accused. Published 12/19/2014
---
Today's American Police Force Leaves So Much to be Desired

Long gone are the days when communities all across America looked up to the police officers who patrolled their streets and kept their neighborhoods safe. For cops back then it was a calling—almost like the priesthood—and those who answered that calling were brave, noble, larger-than-life individuals who kept Americans safe. Published 12/14/2014
---
Obama, a Lincoln to millions of undocumented  immigrants?

President Barack Obama's recent Executive Order legalizing millions of undocumented immigrants will mark him in history as a great President. Undocumented immigrants are the modern day slaves in American society. In constant fear, living in substandard conditions, paid low wages for backbreaking work, subjected to all kinds of abuse and exploitation - they contribute so much to American society. Published 12/02/2014
---