The new Cybercrime Law is piece of legislation that has no place in contemporary Philippine society.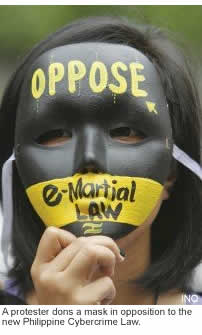 The fact that some members of the Philippine Senate managed to insert in it a provision that incorporates the country's draconian libel laws in order to stifle online speech shows that a few of our legislators still lack the maturity to handle criticism and prefer that no one say nasty things about them—true or otherwise.
Unfortunately, the senators who succeeded in inserting that sweeping libel provision into the new law are in for a big surprise because mankind is now in an era of instant global communications. The worldwide web is just that: worldwide! And the Filipino diaspora has seen to it that there are fellow Pinoys in every continent on earth, ready to take up the fight of their brethren in the Philippines. There is no way truth can be stifled in today's globally interconnected world. Even the most powerful country on earth—the United States—has been unsuccessful in keeping websites like Wikileaks from revealing their classified information. The senators and their autocratic twins both in and out of government stand little chance of forever hiding the truth from the public. Thousands of Filipino bloggers around the world beyond the reach of the Philippines' Cybercrime Law will make sure the truth is told.
Senator Vicente "Tito" Sotto III along with Senator Edgardo Angara appear to have been the prime movers behind the last-minute inclusion of the libel provision in the Cybercrime Law. Both will quickly realize—if they haven't already—that online netizens are not a constituency to be bullied around or even taken lightly. Ferdinand Marcos in many ways was lucky that he declared Martial Law in 1972. Because in today's highly interconnected world where social media sites like Facebook and Twitter can give anyone from anywhere instant access to a global audience, he would not have stood a chance.
Sotto, Angara or any Philippine politician who still thinks he or she can silence those who disagree with them by dangling the threat of a libel suit above their heads will find themselves up against a hydra-headed foe. And like the mythological beast, even if they manage to lop-off one of its heads, two new ones will appear it its place." Published 10/22/2012

Saved Comments
Name: Gemini
City/State/Country: Pamplona
IP Address: 121.1.11.38

Comments
CYBER CRIME LAW issue has NO merit. It's a wasteful useless topic that will not fly. I don't understand why congress wasted time in trying to pass it? How can they sue international bloggers for LIBEL? Do they think that ICC would even bother to glance at this concept? Tsk tsk tsk...
---
Name: tonyo
City/State/Country: pinas
IP Address: 182.18.209.2

Comments
I wonder if a libelous statement posted in the PNL may be actionable in Pinas under the Cybercrime law considering that the PNL is a foreign publication? And who may possibly be charged since posters use Pseudonyms. BTW don't get discouraged because this law is not yet effective. The SC issued a Temporary Restraining Order for 120 days LINK Continue exercising your freedom of expression.
---
Name: tonyo
City/State/Country: anywhere
IP Address: 182.18.209.2

Comments
Sanamagan sanamabits, Senatongs ang Tongressmen can say anything in the floor of Congress without getting punished for libel or for any crime associated with his libelous statement because they enjoy parliamentary immunity. Yet here's Senatong Sotto who surreptitiously passed the Cybercrime Act merely because he was criticized for his offense involving plagiarism. They don't want a level playing field. How unfair @%$#@.
---
Name: anthone
City/State/Country: austin,tx
IP Address: 99.190.130.41

Comments
Sa dinami-rami ng mahahalagang bagay upang umusud ang ating bansa, labis akong nagtataka kung bakit naisinggit ang walang kakuenta-kuentang batas na susupil sa malayang pamamahayag ng mamamayan. Sayang ang oras, salapi ng bayan at ang abalang dulot ng walang halagang debate tungkol dito. Tama yata ang sabi nang iba na ito ay 'personal na batas ni Senador....' Aba eh nahuli na, lumulusut pa, habang tumatakbo, nananadyak pa!? Kung ayaw mabatikus--iayos ang kilus.
---
Name: Ramon C. Balde
City/State/Country: Oxford, Michigan
IP Address: 76.238.192.196

Comments
With self-centered, self-serving, gun-toting, politically dynastic, and all other adjectives attached to it, politicians we vote in, we could never call the Philippines as democratic. And any of these comedians say that it is, must have undergone lobotomy. Cyber law is full of ka-ka. It looks more of a punishment than the actual law itself. But this is the Philippine order that is deeply rooted in our family-raising system. Never question authorities' answers or "else". To be free from birth is a very, very slow progress in this system. Innovation and creativity become nil. Passivity sets in as even the slightest intimidation from a presumably stronger other. But jealousy, anger, and violence to the ones in our own step of the ladder.
---
Name: tonyo
City/State/Country: pinas
IP Address: 182.18.209.2

Comments
Remember! Don't vote for Sen. Sotto, Angara and sons and other Senators who enacted the Cybercrime Act. They don't deserve to be reelected.
---
Name: Rob Lloyd
City/State/Country: Brisbane
IP Address: 203.56.233.122

Comments
What is all the hullabaloo about? You make a written statement which is untrue (libel) then you pay the price! Write facts not fiction and all is legal. I fail to understand what the Philippine people are writing about unless they do not understand the simple principles of law.
---
Name: tonyo
City/State/Country: anywhere
IP Address: 182.18.209.2

Comments
While the Cyber Crime Act is suspended because of the Supreme Court TRO, at the same time proposed amendments of this unpopular law have been filed to rectify this sanamagan sanamabits law. Looks like this law may never get implemented. Already it has been reported that Penoy is willing to decriminalize the libel law.
---
Name: A. Poli
City/State/Country: Anywhere
IP Address: 70.54.74.150

Comments
PNL is funny. The editorial placed the blame on Sotto and Angara for the cybercrime boboo. Oh yes these senators have a hand on it. But there are others too. What about Escudero who apparently co-authored it then admitted later the mistake? Oh and the most stupid of all, why was it signed by the president without giving it some clear thoughts? Haphazard job execution it seems.
---
Name: Jorge Villanueva
City/State/Country: Canada
IP Address: 142.162.218.193

Comments
Without delving into the substantive points or the merits of the Cybercrime Law my curiosity is on the reason why congress was so eager to pass it. Personally, I always doubted their interest to prioritize a law against the practice of political dynasty. But they could have considered other laws that would help the country get rid of its main drawback to success, graft and corruption. Instead, they opted to enclose themselves in a protective mantle and possibly dent the people's fundamental right to criticize bad government.
---
Name: ASSTIG AKHO
City/State/Country: EMPIRE STATE
IP Address: 207.38.182.120

Comments
Those who voted for the Cybercrime Bill and the President who signed it to become a law did not take the time to really analyze the consequences of the bill when implemented particularly with that libel provision attached to it. Now they realized the stupid mistakes they have made. The major concern of the law should not weigh heavily on libelous statements but on spam, fraud, piracy, cyber terrorism etc. I agree with the comment made by some that this was the way Senator Sotto expressed his revenge (you may call it vengeance) against those who criticized him severely for claiming the words or thoughts of others as his. DISGRACEFUL!
---
Name: GFJ...
City/State/Country: Hercules
IP Address: 67.188.19.40

Comments
The only way these self-serving nefarious Philippines politicos can do, to try and stop universal cyber space critics, right/wrong/true/false, is to go Beijing.., block it.., an exercise in futility. That's right, Philippines cyber crime law is an exercise in futility. It just shows how way behind times they are. They have been too long engrossed in their corrupt nefarious way of life, that they hardly noticed technology pass them by. These Philippines nefarious politicos are mince meat, and they can't do anything about it. It's God's will!?.
---
Name: WDC
City/State/Country: California
IP Address: 75.38.64.92

Comments
The only way you can implement the cyber law is by blocking all the social media in the internet and I don't know how these IDIOTS like Sotto, Angara and clueless Noynoy can do it. They can't even draft a law unless they copy it from somebody else? They should go back to school start from the kinder!
---
Name: ASSTIG AKHO
City/State/Country: EMPIRE STATE
IP Address: 207.38.182.120

Comments
Gemini: Korek ka dyan regarding the Cybercrime Law. It is impotent. They could not extradite Edward for bad mouthing the country and its citizens. Edward would be thumbing his nose and saying: "maghabol na kayo."
---
Name: tonyo
City/State/Country: anywhere
IP Address: 182.18.209.2

Comments
The law against libel applies even REAL OR IMAGINARY imputation of a fact against a person, natural or juridical, unlike in other jurisdiction which is applicable only to false accusation. This alone makes the cybercrime ACT an abominable law, a violation of the Constitutional guarantee on freedom of expression. This is indeed a sanamagan sanamabits law. But OMG maman, Senatong Sotto, Angara et al even made it worse by applying it to "libel committed in the cyber space." This should be the battle cry in the 2013 mid term elections. DON'T VOTE FOR SOTTO, ET AL.
---
Name: ASSTIG AKHO
City/State/Country: EMPIRE STATE
IP Address: 207.38.182.120

Comments
The libel provision in the Cybercrime is a another stupid and unnecessary law. It is an insult to the mentality of even the dumbest citizen of the country (including expat SAM of San Diego). PNoy should be focusing on population control and freedom of information to expose the face behind the mask. The Philippine Congress and PNoy as President of the country are out of touch with reality if not dismissive of the country's problems. I bet you that if these bills are passed, they are watered down version.
---
Name: 7gtg
City/State/Country: regnsk
IP Address: 24.72.32.254

Comments
tama talaga ang paniniwala ko noon na walang kuwenta itong administration na ito ng Pilipinas. Puro walang kuwenta ang pinagkakaabalahan. Mas gusto ko na iyong may konting corruption and treat it as 'cost of doing business' kaysa sa itong nasa puwesto ngayon na wala namang nagawa or ginagawa. Nagumpisa sa wangwang.. tapos ngayon ipagbabawal na ang tsismiss sa internet? Aba para mo nanring sinasabing tumigil ang Pilipino sa paghinga. I can't wait till the next presidential election para mapalitan na ito.
---
Name: tonyo
City/State/Country: anywhere
IP Address: 182.18.209.2

Comments
The law on Libel is UNCONSTITUTIONAL from day 1 because it's applicable to statements of fact, whether real or IMAGINARY, unlike the universal rule that it only applies to false imputations against a person. IT VIOLATED THE CONSTITUTIONAL GUARANTEE ON FREEDOM OF SPEECH OR EXPRESSION. It's surprising that it lasted until the present without being challenged. Thanks to the abominable CYBERCRIME ACT, which has been applied to the crime of libel, that there are now existing petitions before the Supreme Court questioning its constitutionality.
---
Name: Steve R
City/State/Country: California
IP Address: 98.234.19.64

Comments
With freedom of speech, Democracy will thrive.
---
Name: ASSTIG AKHO
City/State/Country: EMPIRE STATE
IP Address: 207.38.182.120

Comments
A. Poli: Many bills that have been written in Congress eventually became a law with very little debates. Wrong questions were asked so that wrong answers were provided. Many put their John Hancock on the bill even without reading the bill. The president becomes complicit by signing the bill without carefully deliberating on the merits and demerits of the bill once it is enacted into a law. The Supreme Court has to step in to tell Congress and the President how dumb they were. The Cybercrime Law is classic.
---
Name: Deadmaus
City/State/Country: Boca Raton
IP Address: 64.134.66.124

Comments
The Cybercrime Law is not the kind of legislative action the country is craving for. The country needs bills that are relevant to the lives of some 100 million Pilipinos. The country needs to rein in the runaway population growth that is causing too much social problems. There is a need for transparency in government. .The Freedom of Information Bill must pass to serve as a detergent to corruption. The existing bank law must be repealed so that the BIR could go after those tax dodgers. The Cynercrime Law is a distraction the country does not need.People are against it and the SC has to intervene. What a waste of scarce resources!
---
Name: tonyo
City/State/Country: anywhere
IP Address: 182.18.209.2

Comments
R.A. No. 6735 empowers the people to also enact laws via the PEOPLE'S INITIATIVE, pursuant to ART. VI, Section 2 of the 1987 Constitution. Since the CYBERCRIME ACT is not only ABOMINABLE but also UNCONSTITUTIONAL, any group of concerned citizens may draft a law to repeal R.A. No. 10175 aka the "Cybercrime Prevention Act of 2012″ via the PEOPLE'S INITIATIVE and submit the draft of the repealing law and petition the COMELEC to submit the same to the voters in the forthcoming mid term 2013 Elections for a referendum and ratification, e.g., "R.A. NO. 10175, ALSO KNOWN AS CYBERCRIME PREVENTION ACT OF 2012, IS HEREBY REPEALED EFFECTIVE IMMEDIATELY." This way maipapamukha natin sa mga walang kwentang members of Congress na puede silang ibasura ng mga mamayan, sanamagan, sanamabits.
---
Name: As I See It
City/State/Country: Cebu City/SD,CA
IP Address: 68.7.248.64

Comments
Somebody was saying, 'Mr. President, before you affix your signature, read the document first, and think.' I agree, he is the highest official of land. Of course he does that. He is an Atenean! Therefore he cannot wash his hands like Pontius Pilate. He could have vetoed it or make recommendations / amendments but he liked it that's why he signed it. So the president of the republic is as equally responsible or blamable as Sotto and Angara.
---
Name: pinaskongmahal
City/State/Country: USA
IP Address: 199.96.203.220

Comments
This cybercrime law will not silence me from telling my adre asstig ahko that my figures on welfare recipients in Obama's gov't is mythological. Well, they're fixed yet but sliding. The truth is they're unfolding anyway that Obama's track record is very bad: Trump questioned his citizenship being a son of a Muslim Kenyan citizen dad, Muslim Indonesian stepdad, kinship to anti-American-radical Sorro and Rev Wright, entered Harvard on a foreign so he flew to Vegas instead to fund raise, He buzzed NY with Air Force 1 terrifying the people as another 9/11, bowed to a Saudi King to appease the Muslim world, pronounced corpseman to 'korpsman', all unpresidential behaviors. Obama will definitely lose per deo's Mayan almanac.
---
Name: ASSTIG AKHO
City/State/Country: EMPIRE STATE
IP Address: 207.38.182.120

Comments
Because of libel provision in the Cybercrime Law in the Philippines, perhaps this information might help: Public Officials vs. Private Individuals . In order to win a libel lawsuit, private individuals need only prove that an article about them was libelous, and that it was published. But public officials – people who work in government at the local, state or federal level – have a tougher time winning libel lawsuits than private individuals. Public officials must not only prove that an article was libelous and that it was published; they must also prove it was published with something called "actual malice." Actual malice means that: The story was published with the knowledge that it was false. The story was published with reckless disregard of whether or not it was false.
---
Name: JRH
City/State/Country: Montreal, Canada
IP Address: 70.83.179.172

Comments
Republic Act 10175 vs Free Speech & Freedom of Information Act is now pending under a Temporary Restraining Order. Point of clarification: just exactly does 'one-degree higher penalty' mean. Double-penalty or double-jeopardy? This Cybercrime Law has good points & intentions for the protection of people, however, some provisions are on the grey side & need clarifications or justifications. Example: Online Libel, if convicted, equals 14 year jail term. Isn't that too severe? This time the TRO helps cuz we need to discuss further the issues & questions of concerned citizens. The severe penalties are draconian in nature. More questions: how can the gov't go after anonymous & pernicious bloggers?
---
Name: GFJ...
City/State/Country: Hercules
IP Address: 67.188.19.40

Comments
99,900,177 was PHL 2010 population. 29,700,000 or more than a quarter population owned PCs, (personal computers). More now neigh 2013. 30+%? Filipinos also tend to share/allow access, by household members to their PCs. That's my personal experience when I vacationed. Meaning, PNL is accessible to more than half the population.., the population more likely to vote.., and hopefully vote in 2013/2016 against congressmen/senators that passed cyber crime law.
---
Name: Gemini
City/State/Country: Pamplona
IP Address: 121.1.11.38

Comments
The author of CYBER CRIME LAW just made the PH congress and all Filipinos look like real DUMBO and ignorant uneducated citizens. Internet technology is over their heads and far beyond their grasp. They are too OLD to learn such advance technology and for this reason I urge voters to replace them this coming election. If Sotto thinks he can catch a CYBER BULLY who lives in Toronto, then he is rather out of his mind. Gimme Inay aka Kasmot is not enough ID to be slapped with LIBEL. You can only brand him as an IMPOSTOR and a SORE LOSER. He he he...
---
Name: GFJ...
City/State/Country: Hercules
IP Address: 67.188.19.40

Comments
"The United Nation's Commission on Human Rights, (UNCHR), ruled this year, (2012), that the criminalization of libel violates Freedom of Expression, and is consistent with article 19 of the international covenant on civil and political rights."
---
Name: James
City/State/Country: Manila
IP Address: 112.198.90.204

Comments
The real question is: How you gonna deal with Cyber Bully, Hackers, Sex Traffickers, and International Syndicates using Internet? Are you just gonna allow those haters to insult, fabricate false evidences, tell lies, taunts, and even disrespect anybody in the internet? what if they misuse freedom of speech/expression to downgrade another Freedom, such as Freedom of Religion???
---
Name: As I See It
City/State/Country: Cebu City/SD,CA
IP Address: 68.7.248.64

Comments
GEMINI stated, "CYBER CRIME LAW issue has NO merit." Really? Then tell it to your beloved idol PNoy who approved readily.
---
Name: GFJ...
City/State/Country: Hercules
IP Address: 67.188.19.40

Comments
Cyber martial law is exercise in futility. It cannot block nor prosecute universal cyber freedom of expression. This is frustrating for politicians, wanting to stop critics from informing the masses of their nefarious deeds prior to midterm election 2013.
---
Name: ASSTIG AKHO
City/State/Country: EMPIRE STATE
IP Address: 207.38.182.120

Comments
Certain provisions of the Cybercrime Prevention Act (RA 10175) are being questioned by petitioners as to their constitutionality. Among them are sections 4, 6, 7, 12, and 19. Essentially libel committed by a person over the internet may not only be slapped with stiffer penalties but prosecuted twice under the Revised Penal Code. There is a clear legal overlap here and double jeopardy (two applicable laws for the same crime.) There is clear violation of privacy with 10175 because the government could eavesdrop, collect or record private conversation without any warrant. The security of the state is not at stake here to warrant such eavesdropping on private or personal conversations transmitted digitally or electronically.
---
Name: Dragonslayer
City/State/Country: Kingsbridge
IP Address: 74.254.86.66

Comments
Paul (aka Saul) says that if anyone act and say things right one will never be subjected under the sting of any man-made law. Unaware, it seems though, a few of us here have already uttered glaring lies and wild contradictions against their own ideas that lead to a doubtless possibility they can be sued for committing libel against their very selves. This c-c law is just another scheme or improvisation with an evil intent against all honest beings to know the truth.
---
Name: ASSTIG AKHO
City/State/Country: EMPIRE STATE
IP Address: 207.38.182.120

Comments
continue... Cyber terrorism is not the issue here and using cyber bullying as an excuse or rationale for this law to be enacted by Congress and signed by the President is not only laughable but insane. WHAT ARE THESE ELECTED OFFICIALS THINKING? Your thoughts tony0.
---
Name: anthone
City/State/Country: austin,tx
IP Address: 99.190.130.41

Comments
Ang cyber law ni Ka Ed at Tito ay patunay na wala na yatang maisip ang ating mambabatas dahil talagang labis na ang umiiral na alituntunin. Kailangan na 'lang ang pagpapatupad sa mga ito.Para makatipid ang bansa at magamit ang maiipong salapi sa mga kailangan ng bayan,marahil ay dapat na munang bigyan ng mahabang bakasyon ang ating mambabatas. Tingnan natin ang kalalabsan kung ang kongreso ay 'nagpapahingnga'. Napakalaking tipid ito para sa ating bansa,'di pu ba ?
---
Name: GFJ...
City/State/Country: Hercules
IP Address: 67.188.19.40

Comments
Choking political critics of trapos and long staying Philippines congressional politicians is the main target/reason for the cyber martial law, prelude to the Philippines 2013 midterm election. Example, "Don't reelect senator 'plagiariser' Sotto."
---