What's in a name? In the Philippines unfortunately, a name is everything. Take product brands for example.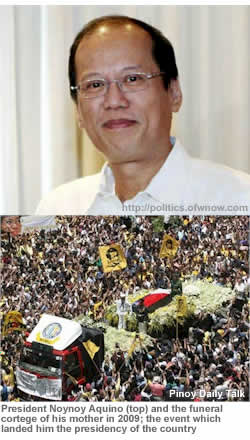 To Filipinos, toothpaste is "colgate;" a refrigerator is a "frigidare;" to photocopy is to "xerox;" and picture-taking is of course "kodakan."
In politics, brands exist as well with powerful clans with well-known family names controlling both local and national politics. Thus a candidate's last name carries more weight with voters than does his or her track record or even their fitness for office. And this seems to be the case in throughout the Philippines. Thus, one ends up with a country whose elected officials are for the most part, unfit for the position they hold, incompetent, and on occasion even corrupt. Unlike in properly functioning democracies where only the smartest and most qualified make it to the top, the Philippines unfortunately is saddled with a vast army of mediocre officials who got to where they are not because of what they've achieved but simply because of who they are.
Even President Benigno "Noynoy" Aquino III, whom the public now greatly admires led an undistinguished career—first as a two-term Congressman, then as a Senator. Aquino would never have been considered a serious presidential contender even by Filipino standards, had it not been for the demise in 2009 of his mother, former president Corazon Aquino. Her death set in motion events that catapulted her son to the presidency a year later. And although the President is now well liked, the sobering fact remains that he became president not because of anything he did, but simply because of who he was. Compare Aquino to a Barack Obama or a Mitt Romney both of whom have spent a lifetime fighting their way to the top, besting many equally ambitious contenders along the way, and one begins to see the advantage someone who worked hard to get to where he's at, has over someone who got his position because he just happened to have the right last name.
Such a scenario plays out every election for almost any public office from the lowest to the highest. And it gives one a better understanding of the caliber of Philippine public officials and alas, why the Philippines is now lagging behind Asian countries that it was well ahead of just fifty years ago. Powerful clans who use their clout to get their members elected prevent more qualified individuals from serving and end up depriving the citizenry of a more effective and efficient government.
Even private companies are often guilty of such nepotism often reserving their top positions solely for family members. This is one reason the average longevity of Philippine companies is little more than a generation at best. Most of the large Filipino companies around during the fifties and sixties no longer exist today.
Filipinos might have to learn the hard way that the only way to compete globally is to always choose the best person for the job. And that person is most likely not a relative or a trusted friend. Until such a national awakening comes to pass, the Philippines will be forever mired in mediocrity. And countries that have their best and brightest running the show will continually leave the Philippines in the dust. Published 11/02/2012