As the American women's grassroots organization UltraViolet puts it: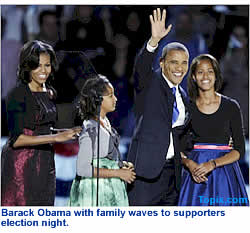 the just concluded US election has made 2012 is the year of the woman! Not only did women make up 54% of the electorate, but the gender gap which stood at 18 points was at record highs. Women showed up in force to put a stop to what they saw as the Republican Party's blatant overreach to curtail women's rights and possibly overturn Roe v. Wade.
And while Californians might seem nonplused at having female senators, it is interesting to note that three States elected their first female senators: Elizabeth Warren of Massachusetts; Tammy Baldwin of Wisconsin; and Mazie Hirono of Hawaii—the first ever Asian-American female senator. Thus, there will be a record number of 20 women serving as US Senators in 2013.
Other notable "gender" events from this election: The state of New Hampshire will have an all-female congressional delegation…and a female governor; Women with military combat experience are now serving in Congress—Tulsi Gabbard and Tammy Duckworth (who lost both her legs while serving in Iraq); And Tammy Baldwin the first openly gay female to serve in the US Senate.
Serving as a "warning shot across the bow" to legislators who hope to weaken or even take away a woman's right to choose, Missouri Republican Congressman Todd Akin, whose controversial comments on rape and abortion created quite a stir during the campaign, lost his bid to Clair McCaskill's senatorial seat. Another Republican, Richard Mourdock, a Tea Party-backed candidate who beat long-time Senator Dick Lugar in the Primaries, crashed and burned as well for his comment that a pregnancy resulting from a rape should be seen as a gift from God.
Last but not least for Conservative Evangelicals who continually herald the fact that God is on their side, this election's October Surprise seems to have been super-storm "Sandy." Was she "Divine intervention?" Was "Sandy" the deus ex machina that turned those undecideds to the Obama-Biden camp? The timely and effective Federal response not only helped the President, but the storm's immense destruction also highlighted the need for a strong Federal government with vast resources and reach to compliment States' emergency response efforts.
As we near the end of 2012, we now look with optimism to 2013. This recent election proved without a doubt that women can and do make a difference. The United States Congress is at present an extremely polarized institution. It is time our politicians once again begin to reach across the aisle and move the nation forward. And more women in Congress just might do the trick. Published 11/11/2012