As if to remind everyone that the country's future is in for a rough ride ahead,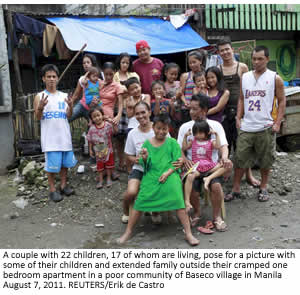 typhoon Pablo lashed the Visayas and Mindanao regions leaving death, devastation and mangled holiday displays in its wake. The Philippines already has the distinction of being one of the top five countries most affected by extreme weather conditions according to the latest Global Climate Risk report—and from the looks of it, the climate isn't likely to get better anytime soon.
The country is slowly being crushed under the weight of its own burgeoning population, set to hit the hundred-million mark before 2014 and, if left unchecked will likely balloon to two hundred-million before 2050. Overpopulation is most evident in Metro Manila where—according to the Philippine government's own National Statistical Coordination Board—the density is such that a person has to share a square kilometer with 18,650 other wretched souls.
The sad truth is that neither the government nor the private sector will ever be able to meet all the demands of an exploding population no matter how hard they try. Even significant gains in farming such as increasing crop yields are instantly negated because the growth in population is greater than the increase.
Let us do some very basic mathematical computations to flesh-out the point we make above. First, assuming our population now stands at 97.6 million and grows at a rate of 2.36 percent per year (according to the Commission on Population or PopCom). This means that every year there are 2,303,360 more mouths to feed. Now according to the Bureau of Agriculture Statistics (BAS) in 2010 the average Filipino consumed 308.93 grams of rice per day (that's about a cup of rice per meal) or 113 kilos or rice a year.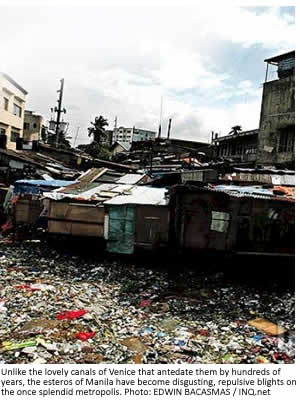 Now multiply 113 kilos by the annual increase in population (2,303,360) and we quickly realize that the country needs an additional 260 million kilos of rice each year just to keep pace with the growing population. And that's just one commodity. What about potable water, fruits and vegetables, soap, clothing, transportation, electricity, oil, etc, etc, etc?
The Catholic Church, which is vehemently against the Reproductive Health Bill does not have a solution to all this—how can they! They are instead banking on the fact that the country's predominantly Catholic population has been sufficiently indoctrinated to go against their own best interest and blindly follow what their priests and bishops tell them to do…like lemmings marching off a cliff.
Whether Filipinos will finally be able to stand up for themselves or whether they will choose to remain the subjugated people they have been for almost five centuries, will determine what kind of Philippines we all will end up with. If Filipinos will have the courage to break free from the yoke of foreign domination (in this case the Vatican) and finally vote the RH Bill into law, then there is hope—if not, then Filipinos will forever see themselves as inferior and remain a timid, subjugated people. And if that should come to pass, then proud and intelligent Filipinos would be best served by migrating elsewhere and raise their children to become proud and free individuals capable of reaching their full potential. Published 12/4/2012
Postscript: 12/29/12 Palace confirms RH bill signed into law
Malacañang on Saturday confirmed President Benigno Aquino III has signed the controversial Reproductive Health bill into law, after keeping mum on the matter Friday night. "The passage into law of the Responsible Parenthood Act closes a highly divisive chapter of our history—a chapter borne of the convictions of those who argued for, or against this Act, whether in the legislative branch or in civil society," Abigail Valte, deputy presidential spokesperson, said in a statement.
http://www.abs-cbnnews.com/nation/12/29/12/palace-confirms-rh-bill-signed-law
Postscript: 12/17/12 RH bill hurdles 3rd reading in House, Senate
The House of Representatives and the Senate, voting about two hours apart of each other, on Monday approved on third and final reading the Reproductive Health (RH) bill, bringing it a step closer to becoming a law. The House vote gave the RH bill a wider margin than it garnered on second reading last week, with only 79 voting for the bill as against 104 who did so on December 12, in a five-hour marathon session. The third-reading vote was 133-79-7.
http://interaksyon.com/rh-bill-hurdles-3rd-reading-in-house-senate
Postscript: 12/13/12 'Ayes' have it; House passes RH Bill
MANILA, Philippines – Advocates of the Reproductive Health (RH) bill won a historic vote Wednesday as the House of Representatives approved on second reading a measure that would institutionalize the provision of reproductive health care services to Filipinos.
http://www.interaksyon.com/article/50302/ayes-have-it-house-passes-rh-bill