As a Filipino-American who migrated to the United States, I unabashedly admit that I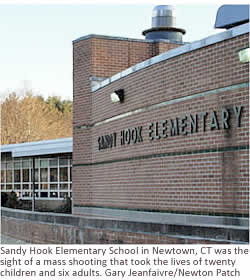 have always been impressed with Americans and American society. They seem to really "have it together." They can be frivolous and funny and never think twice about laughing at themselves, but at the end of the day, they are a can-do people living in a country of great consequence.
Thus, it is very hard for this writer to understand the attachment Americans have to their guns. The fact that handguns—including those specifically designed for use in military combat—are legally available at gun-shows all across the nation is quite incomprehensible and seems totally "out of character" for this otherwise sensible, level-headed society.
It appears that the National Rifle Association (NRA) leadership has a death-grip on American gun policy and like a boa constrictor will continue to squeeze until all resistance from its prey ceases. But that would mean the destruction of American society as we know it.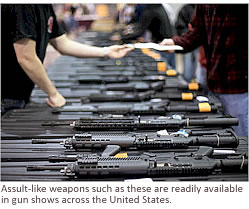 The senseless mass killing of 20 children and 6 adults at Sandy Hook Elementary School in Newtown, Connecticut on Friday, Dec. 14, 2012 once again highlights the fallaciousness of the arguments the gun lobby and the NRA continue to put forward.
A survey done by conservative pollster Frank Luntz in 2009 showed that even among members of the NRA 69% wanted criminal background checks done on all gun-show sales—something that the NRA leadership is vehemently against. Today more than ever, the handwriting is clearly on the wall. Americans cannot continue believing the twisted Second Amendment interpretation that the NRA leaders want to ram down their throats. President Barack Obama in the moving speech he gave at Newtown on Sunday hinted at things to come. With the president leading the charge, Americans may finally come to their senses and end their silly yet deadly fascination with firearms. It is just so, so sad that the lives of all these innocent victims had to be cut short for Americans to at last open their eyes. Published 12/17/2012