It has taken us 491 years but we Filipinos have finally stood up to the Catholic Church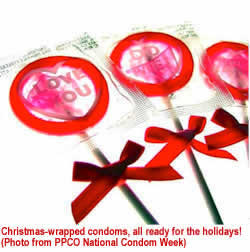 and said "we're not going to take it anymore!" It's bad enough that condoms and contraceptives are readily available in pharmacies all over Rome—where the Vatican is located—so why shouldn't they be readily available here?
We have grown so used to being treated like children that most of us no longer are even cognizant of the inequity we are forced to live through. The cruel Spanish friars who ruled our everyday lives during Jose Rizal's time and who he so despised have never really left; they simply metamorphosed into today's Catholic Bishops and continue their dominion over these islands. And whenever push comes to shove, the bishops follow the Vatican, not Malacańang.
But all that suddenly seems to be changing. Now, twelve years into mankind's third millennia Filipinos finally built up the courage to stand up for what they believe would be best for them and for their country and are about to pass the Reproductive Health (RH) Bill. From here on, anything is possible. Filipinos will soon no longer need to be told they should be more pious than everyone else. They will no longer need to be told to act with more humility than everyone else. They will no longer need to whip themselves raw every Holy Week just to atone for their sins. They will no longer even see themselves as being born into this world as sinners. Filipinos at long last are beginning to set their own course and will no longer allow themselves to be hamstrung by institutions who want to keep them acquiescent and under their thumb.
The Christmas season has always been a season of hope and the passage of the RH Bill has made us more hopeful than ever. And one parting thought, since divorce is also legal in Rome where the Pope is, maybe it is time Filipinos no longer put up with the fact that the Philippines is the only country in the entire world where divorce is still illegal. Just another Christmas wish to ponder over the Holidays. Maligayang Pasko everyone! Published 12/23/2012