It is hard to believe that children born during those fateful February days in 1986 are now almost thirty years old.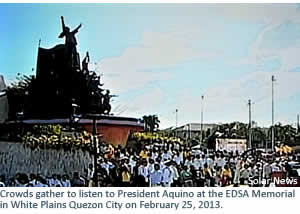 An entire generation—and then some—has grown up never having to experience the fear, the loss of liberty, and the absence of basic human rights that their parents were forced to live through during martial law.
The entire population of the Philippines was under the thumb of an evil megalomaniac who—for all intents and purposes, many say—should have been serving time behind bars in Muntinglupa instead of living the life of a king in Malacañang.
From age 21, when he was accused (though subsequently acquitted) of killing his father's political rival; through his trumped-up heroic exploits as a supposed guerilla fighter during World War II; to his outlandish war reparations claims that were rejected by the United States after the war; Ferdinand Marcos seemed the embodiment of a sociopath who would stop at nothing to attain wealth and power.
Marcos destroyed the social fabric of the nation and set an example that to this day legions of Filipinos both in and out of government follow. Marcos showed the country that if you have enough power you can lie, cheat, and steal, and get away with it.
It took Filipinos, known for their patience and some would say timidity, over a decade before they finally had enough of Marcos and his ilk and kicked them all out of office. Now, 27 years after the fact, President Benigno Aquino III has signed the Human Rights Victims Reparation and Recognition Act of 2013 into law. With its signing, the Philippine government at long last officially recognizes the atrocities of the Martial Law years. The law also creates the Human Rights Violations Victim's Memorial Commission which in coordination with the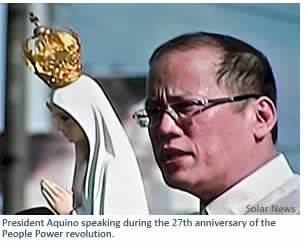 Philippine Department of Education and the Commission on Higher Education will see to it that this dark chapter in our history is properly taught to and never forgotten by, future generations.
And while the law will be hailed by most Filipinos as putting the final nail in the coffin of Marcos's martial law regime, there are some who will see it as mere window dressing. For until those who took advantage of the Filipino people during martial law are brought to task and punished for their acts, Marcos and all his cronies will still have the last laugh.
So Mr. President do what you need to do and finish the job that millions of Filipinos started along EDSA 27 years ago. They were willing to put their lives on the line for the sake of freedom…it's high time they get the justice they've been clamoring for all these years. Published 2/25/2013
Archived Comments for this editorial

Name: HMS
City/State/Country: New York, NY
IP Address: 108.183.75.178

Comments
One reason so very little have changed since EDSA is because there are still Filipinos who admire and root for Marcos despite, or probably because of his evil. These Filipinos are the equivalent of Satanists that we read about now and then. They are more contemptible and despicable than Marcos himself. Enrile, Honasan, Estrada are Marcos people. For as long as these remnants of evil are around the Philippines will be in chains.
---
Name: Jorge Villanueva
City/State/Country: Canada
IP Address: 142.134.106.31

Comments
It is a great mistake to compare the EDSA uprising with historical revolution in other parts of the world. The episode in Manila was not a "game changer" or a social change for the country. It merely created a temporary vacuum in the seat of power. The corrupt political system is still dominating the country, locked in the national attitude and customary practice of the people.
---
Name: GJF
City/State/Country: California
IP Address: 67.188.19.40

Comments
To 10,000 or so living kins and surviving victims of Martial Law, RA 10368 is a sigh of relief long time coming. Finally, they get a semblance of recognition and token pittance compensations for their sufferings under FM's cruel and brutal martial law. Bringing, once again, to the people's attention, to never again let another megalomaniac attain the presidency of the Philippines.
---
Name: As I See It
City/State/Country: Cebu City/SD,CA
IP Address: 68.7.248.64

Comments
The so-called EDSA revolt of February 1986 marks the turning point in Philippine history. It can be remembered as the end of a strongman's DICTATORIAL authoritarianism, only to be replaced with a TUTORIAL regime of Cory who's surrounded with an array of mentors, advisers, and tutors. Among the mentors worth mentioning is the man named JOKER who some people believe was actually calling the shots. Cory's TUTORIAL regime became dictatorial only when she dictated the firing of all local execs who were not politically aligned with her. Tsk tsk tsk.
---
Name: MaginP
City/State/Country: NJ-USA
IP Address: 67.82.127.138

Comments
During Marcos regime, sinira niya ang political and judiciary system ng Pilipinas, At this time under P-noy gov't naniniwala ako'ng maraming magtitiwala kay P-noy lalo na sa corruption. When it comes to politics, lalo na sa senate, iwasan sana natin iboto and may kamag anak na sa senate, monopoly na ito or dynasty to preserve their powers. Bigyan ng chance sa mga iba.
---
Name: GJF
City/State/Country: California
IP Address: 67.188.19.40

Comments
Initially, I perceived the actions of PNoy as vindictive & self serving. I no longer hold that premise. PNoy, from my perspective, had been working hard to right the wrongs of FM's cruel Martial Law, and before ML. Inch by inch, piece by piece, one by one, the stones of the pyramid of of graft and corruption are being addressed, and removed. Unfortunately, there is no drastic perceivable solution to achieving this goal, save to work on it continually. PNoy et al is/are doing just that. Just like house cleaning. There is no magic wan. Just elbow grease.
---
Name: ASTIG AKHO
City/State/Country: EMPIRE STATE
IP Address: 207.38.182.120

Comments
The EDSA I was nothing more than excision of a political tumor that was growing fast and spreading. It was never meant to correct a terrible economic malady. It went on for years. There were times when GDP would grow but it was never consistent and even predictable. Years after Cory took over, series of coup affected her fragile administration. It even left a bullet fragment on PNoy's body. There was a lull during Tabaco's reign but after that corruption showed it ugly face again. Remission ended.
---
Name: Jorge Villanueva
City/State/Country: Canada
IP Address: 47.54.136.110

Comments
After EDSA uprising what is needed for the country is a makeover of the entire political system. As it is now, politics is the "be all and end all" of the Filipino society. Politicians can't be relied to implement this change, obviously, because of conflict of interest. It is for Filipino people in unity with educators, religious, civic, business or trades people to adopt this change.
---
Name: HMS
City/State/Country: New York, NY
IP Address: 108.183.75.178

Comments
To As I See It who asked: Who's going to pay for mendiola, Luisita, soldiers deaths? This is so simple that I am surprised you even asked. People have to be charged first and awards be given by a Court of Justice before payments can be discussed. Those 10K victims of Martial Law were already heard by the courts and given awards. They are just waiting for the execution of Judgment. The Farmers who were killed were not victims of rights violation under Martial Law. The soldiers who died, died in the line of duty and are therefore the responsibility of the State. Marcos was an evil incarnate. He fathered all the crookedness and corruption now happening in the Philippines. I hope he is rotting in Hell.
---
Name: Sam "The Mercenary"
City/State/Country: San Diego California
IP Address: 66.27.52.158

Comments
Astig Akho said, "Voters have short memories and forgiving hearts. This country was hurt by the Marcoses yet they put the daughter, the mother and the son as governor, congressperson and senator respectively. My reply: You need a lot of learning to do. These people in power in the halls of the congress and the senate.. What do they have in common? Vast amount of lands which explains guns or goons..... Then you include the local officials.. The Governors, the Mayors, etc.. once again, what do they have in common? so go from there.
---
Name: Jorge Villanueva
City/State/Country: Canada
IP Address: 47.54.137.34

Comments
In plain language, EDSA 1 or EDSA 2 is just like changing shirts. The person, which represents the Philippine society is still the same inside. Same undisciplinary atttitude and the same adherence to a political practice that's anathema to real progress. In fact, there was never a substantial social change as the country remained locked in a spiral of a corrupt system every election since that supposedly ephocal event called EDSA.
---
Name: ASTIG AKHO
City/State/Country: EMPIRE STATE
IP Address: 207.38.182.120

Comments
HMS: I believe that the primary reason why much had not changed since EDSA I is the lack of moral courage or spine to take drastic action by leaders chosen by people to lead. For example the coup against Cory could have sent Trillianes and Honasan to the gallows. What they did were treasonous acts. Cory was a weak leader. She was more concerned with reconciliation than instituting political and economic reforms. Since then, offenders received more carrots than sticks. Erap took advantage of the inherent weakness of government and Arroyo followed. Just look at what Lee Kwan Yu did in Singapore. Opponents were jailed and punished. PEOPLE ARE MOVED TO CHANGE BECAUSE OF FEAR.
---
Name: WDC
City/State/Country: California
IP Address: 75.38.65.178

Comments
Twenty years after the EDSA revolution did not accomplish anything. At least when Marcos was the President, him and his cronies were the big thieves but when he left everybody I mean everybody from the taxi driver to the highest position in the Philippines are bunch of thieves. Nothing in the Philippines to be proud of!
---
Name: ASTIG AKHO
City/State/Country: EMPIRE STATE
IP Address: 207.38.182.120

Comments
It took Lee Kwan Yu some 30 years to take Singapore to where it is today. 27 years have gone past in the Philippines and the political system is still broken and the people in government are still rotten. I don't know what kinds of people we have in the Philippines, but aren't they aware that patience has its limits. Ano kayo martir? When marriage is not working, the cry for divorce gets louder! Give those unfaithful political leaders in May their divorce papers!
---
Name: Sam "The Mercenary"
City/State/Country: San Diego California
IP Address: 66.27.52.158

Comments
Astig Akho said, "The EDSA I was successful in awakening the people of the abuses of unregulated presidential power." My reply: It was also a failure because despite the awakening, political abuses continued on... and it continued on because the variables of political and social abuse was never corrected.. Feudalism.
---
Name: ASTIG AKHO
City/State/Country: EMPIRE STATE
IP Address: 207.38.182.120

Comments
James Villanueva: I completely agree with your take. EDSA I was never and will never be seen as a "game changer". Nothing has changed but only gotten worse.
---
Name: antonio jr
City/State/Country: manila
Remote Name: 112.205.55.180

Comments
To really feel what one who lost the life of his beloved Father, Pres. Aquino with all the power that he holds as a President, has been amazingly calm this far and shown any vindictiveness towards the Marcos clan. He hopes and prays that it is the people who will have it known that like him, they want Justice to be done and punishment be dealt to the spouse of then ex Pres. Marcos AND ALL THE MONEY THEY STOLE BE RETURNED.
---
Name: HMS
City/State/Country: New York, NY
Remote Name: 108.183.75.178

Comments
To AS I See it who said the Marcoses should be given fairness. Look, if you see the Marcoses and the Arroyos as people that deserve anything that is your privilege. I think the first mistake of the EDSA revolution was to let the Marcoses escape. They should have been hanged upside down in Plaza Miranda the way the Italians called on Mussolini to account. Or, they should have been shot like dogs the way the Czechs dealt with their dictator. The Marcoses and Arroyos are the personification of everything evil that had afflicted the country the day they came to power. NoyNoy Aquino is a breath of fresh wind compared to those Thieves. I am actually hoping that in 2016 if things are going well for the country NoyNoy Aquino should grab power and install himself President for life.
---
Name: Jorge Villanueva
City/State/Country: Canada
Remote Name: 47.54.141.212

Comments
The EDSA march culminated in the purging of the hated Marcos regime. But it did not end the poverty and misery of the country. What really happened was that throwing out the Marcos rule did not eliminate the main cause of the country's degradation. It is the pervasive atmosphere of graft and corruption found in all levels of the government, local and national, that is primarily responsible. The fact is, EDSA did not end the misery. It only made the country realize that the problem is all encompassing and a new strategy to ultimately solve it, is required.
---
Name: simone
City/State/Country: toronto City
Remote Name: 173.206.234.72

Comments
I was 15 yrs old when Pres Marcos stole my freedom of speech, my rights as a human being to lived freely. my opinions were oppressed, my parents would always warned of not to uttered statements against the government because they may hurt and jailed me. I became careful of my life, but deep in my heart, I was a rebel, I always voted against them, even though it will be a manipulated yes vote. I have hope in God all the time, for He seen our suffering, need to wait and the right time has come, and everything is history, i will always remember and learned a lot of lessons: Romans 12:12- Be joyful in hope, patient in affliction, faithful in prayer. God sees everything, He will make a way in the right time and moments. Praise the Lord!
---
Name: HMS
City/State/Country: New York, NY
Remote Name: 108.183.75.178

Comments
The so-called People Power Revolution was nothing but a ningas kugon that is so typical of Philippine Culture. They removed Marcos from power then stopped right there and relaxed. There was no follow up or follow through of any changes they may have wanted to make. The result was a "democratic" government more dysfunctional than the dictatorship. When Enrile and Honasan launched their coups the people watched in amusement, instead of forming another people power to put a stop to these evil people. As a result these very people ascended to power, followed by artistas and other unqualified, egotistical people that know nothing of nation building. So here we are, asking each other, "what happened"?
---
Name: Gemini
City/State/Country: Pamplona
Remote Name: 121.1.11.38

Comments
It took us 27 yrs. to shape ourselves and it's should have been more than enough to get to reach our goals. BUT DID WE LEARN OUR LESSON? Our system has not really change as much in fact it has more holes added to it. I have touched the subject in regards to party list system and although it's an opinion, I feel this needs overhauling. Most have probably never read my entry but I want to hear others opinion about it. There are too many candidates vying for one position. We need to narrow down our choices through party caucuses. The more parties we allow, the more confusing it is for the voters. It DIVIDES people rather than UNIFYING them. It's NOT good for our country and it's BAD for our people. It boils down to the proverb; TOO MANY COOKS SPOIL THE BROTH!
---
Name: Javier Diaz
City/State/Country: LA County, CA USA
Remote Name: 71.165.114.106

Comments
Re: Human Rights Victims Reparation and Recognition Act of 2013...1986 to 2013...27 years...Those children born in 1986 are now 27 years old..If the victims have to go to court even if he wins in the RTC (Regional Trial Court.. I will be reversed by the CA.. Just the recent case of the murder of a Radio broadcaster in Palawan.. Whatever was decided by the Dept of Justice was reversed by the CA .. Same wit the Corbito Dacer Murder.. Who is serving time for the muder of Dacer? Lacson is still senator..Now an FM victim is supposed to believe that he 'll get reparation under this new law . I hope so too it's been more than a uqarter of a century.
---
Name: As I See It
City/State/Country: Cebu IP Address:/SD,CA
Remote Name: 68.7.248.64

Comments
The successors of FM namely Cory, Ramos, Estrada, Gloria, and now Noynoy have been celebrating this so-called EDSA revolt for 27 long years sounding like an old broken record. Yet the Philippines is still being ridiculed as the 'sick man of Asia.' Tsk tsk tsk!
---
Name: JRH
City/State/Country: Vacation Land
Remote Name: 190.134.85.45

Comments
The Matuwid na Daan must stay on course. There is no turning back of the old ways that ruined the Phils. It may go uphill & downhill but must be on a straight course. Once & for all it must not repeat the mistakes & excesses of the old corrupt ways. It is the moral obligation of the present administration to lead our people to a better future & well-being.
---
Name: Arch.Lito L. Mallonga
City/State/Country: Pinas Ating Mahal
Remote Name: 207.102.255.104

Comments
Never forget what happened during Martial Law and Edsa Revolution I. Who is the real father of Martial Law? Most of those put to prison when Sen. Ninoy Aquino got killed has nothing to do with it and need top be compensated. Mare fall guys. All of this events has been manipulated my those Media People and leaders who paid them and hope that the History be re written so all our people will know kasama na rin itong maga taong hindi pas naipaganak noon. Makulay and history nang Pinas ating mahal.
---
Name: Javier Diaz
City/State/Country: LA County, CA USA
IP Address: 71.165.114.106

Comments
Re: Ferdinand Marcos.."He was accused at 21 (though subsequently acquitted) of killing his father's political rival..I want to complete what you didn't mention.. the word is convicted by the trial court.. (CFI or court of First Instance) he was acquitted by the Supreme Court headed by the late CJ Jose Laurel Sr. (This was the same Laurel who was President of the Phil during the Japanese occupation. The CFI was the trier of facts and law. There was a rifle used which was FM's ROTC rifle for practical purposes he did it. But according to him "Iginuhit ng tadhana".. that he became Pres. of course he was kicked off the islands literally. The bad thing is voters elected Imelda, Imee and Bongbong.. notwithstanding what FM did.
---
Name: Ma Hangin
City/State/Country: Pook ng Tax Cheat
IP Address: 64.40.183.70

Comments
PNL editorial bewail "it's high time they get the justice they've been clamoring for all these years. That will never happen because of the psyche (phram Deo) of the Filipino people . A simple thing like being a tax cheat is tolerated ( no, it is even lauded as being "smart") and allowed to get away with it- is symptomatic of what is wrong with the Filipino society. Don't hold your breath that the bigger issue of settling the Marcos injustice i will be resolve in our lifetime unless the Filipino psyche (pram ulit Deo) of "emulating crooked ways" is eradicated. LPiF aka Gemini 121.1.11.38-- I do not accept your earlier proud posting as LPiF that you "--make sure your corporation pay no tax!"-- i find that abominable and nothing to be proud of as a "GOOD" citizen!
---
Name: Arch. Lito L. Mallonga
City/State/Country: Pinas ating mahal
IP Address: 24.84.220.179

Comments
We are again celebrating the EDSA I revolution. But does everyone know the real truth on who really stop the tanks of the late Gen. Tadiar. If those tanks would have made just two or three shots at Camp Crame at that time, I am sure Enrile, Ramos, Honasan including Ermita would be dead by now. Including all those generals who went with them. A Civil War would have taken placed and lots of our fellow Filipinos would have died during that time. Pres. Cory Aquino would not have been President if the late Gen. Fabian Ver succeeded. Enrile and Ramos know about it anyways. Ha ha ha ha
---
Name: Manuel C. Diaz
City/State/Country: Montclair CA USA
IP Address: 76.173.82.243

Comments
After 27 years the oligarchs overthrown and replaced by the Marcos cronies came back and again screwed the Islas de ladrones. Nothing has changed, the only change was from one ladrones group to another ladrones group feeding on the public trough sustained by the OFW earnings.
---
Name: Jorge Villanueva
City/State/Country: Canada
IP Address: 47.54.141.163

Comments
The editorial about the Edsa People Power is an important topic but the result has been a total disappointment, to say the least. Imelda, the much maligned power behind the throne and the children are back, voted by the people once again holding position of authority. There is something wrong with this picture because it depicts with no uncertain terms the screwy political practice pervasive in the country. This can't be solved hy Pres. Aquino alone although he is doing something about it. This needs the nation's resolve to change the system and make the Edsa march a real meaningful movement for reform.
---
Name: Javier Diaz
City/State/Country: LA County, CA USA
IP Address: 71.165.114.106

Comments
RE:" Marcos proved that if you have enough power.. you can lie, cheat and steal and get away with it"..I quoted that from you because by and large the country is still being run like that..Politicians get away with Murder.. If you have a case against you (for example a double Murder..you can be served a warrant of arrest.. but you disappear..in the mean time your lawyers go to the appeal process and the CA will dismiss the case of murder without trial.. what case was this? Senator Lacson..only in the Philippines
---
Name: ASTIG AKHO
City/State/Country: EMPIRE STATE
IP Address: 207.38.182.120

Comments
It was graft, corruption and abuse of political power that brought Marcos down. People were being killed for being seen seen as enemies of the state (even Marco's own nephrologist, Dr. Baccay, did not escape the administration wrath and so was Ninoy's father); wealth that was honestly earned by businessmen were being taken away from them illegally.The Lopezes were just one of them.The rich people in Negros and Iloilo were ecomincally and politically punished if not eviscerated. Marcos' originally vision for the country was awesome (OFW, tourism, Green Revolution, Nuclear power, etc) but he screwed up!
---
Name: As I See It
City/State/Country: Cebu City/SD,CA
IP Address: 68.7.248.64

Comments
HMS of NY retorted, "But other than that what other infrastructure was built? If you love the Marcoses I'm sorry if I made you anxious... I merely repeated an often told story from the Martial Law days. So how could have I committed a fallacy?!" HMS, even the worst person on earth deserves fairness! And in fairness to Imelda or her husband (who may have stashed away millions of public fund) you cannot just paint 'white as black' just because of what you think they are. Now you are asking for more 'infras' because you cannot be satisfied with that concrete edifice which repudiates your claim/premise. Tsk tsk tsk!
---
Name: Edward
City/State/Country: Angeles City
IP Address: 70.180.202.8

Comments
EDSA, big deal. Nothing has changed. The truth is the country was better off under Marcos. Has there been an improvement in the day to day living conditions. Nope, got worst! Has there been any new roads built or the ones that do exist have they been improved. Nope! Is the country any safer. Nope, crime is off the charts and much much worst now than in the 70s. Marcos was a thug and above the law, his wife and family too but everyone else was subject to punishment if they broke the law. Now, it's every man for himself. Dog eat dog.
---
Name: Paco Sa Cruz
City/State/Country: Vietnam
IP Address: 113.170.218.89

Comments
Time has proven that after the EDSA People Power Revolution, a new bunch of corrupt politicians took over from Marcos and his cronies. PNOY has been doing a good job leading the country to recovery but there is no change on the implementing laws and methods that allow the crooks to continue with their self serving interest. For instance, while most Filipinos are against the concept of Pork Barrel and Political Dynasty, our politicians turn a blind eye and they continue to get away from it. How many more decades are we going to wait before these evil practices are corrected?
---
Name: deo
City/State/Country: flour-flower city
IP Address: 67.244.141.29

Comments
I was in RP when the "revolution" took place. I would have been part of history because I wanted to go to EDSA until my in-laws forbade me because "masyado kang malusog".
---
Name: Lilian
City/State/Country: Brisbane
IP Address: 124.187.77.187

Comments
It's great to hear or read that the Philippines is becoming at the forefront of the news featuring achieving unprecedented economic growth but this does not mean we have to be complacent so that we allow this status to slip away. The more the current and future leaders have to work hard to sustain and overtake the rest of the Asian nations. But for sure this is not an easy task like what Asthig Kho said. But with strong commitment and focus the Philippines can slowly but surely make it . Patience is the key before we see the results trickling its effect to the masses. Simply because of the magnitude of problems we are facing. We have to learn from other nations and apply and adopt economic strategies that would insulate as from future global recessions.
---