he Philippines has experienced tremendous growth in both its Gross Domestic Product (GDP) and Foreign Reserves over the past decades.
Quarter after quarter, year after year remittances from Overseas Filipino Workers (OFW) have been steadily increasing, so much so that those remittances have almost singlehandedly turned the Philippines into one of the fastest growing economies in the world. For the first time ever, rating agencies such as Fitch, Standard and Poor, and most recently the Japan Credit Rating Agency have raised the country's sovereign rating to "investment grade." This action is expected to further boost the country's already spectacular rise by bringing in more foreign investment as well as reducing the cost of borrowing.
With the Philippines now awash in good fortune, now might be the perfect time to begin the next phase of the country's continuing plan to lift its people out of poverty. This new phase should be the creation of good-paying, permanent jobs in the country so no Filipino need go abroad just to find work. For too long the Philippines has relied on other countries to provide what it has been unable or unwilling to give its people—jobs! And now that Filipinos are working all over the world, the Philippines seems to owe the whole world a favor. Sure, you can say our OFWs do great work and earn every cent of their pay—and then some, but the sad truth of the matter is the Philippines is now at the mercy of every foreign government that allows Filipinos to work in their country.
As it stands today, the Aquino administration can stand up to no foreign government for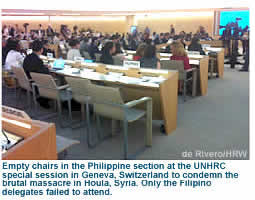 fear of retaliation against its OFWs. President Aquino dare not act or speak too forcefully with Hong Kong, or China, or Malaysia, or even Taiwan lest those countries send our OFWs packing. When the United Nations Human Rights Council voted to condemn Syria's massacre of 108 people, including 49 children, in the village of Houla in 2012, Aquino sheepishly ordered the entire Philippine contingent to absent itself, fearful that Syrian President Hafez el Assad would retaliate against Filipinos working in Syria if the Philippines voted along with the rest of the council in condemning his brutal regime.
The dispersing of our youth to the four corners of the globe to look for work must come to an end. Unfortunately we Filipinos seem to always try to get by on the cheap: why create jobs when it is easier to send our people abroad; why repair and expand our crumbling infrastructure in order to create development throughout the land, when other countries are already doing that, and therefore it is easier and quicker to simply send our folks over there to work. Immediate gratification at the expense of real progress!
But with each passing day we are beginning to clearly see, the actual price we have to pay. Do we want to be known as the country that the rest of the world can easily kick around? Or do we want to remain true to our proud heritage and stand shoulder-to-shoulder with the rest of the global community? If we choose the latter, then we must roll up our sleeves and start finding ways to create more jobs…right here, right now. There is no other way. Published 5/20/2013