State of the Nation Address (SONA) that brings renewed hope to the Filipino people—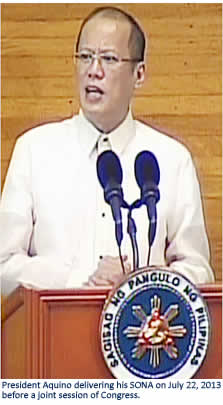 that seems to aptly describe President Noynoy Aquino's 4th SONA. What struck many presidential watchers was not so much the many significant accomplishments the administration has achieved to date, but the confidence and determination the president exhibited in delivering his address to the nation. Mr. Aquino seems to have finally hit his stride halfway into his term. And many viewers seeing this could not help but feel good about themselves and their country. The Philippines is on a roll with a sure-footed, confident president at the helm. Gross Domestic Product (GDP) growth for the first quarter of this year is at 7.8%, the highest in Southeast Asia. Foreign reserves are at an all-time high. The Country's credit rating is now "investment grade" as far as two major rating agencies are concerned.
But sadly, everything isn't coming up roses for the President or for the Philippines: despite its credit upgrade, foreign investments into the country still lag behind many of its neighbors; traffic jams and its accompanying pollution blanket most of Metro Manila; the number of Filipinos living below the poverty line has remained stubbornly high; Philippine courts remain horribly backlogged and take forever to render a verdict; corruption throughout the country continues to be widespread; and the People's Republic of China is hell-bent on taking over the entire West Philippine Sea (South China Sea).
So, like every other country on earth, the Philippines has its ups and downs, its multitude of blessings and its myriad problems. What it desperately needs is a strong forceful leader who is willing to tell it like it is—unlike the deceitful, wishy-washy, and corrupt leaders of the past. Aquino has shown he has got what it takes to be a great president. But whether he can overcome the timid, appeasing attitude inherent in our culture and instead take on the herculean task of shifting the country towards a new direction still remains to be seen. Aquino has already done much good, but the next three years will determine whether he will be remembered a hundred years from now as a good president or a truly great one. Published 7/23/2013