eriously folks, it seems that lately more and more high profile suspects in the Philippines slip away right before law enforcement authorities can take them into custody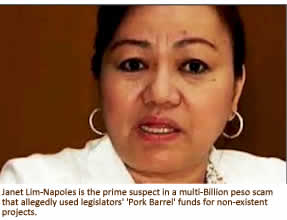 —from Senators Gringo Honasan and Panfilo Lacson, to former Governor Joel Reyes and his brother Coron Mayor Mario Reyes, to Congressman Ruben Ecleo Jr. and property developer Delfin Lee. Now, Janet Lim-Napoles and her brother Reynald Luy Lim seem to have likewise vanished into thin air.
This situation would be laughable if it weren't so terribly infuriating. The Philippine National Police (PNP) and the National Bureau of Investigation (NBI) appear so blatantly incompetent when such situations occur. Putting a "tail" on these high-profile suspects (secretly observing their movements from a distance) would seem like a no-brainer to most people. Police around the world do it. It would also save Filipino taxpayers thousands—if not millions—of pesos in the long run. Placing a "tail" on someone is a lot less expensive than a nationwide or international manhunt, not to mention egg on the faces of law enforcement officials if they fail to apprehend their fugitive.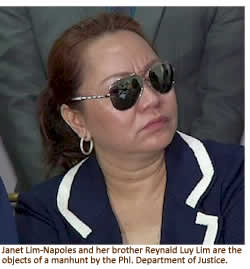 It is just downright awful publicity for Philippine law enforcement when suspects thumb their noses at them and seemingly fall off the face of the earth. It certainly does not engender people's confidence in their police authorities. Instead, it makes them look like the Keystone cops, blundering from one laughable mishap to another.
The NBI and the PNP need to hire more "gumshoes" to keep close tabs on those high-profile suspects who have the wherewithal to disappear or flee to other countries. Filipinos need to be reassured that those who commit crimes are not allowed to just walk away and vanish. They must be brought to justice. Published 8/22/2013
POSTSCRIPT: Janet Lim Napoles surrenders (8/27/2013)
MANILA - (UPDATE 11:34PM) Janet Lim Napoles, the alleged brains behind the P10-billion 'pork barrel scam', surrendered to President Aquino Wednesday evening, Malacañang said. In a statement, Presidential Spokesperson Edwin Lacierda said Napoles surrendered to President Benigno S. Aquino III at 9:37 p.m. She was wanted on charges of serious illegal detention of a former associate turned whistleblower, Benhur Luy.