one forever are the days when a scoundrel like Ferdinand Marcos can shut down the presses, revoke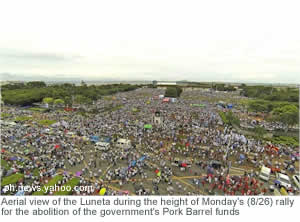 the freedoms enshrined in the Constitution and turn the country's Central Bank into his and his cronies' private piggy bank. Those dark days of the early seventies will be almost impossible to replicate by even the craftiest budding dictator-in-waiting.
Facebook, Twitter, instant messaging, VoIP calls, and the all pervasive Internet and SMS text messaging is seeing to it that the average citizen stays 'plugged-in' to things that are happening both inside and outside the country. Sure, a potential 'McCoy' (street term used to refer to Marcos) could try to 'unplug' the country from the Worldwide Web, and shut down all the country's cell towers but that would be a gargantuan undertaking that would be next to impossible to effectively sustain. The dictatorship would have its hands full and resources stretched just keeping the lid on things that it would likely fail or be toppled in a matter of months. The decade or so that Marcos and his cronies had to clean out the treasury can never be replicated…or so we hope.
The million-man rally against 'pork' that took place at the Luneta on Monday, though it failed to generate a million participants (police sources estimate a hundred thousand attendees) nevertheless proved that social media is capable of mobilizing huge numbers of people at relatively short notice.
Those who attended the rally came from all walks of life, proving that it is not just the youth or the well-off who are 'plugged-in'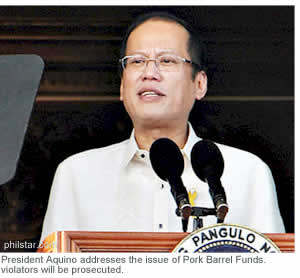 to today's high-tech communications, but even the middle-aged, elderly, and the less well-off.
Malacañang seems to be getting the message and after initial reluctance, the Palace has now said it is in favor of scrapping the Priority Development Assistance Fund (PDAF) given to Senators and Congressmen. This fund, which runs into the hundreds of millions of pesos is given to each legislator turning them into their own mini-Red Cross and PCSO charity. However, given the untrustworthiness of most of elected officials, a lot of these funds are either squandered on worthless projects that line the pockets of scammers to the tune of billions of pesos.
Monday's rally should be seen as just the first step in a journey of a thousand steps that will slowly take the country back from the entrenched corruption that started with Marcos. The Filipino people are finding their voice at long last. Will it end as a whimper or turn into a deafening roar that will blow away corruption once and for all? We'll have to wait and see. Published 8/27/2013



Philippine NewsLink reserves the right to select and edit comments for publication.

[_private/comments_three.htm]