one forever are the days when a scoundrel like Ferdinand Marcos can shut down the presses, revoke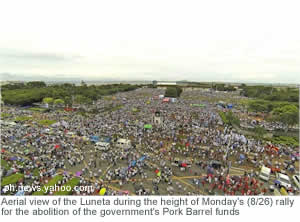 the freedoms enshrined in the Constitution and turn the country's Central Bank into his and his cronies' private piggy bank. Those dark days of the early seventies will be almost impossible to replicate by even the craftiest budding dictator-in-waiting.
Facebook, Twitter, instant messaging, VoIP calls, and the all pervasive Internet and SMS text messaging is seeing to it that the average citizen stays 'plugged-in' to things that are happening both inside and outside the country. Sure, a potential 'McCoy' (street term used to refer to Marcos) could try to 'unplug' the country from the Worldwide Web, and shut down all the country's cell towers but that would be a gargantuan undertaking that would be next to impossible to effectively sustain. The dictatorship would have its hands full and resources stretched just keeping the lid on things that it would likely fail or be toppled in a matter of months. The decade or so that Marcos and his cronies had to clean out the treasury can never be replicated…or so we hope.
The million-man rally against 'pork' that took place at the Luneta on Monday, though it failed to generate a million participants (police sources estimate a hundred thousand attendees) nevertheless proved that social media is capable of mobilizing huge numbers of people at relatively short notice.
Those who attended the rally came from all walks of life, proving that it is not just the youth or the well-off who are 'plugged-in'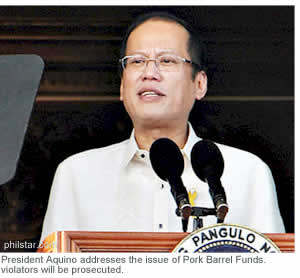 to today's high-tech communications, but even the middle-aged, elderly, and the less well-off.
Malacañang seems to be getting the message and after initial reluctance, the Palace has now said it is in favor of scrapping the Priority Development Assistance Fund (PDAF) given to Senators and Congressmen. This fund, which runs into the hundreds of millions of pesos is given to each legislator turning them into their own mini-Red Cross and PCSO charity. However, given the untrustworthiness of most of elected officials, a lot of these funds are either squandered on worthless projects that line the pockets of scammers to the tune of billions of pesos.
Monday's rally should be seen as just the first step in a journey of a thousand steps that will slowly take the country back from the entrenched corruption that started with Marcos. The Filipino people are finding their voice at long last. Will it end as a whimper or turn into a deafening roar that will blow away corruption once and for all? We'll have to wait and see. Published 8/27/2013



Philippine NewsLink reserves the right to select and edit comments for publication.

Comments from Our Readers
Name: Dragonslayer
City/State/Country: Kingsbridge
IP Address: 72.5.190.173

Comments
Jorge Villanueva, I agree with your observations. And yet no one dare raise a finger to constructively critique on the antiquated "rote learning" system you just mentioned. It seems that even those we consider doctors and masters directing academia are either not willing or don't possess the courage and ability to revamp and rejuvenate curriculum to suit the demands of ultra-modern technology. The system is stagnant as it can be.
---
Name: Temple Warrior
City/State/Country: Invisible College
IP Address: 72.5.190.173

Comments
Here is my humble take on history. Aside from letting it succumb to a natural death, history has a dual purpose for being. One is to use it as a lesson to build up by renewed and useful endeavor toward progress; to steer away from its destructive consequences we already know and try to correct the harm it caused on the people and the nation. Or all those unpleasant memories can be used as an excuse for complacency and inaction the only sure result of which is stagnation and unproductiveness. As a warning, history is more or less, replete with understatements and over-stretched truths lest we become addicted to it. Let's start with the children who are not yet fully indoctrinated by hand-me-down beliefs and superstitions. What are we waiting for?
---
Name: Temple Sekyu
City/State/Country: Simpleton College
IP Address: 64.40.183.70

Comments
Someone castigated the PNL editorial ---"Why we have to open wounds of the past and use them --yada yada ". PARAPHRASING George Santayana as in " Those who forget the past are condemned to repeat it" ---history lesson in Simpleton College that will never vanish maybe the reason WHY!
---
Name: mockingmaya
City/State/Country: taft avenue, manila
IP Address: 67.182.75.243

Comments
I have a strong faith & admiration in American educational system than in the antiquated & corrupt educational system of the Philippine Republic. In fact, the meaning of a word "republic" in Philippine "kleptoratic regime" is a sham. I do believe that the American scientists, engineers, architects, & other men of science & arts are different & unique: "An American thinker exhorted his fellow American scientists to cease struggling & prattling handcuffed & vainglorious in the asylum of foreign school (See American Sky-Scraper)." It is a sad reality that some critics in this forum (PNL) still preaching the Filipino people to be cocooned in a dark asylum-mentality or psyche of the Spanish colonizers: to indoctrinate & to pillage.



Philippine NewsLink reserves the right to select and edit comments for publication.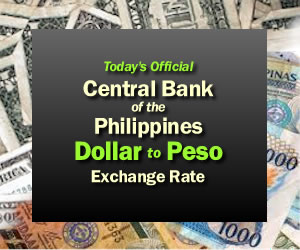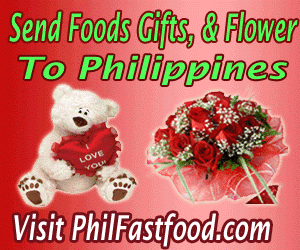 RECENT EDITORIALS
Typhoon Yolanda Aftermath: Thank You World for Your Help



In the aftermath of typhoon Yolanda (Haiyan) the most powerful storm ever to hit land, the global outpouring of aid is just so overwhelming. We Filipinos never realized we had so many friends all over the world. There doesn't seem to be a country that has not offered to help. Published 11/18/2013
---
SPECIAL EDITORIAL: Put a sock in it Anderson Cooper
The nerve of some foreign journalists who fly over here and complain about relief efforts moving too slow!Filipina track legend Mona Sulaiman practicing for the 1964 Olympics Don't they know that these tropical islands are renowned the world over for their leisurely pace of life? Not since Mona Sulaiman won three gold medals at the 1962 Asian Games in Jakarta has any Pinoy (or Pinay) ever moved so quickly. Published 11/15/2013
---
Super Typhoon Yolanda, Should Be a Wakeup Call to All Filipinos

There once was a time when most Filipinos thought they were God's "chosen people" in Southeast Asia. Filipinos were the pious Catholics surrounded by a sea of pagans. When in 2004 a tsunami killed hundreds of thousands in neighboring Asian countries but spared the Philippines, many said it was yet one more proof that God was looking after His people. Well, what a difference 9 years makes because judging from the natural calamities now besetting the country one after another. Published 11/14/2013
---
Get Rid of All Pork Barrel Funds for Senators, Congressmen, and the President

Philippine Senators and Congressmen have no business running their own little "charities" on the side. Legislators are elected into office to legislate, not hand out checks to non-governmental organizations (NGOs). The Janet Lim-Napoles/Malampaya Fund scandal has made it apparent in that many legislators did not practice due diligence in disbursing the people's money allotted to them through the Priority Development Assistance Fund (PDAF). Published 11/10/2013
---
The Philippines, a Rotting Culture of Graft and Corruption

As it exists today, the Philippines can never become a great nation…at least not in our lifetime. Why? The answer is because from an outsider's perspective, we are a nation of liars and thieves. Or if that sounds too harsh, we are a nation made up mostly of liars and thieves and a small minority of non-liars and non-thieves who prefer to look the other way or bury their heads in the sand. Published 10/30/2013
---
Floods, Typhoons, and Earthquakes Highlight the Need for Pinoys to Come Together

It seems like Mother Nature has lined up one calamity after another for the Philippines. Forever resilient and resourceful, Filipinos now barely manage to get their heads above the floodwaters when another natural calamity hits them in the face. The very latest is the 7.2 magnitude quake that devastated the islands of Cebu and Bohol. Published 10/24/2013
---
Freddie Aguilar's Teenage Girlfriend Is Way Younger Than His Own "Anak"

In Philippine society, this sort of relationship is tolerated. It has been that way for centuries, where old Spanish friars seduced pretty Filipina maidens barely in their teens. Carrying on affairs with girls under eighteen seems to occur with such regularity that Filipinos simply turn a blind eye to it—despite laws against it—and accept it as part of "Filipino culture." Published 10/21/2013
---