ur Misuari knew he was washed-up a long time ago.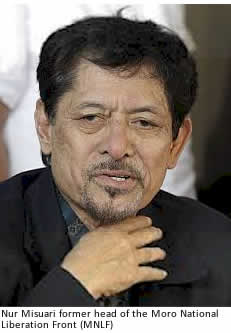 Since 2004 he lost the last three elections he's ran in; the latest being his 2010 bid for governor of his supposed stronghold of Sulu. The people of Sulu have rejected him time and again. The Moro National Liberation Front (MNLF) an organization Misuari helped establish, once controlled Sulu and even Tawi-tawi but has since lost its grip on power. None of the 19 municipalities in the island of Sulu are run by the MNLF.
But even within the MNLF, Misuari now only controls but a minor faction after he was removed as its chairman back in April of 2000. During the early nineties Misuari and his MNLF were at their most popular. They signed a peace accord with the Philippine government based on the Tripoli Agreement which codified the establishment of the Autonomous Region of Muslim Mindanao (ARMM) and made Misuari its governor. Unfortunately, things quickly went south from that point. Infighting within the MNLF and Misuari's inability to reign-in his troops coupled with his inability to bring about tangible reforms to the region steadily eroded his support with the masses. Misuari was removed as ARMM governor in 2002. He was charged by the Philippine government of engaging in terrorism in 2007 and was placed under house arrest until April 2008. In the mean time, a rival Moro group the Moro Islamic Liberation Front (MILF) has become the preeminent organization representing Muslims in Mindanao.
In the early morning of September 9, hundreds of heavily armed MNLF supporters of Misuari arrived by banca and laid siege on Zamboanga City. They quickly fanned out to the different hamlets and barangays in an attempt to surround the city's Municipal Hall—since then close to 68,000 innocent civilians have been displaced by the fighting. Hundreds more have been injured with the death toll having topped 50 as of this writing.
This latest crisis has become another black-eye for the country. Several countries have issued travel advisories to their citizens to avoid travel to Mindanao and Zamboanga City in particular.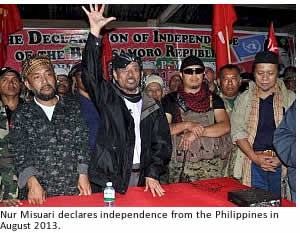 The country's already limited military resources are being allocated to repulse the MNLF fighters instead of being used to beef-up its defenses against Chinese encroachment.
The sad reality is that this entire crisis was completely unnecessary and would never have happened if not for the inflated ego of one individual who has so far achieved next to nothing in his quest for power and fame. Yet, in a last-gasp attempt to steal the limelight for himself, Misuari has put innocent civilians at risk, caused the deaths of dozens and burdened the country with billions of pesos in damage and repair costs. And after this latest caper of his, many Filipinos would prefer seeing Nur Misuari out of the picture for good. Published 9/16/2013