ark Joseph Solis could have easily become a future congressman, senator, or even president had the internet not existed.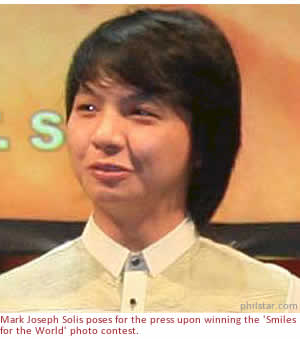 He most definitely seemed destined for "high places" given his already numerous achievements at just 22 years of age.
According to an article from the Philippine Star, Solis was awarded the 2013 World Bank Youth Leader for Knowledge and Development, as well as the Top 10 Most Outstanding Jose Rizal Model Student of the Philippines. He also received scholarships from the Megaworld Foundation Scholarship for Leadership Excellence (2007-2009), Eduardo Coseteng Memorial Scholarship (2009-2010), Bigay Pagmamahal Foundation Scholarship (2007-2010), Diwa ng Magdalo Foundation Scholarship (2012), and Wilfredo Keng Foundation Scholarship (2012). His political science thesis got the highest grade in his class and earned him a cum laude from UP. He also received an international travel grant from Southeast Asia Human Rights Studies Network in 2012. And these are just a few of the many honors garnered by Mark Joseph Solis.
On the 18th of September Solis' photo entry won the Smiles for the World contest put together by Roberto Mayorga, the Chilean Ambassador to the Philippines. Aside from the cash prize of a thousand US Dollars, Solis was to fly to Chile and Brazil as the contest's goodwill ambassador to promote the positive qualities of the Filipino to the rest of the world.
But in today's world of instant messaging and instantaneous search results, it was revealed that Solis' winning photo was actually not his. He lifted it from the Flickr account of a Gregory John Smith of the Children at Risk Foundation. The Pinoy blogosphere immediately lit up with collective dismay and accusations that this was not the first time Solis passed on someone else's work as his own.
Given past exposés of Philippine senators, Supreme Court justices, and business tycoons accused of plagiarism—or presidents accused of faking their war medals—it is not surprising that Filipino youth have imbibed the notion that there is nothing wrong with plagiarizing (or lying, cheating , and stealing) so long as you don't get caught.
The problem with this is two-fold. First, to plagiarize is in essence to admit inadequacy.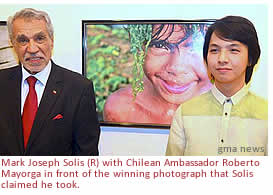 People who resort to plagiarism know that they can never equal someone else's work and thus take the easy way out by trying to pass it off as their own. Thus to plagiarize is to acknowledge you're not as good. Second, gone are the days when you might get away with it even for a short period of time. Senator Tito Sotto, businessman Manny Pangilinan, and now Mark Joseph Solis have all found out the hard way that the internet cuts both ways. It is so easy nowadays to cut and paste an article, a phrase, or a photo and pass it off as your own. But ever-faster algorithms in search engines make it just as easy for anyone else to figure out what you've done. In addition, social media, instant messaging and email allow others to broadcast your deception to the entire planet.
In the end, this might be a good thing. Filipinos will have to learn to hold themselves to a higher standard going forward—or risk being tarred and feathered online. And keep in mind, as Google's Executive Chairman and former CEO Eric Schmidt noted in The New Digital Age a book he recently co-authored "the things we post online will remain for eternity. In other words, there is no 'delete button' on the internet."
Unfortunately, what Solis did may have derailed his very promising career for life. Then again this is the Philippines and strange things happen here. So who's to say we won't see a Mark Joseph Solis elected into high public office in the not too distant future. Published 9/25/2013

View YouTube video of the awards ceremony. LINK
Postscript: Did UP student Mark Solis cheat in government photo contest, too? OPAPP looking into 2011 win by Mark Solis
After being caught using somebody else's photograph to win a contest organized by the Embassy of Chile, a graduate student of the University of Philippines is again being investigated - this time by a government agency. The Office of the Presidential Adviser on the Peace Process (OPAPP) says the same student appears to have passed off someone else's photo to win another competition held by OPAPP in 2011. - By: Tricia Aquino, InterAksyon.com LINK