r did Senator Jinggoy Ejercito Estrada just take a swan dive from the frying pan straight into the fire? Estrada delivered his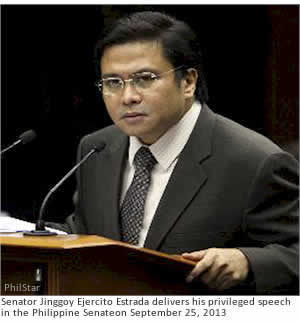 much anticipated "bombshell" Senate privileged speech last Wednesday only to find himself deeper in trouble because of it.
Estrada together with his Senate colleagues, Ramon "Bong" Revilla Jr. and Minority Leader Juan Ponce Enrile were singled out in a special audit report by the Commission on Audit (COA) for alleged discrepancies in the disbursement of their Priority Development Assistance Fund (PDAF). The COA report noted that the three senators endorsed millions of pesos to fake Non-Governmental Organizations (NGOs) set up by Janet Lim-Napoles.
Thus when Estrada took to the Senate floor, there were those who expected him to deny the allegations and provide direct proof of his innocence and non-involvement. Instead the public was treated to a mudslinging bonanza with Estrada implicating other senators, members of the House, and questioning the motives and sincerity of the Executive Department.
Nowhere in his 14-page speech did he attempt to refute or deny the allegations leveled against him. Estrada could have denied knowing or meeting with Napoles or her assistants. He could have emphatically stated for the record that he was totally unaware that the NGOs he was endorsing his PDAF to were bogus. He could have outlined the steps or procedures he or his office would take when determining which NGOs to fund. He could have denied ever receiving money from the Napoles group. He could have done a lot to clear his name and prove he acted only in a honest and well-meaning way.
But Estrada didn't. Instead he bewailed his being singled out when many were just as guilty. And by his speech, he made it crystal clear that if he was to go down, he would drag everyone along with him. Ardent critics of the Estradas would say "well what do you expect? His father wasn't known to be the sharpest knife in the drawer either." But for Jinggoy Estrada who harbors presidential ambitions, his failure to refute the allegations leveled against him does not bode well for his career. He has for now focused the national spotlight on himself and given his many critics ample ammunition to bring him down. Whether Estrada's political career survives this crisis remains to be seen. Published 9/28/2013