he Philippines is a country that takes its beauty pageants seriously. And since the early seventies Filipinas have been winning one international beauty pageant after another.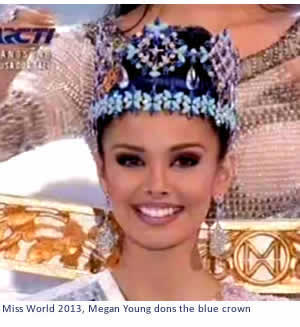 But one title that has eluded us Filipinos all these years is the "Miss World" title—until now. Congratulations Megan Young, you make us all so proud. Filipinos, Filipino-Americans, and Americans all share in your triumph.
As Miss World, you have a leg up on all the rest because you are indeed a global citizen. You are the perfect melding of East and West, embodying both yet celebrating each culture's uniqueness. You have an innate understanding of what it's like to be from the Far East, just as you know what it's like to be from the West.
Given your unique perspective, you will no doubt stay true to your title as "Miss World," and make the whole
world proud. Philnews.com itself straddles both East and West with the bulk of our readers coming from North America. And as we approach our second decade online, we can proudly say that we have online readers in every corner of the globe.
So from our global site to you, a sight to behold, we say well done! The world is now your oyster Megan Young, Miss World of 2013—so, as the words of Michael Jackson's song goes "make it a better place for you and for me. Published 10/1/2013