hile Attending the APEC Summit in Bali, Indonesia. Philippine President Benigno S. Aquino III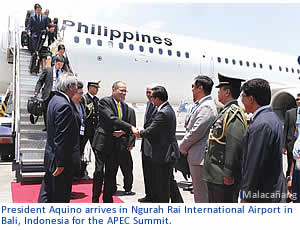 was pointedly asked by Hong Kong radio and television reporters if he would apologize to the victims of the 2010 Manila hostage crisis and meet with Hong Kong Chief Executive CY Leung? Admittedly, the Hong Kong reporters were far too aggressive and demanding in their tone and were later escorted out by Indonesian authorities. The president refused to respond and appeared somewhat taken aback by the forceful line of questioning—a far cry from Philippine reporters who can be described as generally meek and compliant when posing questions to the president or any high government official for that matter.
Aquino however, later met with Hong Kong Executive Leung Chun-ying to convey his "regrets" over the incident but steadfastly refused to offer any apology pointing out that as far as he and his government was concerned, "there is only one lone gunman responsible for this tragedy." One Aquino critic quickly noted that the president's statement proves what they've been saying about him all along—Aquino is a bit "slow" on the uptake!
Does the president not realize that we as a people are all responsible for what happened at the Quirino Grandstand on August 23, 2010? It was Rolando Mendoza who pulled the trigger killing eight hostages that day but we as a people must take responsibility for the way our law enforcement, and government officials handled the entire affair.
For Aquino to argue that only a lone gunman was at fault is utter nonsense and the height of irresponsibility. To use an analogy: it would be like a incompetent builder, who erects a building using sub-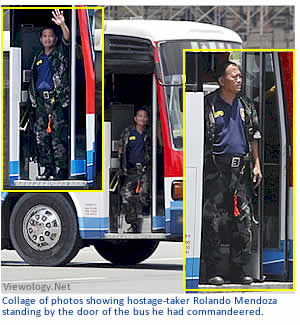 standard materials, cut corners during construction, and hires untrained workers; than when the edifice topples over after an earthquake, blames the quake for its collapse.
The hostage crisis, televised almost from start to tragic finish, shows that there were a continuing set of mistakes that added up to the deadly bloodbath at the end. Starting with the alleged extortion attempt of deputy Ombudsman Emilio Gonzales III, who told Mendoza he would resolve his case for a fee, to the untrained and totally inept Manila police SWAT team whose actions would have been laughable had the outcome of their ineptitude not been so tragic. There were also the numerous occasions where police could have used sharpshooters to take down or at least incapacitate Mendoza. Finally there was the televised apprehension of Mendoza's brother Gregorio that pushed the gunman over the edge.
For Aquino to continue to insist that it is no one's fault but Mendoza's is to acknowledge that our police and security forces would not have been able to stop Mendoza no matter what they did. What Aquino seems to be telling the Hong Kong victims and their families is "what we did was the best our police forces could have done; we gave it our best shot but unfortunately Mendoza was unstoppable! Thus only he is to blame for everything." Well if that's the case then it would probably be wise to post a billboard-sized sign at the airport telling tourists to "enter at your own risk" and change the Department of Tourism's advertising slogan to "It's No Fun in the Philippines." Published 10/12/2013
Postscript: Erap to hand-carry to HK apology letter from City of Manila over 2010 Luneta carnage
MANILA, Philippines - The City Council of Manila has passed a resolution taking it upon the city government to apologize directly to the people of Hong Kong for the August, 2010 hostage crisis at Quirino grandstand that left eight people dead and damaged relations between Manila and the Chinese territory, a top source of tourists and host to thousands of Filipino workers. LINK