n Philippine society, this sort of relationship is tolerated.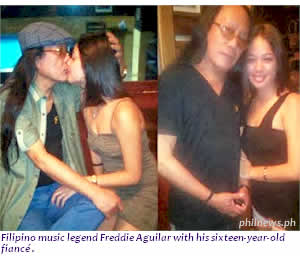 It has been that way for centuries, where old Spanish friars seduced pretty Filipina maidens barely in their teens. Carrying on affairs with girls under eighteen seems to occur with such regularity that Filipinos simply turn a blind eye to it—despite laws against it—and accept it as part of "Filipino culture."
It is also important to point out here that the practice knows no socio-economic bounds. Males belonging to the poorest of the poor, as well as Pinoy titans of commerce and industry seem to find the time to entertain an underage lady friend on the side.
Freddie Aguilar, who rose to fame in the late seventies with his hit song "Anak" is now in his sixties, while his girlfriend is only sixteen. In other countries, Aguilar would quickly find himself behind bars. But in the Philippines, where laws seem to be selectively applied, Aguilar may suffer nothing worse than raised eyebrows and consternation from some sectors of society—if even that.
Married male celebrities also openly keep women outside their marriage. Even former president Joseph Estrada openly flaunted his other women or "kabits" as they are called in Pilipino, and lavished them with multi-million-peso mansions. Aguilar who is now a legend in Filipino music is just the latest in a long line of celebrities who have crossed the line into what other societies would consider to be pedophilia. Whether our slowly evolving Filipino society will begin to force a change remains to be seen.
Growing numbers of foreigners appear to be marrying Filipinas, but the opposite is not the case. Rarely if ever do you hear about a female from another country marrying a Filipino. Is it because Filipino males really offer nothing that mature, grown-up women look for? The fact that a large majority of Pinoy males seem forever obsessed with underage girls tends to point to the fact that most of them have never really grown up. A sure sign of immaturity that in some way appears to have contributed to the current sorry state the country is in. Published 10/21/2013
Postscript: Muslim Freddie takes teen bride
MAGUINDANAO,, Philippines – Restrained by law from having a minor for a bride, 60-year-old singer Freddie Aguilar has turned to religion for succor by marrying his 16-year-old girlfriend in Muslim rites. Aguilar, who adopted the Muslim name Abdul Faried, yesterday wed Jovie Albao – now called Sittie Mariam – in traditional Islamic wedding rites here organized by Maguindanao Gov. Esmael Mangudadatu who stood as wali or guardian of Albao. In Islamic tradition, Aguilar can marry Albao as long as there is permission from her parents. Albao is turning 17 on Nov. 29. LINK Posted 11/23/2013