t seems like Mother Nature has lined up one calamity after another for the Philippines.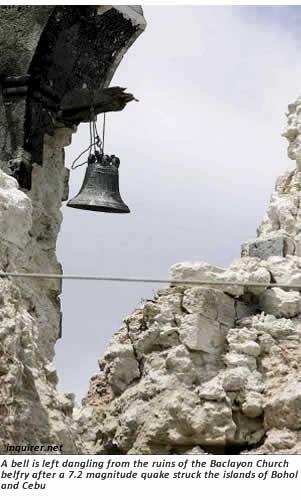 Forever resilient and resourceful, Filipinos now barely manage to get their heads above the floodwaters when another natural calamity hits them in the face. The very latest is the 7.2 magnitude quake that devastated the islands of Cebu and Bohol.
That quake destroyed numerous churches that stood for centuries. In an instant those priceless national treasures turned to rubble. With bridges collapsed and many roads impassable the nightmare for the Cebuanos and Boholanos had begun.
As if nature's wrath wasn't enough for victims to deal with, political posturing and hoarding of relief goods reared its ugly head—throwing salt on an open wound. With medicines, clean water, and food in short supply, the Philippine National Red Cross complained that the mayor of Maribojoc, Bohol, one of the hardest hit towns, was preventing them from doing their work. Instead, Mayor Leoncio Evasco Jr. wanted the Red Cross relief goods first turned over to his staff who would then take charge of distributing it to the needy.
Moreover, on national news, the ongoing corruption scandal involving Janet Lim-Napoles has focused the national spotlight on fraudulent firms that pocketed billions of pesos intended for disaster relief in the past. Public cynicism of government is at an all-time high. A recent Pulse Asia survey revealed that a whopping 77 percent of Filipinos believe that at least half of the country's budget goes to corruption—where the powerful and well-connected pocket the billions that are meant to serve the people.
The Philippines it seems is turning into a country whose guiding principle is "to each his own."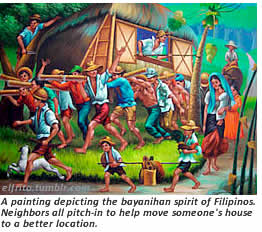 Where the term "for the greater good" no longer holds any meaning. Instead, like the archipelago we're in, we have become a collection of separate "islands" each seemingly unconcerned about the others around it. In the past, the "bayanihan spirit" defined what it was to be Filipino. Pinoys would go out of their way to help others in need. We must bring that spirit back and turn it into a national movement where Filipinos—from Aparri up north, to Jolo down south—do what's best for the nation as a whole. If we can manage to do that, the Philippines would be the Pearl of the Orient Seas once again. We need to come together as one because "united we stand, divided we fall." Published 10/24/2013