ocieties the world over have always been fascinated by wealth. And nowhere is this more evident than in the Philippines today. In fact, Filipinos seem to have gone beyond fascination to actual adoration of anyone with a lot of money. And such adulation is at some level, understandable. In a country where corruption is pervasive and everything—as well as everyone—appears to be for sale, money will put you above the law. Unlike countries such as the United States where even a billionaire could end up behind bars, in the Philippines, the rich get away with murder—literally.
Therefore why not be rich? Makes sense doesn't it? So a vast number of Pinoys make it a point to get rich—quick! And there lies the problem. It is easier to make money illegally rather than legally. Break the law, stack the deck, grease the palms, buy off the regulators, give kickbacks; the ways to accumulate wealth the wrong way are endless. Sadly, the number of Filipinos making money illegally appears to have increased alarmingly over the years.
It is therefore only logical that not just the media but the average Juan and Juana start asking rich people how they made their fortunes. For example how was Bureau of Customs clerk Paulino Elevado IV whose take home pay was less than P6,000.00 a month able to drive around in a Porsche? Instead of being awed, Elevado's friends and relatives should have asked him how he managed such a feat. Another example was Ferdinand Marcos. According to his wife Imelda, they had a trillion dollars in their Citibank New York bank accounts. Assuming this was not another one of Imelda's fantasies, the public should have asked: how did a poor boy from Batac who supposedly had a full-time job running an entire country manage to amass more wealth than say Warren Buffett, a renowned businessman who works full-time at it and employs an army of top-flight investment advisers to help him out? How was Marcos able to out-Buffett, Buffett—singlehandedly, and all the while doing it on the side?
Instead of being impressed with the fancy new car, or the Rolex watch, or the opulent mansion of a friend or relative, Pinoys ought to be asking them how they managed to afford those luxuries. In fact the whole country should be asking the same question of all these sudden millionaires who gain untold wealth without anyone having the slightest clue of how they do it. The Philippine press ought to be leading the charge instead of lionizing the rich as most media outfits do today.
In the context of Philippine society today, a healthy dose of skepticism towards individuals who are making tons of money is not uncalled for. These folks need to pass some kind of "acid test" before they can be embraced by the public. And public servants who make money while in office ought to be hauled off to jail.
The Philippines will need to put in place exceptionally tough laws to combat corruption given the lack of ethics and morality in our society. And until that day comes when the country has been effectively cleansed of it, you and I and everyone else need to be asking the rich this question: "how did you get to be so rich?" Published 12/8/2013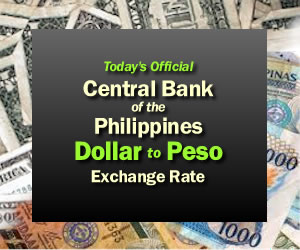 RECENT EDITORIALS
After the Pope's Visit: What We Filipinos Now Must Do


e put on a good show for Pope Francis. He loved it; we loved it; the world loved it. Now the long and painful task of bringing about the changes the pope asked for begins. Start with the Philippine Catholic Church. It should refocus its efforts towards the poor. As we wrote in previous editorials, many priests and bishops see themselves as members of the rich and privileged class. They feel more at home in country clubs and dining in expensive restaurants, than they do helping the poor who live in the squatter communities that dot most cities in the Philippines. Published 1/22/2015
---
Pope Francis Admonishes Pinoys to End Scandalous Inequalities

We had a feeling this was coming. In his first major speech in the Philippines, Pope Francis called for an end to 'scandalous inequalities' in the country. And what better example of a scandalous inequality is there than that a preposterously ridiculous wedding of Dingdong Dantes and Marian Rivera which was officiated by 8 bishops and 7 priests. In addition, this crass wedding featured a 12-foot high wedding cake, a 2-million-peso wedding gown with an exaggeratedly long train that seemed to go on forever...you get the picture. Published 1/16/2015
---
An Open Letter to Pope Francis; Please Read It Before Coming to the Philippines

Dear Pope Francis, your much anticipated visit to the Philippines is just a few days away. We expect that you will have been adequately briefed about the Philippines by the time you arrive. However, there might be a few things your Vatican handlers might have missed—or intentionally "forgot" to mention to you so we hope this letter reaches you in time for your historic visit. Before anything else, welcome! Published 1/9/2015
---
A Dingdong Fancy Wedding for a Third World Country

What is it with us Filipinos? We are a country of "all flash and no substance." Case in point: This ridiculously lavish wedding between two so-so movie stars that sought to outdo even the most "royal" of royal weddings. What was the whole point of this crassly extravagant display? Lest anyone forget, the Philippines is still a Third World country. And many, many squatter's homes (if you can call them "homes") do not have running water or even a toilet! Published 1/4/2015
---
Vice President Jejomar Binay's Aguinaldo

Money received from benefactors during Christmas in the Philippines is called "aguinaldo", a term and practice imported from Mexico during the Spanish colonial period where it now refers to the annual Christmas bonus given to employees. In the Philippines, it is now generally used to describe monetary gifts given by all benefactors, including godparents and employers. Published 12/25/2014
---
Do Filipinos Want America on Their Side or Not?

Given the Filipino penchant for "dramatics," not to mention the circus atmosphere that inevitably encompasses any event of even minor significance, one can hardly blame American government officials for refusing to hand over US Marine Lance Corporal Joseph Scott Pemberton over to Philippine authorities. The intriguing question in all this however is why some Filipinos are so insistent on having custody over the accused. Published 12/19/2014
---
Today's American Police Force Leaves So Much to be Desired

Long gone are the days when communities all across America looked up to the police officers who patrolled their streets and kept their neighborhoods safe. For cops back then it was a calling—almost like the priesthood—and those who answered that calling were brave, noble, larger-than-life individuals who kept Americans safe. Published 12/14/2014
---