ocieties the world over have always been fascinated by wealth. And nowhere is this more evident than in the Philippines today. In fact, Filipinos seem to have gone beyond fascination to actual adoration of anyone with a lot of money. And such adulation is at some level, understandable. In a country where corruption is pervasive and everything—as well as everyone—appears to be for sale, money will put you above the law. Unlike countries such as the United States where even a billionaire could end up behind bars, in the Philippines, the rich get away with murder—literally.
Therefore why not be rich? Makes sense doesn't it? So a vast number of Pinoys make it a point to get rich—quick! And there lies the problem. It is easier to make money illegally rather than legally. Break the law, stack the deck, grease the palms, buy off the regulators, give kickbacks; the ways to accumulate wealth the wrong way are endless. Sadly, the number of Filipinos making money illegally appears to have increased alarmingly over the years.
It is therefore only logical that not just the media but the average Juan and Juana start asking rich people how they made their fortunes. For example how was Bureau of Customs clerk Paulino Elevado IV whose take home pay was less than P6,000.00 a month able to drive around in a Porsche? Instead of being awed, Elevado's friends and relatives should have asked him how he managed such a feat. Another example was Ferdinand Marcos. According to his wife Imelda, they had a trillion dollars in their Citibank New York bank accounts. Assuming this was not another one of Imelda's fantasies, the public should have asked: how did a poor boy from Batac who supposedly had a full-time job running an entire country manage to amass more wealth than say Warren Buffett, a renowned businessman who works full-time at it and employs an army of top-flight investment advisers to help him out? How was Marcos able to out-Buffett, Buffett—singlehandedly, and all the while doing it on the side?
Instead of being impressed with the fancy new car, or the Rolex watch, or the opulent mansion of a friend or relative, Pinoys ought to be asking them how they managed to afford those luxuries. In fact the whole country should be asking the same question of all these sudden millionaires who gain untold wealth without anyone having the slightest clue of how they do it. The Philippine press ought to be leading the charge instead of lionizing the rich as most media outfits do today.
In the context of Philippine society today, a healthy dose of skepticism towards individuals who are making tons of money is not uncalled for. These folks need to pass some kind of "acid test" before they can be embraced by the public. And public servants who make money while in office ought to be hauled off to jail.
The Philippines will need to put in place exceptionally tough laws to combat corruption given the lack of ethics and morality in our society. And until that day comes when the country has been effectively cleansed of it, you and I and everyone else need to be asking the rich this question: "how did you get to be so rich?" Published 12/8/2013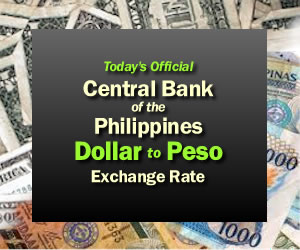 RECENT EDITORIALS
Should President Aquino Get a Second Term as President?



Many Filipinos today are realizing that the single, six-year presidential term as prescribed in the 1987 Constitution is woefully inadequate for a good president like Benigno S. Aquino III. The delegates who wrote that provision in the Constitution must have still been reeling from the almost 20 years of "kleptocratic" rule of strongman Ferdinand Marcos when they decided that one term was enough for any future Philippine president. Four years—the presidential term at the time—would be too short; eight too long. Published 08/23/2014
---
China Owns the Entire South China Sea? What are They Smoking—Opium?

The arrogance of China is becoming readily apparent with each passing day. With their newly acquired economic and military power the Chinese appear unrestrained in their assertiveness towards their neighbors. China, instead of positioning itself as a 21st century superpower appears to be turning back the clock resembling more and more the 12th century empire of Genghis Khan and the Mongol hordes who conquered most of Eurasia...just because they could. Published 08/12/2014
---
On Her 5th Death Anniversary, We Say 'Thanks for Nothing Cory Aquino'

The passage of time has a way of distilling reality and bringing out truths that are sometimes hidden or lost by present circumstances. Case in point is the overwhelming level of admiration many Filipinos have for former President Corazon Aquino. When she passed away in 2009, the entire nation seemed beside itself in grief. Her casket was mobbed by thousands of mourners as it slowly made its way through the streets of Metro Manila to its final resting place at the Manila Memorial Park in Parañaque. Published 08/02/2014
---
The Failure of Philippine Education Is Now Staring Us in the Face

Will the Philippines Ever Become a Developed Country? The short answer to that is no—at least not in our lifetime. While the country has of late improved it credit ratings as evidenced by upgrades from Moody's, Fitch, and Standard & Poor's all that perceived progress is illusory. In the Fifties and Sixties, when the Philippines was undeniably the country at the top of the heap in Southeast Asia, people said it would always be the most industrialized country in the region. Published 08/02/2014
---
So, Should Jejomar Binay Be the Next President of the Philippines?

Though his popularity rating has taken some hits lately, Vice President Jejomar Binay is still far and away the strongest contender for the Philippine presidency in 2016. But is he the right choice for the country? His legions of supporters will give you an enthusiastic "yes;" his detractors however, will tell you "no!" So who's right? To answer our question, lets look instead at Binay's deeds rather than the words of his supporters or detractors. Published 07/25/2014
---
China's Military Base on Mabini Reef Violates the Philippine Constitution

While searching for the missing Malaysia Airlines Flight 370 on March 11, 2014, a Philippine Air Force plane flying over the Kalayaan Island Group in the West Philippine Sea sighted Chinese reclamation activity in the Mabini Reef of the Kalayaan Island Group within the 200 mile Exclusive Economic Zone (EEZ) of the Philippines. His aerial photographs were transmitted to the Philippine government for analysis. Published 07/10/2014
---
Napoles PDAF/NGO Scandal: What is Ten or Fifteen Billion Pesos Really Worth?

For those who have been following the Janet Lim-Napoles PDAF/NGO* scandal these past months, it is easy to get caught up in all the rhetoric—the words and phrases repeated day after day. Words like "ten billion" or "fifteen billion" have turned into something akin to "gray" background noise.  Words devoid of any real meaning or significance. So let us try to put back some meaning into those trite and often-repeated phrases in order to better understand some of the far-reaching ramifications of Napoles' actions. Published 06/30/2014
---