[ads/468x60_02.htm]


t's surprisingly easy for people to forget about others' suffering when it's not right in front of them.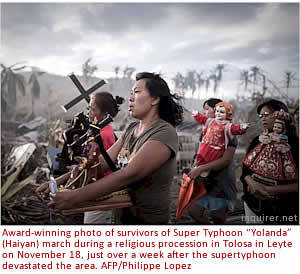 But the other side of the coin is that it's also surprisingly easy for them to be affected by it once it's in sight. Some might even say this is why many people react to the sorrows of others with deliberate avoidance: because it would be too raw, would hurt too much otherwise.
When Super Typhoon Haiyan or Yolanda fell upon the Philippines, the rest of the world watched, fascinated by the horrors it wreaked on the hapless country. But it was a fascination that some argued to be fleeting. True, celebrities and high-profile representatives of different nation continued doing aid long after the storm's devastating landfall, but for many others, Haiyan was very quickly relegated to the backburner of attention-worthy events, a distant disaster in which they weren't invested. It's probably telling, in the US case, that only CNN devoted more than 200 articles/segments on the topic from November 6 to 12 (LINK). Everyone else, from the Associated Press to Fox, ran fewer than 100—with MSNBC, the nearest runner-up, coming in at merely 67 to CNN's 276.
Some might argue that this is only natural: the news is called the news for a reason, and even the strongest storm to ever be recorded at landfall gets old after a while. But human grief—like human compassion—never does.
I work for a company that happens to serve mostly overseas Filipino clients besides having a lot of Filipino staff, and I've been to the Philippines several times myself. As such, I'm probably a little closer to the issue than some other Americans, who have to react to the horrors of the Haiyan tragedy "from a greater distance" than even I have. "From a distance" is something that needs to be said by even those of us striving to be supportive of the Filipino people at this time: we're still outsiders in a way, and we're still doing what we can from a distance. We're not the ones whose homes were destroyed, after all, or whose families were imperiled by this phenomenon of nature. So everything we do and say about it is necessarily made from a position of humility and ignorance. Humility because we weren't the ones who faced what the Filipino people did, and ignorance because we can't know for certain what they feel after such an ordeal.
All we can do is look on, hope, and try to help.
This holiday season, this is perhaps our message to the Filipino people. No matter how sparse the news coverage gets of this disaster and its aftermath, even long after news of Haiyan has become "too old" for our news channels to cover with much depth, we will be looking on. This is a promise independent of politics and of the alliance between our countries. What does a mother of four from Fort Worth care for that? What does my friend, a cowhand, who donated his entire Christmas bonus to the Haiyan relief fund? What does my youngest son, who broke open his piggy bank with my husband's hammer and asked me to add it to what I was sending through the Red Cross?
Even as we celebrate the Christmastime and the coming new year, many of us in the US will do so while also toasting the bravery and steadfastness of the Philippine people. We beg you to remember this even as some of us seem to turn away already and shift attention to something else, something fresher and newer and—most likely—less painful to watch. It's not so much that those who do this don't care: it's more likely because they can't bear to feel so much and at such a time. But for those of us who are willing to do it, to expose ourselves to that pain by sharing in your grief, we know we only do it because of your example. Because amidst the compassion, amidst the pity and the sadness and the all-too-human grief, we also feel that other emotion when looking upon this beleaguered nation that is still clawing its way determinedly out of the ruins an angry Nature left behind: we feel awe. Published 12/23/2013
AUTHOR BIO: Melissa Olsen is the head marketing director of Morbie.com and its sister sites, and is currently based in Fort Worth, TX with her family. You can connect with her through Google+.