erdinand Marcos didn't have it quite right. The early slogan of his martial law regime was: sa ikauunlad ng bayan, disiplina ang kailangan (for the country to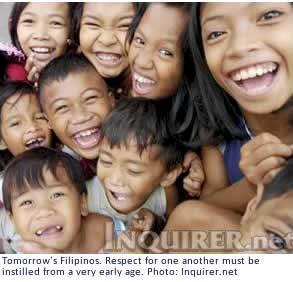 prosper, discipline is needed). While there's no arguing that the Philippines could benefit from a bit more discipline, the one trait that the country needs even more than discipline, is respect. Lack of respect for one another has kept the Philippines where it is, instead of where it should be.
It is understandable why the Marcos dictatorship saw discipline as the most important trait to instill on Filipinos—when the only tool you have is a hammer, you see every problem as a nail; as the popular saying goes. Marcos' nefarious martial law plan was to rule the country with an iron hand and thus saw discipline as something that needed to be hammered into the Filipino.
Respect on the other hand would have been anathema to the brutal martial law regime. But respect is one trait that Filipinos so desperately need. We see this lack of respect in the rudeness of many Filipino taxi drivers and the near total absence of road courtesy among drivers. We see it in the dismissive attitude of those in positions of power.
Don't be fooled by the seemingly polite demeanor or the use of the words "po" or 'ho" in conversations everywhere in the Philippines. Appearances can be deceiving for underneath it all is distrust and dismissiveness. Look around Metro Manila and you see security guards everywhere. Notice the bars on the windows of many homes, the high fences, the gates with even more security guards. This is a society that is NOT inclusive but rather, exclusive.
What we Filipinos must realize is that we will rise or fall as one. The rich and middleclass cannot just dismiss the poor and carry on with their lives unaffected by the pain and misery of the downtrodden. Because the problems of the poor will eventually to intrude into their lives until it becomes their problems as well.
So rather than continue hiring more security guards, and building taller more secure fences to keep the "riffraff" out, why not work to lift everyone out of poverty. So that there is no more high-class or low-class in Philippine society; so there is no longer that Grand Canyon-sized disparity between rich and poor; so that children in even the remotest barrios will be well educated and grow up to be productive members of society.
It can be done and there are as many ways as there are people with passion and dedication to achieve it. But one prerequisite to getting things started is to treat ALL Filipinos, no matter what their station in life, with respect. 2014 is finally here and as Oprah Winfrey put it: "Cheers to a new year and another chance for us to get it right." Published 01/01/2014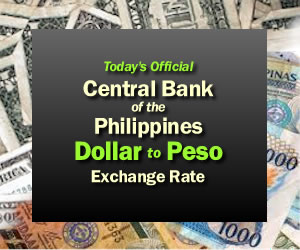 RECENT EDITORIALS
Happy Birthday GMA, 'Hope You Spend the Rest of Your Life Behind Bars



It has been a dizzying drop from the euphoric highs of 2001 when Filipinos forced President Joseph Estrada from office and installed Gloria Macapagal-Arroyo in his place. Estrada was widely seen as a corrupt, philandering politician; a high school dropout who was unqualified to be president. Arroyo on the other hand had the pedigree, education, and morals—we all assumed—to handle the job. Published 04/7/2014
---
Turn Pag-asa Island Into a Tourist Destination! It's More Fun In Pag-asa

While the Aquino administration has been making many of the right moves lately, such moves remain woefully inadequate given the situation the Philippines faces with China. If President Benigno Aquino III entertains any hope of keeping our islands in the Spratlys, he needs to get off his behind this minute and start building a strong coalition with other nations. Published 04/3/2014
---
Why Bong Revilla Will Never Become President of the Philippines

A country's president must be a statesman. Someone who is genuinely concerned about the welfare of his people—especially those who have the least in life. A president must also be fair. Fairness after all underpins what justice is all about. Everyone, be they exceedingly wealthy or totally destitute deserves equal treatment under the law. Published 03/22/2014
---
The Philippines Is Not a Friendly Place To Do Business In

On the surface, the Philippines can seem like an enjoyable and friendly place to do business. But scratch the surface and you'll find yourself in a strange and alien world where a whole new set of rules and attitudes apply. Just recently, the Fraser Institute, a well-known North American think-tank, ranked the Philippines third from the bottom, on its annual survey of the best places to do business for mining companies. Published 03/10/2014
---
To All Those Who Were Part of the EDSA People Power Revolution—Thank You!

On February 25, the Philippines will celebrate the 28th anniversary of the People Power revolution known as EDSA One. For four days in February, 1986, freedom-starved Filipinos amassed on Epifanio de los Santos Avenue (EDSA), in front of Camps Crame and Aguinaldo to shield Secretary Juan Ponce Enrile, General Fidel Ramos, and their military supporters from possible assault by forces controlled by the late dictator Ferdinand Marcos. Published 02/25/2014
---
The Arc of the Moral Universe and the Salvador "Bubby" Dacer Case

How long before the people responsible for the Dacer-Corbito murders are brought to justice? The hopeful answer may be found in a speech delivered by Dr. Martin Luther King Jr. on the steps of the Alabama State Capitol on March 25, 1965 when he said: "How long? Not long, because no lie can live forever. How long? Not long, because you shall reap what you sow. How long? Not long, because the arc of the moral universe is long, but it bends toward justice." Published 02/16/2014
---
Will Ruby Tuason's Revelations Make a Difference? Remember This Is the Philippines

Another whistleblower Ruby Tuason will soon testify before the Department of Justice, and the Philippine Senate. And probably before the Ombudsman, the Batasan committees, the Sandiganbayan and other courts as well. Her appearances will likely involve high drama, moving testimony, and bombshell revelations that will be plastered across the front pages of Philippine dailies and reverberate throughout social media. Published 02/10/2014
---
Macho, Macho Men and the Matriarchal Philippine Society

An online article a week ago concluded that the reason that Deniece Cornejo the vixen in the Vhong Navarro mauling incident was being mercilessly vilified was because Philippine society tends to treat women that way (LINK). The writer a certain Tricia Aquino in collaboration with Judy Taguiwalo a University of the Philippines professor in the Department of Women and Development Studies, try to paint a bleak picture of Filipina women as persecuted second-class citizens who end up being blamed for the troubles that befall them. Published 02/5/2014
---
We Must Learn from the Past, for the Future of Mindanao

Will the signing of the last annex of the peace accord between the Philippine Government and the Moro Islamic Liberation Front (MILF) finally bring lasting peace to troubled Mindanao? Everyone hopes so. But let's go back several decades in time and see how the country fared in a similar situation back then. Published 02/2/2014
---