erdinand Marcos didn't have it quite right. The early slogan of his martial law regime was: sa ikauunlad ng bayan, disiplina ang kailangan (for the country to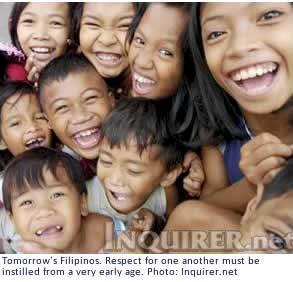 prosper, discipline is needed). While there's no arguing that the Philippines could benefit from a bit more discipline, the one trait that the country needs even more than discipline, is respect. Lack of respect for one another has kept the Philippines where it is, instead of where it should be.
It is understandable why the Marcos dictatorship saw discipline as the most important trait to instill on Filipinos—when the only tool you have is a hammer, you see every problem as a nail; as the popular saying goes. Marcos' nefarious martial law plan was to rule the country with an iron hand and thus saw discipline as something that needed to be hammered into the Filipino.
Respect on the other hand would have been anathema to the brutal martial law regime. But respect is one trait that Filipinos so desperately need. We see this lack of respect in the rudeness of many Filipino taxi drivers and the near total absence of road courtesy among drivers. We see it in the dismissive attitude of those in positions of power.
Don't be fooled by the seemingly polite demeanor or the use of the words "po" or 'ho" in conversations everywhere in the Philippines. Appearances can be deceiving for underneath it all is distrust and dismissiveness. Look around Metro Manila and you see security guards everywhere. Notice the bars on the windows of many homes, the high fences, the gates with even more security guards. This is a society that is NOT inclusive but rather, exclusive.
What we Filipinos must realize is that we will rise or fall as one. The rich and middleclass cannot just dismiss the poor and carry on with their lives unaffected by the pain and misery of the downtrodden. Because the problems of the poor will eventually to intrude into their lives until it becomes their problems as well.
So rather than continue hiring more security guards, and building taller more secure fences to keep the "riffraff" out, why not work to lift everyone out of poverty. So that there is no more high-class or low-class in Philippine society; so there is no longer that Grand Canyon-sized disparity between rich and poor; so that children in even the remotest barrios will be well educated and grow up to be productive members of society.
It can be done and there are as many ways as there are people with passion and dedication to achieve it. But one prerequisite to getting things started is to treat ALL Filipinos, no matter what their station in life, with respect. 2014 is finally here and as Oprah Winfrey put it: "Cheers to a new year and another chance for us to get it right." Published 01/01/2014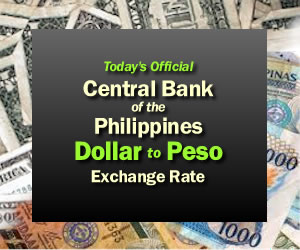 RECENT EDITORIALS
Will the Philippines Ever Speed Up Its Glacially-Slow Justice System?



We've all heard the saying "justice delayed is justice denied." That maxim has been around since time immemorial. In fact the Pirkei Avot (Hebrew for "Ethics of the Fathers") which dates back to the 1st century B.C. mentions an old rabbi saying that goes: "the sword comes into the world, because of justice delayed and justice denied." In 1215 A.D. a clause from the Magna Carta similarly declares that "to no one will we refuse or delay, right or justice." Published 3/17/2015
---
Amal Alamuddin Clooney Wants to Defend Gloria Macapagal-Arroyo ...Why?

Okay so she's George Clooney's wife, she's got great looks, a law degree and ambitious enough to make a name for herself apart from that of her superstar husband. Fair enough. So Amal Alamuddin Clooney decides to take on high profile cases of injustice around the world. Even better. But filing a complaint with the United Nations Human Rights Council on behalf of former President Gloria Macapagal-Arroyo? What's up with that? Better do your homework Mrs. Clooney. It won't take long for you to realize that Arroyo is getting exactly what she deserves. Published 3/12/2015
---
Manny Pacquiao Should Not Be Given a Tax Exemption

Senator Aquilino "Koko" Pimentel III has proposed a bill to grant Manny Pacquiao a special tax exemption for the income he will earn from his May 2nd boxing match with Floyd Mayweather Jr. Pimentel justifies his bill as a "fitting tribute" to the Filipino eight-division world champion adding that "Manny is now part of our history and of world sports history. Let's give him this tax incentive in recognition to his invaluable efforts to promote boxing and the country around the world." Published 3/4/2015
---
With Negotiators Like These on Our Team, Who Needs an Opposing Side?

What on earth happened to these two women—supposedly  handpicked by the president himself to argue on behalf of the Philippine government in peace negotiations with the Moro Islamic Liberation Front—who now seem to be mouthpieces for the Moros? Have Secretary Teresita Deles, Presidential Adviser on the Peace Process and Professor Miriam Coronel-Ferrer, chair of the negotiating panel become mesmerized by the tough "macho" image the rebels project? Published 2/27/2015
---
Why is the NBI Going After Those Who Uploaded the Sagonoy Video?

According to NBI Director Virgilio Mendez, they have identified the individuals who uploaded the video showing the coldblooded killing of PO2 Joseph Sagonoy. The cellphone video was purportedly taken by Muslim rebels during the Jan. 25, 2014 encounter between the Philippine National Police-Special Action Force and the Moro Islamic Liberation Front rebel group. The video shows a wounded Sagonoy who is shot twice in the head at close range. Published 2/21/2015
---
Twice the Heroes—the SAF 44 Who Lost Lives in Mamasapano

The 44 members of the Philippine National Police-Special Action Force (SAF) who were brutally killed in Mamasapano, Maguindanao on January 25, 2015 are heroes twice over: first, they paid the ultimate sacrifice while serving their country; second, they exposed for all to see, the dangers the country will face if the Bangsamoro Basic Law (BBL) is passed. Published 2/15/2015
---
No More Bangsamoro, Period!

With each passing day, it is becoming increasingly clear that the idea of a Bangsamoro is a bad idea. Just as the Memorandum of Agreement on Ancestral Domain (MOA-AD) spearheaded by former president Gloria Macapagal-Arroyo was a bad idea (and declared unconstitutional in 2008 by the Supreme Court). Just as the failed Autonomous Region for Muslim Mindanao (ARMM) during the 1990s was a bad idea. Published 2/8/2015
---
After the Mamasapano Massacre, Plans for a Bangsamoro Must Be Scrapped

What happened in Mamasapano, Maguindanao on January 25 is a "game changer"—make no mistake about it. Reality as we saw it before this event is not the reality we see now...everything is different; everything has "changed. When the Philippine National Police's (PNP) elite team known as the Special Action Force or SAF set out to arrest Zulkifli bin Hir alias Marwan, it had actionable intelligence that the Malaysian fugitive was hiding in the town of Mamasapano. Marwan, an expert bomb maker, is a core member of the terrorist group Jemaah Islamiyah. Published 1/31/2015
---
President Aquino Should Fly to Saudi Arabia and Pay His Last Respects to King Abdullah

Presidents and prime ministers, kings and queens; from Prince Charles and Prime Minister David Cameron of Britain, President Francois Hollande of France, President Abdel Fattah el-Sissi of Egypt, President Recep Tayyip Erdogan of Turkey and many other heads of state from all corners of the globe have gone or are headed to Riyadh to pay their respects to the late King Abdullah. Even U.S. President Barack Obama cut short his state visit to India to fly to Saudi Arabia. Published 1/27/2015
---
After the Pope's Visit: What We Filipinos Now Must Do
We put on a good show for Pope Francis. He loved it; we loved it; the world loved it. Now the long and painful task of bringing about the changes the pope asked for begins. Start with the Philippine Catholic Church. It should refocus its efforts towards the poor. As we wrote in previous editorials, many priests and bishops see themselves as members of the rich and privileged class. They feel more at home in country clubs and dining in expensive restaurants, than they do helping the poor who live in the squatter communities that dot most cities in the Philippines. Published 1/22/2015
---
Read more articles from our archives