[ads/468x60_02.htm]


erdinand Marcos didn't have it quite right. The early slogan of his martial law regime was: sa ikauunlad ng bayan, disiplina ang kailangan (for the country to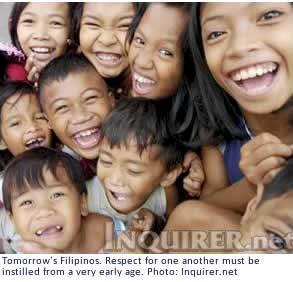 prosper, discipline is needed). While there's no arguing that the Philippines could benefit from a bit more discipline, the one trait that the country needs even more than discipline, is respect. Lack of respect for one another has kept the Philippines where it is, instead of where it should be.
It is understandable why the Marcos dictatorship saw discipline as the most important trait to instill on Filipinos—when the only tool you have is a hammer, you see every problem as a nail; as the popular saying goes. Marcos' nefarious martial law plan was to rule the country with an iron hand and thus saw discipline as something that needed to be hammered into the Filipino.
Respect on the other hand would have been anathema to the brutal martial law regime. But respect is one trait that Filipinos so desperately need. We see this lack of respect in the rudeness of many Filipino taxi drivers and the near total absence of road courtesy among drivers. We see it in the dismissive attitude of those in positions of power.
Don't be fooled by the seemingly polite demeanor or the use of the words "po" or 'ho" in conversations everywhere in the Philippines. Appearances can be deceiving for underneath it all is distrust and dismissiveness. Look around Metro Manila and you see security guards everywhere. Notice the bars on the windows of many homes, the high fences, the gates with even more security guards. This is a society that is NOT inclusive but rather, exclusive.
What we Filipinos must realize is that we will rise or fall as one. The rich and middleclass cannot just dismiss the poor and carry on with their lives unaffected by the pain and misery of the downtrodden. Because the problems of the poor will eventually to intrude into their lives until it becomes their problems as well.
So rather than continue hiring more security guards, and building taller more secure fences to keep the "riffraff" out, why not work to lift everyone out of poverty. So that there is no more high-class or low-class in Philippine society; so there is no longer that Grand Canyon-sized disparity between rich and poor; so that children in even the remotest barrios will be well educated and grow up to be productive members of society.
It can be done and there are as many ways as there are people with passion and dedication to achieve it. But one prerequisite to getting things started is to treat ALL Filipinos, no matter what their station in life, with respect. 2014 is finally here and as Oprah Winfrey put it: "Cheers to a new year and another chance for us to get it right." Published 01/01/2014