erdinand Marcos didn't have it quite right. The early slogan of his martial law regime was: sa ikauunlad ng bayan, disiplina ang kailangan (for the country to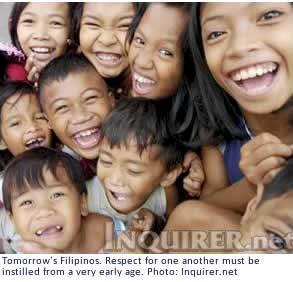 prosper, discipline is needed). While there's no arguing that the Philippines could benefit from a bit more discipline, the one trait that the country needs even more than discipline, is respect. Lack of respect for one another has kept the Philippines where it is, instead of where it should be.
It is understandable why the Marcos dictatorship saw discipline as the most important trait to instill on Filipinos—when the only tool you have is a hammer, you see every problem as a nail; as the popular saying goes. Marcos' nefarious martial law plan was to rule the country with an iron hand and thus saw discipline as something that needed to be hammered into the Filipino.
Respect on the other hand would have been anathema to the brutal martial law regime. But respect is one trait that Filipinos so desperately need. We see this lack of respect in the rudeness of many Filipino taxi drivers and the near total absence of road courtesy among drivers. We see it in the dismissive attitude of those in positions of power.
Don't be fooled by the seemingly polite demeanor or the use of the words "po" or 'ho" in conversations everywhere in the Philippines. Appearances can be deceiving for underneath it all is distrust and dismissiveness. Look around Metro Manila and you see security guards everywhere. Notice the bars on the windows of many homes, the high fences, the gates with even more security guards. This is a society that is NOT inclusive but rather, exclusive.
What we Filipinos must realize is that we will rise or fall as one. The rich and middleclass cannot just dismiss the poor and carry on with their lives unaffected by the pain and misery of the downtrodden. Because the problems of the poor will eventually to intrude into their lives until it becomes their problems as well.
So rather than continue hiring more security guards, and building taller more secure fences to keep the "riffraff" out, why not work to lift everyone out of poverty. So that there is no more high-class or low-class in Philippine society; so there is no longer that Grand Canyon-sized disparity between rich and poor; so that children in even the remotest barrios will be well educated and grow up to be productive members of society.
It can be done and there are as many ways as there are people with passion and dedication to achieve it. But one prerequisite to getting things started is to treat ALL Filipinos, no matter what their station in life, with respect. 2014 is finally here and as Oprah Winfrey put it: "Cheers to a new year and another chance for us to get it right." Published 01/01/2014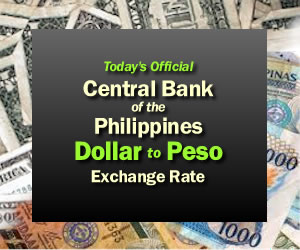 RECENT EDITORIALS
How Ferdinand Marcos's Martial Law Continues Hurting Filipinos to This Day



On the evening of September 23, 1972, two days after it had taken effect, Ferdinand Marcos announced via live television from Malacañang Palace that he had placed the Philippines under Martial Law. It was a calculated move by a devious politician to keep himself in power beyond what the Constitution allowed. A staged ambush attempt against his Defense Secretary Juan Ponce Enrile was the main excuse Marcos (or "Macoy" as he was deridingly referred to back then) used to strip Filipinos of all their constitutional rights. With that, the diminutive Ilocano from the backwaters of Batac, Ilocos Norte became the despotic dictator for over a decade. Published 09/23/2014
---
Jejomar Binay Should Never Become President of the Philippines

In our July 25th editorial we asked if Vice President Jejomar Binay should be the next president of the Philippines. In this editorial we arrive at the definitive conclusion that that Binay should not be elected president. Since our last editorial, more witnesses have come forward with more allegations against the embattled Vice President. But our decision not to support Binay's presidential bid is based on irrefutable public acts that in our opinion disqualify him from the presidency. Published 09/16/2014
---
Will Pacman be China's Pitchman?

The news was officially announced by China Central Television (CCTV) in Beijing on August 25: Manny "Pacman" Pacquiao, the "national fist" of the Philippines and the winner of eight world boxing titles, signed an agreement with the Chinese government "to establish a string of boxing academies" all over China with the aim of helping to "grow the sport in China and provide opportunities for young people to take part." Published 09/07/2014
---
Napoles Prays 2,000 Rosaries a Day, So Does She Get a Free Pass to Heaven?

After leaving her August 15th bail hearing at the Sandiganbayan, Janet Lim Napoles showed the media the marble rosary she personally received from recently canonized Saint Pope John Paul II. Her lawyer Stephen David later disclosed to media that Napoles prays 2,000 rosaries a day. Given that a day has only 24 hours or 1,440 minutes, Napoles would have to complete an entire rosary in less than a minute praying non-stop for an entire day…every day. Atty. David also pointed out that Napoles paid for the schooling of at least 200 priests and helped construct many Catholic churches. Published 08/30/2014
---
Should President Aquino Get a Second Term as President?

Many Filipinos today are realizing that the single, six-year presidential term as prescribed in the 1987 Constitution is woefully inadequate for a good president like Benigno S. Aquino III. The delegates who wrote that provision in the Constitution must have still been reeling from the almost 20 years of "kleptocratic" rule of strongman Ferdinand Marcos when they decided that one term was enough for any future Philippine president. Four years—the presidential term at the time—would be too short; eight too long. Published 08/23/2014
---
China Owns the Entire South China Sea? What are They Smoking—Opium?

The arrogance of China is becoming readily apparent with each passing day. With their newly acquired economic and military power the Chinese appear unrestrained in their assertiveness towards their neighbors. China, instead of positioning itself as a 21st century superpower appears to be turning back the clock resembling more and more the 12th century empire of Genghis Khan and the Mongol hordes who conquered most of Eurasia...just because they could. Published 08/12/2014
---
On Her 5th Death Anniversary, We Say 'Thanks for Nothing Cory Aquino'

The passage of time has a way of distilling reality and bringing out truths that are sometimes hidden or lost by present circumstances. Case in point is the overwhelming level of admiration many Filipinos have for former President Corazon Aquino. When she passed away in 2009, the entire nation seemed beside itself in grief. Her casket was mobbed by thousands of mourners as it slowly made its way through the streets of Metro Manila to its final resting place at the Manila Memorial Park in Parañaque. Published 08/02/2014
---