ormer Chief Justice Artemio Panganiban might soon find himself under arrest, arraigned and prosecuted because of a libel charge filed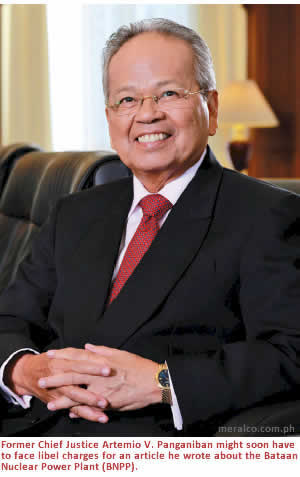 against him by Ferdinand Marcos crony Herminio Disini. The "libelous act" that Panganiban is accused of is writing an article for the Philippine Daily Inquirer in 2011 that Disini alleges is an "irresponsible and malicious" attack with regards to his involvement in the Bataan Nuclear Power Plant (BNPP) during the martial law years. You can read Panganiban's article titled: "After 35 years, still languishing" here and decide for yourself if it is indeed "libelous" or if Philippine laws are once again being used by people with money and power to muzzle the press.
But let us step back and try to see things from a broader perspective. This article is after all, not just about a Marcos crony and a former chief justice. During the 1986 EDSA revolution when millions of Filipinos put their lives on the line and literally faced down the tanks of General Fabian Ver, Cory Aquino became president while Marcos and his ilk were sent packing. The dreams and aspirations of the long-oppressed Filipino masses took flight with the ascendancy of the country's first female president. Mrs. Aquino had as well the blessing and admiration of the entire world. She could have ushered in a new era of unprecedented growth and prosperity for the Philippines.
In retrospect however, it now appears that Cory Aquino achieved next to nothing. Not only was she faulted for not even trying, according to her many detractors at the time, she just didn't seem to know anything. The acronym bandied about back then to describe Mrs. Aquino in office was TWA—not the airline, it stood for talagang walang alam (knows absolutely nothing). Had Mrs. Aquino despite her limitations taken seriously the mandate the Filipino people thrust upon her, she would have moved heaven and earth to bring to justice all those who in one way or another were involved with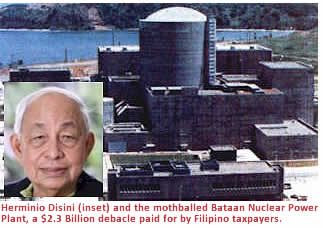 either the Marcoses or their unjust military regime. Instead, Mrs. Aquino chose to kick the can down the road for another generation to deal with.
Little did she know then that the person who might have to clean up the mess she refused to touch would be her son, current President Noynoy Aquino (Pnoy). And in the nearly two decades that the Marcoses and their cronies have been left untouched, many of those once cowering figures now stand tall, emboldened once again to not just put forward their own distorted version of history but to muzzle those who dare expose their sordid past.
Former Chief Justice Artemio Panganiban's stellar achievements despite his humble beginnings stand as a testament to his indomitable spirit. There is likely still a lot of fight left in him. The question however is: what will the president do about all this? Will Pnoy finish what his mother unfortunately never really started? Or will he likewise kick the can even further down the road so that in some distant misinformed future Ferdinand Marcos might even be seen as a hero and his martial law regime as the best thing that ever happened to the Philippines. Published 01/05/2014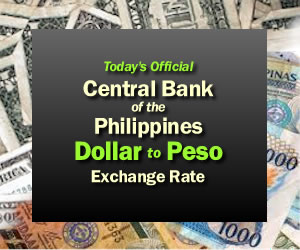 RECENT EDITORIALS
After the Pope's Visit: What We Filipinos Now Must Do


e put on a good show for Pope Francis. He loved it; we loved it; the world loved it. Now the long and painful task of bringing about the changes the pope asked for begins. Start with the Philippine Catholic Church. It should refocus its efforts towards the poor. As we wrote in previous editorials, many priests and bishops see themselves as members of the rich and privileged class. They feel more at home in country clubs and dining in expensive restaurants, than they do helping the poor who live in the squatter communities that dot most cities in the Philippines. Published 1/22/2015
---
Pope Francis Admonishes Pinoys to End Scandalous Inequalities

We had a feeling this was coming. In his first major speech in the Philippines, Pope Francis called for an end to 'scandalous inequalities' in the country. And what better example of a scandalous inequality is there than that a preposterously ridiculous wedding of Dingdong Dantes and Marian Rivera which was officiated by 8 bishops and 7 priests. In addition, this crass wedding featured a 12-foot high wedding cake, a 2-million-peso wedding gown with an exaggeratedly long train that seemed to go on forever...you get the picture. Published 1/16/2015
---
An Open Letter to Pope Francis; Please Read It Before Coming to the Philippines

Dear Pope Francis, your much anticipated visit to the Philippines is just a few days away. We expect that you will have been adequately briefed about the Philippines by the time you arrive. However, there might be a few things your Vatican handlers might have missed—or intentionally "forgot" to mention to you so we hope this letter reaches you in time for your historic visit. Before anything else, welcome! Published 1/9/2015
---
A Dingdong Fancy Wedding for a Third World Country

What is it with us Filipinos? We are a country of "all flash and no substance." Case in point: This ridiculously lavish wedding between two so-so movie stars that sought to outdo even the most "royal" of royal weddings. What was the whole point of this crassly extravagant display? Lest anyone forget, the Philippines is still a Third World country. And many, many squatter's homes (if you can call them "homes") do not have running water or even a toilet! Published 1/4/2015
---
Vice President Jejomar Binay's Aguinaldo

Money received from benefactors during Christmas in the Philippines is called "aguinaldo", a term and practice imported from Mexico during the Spanish colonial period where it now refers to the annual Christmas bonus given to employees. In the Philippines, it is now generally used to describe monetary gifts given by all benefactors, including godparents and employers. Published 12/25/2014
---
Do Filipinos Want America on Their Side or Not?

Given the Filipino penchant for "dramatics," not to mention the circus atmosphere that inevitably encompasses any event of even minor significance, one can hardly blame American government officials for refusing to hand over US Marine Lance Corporal Joseph Scott Pemberton over to Philippine authorities. The intriguing question in all this however is why some Filipinos are so insistent on having custody over the accused. Published 12/19/2014
---
Today's American Police Force Leaves So Much to be Desired

Long gone are the days when communities all across America looked up to the police officers who patrolled their streets and kept their neighborhoods safe. For cops back then it was a calling—almost like the priesthood—and those who answered that calling were brave, noble, larger-than-life individuals who kept Americans safe. Published 12/14/2014
---