ormer Chief Justice Artemio Panganiban might soon find himself under arrest, arraigned and prosecuted because of a libel charge filed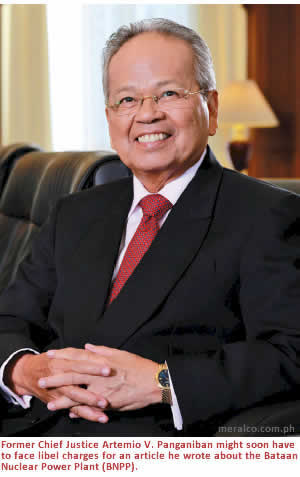 against him by Ferdinand Marcos crony Herminio Disini. The "libelous act" that Panganiban is accused of is writing an article for the Philippine Daily Inquirer in 2011 that Disini alleges is an "irresponsible and malicious" attack with regards to his involvement in the Bataan Nuclear Power Plant (BNPP) during the martial law years. You can read Panganiban's article titled: "After 35 years, still languishing" here and decide for yourself if it is indeed "libelous" or if Philippine laws are once again being used by people with money and power to muzzle the press.
But let us step back and try to see things from a broader perspective. This article is after all, not just about a Marcos crony and a former chief justice. During the 1986 EDSA revolution when millions of Filipinos put their lives on the line and literally faced down the tanks of General Fabian Ver, Cory Aquino became president while Marcos and his ilk were sent packing. The dreams and aspirations of the long-oppressed Filipino masses took flight with the ascendancy of the country's first female president. Mrs. Aquino had as well the blessing and admiration of the entire world. She could have ushered in a new era of unprecedented growth and prosperity for the Philippines.
In retrospect however, it now appears that Cory Aquino achieved next to nothing. Not only was she faulted for not even trying, according to her many detractors at the time, she just didn't seem to know anything. The acronym bandied about back then to describe Mrs. Aquino in office was TWA—not the airline, it stood for talagang walang alam (knows absolutely nothing). Had Mrs. Aquino despite her limitations taken seriously the mandate the Filipino people thrust upon her, she would have moved heaven and earth to bring to justice all those who in one way or another were involved with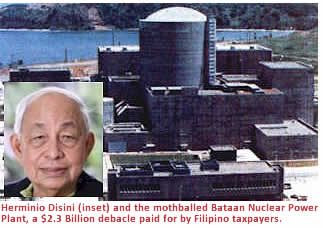 either the Marcoses or their unjust military regime. Instead, Mrs. Aquino chose to kick the can down the road for another generation to deal with.
Little did she know then that the person who might have to clean up the mess she refused to touch would be her son, current President Noynoy Aquino (Pnoy). And in the nearly two decades that the Marcoses and their cronies have been left untouched, many of those once cowering figures now stand tall, emboldened once again to not just put forward their own distorted version of history but to muzzle those who dare expose their sordid past.
Former Chief Justice Artemio Panganiban's stellar achievements despite his humble beginnings stand as a testament to his indomitable spirit. There is likely still a lot of fight left in him. The question however is: what will the president do about all this? Will Pnoy finish what his mother unfortunately never really started? Or will he likewise kick the can even further down the road so that in some distant misinformed future Ferdinand Marcos might even be seen as a hero and his martial law regime as the best thing that ever happened to the Philippines. Published 01/05/2014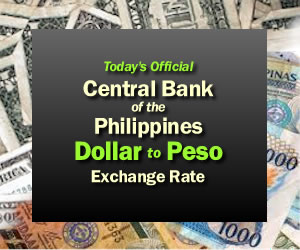 RECENT EDITORIALS
Both United States and Philippine Governments to Blame for Death of Jeffery "Jennifer" Laude



he United States and Philippine governments share the blame for the tragedy. Two young lives needlessly destroyed: the first, a young Filipino transgender found strangled inside a motel bathroom; the second a teenaged American serviceman now accused of murder. . Published 10/19/2014
---
Death of Filipino Transgender 'Jennifer' Laude Was Totally Preventable
The evening for the young US Marine and his Filipino date "Jennifer" began at the Ambyanz Disco Bar in Subic Bay, Olongapo and ended shortly before midnight at the Celzone Lodge where "Jennifer's" lifeless body was found leaning against the toilet bowl. Jennifer, it turns out was actually not originally a "she" but a "he." A Filipino transgender, Jeffrey Laude, 26, began calling himself "Jennifer" after medical procedures made him look more female than male. Published 10/14/2014
---
Sorry Mr. President But PNP Chief Alan Purisima Has to Go

What's with Philippine civil servants these days? It seems that you can stick all their pictures on a wall; throw a dart; and whoever's photo it land on, that person can be successfully prosecuted for graft. It is unbelievable how pervasive and widespread corruption has become. We go from one corruption scandal to the next and there seems to be no end in sight. Published 10/07/2014
---
Tear Down the Torre de Manila Building Being Built Behind the Rizal Monument?

According to the developer's website, "Torre de Manila, DMCI Homes' newest one-tower condominium, is an exclusive residential community right in the heart of the city." As of this writing, the 49-story edifice is about halfway complete. But as it continues to rise, so too do the howls of protest from an eclectic collection of groups and individuals who want it torn down. Why? Torre de Manila will permanently mar the skyline behind the Rizal Monument. Published 10/01/2014
---
How Ferdinand Marcos's Martial Law Continues Hurting Filipinos to This Day

On the evening of September 23, 1972, two days after it had taken effect, Ferdinand Marcos announced via live television from Malacañang Palace that he had placed the Philippines under Martial Law. It was a calculated move by a devious politician to keep himself in power beyond what the Constitution allowed. A staged ambush attempt against his Defense Secretary Juan Ponce Enrile was the main excuse Marcos (or "Macoy" as he was deridingly referred to back then) used to strip Filipinos of all their constitutional rights. With that, the diminutive Ilocano from the backwaters of Batac, Ilocos Norte became the despotic dictator for over a decade. Published 09/23/2014
---
Jejomar Binay Should Never Become President of the Philippines

In our July 25th editorial we asked if Vice President Jejomar Binay should be the next president of the Philippines. In this editorial we arrive at the definitive conclusion that that Binay should not be elected president. Since our last editorial, more witnesses have come forward with more allegations against the embattled Vice President. But our decision not to support Binay's presidential bid is based on irrefutable public acts that in our opinion disqualify him from the presidency. Published 09/16/2014
---
Will Pacman be China's Pitchman?

The news was officially announced by China Central Television (CCTV) in Beijing on August 25: Manny "Pacman" Pacquiao, the "national fist" of the Philippines and the winner of eight world boxing titles, signed an agreement with the Chinese government "to establish a string of boxing academies" all over China with the aim of helping to "grow the sport in China and provide opportunities for young people to take part." Published 09/07/2014
---