ormer Chief Justice Artemio Panganiban might soon find himself under arrest, arraigned and prosecuted because of a libel charge filed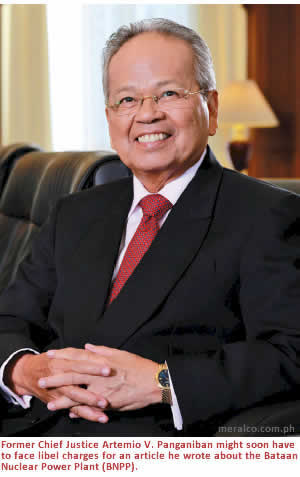 against him by Ferdinand Marcos crony Herminio Disini. The "libelous act" that Panganiban is accused of is writing an article for the Philippine Daily Inquirer in 2011 that Disini alleges is an "irresponsible and malicious" attack with regards to his involvement in the Bataan Nuclear Power Plant (BNPP) during the martial law years. You can read Panganiban's article titled: "After 35 years, still languishing" here and decide for yourself if it is indeed "libelous" or if Philippine laws are once again being used by people with money and power to muzzle the press.
But let us step back and try to see things from a broader perspective. This article is after all, not just about a Marcos crony and a former chief justice. During the 1986 EDSA revolution when millions of Filipinos put their lives on the line and literally faced down the tanks of General Fabian Ver, Cory Aquino became president while Marcos and his ilk were sent packing. The dreams and aspirations of the long-oppressed Filipino masses took flight with the ascendancy of the country's first female president. Mrs. Aquino had as well the blessing and admiration of the entire world. She could have ushered in a new era of unprecedented growth and prosperity for the Philippines.
In retrospect however, it now appears that Cory Aquino achieved next to nothing. Not only was she faulted for not even trying, according to her many detractors at the time, she just didn't seem to know anything. The acronym bandied about back then to describe Mrs. Aquino in office was TWA—not the airline, it stood for talagang walang alam (knows absolutely nothing). Had Mrs. Aquino despite her limitations taken seriously the mandate the Filipino people thrust upon her, she would have moved heaven and earth to bring to justice all those who in one way or another were involved with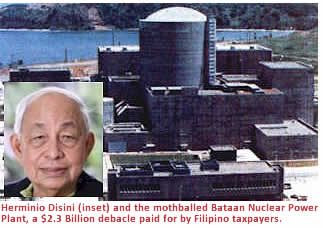 either the Marcoses or their unjust military regime. Instead, Mrs. Aquino chose to kick the can down the road for another generation to deal with.
Little did she know then that the person who might have to clean up the mess she refused to touch would be her son, current President Noynoy Aquino (Pnoy). And in the nearly two decades that the Marcoses and their cronies have been left untouched, many of those once cowering figures now stand tall, emboldened once again to not just put forward their own distorted version of history but to muzzle those who dare expose their sordid past.
Former Chief Justice Artemio Panganiban's stellar achievements despite his humble beginnings stand as a testament to his indomitable spirit. There is likely still a lot of fight left in him. The question however is: what will the president do about all this? Will Pnoy finish what his mother unfortunately never really started? Or will he likewise kick the can even further down the road so that in some distant misinformed future Ferdinand Marcos might even be seen as a hero and his martial law regime as the best thing that ever happened to the Philippines. Published 01/05/2014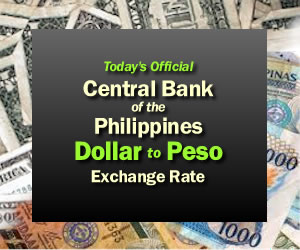 RECENT EDITORIALS
Happy Birthday GMA, 'Hope You Spend the Rest of Your Life Behind Bars



It has been a dizzying drop from the euphoric highs of 2001 when Filipinos forced President Joseph Estrada from office and installed Gloria Macapagal-Arroyo in his place. Estrada was widely seen as a corrupt, philandering politician; a high school dropout who was unqualified to be president. Arroyo on the other hand had the pedigree, education, and morals—we all assumed—to handle the job. Published 04/7/2014
---
Turn Pag-asa Island Into a Tourist Destination! It's More Fun In Pag-asa

While the Aquino administration has been making many of the right moves lately, such moves remain woefully inadequate given the situation the Philippines faces with China. If President Benigno Aquino III entertains any hope of keeping our islands in the Spratlys, he needs to get off his behind this minute and start building a strong coalition with other nations. Published 04/3/2014
---
Why Bong Revilla Will Never Become President of the Philippines

A country's president must be a statesman. Someone who is genuinely concerned about the welfare of his people—especially those who have the least in life. A president must also be fair. Fairness after all underpins what justice is all about. Everyone, be they exceedingly wealthy or totally destitute deserves equal treatment under the law. Published 03/22/2014
---
The Philippines Is Not a Friendly Place To Do Business In

On the surface, the Philippines can seem like an enjoyable and friendly place to do business. But scratch the surface and you'll find yourself in a strange and alien world where a whole new set of rules and attitudes apply. Just recently, the Fraser Institute, a well-known North American think-tank, ranked the Philippines third from the bottom, on its annual survey of the best places to do business for mining companies. Published 03/10/2014
---
To All Those Who Were Part of the EDSA People Power Revolution—Thank You!

On February 25, the Philippines will celebrate the 28th anniversary of the People Power revolution known as EDSA One. For four days in February, 1986, freedom-starved Filipinos amassed on Epifanio de los Santos Avenue (EDSA), in front of Camps Crame and Aguinaldo to shield Secretary Juan Ponce Enrile, General Fidel Ramos, and their military supporters from possible assault by forces controlled by the late dictator Ferdinand Marcos. Published 02/25/2014
---
The Arc of the Moral Universe and the Salvador "Bubby" Dacer Case

How long before the people responsible for the Dacer-Corbito murders are brought to justice? The hopeful answer may be found in a speech delivered by Dr. Martin Luther King Jr. on the steps of the Alabama State Capitol on March 25, 1965 when he said: "How long? Not long, because no lie can live forever. How long? Not long, because you shall reap what you sow. How long? Not long, because the arc of the moral universe is long, but it bends toward justice." Published 02/16/2014
---
Will Ruby Tuason's Revelations Make a Difference? Remember This Is the Philippines

Another whistleblower Ruby Tuason will soon testify before the Department of Justice, and the Philippine Senate. And probably before the Ombudsman, the Batasan committees, the Sandiganbayan and other courts as well. Her appearances will likely involve high drama, moving testimony, and bombshell revelations that will be plastered across the front pages of Philippine dailies and reverberate throughout social media. Published 02/10/2014
---
Macho, Macho Men and the Matriarchal Philippine Society

An online article a week ago concluded that the reason that Deniece Cornejo the vixen in the Vhong Navarro mauling incident was being mercilessly vilified was because Philippine society tends to treat women that way (LINK). The writer a certain Tricia Aquino in collaboration with Judy Taguiwalo a University of the Philippines professor in the Department of Women and Development Studies, try to paint a bleak picture of Filipina women as persecuted second-class citizens who end up being blamed for the troubles that befall them. Published 02/5/2014
---
We Must Learn from the Past, for the Future of Mindanao

Will the signing of the last annex of the peace accord between the Philippine Government and the Moro Islamic Liberation Front (MILF) finally bring lasting peace to troubled Mindanao? Everyone hopes so. But let's go back several decades in time and see how the country fared in a similar situation back then. Published 02/2/2014
---