[ads/468x60_02.htm]


ast Tuesday, Bonnie Glaser a senior adviser at the Center for Strategic and International Studies (CSIS) a Washington, DC-based think-tank testified before a joint hearing of the U.S. House Armed Services Subcommittee on Seapower and Projection Forces and the House Foreign Affairs Subcommittee on the Asia Pacific.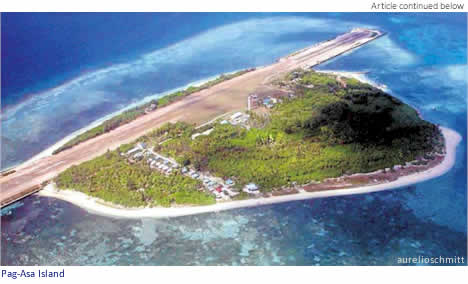 Glaser, an expert on China advised the committees that "China is pursuing a 'salami slicing' strategy. Through a steady progression of small steps, none of which by itself is a casus belli, Beijing seeks to gradually change the status quo in its favor." For the Philippines 'salami slicing' translates to China occupying Mischief Reef just off the coast of Palawan in 1998, Scarborough Shoal west of Zambales in 2012, and a planned seizure of Pag-Asa the second largest island in the Spratlys sometime this year.
Compared to other claimant nations, China sees islands claimed by the Philippines as low-hanging fruit ripe for the picking. With a government bureaucracy riddled with corruption and incompetence, and a military incapable of overpowering even a ragtag group of bandits like the Abu Sayyaf, China knows the Philippines can't put up much of a fight.
The country has been beefing up its long-neglected naval and air services of late, and rightly so. But even a adequately funded military buildup will be nothing more than a "drop in the bucket" compared to China's military might. Thus President Benigno Aquino III made the right move in seeking international arbitration under the 1982 United Nations Convention on the Law of the Sea or UNCLOS as both China and the Philippines are signatories to it.
Critics of the president however point out that he has not done much else after that. Carlye Thayer, professor emeritus from the University of New South Wales in Canberra, Australia in reaction to China's purported plan to take Pag-Asa Island by force stated that such an act would be a "tragic mistake" for China. Thayer states further "the political fallout from seizing Pag-asa would be a huge setback for Chinese diplomacy. ASEAN would likely adopt an uncompromising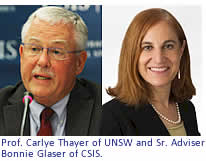 political position and demand the immediate withdrawal of Chinese forces." This is what Aquino should be telling the Chinese and every world leader who would listen to him.
In her testimony before the U.S. House of Representatives, Glaser noted that "so far only the U.S. and Japan have explicitly endorsed Manila's decision to file a case with the UNCLOS arbitration panel." So why hasn't Malacañang been wooing other countries in the region over to its side, like Vietnam or Australia?
The stakes are sky-high on this issue and the lackadaisical Filipino attitude of 'bahala na' is simply not going to cut it. The president has to get out and initiate a charm offensive along with a bit of arm-twisting to get other leaders to back the Philippines on this issue. Only when the Chinese realize that world sentiment is against them and they have a lot more to lose than gain, will they leave Philippine territory alone. But is Aquino up to the task? From the looks of it, only time will tell. Published 01/16/2014
Postscript: PNoy seeks global support vs China, compares Beijing leaders to Nazi's Hitler before World War II

MANILA, February 5, 2014 7:17 PM - President Benigno Aquino III is seeking international support in contesting China's claims over the West Philippine Sea by comparing Chinese leadership to Nazi's Adolf Hitler before World War II. The President, in an interview with The New York Times, cited a lesson from history where Europe failed to support Czechoslovakia against Adolf Hitler's demands for the Sudetenland in 1938. "Remember that the Sudetenland was given in an attempt to appease Hitler to prevent World War II," he said.