ast Tuesday, Bonnie Glaser a senior adviser at the Center for Strategic and International Studies (CSIS) a Washington, DC-based think-tank testified before a joint hearing of the U.S. House Armed Services Subcommittee on Seapower and Projection Forces and the House Foreign Affairs Subcommittee on the Asia Pacific.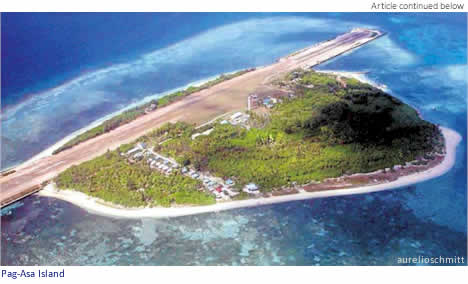 Glaser, an expert on China advised the committees that "China is pursuing a 'salami slicing' strategy. Through a steady progression of small steps, none of which by itself is a casus belli, Beijing seeks to gradually change the status quo in its favor." For the Philippines 'salami slicing' translates to China occupying Mischief Reef just off the coast of Palawan in 1998, Scarborough Shoal west of Zambales in 2012, and a planned seizure of Pag-Asa the second largest island in the Spratlys sometime this year.
Compared to other claimant nations, China sees islands claimed by the Philippines as low-hanging fruit ripe for the picking. With a government bureaucracy riddled with corruption and incompetence, and a military incapable of overpowering even a ragtag group of bandits like the Abu Sayyaf, China knows the Philippines can't put up much of a fight.
The country has been beefing up its long-neglected naval and air services of late, and rightly so. But even a adequately funded military buildup will be nothing more than a "drop in the bucket" compared to China's military might. Thus President Benigno Aquino III made the right move in seeking international arbitration under the 1982 United Nations Convention on the Law of the Sea or UNCLOS as both China and the Philippines are signatories to it.
Critics of the president however point out that he has not done much else after that. Carlye Thayer, professor emeritus from the University of New South Wales in Canberra, Australia in reaction to China's purported plan to take Pag-Asa Island by force stated that such an act would be a "tragic mistake" for China. Thayer states further "the political fallout from seizing Pag-asa would be a huge setback for Chinese diplomacy. ASEAN would likely adopt an uncompromising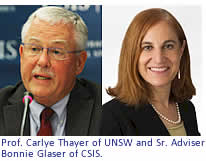 political position and demand the immediate withdrawal of Chinese forces." This is what Aquino should be telling the Chinese and every world leader who would listen to him.
In her testimony before the U.S. House of Representatives, Glaser noted that "so far only the U.S. and Japan have explicitly endorsed Manila's decision to file a case with the UNCLOS arbitration panel." So why hasn't Malacañang been wooing other countries in the region over to its side, like Vietnam or Australia?
The stakes are sky-high on this issue and the lackadaisical Filipino attitude of 'bahala na' is simply not going to cut it. The president has to get out and initiate a charm offensive along with a bit of arm-twisting to get other leaders to back the Philippines on this issue. Only when the Chinese realize that world sentiment is against them and they have a lot more to lose than gain, will they leave Philippine territory alone. But is Aquino up to the task? From the looks of it, only time will tell. Published 01/16/2014
Postscript: PNoy seeks global support vs China, compares Beijing leaders to Nazi's Hitler before World War II

MANILA, February 5, 2014 7:17 PM - President Benigno Aquino III is seeking international support in contesting China's claims over the West Philippine Sea by comparing Chinese leadership to Nazi's Adolf Hitler before World War II. The President, in an interview with The New York Times, cited a lesson from history where Europe failed to support Czechoslovakia against Adolf Hitler's demands for the Sudetenland in 1938. "Remember that the Sudetenland was given in an attempt to appease Hitler to prevent World War II," he said.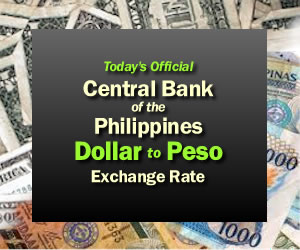 RECENT EDITORIALS
Napoles Prays 2,000 Rosaries a Day, So Does She Get a Free Pass to Heaven?



After leaving her August 15th bail hearing at the Sandiganbayan, Janet Lim Napoles showed the media the marble rosary she personally received from recently canonized Saint Pope John Paul II. Her lawyer Stephen David later disclosed to media that Napoles prays 2,000 rosaries a day. Given that a day has only 24 hours or 1,440 minutes, Napoles would have to complete an entire rosary in less than a minute praying non-stop for an entire day…every day. Atty. David also pointed out that Napoles paid for the schooling of at least 200 priests and helped construct many Catholic churches. Published 08/30/2014
---
Should President Aquino Get a Second Term as President?

Many Filipinos today are realizing that the single, six-year presidential term as prescribed in the 1987 Constitution is woefully inadequate for a good president like Benigno S. Aquino III. The delegates who wrote that provision in the Constitution must have still been reeling from the almost 20 years of "kleptocratic" rule of strongman Ferdinand Marcos when they decided that one term was enough for any future Philippine president. Four years—the presidential term at the time—would be too short; eight too long. Published 08/23/2014
---
China Owns the Entire South China Sea? What are They Smoking—Opium?

The arrogance of China is becoming readily apparent with each passing day. With their newly acquired economic and military power the Chinese appear unrestrained in their assertiveness towards their neighbors. China, instead of positioning itself as a 21st century superpower appears to be turning back the clock resembling more and more the 12th century empire of Genghis Khan and the Mongol hordes who conquered most of Eurasia...just because they could. Published 08/12/2014
---
On Her 5th Death Anniversary, We Say 'Thanks for Nothing Cory Aquino'

The passage of time has a way of distilling reality and bringing out truths that are sometimes hidden or lost by present circumstances. Case in point is the overwhelming level of admiration many Filipinos have for former President Corazon Aquino. When she passed away in 2009, the entire nation seemed beside itself in grief. Her casket was mobbed by thousands of mourners as it slowly made its way through the streets of Metro Manila to its final resting place at the Manila Memorial Park in Parañaque. Published 08/02/2014
---
The Failure of Philippine Education Is Now Staring Us in the Face

Will the Philippines Ever Become a Developed Country? The short answer to that is no—at least not in our lifetime. While the country has of late improved it credit ratings as evidenced by upgrades from Moody's, Fitch, and Standard & Poor's all that perceived progress is illusory. In the Fifties and Sixties, when the Philippines was undeniably the country at the top of the heap in Southeast Asia, people said it would always be the most industrialized country in the region. Published 08/02/2014
---
So, Should Jejomar Binay Be the Next President of the Philippines?

Though his popularity rating has taken some hits lately, Vice President Jejomar Binay is still far and away the strongest contender for the Philippine presidency in 2016. But is he the right choice for the country? His legions of supporters will give you an enthusiastic "yes;" his detractors however, will tell you "no!" So who's right? To answer our question, lets look instead at Binay's deeds rather than the words of his supporters or detractors. Published 07/25/2014
---
China's Military Base on Mabini Reef Violates the Philippine Constitution

While searching for the missing Malaysia Airlines Flight 370 on March 11, 2014, a Philippine Air Force plane flying over the Kalayaan Island Group in the West Philippine Sea sighted Chinese reclamation activity in the Mabini Reef of the Kalayaan Island Group within the 200 mile Exclusive Economic Zone (EEZ) of the Philippines. His aerial photographs were transmitted to the Philippine government for analysis. Published 07/10/2014
---