ast Tuesday, Bonnie Glaser a senior adviser at the Center for Strategic and International Studies (CSIS) a Washington, DC-based think-tank testified before a joint hearing of the U.S. House Armed Services Subcommittee on Seapower and Projection Forces and the House Foreign Affairs Subcommittee on the Asia Pacific.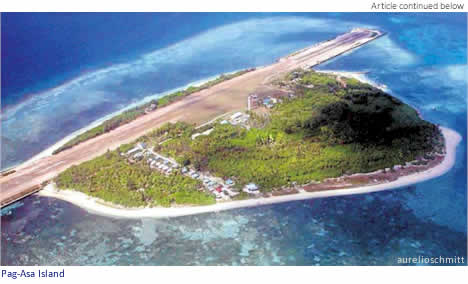 Glaser, an expert on China advised the committees that "China is pursuing a 'salami slicing' strategy. Through a steady progression of small steps, none of which by itself is a casus belli, Beijing seeks to gradually change the status quo in its favor." For the Philippines 'salami slicing' translates to China occupying Mischief Reef just off the coast of Palawan in 1998, Scarborough Shoal west of Zambales in 2012, and a planned seizure of Pag-Asa the second largest island in the Spratlys sometime this year.
Compared to other claimant nations, China sees islands claimed by the Philippines as low-hanging fruit ripe for the picking. With a government bureaucracy riddled with corruption and incompetence, and a military incapable of overpowering even a ragtag group of bandits like the Abu Sayyaf, China knows the Philippines can't put up much of a fight.
The country has been beefing up its long-neglected naval and air services of late, and rightly so. But even a adequately funded military buildup will be nothing more than a "drop in the bucket" compared to China's military might. Thus President Benigno Aquino III made the right move in seeking international arbitration under the 1982 United Nations Convention on the Law of the Sea or UNCLOS as both China and the Philippines are signatories to it.
Critics of the president however point out that he has not done much else after that. Carlye Thayer, professor emeritus from the University of New South Wales in Canberra, Australia in reaction to China's purported plan to take Pag-Asa Island by force stated that such an act would be a "tragic mistake" for China. Thayer states further "the political fallout from seizing Pag-asa would be a huge setback for Chinese diplomacy. ASEAN would likely adopt an uncompromising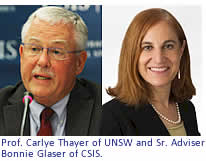 political position and demand the immediate withdrawal of Chinese forces." This is what Aquino should be telling the Chinese and every world leader who would listen to him.
In her testimony before the U.S. House of Representatives, Glaser noted that "so far only the U.S. and Japan have explicitly endorsed Manila's decision to file a case with the UNCLOS arbitration panel." So why hasn't Malacañang been wooing other countries in the region over to its side, like Vietnam or Australia?
The stakes are sky-high on this issue and the lackadaisical Filipino attitude of 'bahala na' is simply not going to cut it. The president has to get out and initiate a charm offensive along with a bit of arm-twisting to get other leaders to back the Philippines on this issue. Only when the Chinese realize that world sentiment is against them and they have a lot more to lose than gain, will they leave Philippine territory alone. But is Aquino up to the task? From the looks of it, only time will tell. Published 01/16/2014
Postscript: PNoy seeks global support vs China, compares Beijing leaders to Nazi's Hitler before World War II

MANILA, February 5, 2014 7:17 PM - President Benigno Aquino III is seeking international support in contesting China's claims over the West Philippine Sea by comparing Chinese leadership to Nazi's Adolf Hitler before World War II. The President, in an interview with The New York Times, cited a lesson from history where Europe failed to support Czechoslovakia against Adolf Hitler's demands for the Sudetenland in 1938. "Remember that the Sudetenland was given in an attempt to appease Hitler to prevent World War II," he said.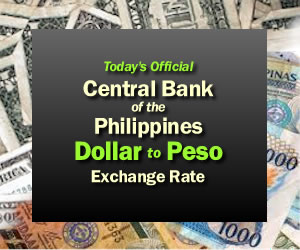 RECENT EDITORIALS
Happy Birthday GMA, 'Hope You Spend the Rest of Your Life Behind Bars



It has been a dizzying drop from the euphoric highs of 2001 when Filipinos forced President Joseph Estrada from office and installed Gloria Macapagal-Arroyo in his place. Estrada was widely seen as a corrupt, philandering politician; a high school dropout who was unqualified to be president. Arroyo on the other hand had the pedigree, education, and morals—we all assumed—to handle the job. Published 04/7/2014
---
Turn Pag-asa Island Into a Tourist Destination! It's More Fun In Pag-asa

While the Aquino administration has been making many of the right moves lately, such moves remain woefully inadequate given the situation the Philippines faces with China. If President Benigno Aquino III entertains any hope of keeping our islands in the Spratlys, he needs to get off his behind this minute and start building a strong coalition with other nations. Published 04/3/2014
---
Why Bong Revilla Will Never Become President of the Philippines

A country's president must be a statesman. Someone who is genuinely concerned about the welfare of his people—especially those who have the least in life. A president must also be fair. Fairness after all underpins what justice is all about. Everyone, be they exceedingly wealthy or totally destitute deserves equal treatment under the law. Published 03/22/2014
---
The Philippines Is Not a Friendly Place To Do Business In

On the surface, the Philippines can seem like an enjoyable and friendly place to do business. But scratch the surface and you'll find yourself in a strange and alien world where a whole new set of rules and attitudes apply. Just recently, the Fraser Institute, a well-known North American think-tank, ranked the Philippines third from the bottom, on its annual survey of the best places to do business for mining companies. Published 03/10/2014
---
To All Those Who Were Part of the EDSA People Power Revolution—Thank You!

On February 25, the Philippines will celebrate the 28th anniversary of the People Power revolution known as EDSA One. For four days in February, 1986, freedom-starved Filipinos amassed on Epifanio de los Santos Avenue (EDSA), in front of Camps Crame and Aguinaldo to shield Secretary Juan Ponce Enrile, General Fidel Ramos, and their military supporters from possible assault by forces controlled by the late dictator Ferdinand Marcos. Published 02/25/2014
---
The Arc of the Moral Universe and the Salvador "Bubby" Dacer Case

How long before the people responsible for the Dacer-Corbito murders are brought to justice? The hopeful answer may be found in a speech delivered by Dr. Martin Luther King Jr. on the steps of the Alabama State Capitol on March 25, 1965 when he said: "How long? Not long, because no lie can live forever. How long? Not long, because you shall reap what you sow. How long? Not long, because the arc of the moral universe is long, but it bends toward justice." Published 02/16/2014
---
Will Ruby Tuason's Revelations Make a Difference? Remember This Is the Philippines

Another whistleblower Ruby Tuason will soon testify before the Department of Justice, and the Philippine Senate. And probably before the Ombudsman, the Batasan committees, the Sandiganbayan and other courts as well. Her appearances will likely involve high drama, moving testimony, and bombshell revelations that will be plastered across the front pages of Philippine dailies and reverberate throughout social media. Published 02/10/2014
---
Macho, Macho Men and the Matriarchal Philippine Society

An online article a week ago concluded that the reason that Deniece Cornejo the vixen in the Vhong Navarro mauling incident was being mercilessly vilified was because Philippine society tends to treat women that way (LINK). The writer a certain Tricia Aquino in collaboration with Judy Taguiwalo a University of the Philippines professor in the Department of Women and Development Studies, try to paint a bleak picture of Filipina women as persecuted second-class citizens who end up being blamed for the troubles that befall them. Published 02/5/2014
---
We Must Learn from the Past, for the Future of Mindanao

Will the signing of the last annex of the peace accord between the Philippine Government and the Moro Islamic Liberation Front (MILF) finally bring lasting peace to troubled Mindanao? Everyone hopes so. But let's go back several decades in time and see how the country fared in a similar situation back then. Published 02/2/2014
---