ast Tuesday, Bonnie Glaser a senior adviser at the Center for Strategic and International Studies (CSIS) a Washington, DC-based think-tank testified before a joint hearing of the U.S. House Armed Services Subcommittee on Seapower and Projection Forces and the House Foreign Affairs Subcommittee on the Asia Pacific.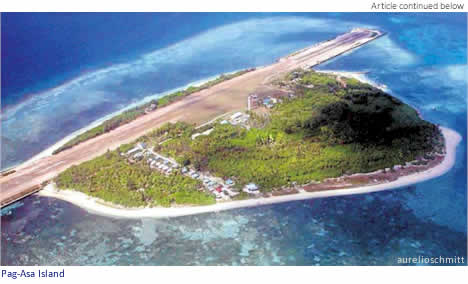 Glaser, an expert on China advised the committees that "China is pursuing a 'salami slicing' strategy. Through a steady progression of small steps, none of which by itself is a casus belli, Beijing seeks to gradually change the status quo in its favor." For the Philippines 'salami slicing' translates to China occupying Mischief Reef just off the coast of Palawan in 1998, Scarborough Shoal west of Zambales in 2012, and a planned seizure of Pag-Asa the second largest island in the Spratlys sometime this year.
Compared to other claimant nations, China sees islands claimed by the Philippines as low-hanging fruit ripe for the picking. With a government bureaucracy riddled with corruption and incompetence, and a military incapable of overpowering even a ragtag group of bandits like the Abu Sayyaf, China knows the Philippines can't put up much of a fight.
The country has been beefing up its long-neglected naval and air services of late, and rightly so. But even a adequately funded military buildup will be nothing more than a "drop in the bucket" compared to China's military might. Thus President Benigno Aquino III made the right move in seeking international arbitration under the 1982 United Nations Convention on the Law of the Sea or UNCLOS as both China and the Philippines are signatories to it.
Critics of the president however point out that he has not done much else after that. Carlye Thayer, professor emeritus from the University of New South Wales in Canberra, Australia in reaction to China's purported plan to take Pag-Asa Island by force stated that such an act would be a "tragic mistake" for China. Thayer states further "the political fallout from seizing Pag-asa would be a huge setback for Chinese diplomacy. ASEAN would likely adopt an uncompromising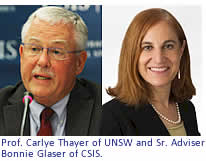 political position and demand the immediate withdrawal of Chinese forces." This is what Aquino should be telling the Chinese and every world leader who would listen to him.
In her testimony before the U.S. House of Representatives, Glaser noted that "so far only the U.S. and Japan have explicitly endorsed Manila's decision to file a case with the UNCLOS arbitration panel." So why hasn't Malacańang been wooing other countries in the region over to its side, like Vietnam or Australia?
The stakes are sky-high on this issue and the lackadaisical Filipino attitude of 'bahala na' is simply not going to cut it. The president has to get out and initiate a charm offensive along with a bit of arm-twisting to get other leaders to back the Philippines on this issue. Only when the Chinese realize that world sentiment is against them and they have a lot more to lose than gain, will they leave Philippine territory alone. But is Aquino up to the task? From the looks of it, only time will tell. Published 01/16/2014
Postscript: PNoy seeks global support vs China, compares Beijing leaders to Nazi's Hitler before World War II

MANILA, February 5, 2014 7:17 PM - President Benigno Aquino III is seeking international support in contesting China's claims over the West Philippine Sea by comparing Chinese leadership to Nazi's Adolf Hitler before World War II. The President, in an interview with The New York Times, cited a lesson from history where Europe failed to support Czechoslovakia against Adolf Hitler's demands for the Sudetenland in 1938. "Remember that the Sudetenland was given in an attempt to appease Hitler to prevent World War II," he said.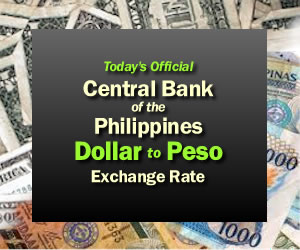 RECENT EDITORIALS
President Aquino Should Fly to Saudi Arabia and Pay His Last Respects to King Abdullah



Presidents and prime ministers, kings and queens; from Prince Charles and Prime Minister David Cameron of Britain, President Francois Hollande of France, President Abdel Fattah el-Sissi of Egypt, President Recep Tayyip Erdogan of Turkey and many other heads of state from all corners of the globe have gone or are headed to Riyadh to pay their respects to the late King Abdullah. Even U.S. President Barack Obama cut short his state visit to India to fly to Saudi Arabia. Published 1/27/2015
---
After the Pope's Visit: What We Filipinos Now Must Do
We put on a good show for Pope Francis. He loved it; we loved it; the world loved it. Now the long and painful task of bringing about the changes the pope asked for begins. Start with the Philippine Catholic Church. It should refocus its efforts towards the poor. As we wrote in previous editorials, many priests and bishops see themselves as members of the rich and privileged class. They feel more at home in country clubs and dining in expensive restaurants, than they do helping the poor who live in the squatter communities that dot most cities in the Philippines. Published 1/22/2015
---
Pope Francis Admonishes Pinoys to End Scandalous Inequalities

We had a feeling this was coming. In his first major speech in the Philippines, Pope Francis called for an end to 'scandalous inequalities' in the country. And what better example of a scandalous inequality is there than that a preposterously ridiculous wedding of Dingdong Dantes and Marian Rivera which was officiated by 8 bishops and 7 priests. In addition, this crass wedding featured a 12-foot high wedding cake, a 2-million-peso wedding gown with an exaggeratedly long train that seemed to go on forever...you get the picture. Published 1/16/2015
---
An Open Letter to Pope Francis; Please Read It Before Coming to the Philippines

Dear Pope Francis, your much anticipated visit to the Philippines is just a few days away. We expect that you will have been adequately briefed about the Philippines by the time you arrive. However, there might be a few things your Vatican handlers might have missed—or intentionally "forgot" to mention to you so we hope this letter reaches you in time for your historic visit. Before anything else, welcome! Published 1/9/2015
---
A Dingdong Fancy Wedding for a Third World Country

What is it with us Filipinos? We are a country of "all flash and no substance." Case in point: This ridiculously lavish wedding between two so-so movie stars that sought to outdo even the most "royal" of royal weddings. What was the whole point of this crassly extravagant display? Lest anyone forget, the Philippines is still a Third World country. And many, many squatter's homes (if you can call them "homes") do not have running water or even a toilet! Published 1/4/2015
---
Vice President Jejomar Binay's Aguinaldo

Money received from benefactors during Christmas in the Philippines is called "aguinaldo", a term and practice imported from Mexico during the Spanish colonial period where it now refers to the annual Christmas bonus given to employees. In the Philippines, it is now generally used to describe monetary gifts given by all benefactors, including godparents and employers. Published 12/25/2014
---
Do Filipinos Want America on Their Side or Not?

Given the Filipino penchant for "dramatics," not to mention the circus atmosphere that inevitably encompasses any event of even minor significance, one can hardly blame American government officials for refusing to hand over US Marine Lance Corporal Joseph Scott Pemberton over to Philippine authorities. The intriguing question in all this however is why some Filipinos are so insistent on having custody over the accused. Published 12/19/2014
---