ast Tuesday, Bonnie Glaser a senior adviser at the Center for Strategic and International Studies (CSIS) a Washington, DC-based think-tank testified before a joint hearing of the U.S. House Armed Services Subcommittee on Seapower and Projection Forces and the House Foreign Affairs Subcommittee on the Asia Pacific.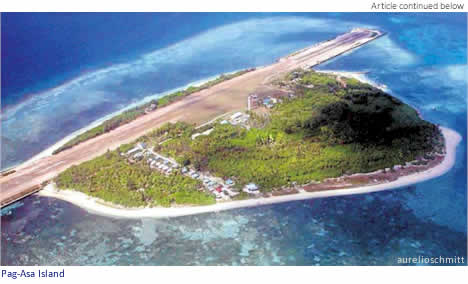 Glaser, an expert on China advised the committees that "China is pursuing a 'salami slicing' strategy. Through a steady progression of small steps, none of which by itself is a casus belli, Beijing seeks to gradually change the status quo in its favor." For the Philippines 'salami slicing' translates to China occupying Mischief Reef just off the coast of Palawan in 1998, Scarborough Shoal west of Zambales in 2012, and a planned seizure of Pag-Asa the second largest island in the Spratlys sometime this year.
Compared to other claimant nations, China sees islands claimed by the Philippines as low-hanging fruit ripe for the picking. With a government bureaucracy riddled with corruption and incompetence, and a military incapable of overpowering even a ragtag group of bandits like the Abu Sayyaf, China knows the Philippines can't put up much of a fight.
The country has been beefing up its long-neglected naval and air services of late, and rightly so. But even a adequately funded military buildup will be nothing more than a "drop in the bucket" compared to China's military might. Thus President Benigno Aquino III made the right move in seeking international arbitration under the 1982 United Nations Convention on the Law of the Sea or UNCLOS as both China and the Philippines are signatories to it.
Critics of the president however point out that he has not done much else after that. Carlye Thayer, professor emeritus from the University of New South Wales in Canberra, Australia in reaction to China's purported plan to take Pag-Asa Island by force stated that such an act would be a "tragic mistake" for China. Thayer states further "the political fallout from seizing Pag-asa would be a huge setback for Chinese diplomacy. ASEAN would likely adopt an uncompromising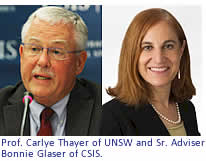 political position and demand the immediate withdrawal of Chinese forces." This is what Aquino should be telling the Chinese and every world leader who would listen to him.
In her testimony before the U.S. House of Representatives, Glaser noted that "so far only the U.S. and Japan have explicitly endorsed Manila's decision to file a case with the UNCLOS arbitration panel." So why hasn't Malacañang been wooing other countries in the region over to its side, like Vietnam or Australia?
The stakes are sky-high on this issue and the lackadaisical Filipino attitude of 'bahala na' is simply not going to cut it. The president has to get out and initiate a charm offensive along with a bit of arm-twisting to get other leaders to back the Philippines on this issue. Only when the Chinese realize that world sentiment is against them and they have a lot more to lose than gain, will they leave Philippine territory alone. But is Aquino up to the task? From the looks of it, only time will tell. Published 01/16/2014
Postscript: PNoy seeks global support vs China, compares Beijing leaders to Nazi's Hitler before World War II

MANILA, February 5, 2014 7:17 PM - President Benigno Aquino III is seeking international support in contesting China's claims over the West Philippine Sea by comparing Chinese leadership to Nazi's Adolf Hitler before World War II. The President, in an interview with The New York Times, cited a lesson from history where Europe failed to support Czechoslovakia against Adolf Hitler's demands for the Sudetenland in 1938. "Remember that the Sudetenland was given in an attempt to appease Hitler to prevent World War II," he said.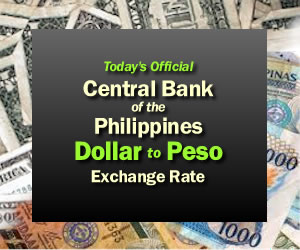 RECENT EDITORIALS
Will the Philippines Ever Speed Up Its Glacially-Slow Justice System?



We've all heard the saying "justice delayed is justice denied." That maxim has been around since time immemorial. In fact the Pirkei Avot (Hebrew for "Ethics of the Fathers") which dates back to the 1st century B.C. mentions an old rabbi saying that goes: "the sword comes into the world, because of justice delayed and justice denied." In 1215 A.D. a clause from the Magna Carta similarly declares that "to no one will we refuse or delay, right or justice." Published 3/17/2015
---
Amal Alamuddin Clooney Wants to Defend Gloria Macapagal-Arroyo ...Why?

Okay so she's George Clooney's wife, she's got great looks, a law degree and ambitious enough to make a name for herself apart from that of her superstar husband. Fair enough. So Amal Alamuddin Clooney decides to take on high profile cases of injustice around the world. Even better. But filing a complaint with the United Nations Human Rights Council on behalf of former President Gloria Macapagal-Arroyo? What's up with that? Better do your homework Mrs. Clooney. It won't take long for you to realize that Arroyo is getting exactly what she deserves. Published 3/12/2015
---
Manny Pacquiao Should Not Be Given a Tax Exemption

Senator Aquilino "Koko" Pimentel III has proposed a bill to grant Manny Pacquiao a special tax exemption for the income he will earn from his May 2nd boxing match with Floyd Mayweather Jr. Pimentel justifies his bill as a "fitting tribute" to the Filipino eight-division world champion adding that "Manny is now part of our history and of world sports history. Let's give him this tax incentive in recognition to his invaluable efforts to promote boxing and the country around the world." Published 3/4/2015
---
With Negotiators Like These on Our Team, Who Needs an Opposing Side?

What on earth happened to these two women—supposedly  handpicked by the president himself to argue on behalf of the Philippine government in peace negotiations with the Moro Islamic Liberation Front—who now seem to be mouthpieces for the Moros? Have Secretary Teresita Deles, Presidential Adviser on the Peace Process and Professor Miriam Coronel-Ferrer, chair of the negotiating panel become mesmerized by the tough "macho" image the rebels project? Published 2/27/2015
---
Why is the NBI Going After Those Who Uploaded the Sagonoy Video?

According to NBI Director Virgilio Mendez, they have identified the individuals who uploaded the video showing the coldblooded killing of PO2 Joseph Sagonoy. The cellphone video was purportedly taken by Muslim rebels during the Jan. 25, 2014 encounter between the Philippine National Police-Special Action Force and the Moro Islamic Liberation Front rebel group. The video shows a wounded Sagonoy who is shot twice in the head at close range. Published 2/21/2015
---
Twice the Heroes—the SAF 44 Who Lost Lives in Mamasapano

The 44 members of the Philippine National Police-Special Action Force (SAF) who were brutally killed in Mamasapano, Maguindanao on January 25, 2015 are heroes twice over: first, they paid the ultimate sacrifice while serving their country; second, they exposed for all to see, the dangers the country will face if the Bangsamoro Basic Law (BBL) is passed. Published 2/15/2015
---
No More Bangsamoro, Period!

With each passing day, it is becoming increasingly clear that the idea of a Bangsamoro is a bad idea. Just as the Memorandum of Agreement on Ancestral Domain (MOA-AD) spearheaded by former president Gloria Macapagal-Arroyo was a bad idea (and declared unconstitutional in 2008 by the Supreme Court). Just as the failed Autonomous Region for Muslim Mindanao (ARMM) during the 1990s was a bad idea. Published 2/8/2015
---
After the Mamasapano Massacre, Plans for a Bangsamoro Must Be Scrapped

What happened in Mamasapano, Maguindanao on January 25 is a "game changer"—make no mistake about it. Reality as we saw it before this event is not the reality we see now...everything is different; everything has "changed. When the Philippine National Police's (PNP) elite team known as the Special Action Force or SAF set out to arrest Zulkifli bin Hir alias Marwan, it had actionable intelligence that the Malaysian fugitive was hiding in the town of Mamasapano. Marwan, an expert bomb maker, is a core member of the terrorist group Jemaah Islamiyah. Published 1/31/2015
---
President Aquino Should Fly to Saudi Arabia and Pay His Last Respects to King Abdullah

Presidents and prime ministers, kings and queens; from Prince Charles and Prime Minister David Cameron of Britain, President Francois Hollande of France, President Abdel Fattah el-Sissi of Egypt, President Recep Tayyip Erdogan of Turkey and many other heads of state from all corners of the globe have gone or are headed to Riyadh to pay their respects to the late King Abdullah. Even U.S. President Barack Obama cut short his state visit to India to fly to Saudi Arabia. Published 1/27/2015
---
After the Pope's Visit: What We Filipinos Now Must Do
We put on a good show for Pope Francis. He loved it; we loved it; the world loved it. Now the long and painful task of bringing about the changes the pope asked for begins. Start with the Philippine Catholic Church. It should refocus its efforts towards the poor. As we wrote in previous editorials, many priests and bishops see themselves as members of the rich and privileged class. They feel more at home in country clubs and dining in expensive restaurants, than they do helping the poor who live in the squatter communities that dot most cities in the Philippines. Published 1/22/2015
---
Read more articles from our archives