[ads/468x60_02.htm]


ill the signing of the last annex of the peace accord between the Philippine Government and the Moro Islamic Liberation Front (MILF) finally bring lasting peace to troubled Mindanao?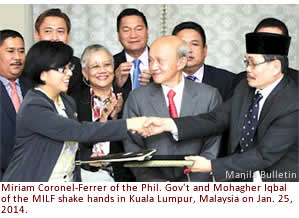 Everyone hopes so. But let's go back several decades in time and see how the country fared in a similar situation back then.
On the morning of May 17, 1954 a young Benigno Aquino Jr. drove up to an outlying barrio in Central Luzon to pick up Luis Taruc, supremo of the Hukbalahap rebels (Huks). Taruc had finally agreed to surrender, and Aquino, then a 21-year-old news reporter for the Manila Times was there to fetch him. The country rejoiced, finally there would be peace in Central Luzon.
But we Filipinos of today know better don't we? Almost sixty years hence there still is no peace in the Philippines. While the Huks may have faded from the scene, the New People's Army (NPA) rose to take their place.
In Mindanao, the situation the Aquino administration finds itself in today may not be far different from what the Magsaysay administration experienced back then. The peace accord with the MILF, like the Taruc surrender is for sure a step in the right direction. However, what happens next determines if there will be lasting peace or just a temporary lull in the fighting. As we have seen in the past few days, other groups such as the Bangsamoro Islamic Freedom Fighters (BIFF),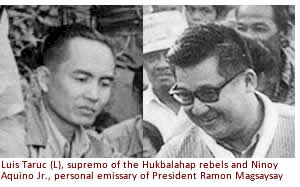 the Moro National Liberation Front (MNLF), the Abu Sayyaf, and other terrorist or armed insurgent groups are ready to carry on the fight against the government.
What this current administration—as well as succeeding administrations—does with this peace accord with the MILF will spell its success or failure. If the causes of injustice are addressed and living standards raised, then few will be inclined to take up arms against the government. But the army must also become a strong, powerful yet benevolent force that everyone in the region can look up to and respect. It is always much easier to take up arms against a weak and corrupt army, than one that is well armed and disciplined.
Sixty years ago, many of the Huks who surrendered said they joined the rebel movement because they were treated unfairly. We cannot allow our government to commit the mistakes of the past. Every resident of Mindanao must be given a fair shake. Only then can it prosper. And a prosperous Mindanao will be an invaluable asset to the entire nation. Published 02/2/2014
Selected Comments
Name: GFJ
City/State/Country: California
IP Address: 67.188.19.40

Comments
Throughout the period mentioned, to the present, I give the government a grade of "A" for good intentions. For carrying out these good intentions to fulfillment, an "F." I have only one standard to base what government will do heretofore.., that is the failed past. Throughout the period covered, I kept hope alive, only to be disappointed time and again. Henceforth, no more hope.., que sera sera.
---
Name: Phil Researcher
City/State/Country: LA County, CA USA
IP Address: 98.112.130.24

Comments
Re PH Government peace accord with the MILF. That was a peace accord with the MILF. However there are other groups to name a few, you also mentioned BIFF. (Bangsa Moro Freedom Front), the Abu Sayyaf and other unnamed terrorist groups.. These groups are not signatories to peace, how can we expect a lasting peace with the Muslims, when there are so many groups who were not signatories to that peace accord. Even before the ink dried there was already a skirmish with one of these groups, I am very pessimistic about lasting peace there.
---
Name: Steve R
City/State/Country: California
IP Address: 98.234.22.41

Comments
Indeed, history keeps on repeating itself in terms of how the central government (Malacañang) continues to find peace among inhabitants of the Philippines. When the late President Magsaysay was able to make peace with Luis Taruc, it was one of those, "yes" the Huks will give up their arms, come down from the hills "and the Hukbalahap Rebellion, for all practical purposes, came to an end." Land reform failed so did the peace accord and fighting continued among guerrilla factions and government forces. I was old enough to remember that there were good and bad guerillas. Now, the BIFF and groups of MILF are bent on continuing to fight for what is very difficult to define. Will history repeat itself if the final peace agreement is signed?
---
Name: JRH
City/State/Country: Montreal, Canada
IP Address: 70.83.179.172

Comments
How come the indigenous tribes such as the B'laans, T'bolis, Bagobos, Mandatas, etc were not consulted in the recent concluded Govt-MILF Peace Treaty? These tribal groups are opposed to the peace agreement. The animosity between these Muslim groups & the MILF is a century old grudge. If this is not resolve soon, expect a possible brutal civil war. The victims will be a traumatized population if hostility will erupt. It appears that long-seated vengeful anger among Muslims is the main stumbling block. In this case, everybody must be treated equally, both social & economic in scope. Otherwise, this deep-seated ethnocentric thinking will prevail. It looks like this Peace Treaty will be just a piece of useless paper.
---
Name: anthone
City/State/Country: austin,tx
IP Address: 99.190.130.41

Comments
Once worked in a rubber plantation in Pikit, Cotabato and got so many friends--mostly from the Visayas and Luzon areas. I have no idea how they managed to have large tract of land during that time in the late 60's. It was peaceful but you can feel something in the air because the natives of the place were starting to buy arms--(some even say that they loved the guns better that their wives). I left the place after a friend informed me that some people were planning to ambush me, being the one disbursing the pay for plantation workers. (con't)..
---
Name: anthone
City/State/Country: austin,tx
IP Address: 99.190.130.41

Comments
--con't--Years passed by when I heard news about the encounters between the Army and some Moro rebels. The rebels used the plantation as their camp.Now I am wondering--as far as I know, the Moros is just a small percentage of Mindanao. There must be someone backing them up for a good reason and I am sure it is outside the Philippines. The only solution for peace to succeed in Mindanao is to STRICTLY BAN THE CARRYING OF FIREARMS. DO NOT LET OTHER NATIONS INTERFERE.
---
Name: JRH
City/State/Country: Montreal, Canada
IP Address: 70.83.179.172

Comments
The ink has not dried yet after the peace treaty was signed when savage fighting erupted between the Phil Armed Forces & the BIFF renegade group. Clearly, it shows that there are cracks in this latest Malaysian peace initiative to finally bring peace a chance in Mindanao. For as long as we have fanatic groups (inc. the NPA) who won't participate in any peace accord, the problem remains & will persist a lot longer. A lot more people will be affected...mostly the non-combatants, the Christian settlers, & the peace-loving Muslim brothers & sisters. So, back to the drawing group & formulate a lasting treaty that will finally work. It's a vicious circle that has no end. Both sides tried & failed countless times. Let's keep on trying.
---
Name: deo
City/State/Country: flour-flower city
IP Address: 67.244.141.97

Comments
In the news: "Tribes Reject MILF Pact; Gird For War". Tribes referred to here are the indigenous minorities. They are not a party to the pact but they will be affected by it. Even if a "Peace Pact" is signed, there will always be fighting. Check this out: This is an excerpt from the song of Tom Jones "Thunderbolt" "...his days of asking are all gone ...but he thinks that the fight is what he longs so he strikes like thunderbolt!". Those BIFF, MILF fighters will always feel "fighting" is fun. So they get restless and their adrenaline will be overflowing. It's human and animal instinct. Ah, you know what I mean.
---
Name: Jorge Villanueva
City/State/Country: Canada
IP Address: 142.134.108.237

Comments
The philnews.com's editorial is well written and covers all the necessary issues from its historical perspective, pitfalls and its prospect for success. It describes how previous efforts failed and how similar circumstance may result if problems are not addressed properly. It's an article that is devoid of partisan politics but purely guided by adroit knowledge of the root cause of all the problems that beset the country and how it can be avoided.
---
Name: Jorge Villanueva
City/State/Country: Canada
IP Address: 142.134.108.237

Comments
I agree with the editorial that for the peace accord to succeed knowledge of how previous efforts failed is imperative. Otherwise failure to understand the root cause of the problems will only lead to a similar ending. They can learn from how other countries solved their own aboriginal concerns providing comprehensive approach to address all indigenous problems and avoid complicated and divisive piecemeal solutions.
---
Name: mockingmaya
City/State/Country: taft avenue, manila
IP Address: 67.182.75.243

Comments
I think President Aquino needs a cold shower on rational thinking & moral courage to understand the nature of BIFF & MILF extremist ideology. The fact remains that the Filipino people are faced with enemies who seek ruthless violence not enduring peace but the destruction of their democratic way of life (see BIFF children Islamic warriors ). If Filipino leaders didn't have moral courage to address the complex problem of terrorism & defend democracy itself against its enemies they were doomed to fail. It may be a fact that the law of the jungle, political plunderers, & tax evaders will replace democratic values.
---
Name: Enteng D'Dragon
City/State/Country: Pulo ng mga Mahangin
IP Address: 64.40.183.70

Comments
" Learn from the past"- nice advice indeed but really is just another wasted truism in the land where "happenings" are more fun. The better advice perhaps is -- "develop the political will and resolve to learn from the past".
---
Name: Deadmaus
City/State/Country: Boca Raton
IP Address: 198.228.200.40

Comments
The lesson in the past tells us that the Muslims want nothing but independence. The Muslims consider themselves as indigenous people. All prior negotiations were predicated on the basic framework of autonomy. Splinter groups like the Abus or BIFF do not share the same goal as MILF when it comes to peace. So the attempt to derail any peace arrangement is always there. Let us not kid ourselves here.
---
Name: mockingmaya
City/State/Country: taft avenue, manila
IP Address: 67.182.75.243

Comments
I do agree with the PNL editor (101%) that the Filipino people must learn from the laborious contexture of history for the future of Mindanao. In short, every Filipino must be the observer & participant of the past & present events to understand the increasing complexity & dynamism of war, revolution, religious conflict or fundamentalism; the politics of religion & ethnicity; the evolution of ideology, and so on. Dante once said: "I love to doubt, as well as to know." A Filipino president who is ignorant of history doesn't deserve to be the Commander-in-Chief of the AFP. Plain & simple.
---
Name: SOMEONE
City/State/Country: SOMEWHERE
IP Address: 108.183.75.178

Comments
1)The Mindanao Insurgency and the Huk Rebellion are 2 different things. In Mindanao the problem is simple. The Muslims want an independent country, separate and distinct from the PHL Republic. If they could not get that then they want autonomy. And in between demanding and getting autonomy they would cause trouble. Since the govt. cannot allow cessation they give autonomy. The trouble is the Muslims are fragmented into different groups with different wants. To quiet them down the govt. gives them money until they get restive again. Therefore peace will always be illusory. The Spaniards, Americans, and everyone else found that out. If we expect Aquino to achieve lasting peace in this region we are being naive.
---
Name: SOMEONE
City/State/Country: SOMEWHERE
IP Address: 108.183.75.178

Comments
2) The HUK rebellion on the other hand began when the greedy Hacenderos refused to share their profits with the tenants. And the USA fearing spread of communism immediately sided with the Propetarios and branded the famers communists. Thereafter they ordered the arrest of the leaders of the farmers. And so ensued a war. It was really a class war. The farmers just wanted to improve their lot. Instead they got caught in the cold war of that day. Because the Huks have limited resources they went down except for some who turned into banditry. The militants of these days have nothing in common with the Huks. Today the problem is the Filipinos themselves. They have grown callous and cynical. You don't need any rebellion/doctrine to bring the government down. Because it already is…virtually.
---
Name: JRH
City/State/Country: Montreal, Canada
IP Address: 70.83.179.172

Comments
The PAF didn't finish the job they started. The latest military offensive worked effectively & short of total victory suddenly stopped all actions. Is there a plausible explanation why? The successful offensive was due to a mechanized brigade who continuously pursued the BIFF rebels together with an Air Mobility Unit who created much damage to the rebel groups & the death of some top-ranking officials of the runaway rebels. Boots on the ground wasn't very effective for the PAF troops cuz the 'hide & seek tactics' of the Muslim fighters were effective. It's a Deadhorse short of compete success.
---
Name: mockingmaya
City/State/Country: taft avenue, manila
IP Address: 67.182.75.243

Comments
I do agree with PNL editor about the NPAs, or Maoist dogma & Filipino-Muslim extremism, or Muslim radical dogma or "holy war" or "militant Islam". The PNL editor's arguments are not entirely wrong becasue Communist Chinese, or NPAs are not merely "agrarian reformers" & Muslim radicals are not just pious followers of Koran. It is common knowledge that followers of madness of Maoism & radical Islamism main preoccupations are the punishment of non-believers.
---
Name: Arch.Lito L. Mallonga
City/State/Country: Pinas Ating Mahal
IP Address: 96.49.76.95

Comments
Comments of saying by PH government official to say to our OFW to behave in Hong Kong is not acceptable in my own point of view. Why don't they just bring all the OFW back from Hong Kong for good. Marami pang salita kaya tuluy hindi tayo iginagalang ng mga INSIK. Tama ang mga sinasabi mo MARIE dito sa FORUM. Though I do not make any comments before and now its time to bring it out to all. Kung hindi natepok si Pres. Ramon Magsaysay noon, I am sure PH would have been economically strong. But it is not too late anyways. Masta solid lang lahat tayong mga PINOY AT PINAY. Mabuhay ang Philipinas nating mahal. Please use this comments please.
---
Name: 1 UP
City/State/Country: GOTHAM CITY
IP Address: 72.229.243.105

Comments
Is a stark contrast between the NPAs and the Abus, MILF, MNLF, or BIFF. With the former it more of a peasants' revolt and against military abuses; the MILF and other Muslim groups were fighting instead for independence. The Muslim community wanted to secede rather than acquiesce. Initially the conflict was triggered by the Jabidad massacre. NPAs were driven by political ideologies (communism. Initially it was more of patriotism); the Muslims were driven on the other hand by both socioeconomic and religious factors (Islam). The NPAs were granted amnesty but rebellious Muslims were not. An all out military offensive was directed at them instead.
---