[ads/468x60_02.htm]


nother whistleblower Ruby Tuason will soon testify before the Department of Justice, and the Philippine Senate.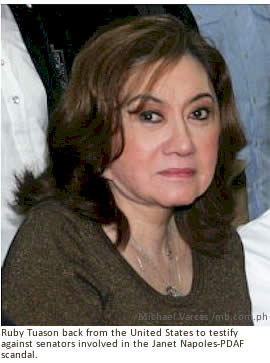 And probably before the Ombudsman, the Batasan committees, the Sandiganbayan and other courts as well. Her appearances will likely involve high drama, moving testimony, and bombshell revelations that will be plastered across the front pages of Philippine dailies and reverberate throughout social media.
But will it change anything? That seems to be the sixty-four thousand dollar question. Filipinos have seen this so many times before. A few "big time" whistleblowers in the recent past were: Mary "Rosebud" Ong, who in 2001 accused Sen. Panfilo Lacson, then-head of the Philippine National Police, of involvement in drug trafficking and kidnap for ransom activities; In 2002 Equitable Bank vice president in charge of trust accounts Clarissa Ocampo, testified during President Joseph Estrada's impeachment trial that she saw him sign bank documents under the name Jose Velarde; In 2007 Jun Lozada president of the Philippine Forest Corp. along with NEDA director general Romulo Neri, and businessman Jose "Joey" de Venecia III of Amsterdam Holdings, Inc. testified before the Philippine Senate that President Gloria Arroyo, First Gentleman Mike Arroyo, and COMELEC Chairman Benjamin Abalos, Sr. were involved in a kickback scheme involving billions of pesos in what became known as the NBN-ZTE scandal.
They were all riveting dramas in their time. Filipinos everywhere soaked them up—but nothing happened. None of the above cases have ever been resolved with finality.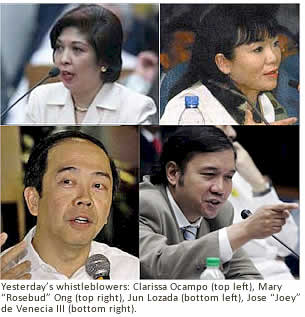 Public interest faded, people moved on and Philippine lawyers went to work gumming up the "works" to keep those cases pending in legal limbo forever.
That's how it is in the Philippines—justice doesn't work. Nothing is resolved, no one is punished, the nation just shrugs its shoulders and goes on with life waiting for the next big scandal to break. And Filipino lawyers have become so good at obfuscation and twisting reality that like master magicians they can make even a mountain of evidence disappear. So no one should be surprised if at some point in the future those now accused of the Maguindanao massacre are set free.
As we pointed out in a previous article, Philippine justice is for the most part non-existent, inutile, a sham. All Filipinos know this. Thus, why try to make money the hard, honest way when you can do it the easy, dishonest way and get away with it.
So the question is will the testimony of Ruby Tuason result in the conviction of any of the senators involved in the PDAF scandal? Don't count on it. Based on the past, nothing will happen. One of those accused might even become president of the country one day. And Ruby Tuason's bombshell revelations will end up as just another obscure footnote in Philippine history. Published 02/10/2014