nother whistleblower Ruby Tuason will soon testify before the Department of Justice, and the Philippine Senate.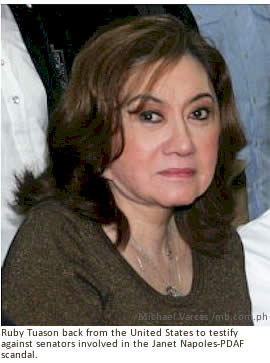 And probably before the Ombudsman, the Batasan committees, the Sandiganbayan and other courts as well. Her appearances will likely involve high drama, moving testimony, and bombshell revelations that will be plastered across the front pages of Philippine dailies and reverberate throughout social media.
But will it change anything? That seems to be the sixty-four thousand dollar question. Filipinos have seen this so many times before. A few "big time" whistleblowers in the recent past were: Mary "Rosebud" Ong, who in 2001 accused Sen. Panfilo Lacson, then-head of the Philippine National Police, of involvement in drug trafficking and kidnap for ransom activities; In 2002 Equitable Bank vice president in charge of trust accounts Clarissa Ocampo, testified during President Joseph Estrada's impeachment trial that she saw him sign bank documents under the name Jose Velarde; In 2007 Jun Lozada president of the Philippine Forest Corp. along with NEDA director general Romulo Neri, and businessman Jose "Joey" de Venecia III of Amsterdam Holdings, Inc. testified before the Philippine Senate that President Gloria Arroyo, First Gentleman Mike Arroyo, and COMELEC Chairman Benjamin Abalos, Sr. were involved in a kickback scheme involving billions of pesos in what became known as the NBN-ZTE scandal.
They were all riveting dramas in their time. Filipinos everywhere soaked them up—but nothing happened. None of the above cases have ever been resolved with finality.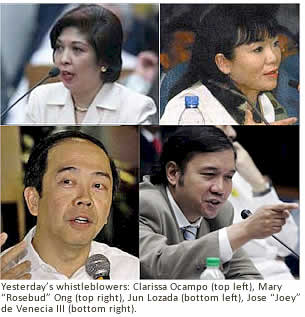 Public interest faded, people moved on and Philippine lawyers went to work gumming up the "works" to keep those cases pending in legal limbo forever.
That's how it is in the Philippines—justice doesn't work. Nothing is resolved, no one is punished, the nation just shrugs its shoulders and goes on with life waiting for the next big scandal to break. And Filipino lawyers have become so good at obfuscation and twisting reality that like master magicians they can make even a mountain of evidence disappear. So no one should be surprised if at some point in the future those now accused of the Maguindanao massacre are set free.
As we pointed out in a previous article, Philippine justice is for the most part non-existent, inutile, a sham. All Filipinos know this. Thus, why try to make money the hard, honest way when you can do it the easy, dishonest way and get away with it.
So the question is will the testimony of Ruby Tuason result in the conviction of any of the senators involved in the PDAF scandal? Don't count on it. Based on the past, nothing will happen. One of those accused might even become president of the country one day. And Ruby Tuason's bombshell revelations will end up as just another obscure footnote in Philippine history. Published 02/10/2014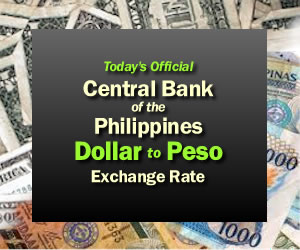 RECENT EDITORIALS
Jejomar Binay Should Never Become President of the Philippines



n our July 25th editorial we asked if Vice President Jejomar Binay should be the next president of the Philippines. In this editorial we arrive at the definitive conclusion that that Binay should not be elected president. Since our last editorial, more witnesses have come forward with more allegations against the embattled Vice President. But our decision not to support Binay's presidential bid is based on irrefutable public acts that in our opinion disqualify him from the presidency. Published 09/16/2014
---
Will Pacman be China's Pitchman?

The news was officially announced by China Central Television (CCTV) in Beijing on August 25: Manny "Pacman" Pacquiao, the "national fist" of the Philippines and the winner of eight world boxing titles, signed an agreement with the Chinese government "to establish a string of boxing academies" all over China with the aim of helping to "grow the sport in China and provide opportunities for young people to take part." Published 09/07/2014
---
Napoles Prays 2,000 Rosaries a Day, So Does She Get a Free Pass to Heaven?

After leaving her August 15th bail hearing at the Sandiganbayan, Janet Lim Napoles showed the media the marble rosary she personally received from recently canonized Saint Pope John Paul II. Her lawyer Stephen David later disclosed to media that Napoles prays 2,000 rosaries a day. Given that a day has only 24 hours or 1,440 minutes, Napoles would have to complete an entire rosary in less than a minute praying non-stop for an entire day…every day. Atty. David also pointed out that Napoles paid for the schooling of at least 200 priests and helped construct many Catholic churches. Published 08/30/2014
---
Should President Aquino Get a Second Term as President?

Many Filipinos today are realizing that the single, six-year presidential term as prescribed in the 1987 Constitution is woefully inadequate for a good president like Benigno S. Aquino III. The delegates who wrote that provision in the Constitution must have still been reeling from the almost 20 years of "kleptocratic" rule of strongman Ferdinand Marcos when they decided that one term was enough for any future Philippine president. Four years—the presidential term at the time—would be too short; eight too long. Published 08/23/2014
---
China Owns the Entire South China Sea? What are They Smoking—Opium?

The arrogance of China is becoming readily apparent with each passing day. With their newly acquired economic and military power the Chinese appear unrestrained in their assertiveness towards their neighbors. China, instead of positioning itself as a 21st century superpower appears to be turning back the clock resembling more and more the 12th century empire of Genghis Khan and the Mongol hordes who conquered most of Eurasia...just because they could. Published 08/12/2014
---
On Her 5th Death Anniversary, We Say 'Thanks for Nothing Cory Aquino'

The passage of time has a way of distilling reality and bringing out truths that are sometimes hidden or lost by present circumstances. Case in point is the overwhelming level of admiration many Filipinos have for former President Corazon Aquino. When she passed away in 2009, the entire nation seemed beside itself in grief. Her casket was mobbed by thousands of mourners as it slowly made its way through the streets of Metro Manila to its final resting place at the Manila Memorial Park in Parañaque. Published 08/02/2014
---
The Failure of Philippine Education Is Now Staring Us in the Face

Will the Philippines Ever Become a Developed Country? The short answer to that is no—at least not in our lifetime. While the country has of late improved it credit ratings as evidenced by upgrades from Moody's, Fitch, and Standard & Poor's all that perceived progress is illusory. In the Fifties and Sixties, when the Philippines was undeniably the country at the top of the heap in Southeast Asia, people said it would always be the most industrialized country in the region. Published 08/02/2014
---