nother whistleblower Ruby Tuason will soon testify before the Department of Justice, and the Philippine Senate.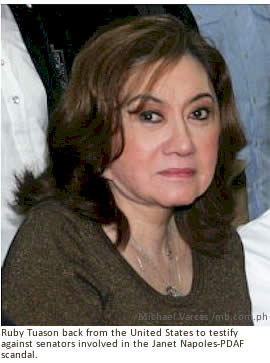 And probably before the Ombudsman, the Batasan committees, the Sandiganbayan and other courts as well. Her appearances will likely involve high drama, moving testimony, and bombshell revelations that will be plastered across the front pages of Philippine dailies and reverberate throughout social media.
But will it change anything? That seems to be the sixty-four thousand dollar question. Filipinos have seen this so many times before. A few "big time" whistleblowers in the recent past were: Mary "Rosebud" Ong, who in 2001 accused Sen. Panfilo Lacson, then-head of the Philippine National Police, of involvement in drug trafficking and kidnap for ransom activities; In 2002 Equitable Bank vice president in charge of trust accounts Clarissa Ocampo, testified during President Joseph Estrada's impeachment trial that she saw him sign bank documents under the name Jose Velarde; In 2007 Jun Lozada president of the Philippine Forest Corp. along with NEDA director general Romulo Neri, and businessman Jose "Joey" de Venecia III of Amsterdam Holdings, Inc. testified before the Philippine Senate that President Gloria Arroyo, First Gentleman Mike Arroyo, and COMELEC Chairman Benjamin Abalos, Sr. were involved in a kickback scheme involving billions of pesos in what became known as the NBN-ZTE scandal.
They were all riveting dramas in their time. Filipinos everywhere soaked them up—but nothing happened. None of the above cases have ever been resolved with finality.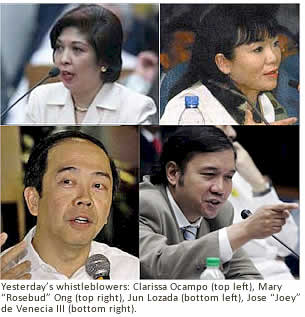 Public interest faded, people moved on and Philippine lawyers went to work gumming up the "works" to keep those cases pending in legal limbo forever.
That's how it is in the Philippines—justice doesn't work. Nothing is resolved, no one is punished, the nation just shrugs its shoulders and goes on with life waiting for the next big scandal to break. And Filipino lawyers have become so good at obfuscation and twisting reality that like master magicians they can make even a mountain of evidence disappear. So no one should be surprised if at some point in the future those now accused of the Maguindanao massacre are set free.
As we pointed out in a previous article, Philippine justice is for the most part non-existent, inutile, a sham. All Filipinos know this. Thus, why try to make money the hard, honest way when you can do it the easy, dishonest way and get away with it.
So the question is will the testimony of Ruby Tuason result in the conviction of any of the senators involved in the PDAF scandal? Don't count on it. Based on the past, nothing will happen. One of those accused might even become president of the country one day. And Ruby Tuason's bombshell revelations will end up as just another obscure footnote in Philippine history. Published 02/10/2014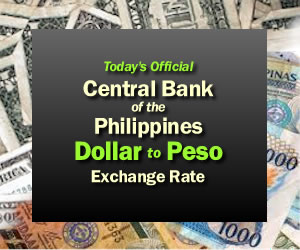 RECENT EDITORIALS
Pope Francis Admonishes Pinoys to End Scandalous Inequalities



We had a feeling this was coming. In his first major speech in the Philippines, Pope Francis called for an end to 'scandalous inequalities' in the country. And what better example of a scandalous inequality is there than that a preposterously ridiculous wedding of Dingdong Dantes and Marian Rivera which was officiated by 8 bishops and 7 priests. In addition, this crass wedding featured a 12-foot high wedding cake, a 2-million-peso wedding gown with an exaggeratedly long train that seemed to go on forever...you get the picture. And since the average Filipino subsists on a shockingly paltry $2 a day, what could be more scandalously inequitable than that? Published 1/16/2015
---
An Open Letter to Pope Francis; Please Read It Before Coming to the Philippines

Dear Pope Francis, your much anticipated visit to the Philippines is just a few days away. We expect that you will have been adequately briefed about the Philippines by the time you arrive. However, there might be a few things your Vatican handlers might have missed—or intentionally "forgot" to mention to you so we hope this letter reaches you in time for your historic visit. Before anything else, welcome! Published 1/9/2015
---
A Dingdong Fancy Wedding for a Third World Country

What is it with us Filipinos? We are a country of "all flash and no substance." Case in point: This ridiculously lavish wedding between two so-so movie stars that sought to outdo even the most "royal" of royal weddings. What was the whole point of this crassly extravagant display? Lest anyone forget, the Philippines is still a Third World country. And many, many squatter's homes (if you can call them "homes") do not have running water or even a toilet! Published 1/4/2015
---
Vice President Jejomar Binay's Aguinaldo

Money received from benefactors during Christmas in the Philippines is called "aguinaldo", a term and practice imported from Mexico during the Spanish colonial period where it now refers to the annual Christmas bonus given to employees. In the Philippines, it is now generally used to describe monetary gifts given by all benefactors, including godparents and employers. Published 12/25/2014
---
Do Filipinos Want America on Their Side or Not?

Given the Filipino penchant for "dramatics," not to mention the circus atmosphere that inevitably encompasses any event of even minor significance, one can hardly blame American government officials for refusing to hand over US Marine Lance Corporal Joseph Scott Pemberton over to Philippine authorities. The intriguing question in all this however is why some Filipinos are so insistent on having custody over the accused. Published 12/19/2014
---
Today's American Police Force Leaves So Much to be Desired

Long gone are the days when communities all across America looked up to the police officers who patrolled their streets and kept their neighborhoods safe. For cops back then it was a calling—almost like the priesthood—and those who answered that calling were brave, noble, larger-than-life individuals who kept Americans safe. Published 12/14/2014
---
Obama, a Lincoln to millions of undocumented  immigrants?

President Barack Obama's recent Executive Order legalizing millions of undocumented immigrants will mark him in history as a great President. Undocumented immigrants are the modern day slaves in American society. In constant fear, living in substandard conditions, paid low wages for backbreaking work, subjected to all kinds of abuse and exploitation - they contribute so much to American society. Published 12/02/2014
---