n February 25, the Philippines will celebrate the 28th anniversary of the People Power revolution known as EDSA One. For four days in February, 1986, freedom-starved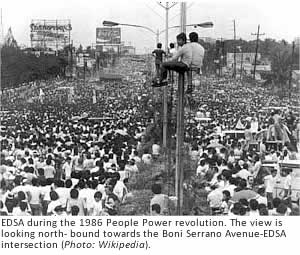 Filipinos amassed on Epifanio de los Santos Avenue (EDSA), in front of Camps Crame and Aguinaldo to shield Secretary Juan Ponce Enrile, General Fidel Ramos, and their military supporters from possible assault by forces controlled by the late dictator Ferdinand Marcos.
Between one and three million Filipinos gathered at EDSA and successfully prevented the Marcos-controlled tanks and armored personnel carriers from advancing towards the two rebel-occupied camps. From Cubao in the north to Ortigas Avenue in the south, EDSA had become a teeming mass of humanity. And in addition to shielding the rebels, the millions who congregated on EDSA showed the country and the world that Filipinos had had enough of Marcos and wanted him out. This was the sign everyone was waiting for. It emboldened the people and galvanized their opposition to his brutal and corrupt regime. From then on it would just be a matter of days before Marcos and his cronies would be sent packing out of the country.
The true heroes of the EDSA People Power revolution were—the people. They were the men and women from all walks of life who showed up at EDSA to become part of the human shield that so effectively protected those who led the revolt.

It was that selfless act of courage that brought down an illegitimate regime—a regime that for over a decade had trampled on the human rights of the Filipino people, while bleeding their country's coffers dry.

The fact that it was a bloodless revolution and no one was killed does not diminish the sacrifice that those who showed up at EDSA were willing to make. All those who stood courageously in front of tanks knew that at any second they could be trampled under tons of steel. Those who stood in front of the guns and cannons of the soldiers commanded by Gen. Fabian Ver knew that they would be at the receiving end if Ver had given an order to fire. And although the atmosphere was calm and at times even festive, at some level everyone there was aware that if hostilities erupted, they might never make it home again.

By their collective action during those four days in February, 1986, the Filipino people removed an illegitimate dictator who had long overstayed his welcome and handed over to their new president Corazon Aquino an entire country, plus all the governmental power she needed to make things right. The fact that Aquino, in so many ways, failed in that task has somewhat diminished the significance of the EDSA revolution through the years. But let no one forget that the people did their part. It was those they entrusted to make the needed changes who unfortunately failed to deliver.

But this Tuesday, February 25, 2014, let us not dwell on the failures of our elected officials. Instead let us remember the courage and resoluteness of the men and women who participated in the EDSA People Power revolution. Although bloodless, it was still a revolution that toppled a dictator and showed the world that there were millions of Filipinos willing to sacrifice their own lives to restore freedom and democracy in their country. Published 02/25/2014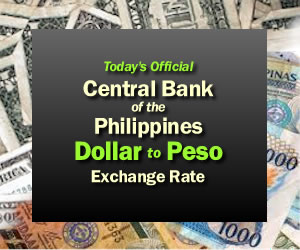 RECENT EDITORIALS
Today's American Police Force Leaves So Much to be Desired



Long gone are the days when communities all across America looked up to the police officers who patrolled their streets and kept their neighborhoods safe. For cops back then it was a calling—almost like the priesthood—and those who answered that calling were brave, noble, larger-than-life individuals who kept Americans safe. Published 12/14/2014
---
Obama, a Lincoln to millions of undocumented  immigrants?

President Barack Obama's recent Executive Order legalizing millions of undocumented immigrants will mark him in history as a great President. Undocumented immigrants are the modern day slaves in American society. In constant fear, living in substandard conditions, paid low wages for backbreaking work, subjected to all kinds of abuse and exploitation - they contribute so much to American society. Published 12/02/2014
---
Pope Francis' View of God
Filipinos preparing to welcome Pope Francis to the Philippines on January 15, 2015 would do well to be familiar with the Pontiff's recently enunciated views which have drawn fire from religious conservatives. One may recall that soon after his election, Pope Francis was criticized for refusing to "judge" gays. Published 11/18/2014
---
12 Million Metro Manila Commuters Stuck in Gridlock Hell

For much of the last month, my Facebook friends in Metro Manila have been posting comments lamenting their helplessness at being condemned to spend a great portion of what is left of their productive lives stuck in hours of traffic with no hope in sight. They now appreciate why Dan Brown described Manila in his book, Inferno, as "the gates of hell" specifically referring to its "six-hour traffic jams (and) suffocating pollution". Published 11/062014
---
Why Filipino-Americans Need to Vote Democratic on November 4

Since 1620 when the pilgrims landed on Plymouth Rock, people the world over have migrated to America in search of a better life. Filipinos are no exception. In the '70s and '80s Filipinos who were able to, left for the U.S. to escape the tyranny of the Marcos regime; today they leave is to escape the poverty and the lack of opportunity in their homeland. Whatever the reason, Filipino migrants quickly shed their old habits and attitudes and embraced American culture. Published 10/30/2014
---
Both United States and Philippine Governments to Blame for Death of Jeffery "Jennifer" Laude

The United States and Philippine governments share the blame for the tragedy. Two young lives needlessly destroyed: the first, a young Filipino transgender found strangled inside a motel bathroom; the second a teenaged American serviceman now accused of murder. Published 10/19/2014
---
Death of Filipino Transgender 'Jennifer' Laude Was Totally Preventable
The evening for the young US Marine and his Filipino date "Jennifer" began at the Ambyanz Disco Bar in Subic Bay, Olongapo and ended shortly before midnight at the Celzone Lodge where "Jennifer's" lifeless body was found leaning against the toilet bowl. Jennifer, it turns out was actually not originally a "she" but a "he." A Filipino transgender, Jeffrey Laude, 26, began calling himself "Jennifer" after medical procedures made him look more female than male. Published 10/14/2014
---