n February 25, the Philippines will celebrate the 28th anniversary of the People Power revolution known as EDSA One. For four days in February, 1986, freedom-starved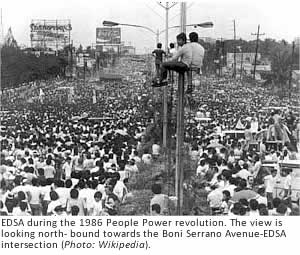 Filipinos amassed on Epifanio de los Santos Avenue (EDSA), in front of Camps Crame and Aguinaldo to shield Secretary Juan Ponce Enrile, General Fidel Ramos, and their military supporters from possible assault by forces controlled by the late dictator Ferdinand Marcos.
Between one and three million Filipinos gathered at EDSA and successfully prevented the Marcos-controlled tanks and armored personnel carriers from advancing towards the two rebel-occupied camps. From Cubao in the north to Ortigas Avenue in the south, EDSA had become a teeming mass of humanity. And in addition to shielding the rebels, the millions who congregated on EDSA showed the country and the world that Filipinos had had enough of Marcos and wanted him out. This was the sign everyone was waiting for. It emboldened the people and galvanized their opposition to his brutal and corrupt regime. From then on it would just be a matter of days before Marcos and his cronies would be sent packing out of the country.
The true heroes of the EDSA People Power revolution were—the people. They were the men and women from all walks of life who showed up at EDSA to become part of the human shield that so effectively protected those who led the revolt.

It was that selfless act of courage that brought down an illegitimate regime—a regime that for over a decade had trampled on the human rights of the Filipino people, while bleeding their country's coffers dry.

The fact that it was a bloodless revolution and no one was killed does not diminish the sacrifice that those who showed up at EDSA were willing to make. All those who stood courageously in front of tanks knew that at any second they could be trampled under tons of steel. Those who stood in front of the guns and cannons of the soldiers commanded by Gen. Fabian Ver knew that they would be at the receiving end if Ver had given an order to fire. And although the atmosphere was calm and at times even festive, at some level everyone there was aware that if hostilities erupted, they might never make it home again.

By their collective action during those four days in February, 1986, the Filipino people removed an illegitimate dictator who had long overstayed his welcome and handed over to their new president Corazon Aquino an entire country, plus all the governmental power she needed to make things right. The fact that Aquino, in so many ways, failed in that task has somewhat diminished the significance of the EDSA revolution through the years. But let no one forget that the people did their part. It was those they entrusted to make the needed changes who unfortunately failed to deliver.

But this Tuesday, February 25, 2014, let us not dwell on the failures of our elected officials. Instead let us remember the courage and resoluteness of the men and women who participated in the EDSA People Power revolution. Although bloodless, it was still a revolution that toppled a dictator and showed the world that there were millions of Filipinos willing to sacrifice their own lives to restore freedom and democracy in their country. Published 02/25/2014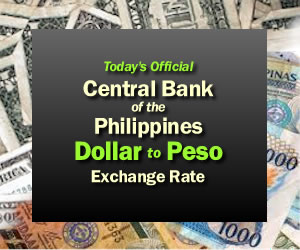 RECENT EDITORIALS
After the Pope's Visit: What We Filipinos Now Must Do


e put on a good show for Pope Francis. He loved it; we loved it; the world loved it. Now the long and painful task of bringing about the changes the pope asked for begins. Start with the Philippine Catholic Church. It should refocus its efforts towards the poor. As we wrote in previous editorials, many priests and bishops see themselves as members of the rich and privileged class. They feel more at home in country clubs and dining in expensive restaurants, than they do helping the poor who live in the squatter communities that dot most cities in the Philippines. Published 1/22/2015
---
Pope Francis Admonishes Pinoys to End Scandalous Inequalities

We had a feeling this was coming. In his first major speech in the Philippines, Pope Francis called for an end to 'scandalous inequalities' in the country. And what better example of a scandalous inequality is there than that a preposterously ridiculous wedding of Dingdong Dantes and Marian Rivera which was officiated by 8 bishops and 7 priests. In addition, this crass wedding featured a 12-foot high wedding cake, a 2-million-peso wedding gown with an exaggeratedly long train that seemed to go on forever...you get the picture. Published 1/16/2015
---
An Open Letter to Pope Francis; Please Read It Before Coming to the Philippines

Dear Pope Francis, your much anticipated visit to the Philippines is just a few days away. We expect that you will have been adequately briefed about the Philippines by the time you arrive. However, there might be a few things your Vatican handlers might have missed—or intentionally "forgot" to mention to you so we hope this letter reaches you in time for your historic visit. Before anything else, welcome! Published 1/9/2015
---
A Dingdong Fancy Wedding for a Third World Country

What is it with us Filipinos? We are a country of "all flash and no substance." Case in point: This ridiculously lavish wedding between two so-so movie stars that sought to outdo even the most "royal" of royal weddings. What was the whole point of this crassly extravagant display? Lest anyone forget, the Philippines is still a Third World country. And many, many squatter's homes (if you can call them "homes") do not have running water or even a toilet! Published 1/4/2015
---
Vice President Jejomar Binay's Aguinaldo

Money received from benefactors during Christmas in the Philippines is called "aguinaldo", a term and practice imported from Mexico during the Spanish colonial period where it now refers to the annual Christmas bonus given to employees. In the Philippines, it is now generally used to describe monetary gifts given by all benefactors, including godparents and employers. Published 12/25/2014
---
Do Filipinos Want America on Their Side or Not?

Given the Filipino penchant for "dramatics," not to mention the circus atmosphere that inevitably encompasses any event of even minor significance, one can hardly blame American government officials for refusing to hand over US Marine Lance Corporal Joseph Scott Pemberton over to Philippine authorities. The intriguing question in all this however is why some Filipinos are so insistent on having custody over the accused. Published 12/19/2014
---
Today's American Police Force Leaves So Much to be Desired

Long gone are the days when communities all across America looked up to the police officers who patrolled their streets and kept their neighborhoods safe. For cops back then it was a calling—almost like the priesthood—and those who answered that calling were brave, noble, larger-than-life individuals who kept Americans safe. Published 12/14/2014
---