n February 25, the Philippines will celebrate the 28th anniversary of the People Power revolution known as EDSA One. For four days in February, 1986, freedom-starved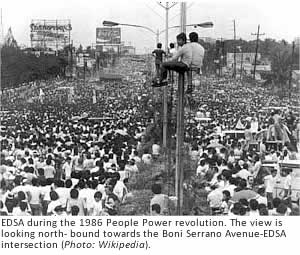 Filipinos amassed on Epifanio de los Santos Avenue (EDSA), in front of Camps Crame and Aguinaldo to shield Secretary Juan Ponce Enrile, General Fidel Ramos, and their military supporters from possible assault by forces controlled by the late dictator Ferdinand Marcos.
Between one and three million Filipinos gathered at EDSA and successfully prevented the Marcos-controlled tanks and armored personnel carriers from advancing towards the two rebel-occupied camps. From Cubao in the north to Ortigas Avenue in the south, EDSA had become a teeming mass of humanity. And in addition to shielding the rebels, the millions who congregated on EDSA showed the country and the world that Filipinos had had enough of Marcos and wanted him out. This was the sign everyone was waiting for. It emboldened the people and galvanized their opposition to his brutal and corrupt regime. From then on it would just be a matter of days before Marcos and his cronies would be sent packing out of the country.
The true heroes of the EDSA People Power revolution were—the people. They were the men and women from all walks of life who showed up at EDSA to become part of the human shield that so effectively protected those who led the revolt.

It was that selfless act of courage that brought down an illegitimate regime—a regime that for over a decade had trampled on the human rights of the Filipino people, while bleeding their country's coffers dry.

The fact that it was a bloodless revolution and no one was killed does not diminish the sacrifice that those who showed up at EDSA were willing to make. All those who stood courageously in front of tanks knew that at any second they could be trampled under tons of steel. Those who stood in front of the guns and cannons of the soldiers commanded by Gen. Fabian Ver knew that they would be at the receiving end if Ver had given an order to fire. And although the atmosphere was calm and at times even festive, at some level everyone there was aware that if hostilities erupted, they might never make it home again.

By their collective action during those four days in February, 1986, the Filipino people removed an illegitimate dictator who had long overstayed his welcome and handed over to their new president Corazon Aquino an entire country, plus all the governmental power she needed to make things right. The fact that Aquino, in so many ways, failed in that task has somewhat diminished the significance of the EDSA revolution through the years. But let no one forget that the people did their part. It was those they entrusted to make the needed changes who unfortunately failed to deliver.

But this Tuesday, February 25, 2014, let us not dwell on the failures of our elected officials. Instead let us remember the courage and resoluteness of the men and women who participated in the EDSA People Power revolution. Although bloodless, it was still a revolution that toppled a dictator and showed the world that there were millions of Filipinos willing to sacrifice their own lives to restore freedom and democracy in their country. Published 02/25/2014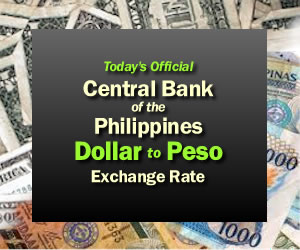 RECENT EDITORIALS
Will Pacman be China's Pitchman?



The news was officially announced by China Central Television (CCTV) in Beijing on August 25: Manny "Pacman" Pacquiao, the "national fist" of the Philippines and the winner of eight world boxing titles, signed an agreement with the Chinese government "to establish a string of boxing academies" all over China with the aim of helping to "grow the sport in China and provide opportunities for young people to take part." Published 09/07/2014
---
Napoles Prays 2,000 Rosaries a Day, So Does She Get a Free Pass to Heaven?

After leaving her August 15th bail hearing at the Sandiganbayan, Janet Lim Napoles showed the media the marble rosary she personally received from recently canonized Saint Pope John Paul II. Her lawyer Stephen David later disclosed to media that Napoles prays 2,000 rosaries a day. Given that a day has only 24 hours or 1,440 minutes, Napoles would have to complete an entire rosary in less than a minute praying non-stop for an entire day…every day. Atty. David also pointed out that Napoles paid for the schooling of at least 200 priests and helped construct many Catholic churches. Published 08/30/2014
---
Should President Aquino Get a Second Term as President?

Many Filipinos today are realizing that the single, six-year presidential term as prescribed in the 1987 Constitution is woefully inadequate for a good president like Benigno S. Aquino III. The delegates who wrote that provision in the Constitution must have still been reeling from the almost 20 years of "kleptocratic" rule of strongman Ferdinand Marcos when they decided that one term was enough for any future Philippine president. Four years—the presidential term at the time—would be too short; eight too long. Published 08/23/2014
---
China Owns the Entire South China Sea? What are They Smoking—Opium?

The arrogance of China is becoming readily apparent with each passing day. With their newly acquired economic and military power the Chinese appear unrestrained in their assertiveness towards their neighbors. China, instead of positioning itself as a 21st century superpower appears to be turning back the clock resembling more and more the 12th century empire of Genghis Khan and the Mongol hordes who conquered most of Eurasia...just because they could. Published 08/12/2014
---
On Her 5th Death Anniversary, We Say 'Thanks for Nothing Cory Aquino'

The passage of time has a way of distilling reality and bringing out truths that are sometimes hidden or lost by present circumstances. Case in point is the overwhelming level of admiration many Filipinos have for former President Corazon Aquino. When she passed away in 2009, the entire nation seemed beside itself in grief. Her casket was mobbed by thousands of mourners as it slowly made its way through the streets of Metro Manila to its final resting place at the Manila Memorial Park in Parañaque. Published 08/02/2014
---
The Failure of Philippine Education Is Now Staring Us in the Face

Will the Philippines Ever Become a Developed Country? The short answer to that is no—at least not in our lifetime. While the country has of late improved it credit ratings as evidenced by upgrades from Moody's, Fitch, and Standard & Poor's all that perceived progress is illusory. In the Fifties and Sixties, when the Philippines was undeniably the country at the top of the heap in Southeast Asia, people said it would always be the most industrialized country in the region. Published 08/02/2014
---
So, Should Jejomar Binay Be the Next President of the Philippines?

Though his popularity rating has taken some hits lately, Vice President Jejomar Binay is still far and away the strongest contender for the Philippine presidency in 2016. But is he the right choice for the country? His legions of supporters will give you an enthusiastic "yes;" his detractors however, will tell you "no!" So who's right? To answer our question, lets look instead at Binay's deeds rather than the words of his supporters or detractors. Published 07/25/2014
---