n the surface, the Philippines can seem like an enjoyable and friendly place to do business. But scratch the surface and you'll find yourself in a strange and alien world where a whole new set of rules and attitudes apply. (con't below)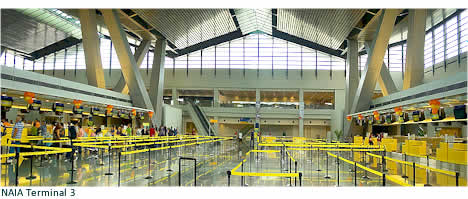 Just recently, the Fraser Institute, a well-known North American think-tank, ranked the Philippines third from the bottom, on its annual survey of the best places to do business for mining companies. The country is missing out on multi-billion dollar foreign investments—not to mention the thousands of jobs new businesses can provide—simply because foreign companies see the Philippines as unreliable. Rules can change mid-stream, and local jurisdictions can impose ever increasing requirements. The country already suffers from a history of failed business projects where foreign investors were left "holding the bag." A prime example is the construction of NAIA Terminal 3 where German airport services firm Frapport AG found itself entangled in a web of government agencies, bureaucrats, the courts, and the previous Gloria Arroyo administration. Unfortunately for Frapport AG, a simple straightforward airport project turned into a nightmare. Sadly Fraport AG's experience is in no way an isolated case. These things happen all the time in the Philippines where there is no requirement for full disclosure and all parties to a deal—no matter how minor—usually have another secret deal going on the side.
Although the Philippines has recently improved its overall credit rating, that improvement has not translated into a significant boost in foreign direct investments to the country. In fact Indonesia continues to receive four times as much foreign investment even if it now rates lower than the Philippines. Why? As we point out above, the reason is the Philippines has, over the years, built a reputation of inconsistency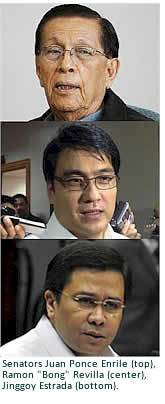 and unreliability, in addition to widespread corruption, a poorly educated populace, inadequate infrastructure, and a hopelessly ineffective judiciary.
From large multinational corporations to mom-and-pop businesses started by balikbayans, many entrepreneurs who set up shop here in the Philippines, have since left in frustration. Many point to the almost whimsical attitude of local officials who seem to delight in giving businesses a difficult time simply to prove to everyone that they can. When business owners realize that the odds are stacked against them despite their best efforts, they close shop and move elsewhere. And in today's world of global connectivity, that could be anywhere else outside the Philippines.
The recent pork-barrel scandal that is currently all over the news also highlights just how widespread and far-reaching corruption is in the country. Sitting senators who took an oath to serve the people are now accused of serving only themselves to the tune of tens of millions of pesos. They are now fighting tooth-and-nail to exonerate themselves. And why shouldn't they, others before them stole much more yet never spent a day in jail.
It may seem counterintuitive to some but Philippine courts have a lot to do with improving the business climate of the country. Government officials can offer all kinds of business incentives and talk till they're blue in the face. But unless the Philippines has a properly functioning judiciary, reputable foreign businesses will have to think long and hard before they ever invest or set up shop here. Published 03/10/2014



Philnews.com reserves the right to select and edit comments for publication.

Comments from Our Readers
(Topic: China's Military Base on Mabini Reef Violates the Philippine Constitution)
Name: Sam Juan
City/State/Country: Panay Hilong Hilo
IP Address: 38.88.177.203

Comments
JRH was asking for a solution regarding this China issue and [someone] forwarded his suggestion-- PRAY! [Someone] cautioned that the praying should be done in the rightful and original Christian church and not in some sect to be effective. Someone hinted that those prayer must have been answered because part of china has now the bubonic plague! Galing!!! China should be shaking in fear now because a "creationist" also dove in to join the discussion adding Noah and the great deluge in the equation-- ang Husay!! It is really more fun in the Philippines! Ang saya saya!
---
Name: SOMEONE
City/State/Country: USA
IP Address: 74.77.36.177

Comments
The COMMUNIST FACTOR. Look at what the Communist are busy doing these days. Filing plunder cases one after another. Is it farfetched to think that these people may actually be aiding China in occupying parts of the PHL? I do not hear these people make any comment about "resisting the invader" or dying for the PHL to protect it from China, have you? These people are the "Sleepers" of China. Sleepers in spy craft means inactive secret agents who could be activated at a given time and for certain purposes. They are among Filipinos but actually working for anyone who could aid them in grabbing power. In this case China. These are very dangerous people. History tells that these Communists drenched the world with the blood of people they hate. Better Lito Lapid than these Communists, I say.
---
Name: Gene
City/State/Country: Ontario
IP Address: 65.95.66.146

Comments
At least there is one Filipino borne, bold enough to condemn evil Communist China participating in the naval exercise, RIMPAC. While RIMPAC was going on, your Communist China's spy ship was around. Why would you trust Communist China? It is stupid for Filipinos to say Philippines can't win against Communist China because of its military power and would rather prefer to be slaves again. Why mention things that's quite obvious with such stupid minds instead of enhancing and be optimistic in upgrading the country's military welfare. You have the bad Filipino mentality.
---
Name: E. Tan
City/State/Country: Ongpin
IP Address: 70.160.144.28

Comments
[Someone's] question: What is the solution to China's occupation of our territories in West Philippines sea? Filipinos vote for ate Glo next election and she will make all those reefs and shoals disappear, maniwala kayo sa akin!



Philippine NewsLink reserves the right to select and edit comments for publication.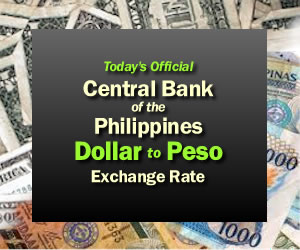 RECENT EDITORIALS
Napoles PDAF/NGO Scandal: What is Ten or Fifteen Billion Pesos Really Worth?



For those who have been following the Janet Lim-Napoles PDAF/NGO* scandal these past months, it is easy to get caught up in all the rhetoric—the words and phrases repeated day after day. Words like "ten billion" or "fifteen billion" have turned into something akin to "gray" background noise.  Words devoid of any real meaning or significance. So let us try to put back some meaning into those trite and often-repeated phrases in order to better understand some of the far-reaching ramifications of Napoles' actions. Published 06/30/2014
---
How could they not have known that the Napoles NGOs were fake?

With Senator Bong Revilla already in police custody in Camp Crame and Senators Jinggoy Estrada and Juan Ponce Enrile set to join him any day now, people need to start asking tough questions going forward. The privilege speeches of the senators along with the histrionics that accompanied them are thankfully now over so we can all address this issue more objectively. Published 06/21/2014
---
The Self-Perpetuating Elite of the Philippines

In an essay published in the July 1968 issue of the American magazine Foreign Affairs, a novice Philippine senator described his country as "a land in which a few are spectacularly rich while the masses remain abjectly poor. . . . a land consecrated to democracy but run by an entrenched plutocracy… a people whose ambitions run high, but whose fulfillment is low and mainly restricted to the self-perpetuating elite…a land of privilege and rank – a republic dedicated to equality but mired in an archaic system of caste." Published 06/14/2014
---
PHL Legislators Implicated in the Napoles PDAF Scam Face Definite Jail Time...Maybe

In the United States former four-star General and until recently Secretary of Veterans Affairs Eric Shinseki was forced to resign as head of the VA by the ongoing healthcare scandal that has enveloped that agency. While one can safely assume that Shinseki was not involved in the actually transgressions being investigated, the fact that he headed the agency meant he had command responsibility over its entire staff. And their wrongful acts, whether he knew about them or not, cost him his job. That is the way things work in properly functioning democracies. In the Philippines however, things tend to get a little unusual. Published 06/03/2014
---
Why All the Fuss? We Knew They were Corrupt Anyway!

So finally the cat is out of the bag, so to speak. But we Pinoys should not be surprised at all. We all know how corrupt our country is. Even before former president Gloria Macapagal-Arroyo was accused of electoral sabotage and the misuse of public funds in 2011; even before Joseph "Erap" Estrada—an earlier president was convicted of plunder by the Sandiganbayan in 2007; even before Ferdinand Marcos, a president-turned-dictator, was booted out of the country along with his family and cronies twenty-eight years ago; we Pinoys knew they were corrupt. Published 05/17/2014
---
The Case of Denise Cornejo and Cedric Lee, a Litmus Test for Pnoy and Philippine Justice

Now that the star attraction in the alleged Vhong Navarro rape incident is in police custody, the upcoming trial will be a litmus test for the Aquino administration as well as the Courts. The almost universal perception is that Philippine justice is broken and does not work. Laws are applied inequitably with the wealthy and powerful living almost above the law, while the common "tao" finds himself at the losing end of cases that usually drag on for years. Published 05/06/2014
---
Obama's Visit a Shot in the Arm for a Struggling Ally

After essentially showing the American Military the door in the early '90s, Filipinos have of late come to the realization that they need their "Uncle Sam" more than they thought they did. And back then the United States was also more than happy to oblige as their Base Realignment and Closure (BRAC) Commission had been closing down hundreds of military installations all across the USA. Published 04/29/2014
---
We Treasure Our Sierra Madre

In the1948 John Houston movie, The Treasure of the Sierra Madre, three destitute Americans working as gold prospectors mining the Sierra Madre mountains in Mexico are confronted by bandits posing as mounted police ("Federales"). When they are asked to produce their badges, the chief bandit's response is classic: "Badges? We don't need no stinking badges!" Published 04/20/2014
---