t has been a dizzying drop from the euphoric highs of 2001 when Filipinos forced President Joseph Estrada from office and installed Gloria Macapagal-Arroyo in his place.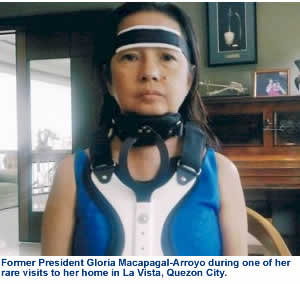 Estrada was widely seen as a corrupt, philandering politician; a high school dropout who was unqualified to be president. Arroyo on the other hand had the pedigree, education, and morals—we all assumed—to handle the job.
Unfortunately, the Filipino people were yet again bamboozled by a politician whose aim in office was to enrich themselves and their close friends. When Arroyo first assumed office, she declared that her administration would simply be a caretaker government, there only to complete the unfinished term of her predecessor Joseph Estrada. She had no intentions of running for the office after her term ended. In 2004 however, not only did Arroyo run for president, she was embroiled in the "Hello Garci" scandal where a conversation she had with election official Virgilio Garcillano was secretly recorded. In that conversation, which she later admitted having, Arroyo spoke about rigging election results in her favor.
In 2007, the Arroyo's already tarnished image was again dragged through the mud because of her and her husband's involvement in what became known as the NBN-ZTE scandal. Her husband Mike Arroyo and then-COMELEC Chairman Benjamin Abalos among others were to receive huge kickbacks from Chinese technology giant ZTE. ZTE was to be awarded a contract worth US$329.5 million to build a National Broadband Network (NBN) across the Philippines. Gloria, Mike and a few others privy to the deal even made a secret trip to ZTE head offices in mainland China to show the Chinese executives that the deal had the backing of the president. Sadly for them (luckily for the Filipino people) the deal blew up in their faces after overpriced deal was leaked to the press.
The lack of transparency of the Arroyo administration was legendary. The public was usually kept in the dark up to the last minute when laws and decrees would suddenly be foisted on them. Case in point: the memorandum of agreement on ancestral domain (MOA-AD) in which Arroyo tried to cut a secret deal with the Moro Islamic Liberation Front (MILF) in 2008. Had that agreement taken effect, it would have given the Autonomous Region in Muslim Mindanao (ARMM) hundreds of additional villages and vast political and economic powers in clear violation of the Philippine Constitution. The Supreme Court declared the agreement unconstitutional on October 14, 2008.
One Arroyo bugaboo that future generations might see as the most insidious, and whose negative effects are already being felt today, is the Joint Marine Seismic Undertaking (JMSU) that she signed with China in 2004. The agreement was shrouded in secrecy so no one knew its full details. For starters, other ASEAN member-countries were miffed that the Philippines, the country that years earlier had proposed that ASEAN unite and deal with China as a group, was now making its own separate deal with the Chinese. Vietnam eventually joined the Philippines and China six months later to make it a three-way undertaking. JMSU was a 3-year project to conduct a joint undersea seismic exploration of an area 142,886 square kilometers in size in the South China Sea. The national oil companies of the three countries—Philippine National Oil Company -Exploration Corporation (PNOC-EC), China National Offshore Oil Corporation (CNOOC) and Vietnam Oil and Gas Corporation (PetroVietnam)—would then jointly exploit any oil or gas reserves that the seismic exploration would reveal. It sounded like a great idea, so long as the details were kept secret.
On January 2008 however, the late Barry Wain, an Asia scholar with the Institute of Southeast Asian Studies in Singapore, wrote an article in the Far Eastern Economic Review. Acquiring information that had been kept from the public, Wain noted that the Philippines had made "breathtaking concessions in agreeing to the area for study, including parts of its own continental shelf not even claimed by China and Vietnam." In other words Gloria Arroyo had given China and Vietnam the right to exploit oil and gas resources located within the Philippines' own continental shelf—including areas neither China or Vietnam had even claimed in the past. In what appears eerily prophetic today, Wain went on to state that "Through its actions, Manila has given a certain legitimacy to China's legally spurious "historic claim" to most of the South China Sea." Thanks to the secret machinations of Mrs. Arroyo, and her "advisers," we are now seeing an ever more aggressive China that insists everything in the waters west of the Philippines belongs to them.
Cheating, plunder and corruption all seem to have reached their pinnacle during the Arroyo years. The Fertilizer scam, the helicopter scam again involving her husband Mike Arroyo, and the scandal of the brown paper bags filled with cash for her legislators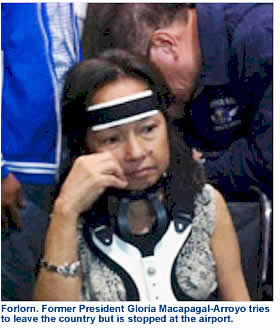 "in good standing." Then you had the military scandals like the "pa baon" scandal, the 'Euro generals" scandal, and army comptroller Carlos Garcia & sons scandal, and so on.

We must also remember that it was under Arroyo's watch, that big-time scammers like Janet Lim-Napoles got their start. Fake non-governmental organizations (NGOs) with names like Masaganang Buhay Foundation, Ginintuang Alay sa Magsasaka Foundation, and Gintong Pangkabuhayan Foundation siphoned off billions of pesos meant to lift poor Filipinos out of poverty and deposited those monies directly into the pockets of corrupt and heartless politicians whose job it is to help the poor.

Gloria Macapagal-Arroyo and all those around her who are found guilty should be locked up for the rest of their lives. If nothing else, she will serve as a warning to future Philippine presidents and government officials who think they can make a quick buck at the expense of ordinary working Filipinos. They will need only take one glance the fate that has befallen her to realize that all that money they're thinking of stealing is simply not worth it. Published 04/7/2014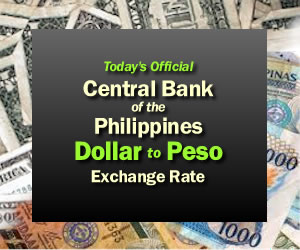 RECENT EDITORIALS
12 Million Metro Manila Commuters Stuck in Gridlock Hell



For much of the last month, my Facebook friends in Metro Manila have been posting comments lamenting their helplessness at being condemned to spend a great portion of what is left of their productive lives stuck in hours of traffic with no hope in sight. They now appreciate why Dan Brown described Manila in his book, Inferno, as "the gates of hell" specifically referring to its "six-hour traffic jams (and) suffocating pollution". Published 11/062014
---
Why Filipino-Americans Need to Vote Democratic on November 4

Since 1620 when the pilgrims landed on Plymouth Rock, people the world over have migrated to America in search of a better life. Filipinos are no exception. In the '70s and '80s Filipinos who were able to, left for the U.S. to escape the tyranny of the Marcos regime; today they leave is to escape the poverty and the lack of opportunity in their homeland. Whatever the reason, Filipino migrants quickly shed their old habits and attitudes and embraced American culture. Published 10/30/2014
---
Both United States and Philippine Governments to Blame for Death of Jeffery "Jennifer" Laude

The United States and Philippine governments share the blame for the tragedy. Two young lives needlessly destroyed: the first, a young Filipino transgender found strangled inside a motel bathroom; the second a teenaged American serviceman now accused of murder. Published 10/19/2014
---
Death of Filipino Transgender 'Jennifer' Laude Was Totally Preventable
The evening for the young US Marine and his Filipino date "Jennifer" began at the Ambyanz Disco Bar in Subic Bay, Olongapo and ended shortly before midnight at the Celzone Lodge where "Jennifer's" lifeless body was found leaning against the toilet bowl. Jennifer, it turns out was actually not originally a "she" but a "he." A Filipino transgender, Jeffrey Laude, 26, began calling himself "Jennifer" after medical procedures made him look more female than male. Published 10/14/2014
---
Sorry Mr. President But PNP Chief Alan Purisima Has to Go

What's with Philippine civil servants these days? It seems that you can stick all their pictures on a wall; throw a dart; and whoever's photo it land on, that person can be successfully prosecuted for graft. It is unbelievable how pervasive and widespread corruption has become. We go from one corruption scandal to the next and there seems to be no end in sight. Published 10/07/2014
---
Tear Down the Torre de Manila Building Being Built Behind the Rizal Monument?

According to the developer's website, "Torre de Manila, DMCI Homes' newest one-tower condominium, is an exclusive residential community right in the heart of the city." As of this writing, the 49-story edifice is about halfway complete. But as it continues to rise, so too do the howls of protest from an eclectic collection of groups and individuals who want it torn down. Why? Torre de Manila will permanently mar the skyline behind the Rizal Monument. Published 10/01/2014
---
How Ferdinand Marcos's Martial Law Continues Hurting Filipinos to This Day

On the evening of September 23, 1972, two days after it had taken effect, Ferdinand Marcos announced via live television from Malacañang Palace that he had placed the Philippines under Martial Law. It was a calculated move by a devious politician to keep himself in power beyond what the Constitution allowed. A staged ambush attempt against his Defense Secretary Juan Ponce Enrile was the main excuse Marcos (or "Macoy" as he was deridingly referred to back then) used to strip Filipinos of all their constitutional rights. With that, the diminutive Ilocano from the backwaters of Batac, Ilocos Norte became the despotic dictator for over a decade. Published 09/23/2014
---
Jejomar Binay Should Never Become President of the Philippines

In our July 25th editorial we asked if Vice President Jejomar Binay should be the next president of the Philippines. In this editorial we arrive at the definitive conclusion that that Binay should not be elected president. Since our last editorial, more witnesses have come forward with more allegations against the embattled Vice President. But our decision not to support Binay's presidential bid is based on irrefutable public acts that in our opinion disqualify him from the presidency. Published 09/16/2014
---