[ads/468x60_02.htm]


fter essentially showing the American Military the door in the early '90s, Filipinos have of late come to the realization that they need their "Uncle Sam" more than they thought they did. And back then the United States was also more than happy to oblige as their Base Realignment and Closure (BRAC) Commission had been closing down hundreds of military installations all across the USA.



Well, what a difference two decades make. The peace dividend the United States thought it was getting from the collapse of the Soviet Union was gone after the long and costly wars in Afghanistan and Iraq. And the Philippine military never really able to pick-up the slack left by the US allowed its own forces to deteriorate, confident in the misguided belief that the country had no external aggressors to contend with.
Today we see a Philippines caught completely flatfooted in the face of overt Chinese aggression in the West Philippine Sea (South China Sea). Essentially, the country has no Navy or Air Force to protect its reefs and shoals as China takes them over one by one. With no one to turn to for help, the country sees the US military as their only hope.
Luckily, the Philippine move to cozy-up to the Americans coincides with President Barack Obama's "Pivot to Asia" strategy announced in 2012. A strategy that when fully implemented will see American military assets in the region increase by 10% with corresponding reductions in Europe and the Middle East. Obama's "pivot" underscores the importance of a region where half of the world's population lives, and where dynamic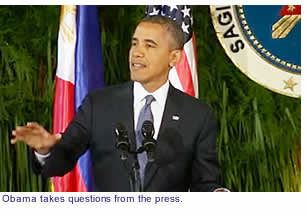 emerging economies are propelling Asian countries to new heights of affluence and technological savvy.
From the Philippine perspective, America's "pivot to Asia" could not have come at a more opportune time. China with its vast arsenal of modern weapons and a budding blue-water navy now sees fit to intimidate the Philippines and grab its West Philippine Sea assets because it knows it can. Given the current state of the Philippine Armed Forces, it would be like taking candy from a baby. Without the United States on its side, all the Philippines can do is howl and protest, and file arbitration cases with the United Nations. And China has indicated all along it has no intention of complying with any UN arbitration ruling.
It is important to keep in mind however that although Obama's "pivot to Asia" policy may be a godsend to us Filipinos, we need to do our part to maximize its effectiveness. The country needs to first rid itself of corruption and then militarize. As we've proposed in the past, young Filipino men and women need to serve in the military for at least two years. Then we need to bring our military capabilities up to the 21st Century standards, and on par with our neighbors (e.g. Vietnam, Malaysia, Indonesia, and Singapore all have submarines as part of their naval fleets—we have none).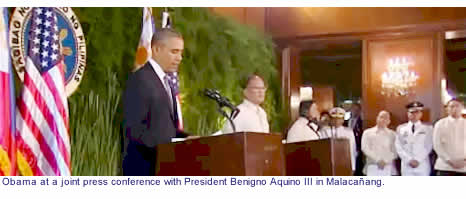 If we Filipinos play our cards right and prove ourselves to be a dependable ally, then our partnership with the United States will be fruitful, effective and lasting. If on the other hand we fail to eliminate corruption, fail to militarize, and expect American GIs to do our fighting for us, then Obama's "pivot" would likely be a 180-degree about-face from the Philippines—and the Chinese are just licking their chops hoping for that to happen. Published 04/29/2014
Archived Comments
Name: Natalie
City/State/Country: ChicagoIllinois, USA
IP Address: 67.184.25.98

Comments
The writer of this editorial is 100% correct. The Philippine was mislead by the leftists. We are being bullied by China right in our own backyard. Have you seen the youtube documentary on the harassment our Navy undergoes every time we resupply our men in the Spratly Islands? We must send the head of KMU, Piston, Benito Tiamson, Wilma Austria to the Spratlys even only for a few months so they will know the real color of the Chinese whom they idolize.
---
Name: JRH
City/State/Country: Montreal, Canada
IP Address: 70.83.179.172

Comments
The EDCA Defense Pact between the Phils & the US is like a coconut..brown outside & white inside. The true test will only come when push comes to shove with an accidental encounter with the Chinese at sea or one of the disputed islands. You have to crack it open before you can get into the meat of the coconut. There are no specific 'rules of engagement' in this agreement. All the US can do is declare a ceasefire & talk. The Phils can't piggyback on the US for its defense. Pres Obama delivered a speech that our people wanted to hear. Aside from that, we can only rely on the promise that Uncle Sam will help us in case of a real shooting war.
---
Name: Jorge Villanueva
City/State/Country: Canada
IP Address: 142.134.177.159

Comments
It is undeniable that Pres. Obama's visit was a shot in the arm or a reliable respite from the on going tension with the Giant Panda. Now that a security card is behind the country's back pocket it should concentrate its focus on completing the task of prosecuting the corrupt politicians in the much publicized pork barrel scams and the Maguindanao massacre. There are just too many loose ends and the country, nay, the world is impatient or perhaps highly suspicious of the justice system's effective completion if the current administration disappears into the sunset. The countrymen are banking so much on seeing a result because past experience taught them a new election creates an uncertain expectation.
---
Name: deo
City/State/Country: flour-flower city
IP Address: 66.67.22.202

Comments
As long as resupplying the Sierra Madre is the only activity that Pinas currently doing, the insect will not make any drastic move. The Sierra Madre is likened by the insect to a Pinas ship "in distress" that ran aground in their territory and is stubborn to ask for help from others. Of course, there will come a time when the insect's patience will run thin and demand that Pinas remove it or they will sink it. And of course they will have to "request" Pinas to "rescue the passengers" (the soldiers, if you will) aboard before they sink it. The insect will not fire at the Sierra Madre with the "passengers" aboard; the international community will be angry with them. Na run-aground na nga ito, eh, titirahin pa!
---
Name: Manoy D Oragon
City/State/Country: Oregon
IP Address: 121.54.92.138

Comments
China has to assert its influence in Asia and in the Pacific. USA has to neutralize Chinese assertiveness in this region that is projected to grow faster than Europe. USA has that track record of helping its enemies. We saw that with Germany and Japan. USA will help Vietnan that was once its enemy and reassure its allies like the Philippines. USA trans-Pacific trade agreement initiative deliberately excluded China. I see it as a move to weaken China trade-wise.
---
Name: mockingmaya
City/State/Country: taft avenue, manila
IP Address: 76.20.124.138

Comments
I think you don't need to be a well-educated critic to comprehend that the Cold War is not over because it has deceptive components (see Russian scholar: the psychology of the Cold War). Of course, the hostile bi-polar world shaped most of the countries in the world. As I recall, former Republican presidential candidate, Romney, argued that Russia remained a threat. Moreover, the removal of US bases from the PH was considered as a complex phenomenon (see McLaughlin political forum on PBS/KVIE 05/03/14). Again, Mao is dead but Maoism is pretty much alive. I think there are some Maoist tenured professors at PH universities & colleges.
---
Name: Manoy D Oragono
City/State/Country: Oregon
IP Address: 121.54.92.138

Comments
[Someone]: At that time the MDT (Mutual Defense Treaty) was being renegotiated, the prevailing sentiment was the nationalistic mood of the Senate and the anti-American attitude of vociferous protestors regarding unpunished crimes committed by some US servicemen against local women. China had raised no claim on the Spratlys and no geological studies were there at that time to determine the oil and gas potential of the Spratlys. One could now say that abrogating the MDT was a mistake after the fact. The lack of vision is what I am worried about the government we are attempting to build in 2016 again!
---
Name: Gago
City/State/Country: Hidalgo
IP Address: 184.183.162.153

Comments
Under the umbrella of the mighty US military power, Pinas has no need to acquire modern military hardware that can only drain the country's economy, which can be utilized in economic development and growth. A prosperous country's mightier than a well armed one. Besides, an armed nation is likely to misuse power that can be diverted to its own people, There are charlatans and demagogues in the country waiting to mislead the people in the name of foreign invasion. The US can do the safety job for us.
---
Name: Diego Talahib
City/State/Country: Malaysia
IP Address: 75.152.119.123

Comments
The abolition of the US RP base treaty in 1991 was a serious mistake of the Senate. They caved-in to voices of the the leftists during that time but did not bother to ask the Filipino people if they wanted the US bases abolished. Only now do they realize that a tragic blunder was committed but they would not want to admit it. China is now eating up the Philippine outer territories. And that is just the beginning. What will those magnificent 12 Senators and their supporters do to abolish China's encroachment? RP had no option now but get the US back to its territory even at less advantage to RP than before.
---
Name: art123
City/State/Country: Midwest
IP Address: 162.227.104.101

Comments
The article's points, in most respects are correct. The US is pivoting itself to Asia because this is the fastest growing part of the world economically, and would like to benefit from this growth, given the slow growth in most developed countries. Today's weakness in the PH military, can be traced back to history, wherein it's colonizers, the Spanish and the Americans brought in their arms to to project power and to protect themselves from the natives, who fought them earlier. Left to their own devices and suffering histories effects, i.e. lack of good, tested leaders, corruption, overpopulation etc., PH can only rely on its friends to catch up and for cover, then develop its own computer expertise for the now and future cyber-war, where everyone is mostly starting from the same point.
---
Name: Manoy D Oragon
City/State/Country: Oregon
IP Address: 121.54.92.138

Comments
Corruption is not the primary problem that is slowing our growth. Russia and China are corrupt nations too! It is the weakness of our judicial system to punish those who erred. It is inherent in our culture to be reactive rather than proactive in choosing our leaders. We never ask what they can do for us and our country. We have not achieved the level of political maturity in seeking what is necessary. We allow misguided voices to influence our thought process. We are individual players instead of team members.
---
Name: Jorge Villanueva
City/State/Country: Canada
IP Address: 142.134.111.165

Comments
China's modus operandi in the offshore conflict with the Philippines is to intimidate, threaten or create enough fear for the latter to plea for compromise. It knows the Philippines is predominantly occupied with countering the NPA and Muslim armed struggles and sidelined by an immense corruption problems. It is hoping for an administration that can easily be influenced or corrupted. However, it did not countenance Pnoy's intransigence and an altogether unexpected fortitude. So now with United States standing behind the country, China has to change its tactic. It can't afford to do what it did with defenseless Nepal or do any act that will jeopardize its other offshore interest in the area. The Philippines is on top of the situation.
---
Name: SOMEONE
City/State/Country: USA
IP Address: 74.77.39.188

Comments
To Anderson R who said, "They should let China have them as it might sort the country (PHL) out". My comment: From the outside looking in and for the sheer pragmatism of it your statement can be viewed as a solution to the problems in the PHL. If the USA will not militarily intervene against China's intrusions then let China walk in. What the heck! The PHL government is hopeless enough, why not try something radical? Of course this opens you up to accusations of "Treason", "Unpatriotic", "Cowardice", etc. You know how people are. But we are just talking here.
---
Name: deo
City/State/Country: flour-flower city
IP Address: 66.67.22.202

Comments
A lot of posters don't really know some of the reasons why the U.S. left Subic and Clark. Of courses, the U.S. were closing domestic and bases in foreign countries. The foreign bases were easy because there's no need for advanced contingent to repel enemies. ICBM from the mainland will reach targets anywhere in the world. One other reason is Mt. Pinatubo. Another supposedly is the increase in "rent" or "lease" or whatever you called it; from $500 Million to $1 Billion. The U.S. balked not because it cannot afford it; it balked because the increased will just be divided among govt. officials especially members of tongress who were acting as the landlord's (Pinas) collectors.
---
Name: Jorge Villanueva
City/State/Country: Canada
IP Address: 47.54.128.150

Comments
It's inevitable that the Philippines will rekindle its alliance with U.S. There's no shame in it as many countries would find solace in having a superpower on their side. Certainly with Russia shaking the doors in Europe, many former soviet satellite would wish for the same accord. However, what favors the Philippine position is its reliance on just cause and reliable maritime argument to bolster its position against China's purely aggressive bullying and dubious stand..
---
Name: JRH
City/State/Country: Montreal, Canada
IP Address: 70.83.179.172

Comments
Our Asian neighbour, Vietnam, is buying 6 submarines. Comparatively, why can't the Phils do the same? These numerous claims by Pres. Aquino that the country is doing okay economically is something to think about. Where is the beef? Can't we at least afford 2 submarines & in this day & age, advance unmanned robotic hardware? We simply must adopt a workable defense strategy that might somehow work. To go via the outdated & conventional way is outright madness. The real challenge is for us to have capabilities that can equal the playing field. Other big questions: how much, how fast, & how long? We have to replace aging & obsolete equipments of the army, air force, & the navy. There's no other way.
---
Name: SOMEONE
City/State/Country: USA
IP Address: 74.77.39.188

Comments
ENTENG, you got that right. How can I be anti-American when I have been a US Citizen for 35 years now. I also have been living here for 40 years. I just call it as I see it. What's the use of sugarcoating the truth? And why. I am surprised some "analysts" in the PHL are saying the USA got the upper hand in this Treaty. Are they kidding? They should be surprised the US sat down to sign any Agreement with the PHL at all!
---
Name: Manoy D Oragon
City/State/Country: Oregon
IP Address: 121.54.92.138

Comments
There is no world threat to communist's ideology. The threat is the spread of Islam. Anyone who still believes in the former has his mind set still rooted in the cold war era. This is the 21st century. Mao is gone and Mauricio Po is here!
---
Name: Jorge Villanueva
City/State/Country: Canada
IP Address: 142.134.111.165

Comments
Now that Uncle Sam is standing behind her, I don't see any reason to fear China's bullying behavior. The fact that Pnoy is improving the country's military capability with new armaments is even commendable. Although in reality it can never match the Asian power. Nonetheless, the accord with U.S. is timely and immensely important as the country can now redirect all its resources to counter the economic and corruption problems, the main drawback for the country's delayed progress.
---
Name: JRH
City/State/Country: Montreal, Canada
IP Address: 70.83.179.172

Comments
This new PNL editorial correctly said...'our country needs first to rid itself of corruption & then militarize. Question. How long will it take to finally eliminate rampant & ongoing corruption in the Phils? Realistically & at the rate we're going & the volume of cases, it will not be that quick or easy. In other words, our present system sucks & to clean up the mess will take years. It does not take a rocket scientist to figure it out. Also, this so called rapid modernization is just a myth cuz our govt is looking for basement prices in acquiring the oldest & antiquated surplus of military hardwares, subsonic jets, & vintage second world war junk etc. We have a problem.
---
Name: SOMEONE
City/State/Country: USA
IP Address: 108.183.75.178

Comments
I was truly astonished to read the Column of one of the Senators that voted to close the Bases in 1991. This guy was demonstrating against the Treaty that he has not even read. But what I find stupefying was his statement that he wanted to know what the Treaty contains so he could form an opinion of what it means for his grandchildren and succeeding generations. Ulyanin na siguro 'to. He was worrying about the effect of the Treaty on Filipinos in the future yet he could not see the effect of their cancellation of the Base Agreements in 1991. In the PHL this guy is considered an intellectual. He could not see from here to the door and they still listen to him.
---
Name: Pilosopong Tasyo
City/State/Country: El Monte, Ca.
IP Address: 208.57.64.59

Comments
To someone: What is important to the Americans is the commercial and military impact of China ruling over these islets with its known oil deposits and freedom of navigation in this part of the ocean where one third of international commerce passes through . It is not the defense of Philippine territory per se. Compared to Crimea where there is not much commercial nor security significance to America. Remember that Crimea was formerly Russian territory and Ukraine has no Military treaty with U.S unlike the Phil.
---
Name: Manoy D Oragon
City/State/Country: Oregon
IP Address: 121.54.92.138

Comments
The matter related to the small islands claims in South China sea is about maritime rights. I believe China and the Philippines have a joint oil and gas exploration. China's territorial claim was based on historical cartographic evidence; PI has none except one that defines the country's territorial sovereignty when Spain ceded PI to the conquering Americans. Why China refuses voluntary arbitration through the United States is probably based on the calculus that eventually other claimant countries will capitulate.
---
Name: Anderson R
City/State/Country: Thailand
IP Address: 185.26.182.26

Comments
Why should America put its servicemen at risk for the Philippines after the Philippines booted them out in 1992.They should let China have them it might sort the country out.
---
Name: mockingmaya
City/State/Country: taft avenue, manila
IP Address: 76.20.124.138

Comments
I do believe that it is a brutish stupidity on the part of some critics in this forum (PNL) to argue that Chinese Communist ideology or Maoism is never a threat. It may be a fact that Chinese Communism keeps on evolving: militarily & economically. It is common knowledge that the Communist Chinese are no Spartans: the Spartans were trained as warriors, not economists, merchants, diplomats, & politicians. International Relations 101 will educate you that the Chinese Nationalists army surrendered Manchuria to Chinese Communists (Maoists) in 1948. The fact remains, President Aquino has failed to exploit the logic of power when he abandoned & surrendered one of the Philippine islands to Chinese Communist navy. History will remember President Aquino as a weak commander-in-chief of the AFP.
---
Name: GGG
City/State/Country: Ca
IP Address: 67.188.19.40

Comments
The editorial is correct. What's embodied in the text of the defense treaty signed by US and Philippines is what counts. The requirement still remains, that the Philippines, in concurrence with the US, must be seen to have fulfilled its obligation of doing its at most, to have enhanced, and continues actuality improving its naval and air force against external threat for its national defense. Up to now, all the the Philippines has is two renovated former US coastguard ships. Look at Vietnam, Malaysia, they are poorer than the Philippines, yet their air force and navy continue to grow year after year.. duh
---
Name: josh
City/State/Country: sd ca.
IP Address: 99.120.101.61

Comments
Pina-alis ninyo ang American bases pagkatapos hihingi kayo ng tulong laban sa China....let those senators who voted the base out ang maghanap ng solution sa problema ... wala akong masabi kung hindi ba KATANGAHAN
---
Name: SOMEONE
City/State/Country: USA
IP Address: 108.183.75.178

Comments
JEALOUS LOVER. The USA bluntly said it would defend Japan against any aggression. No ifs, ands or buts about it. And the PHL Media reacted aghast and affronted like a jealous lover. "Bakit ganoon?", they ask. Well, it's called reality. The PHL does not have the discipline, resources, power, wealth and determination of the Japanese. From the ashes of WWII Japan emerged a giant. A major player. While the PHL went the other way. So the PHL should stop their "pahabol-habol" because the train had already left. The PHL for decades had its multiple chances to be a great progressive country and they blew them one after the other.
---
Name: Enteng D'Dragon
City/State/Country: Lupa ng Mahangin
IP Address: 38.88.177.203

Comments
Editorial got it right--"Without the United States on its side, all the Philippines can do is howl and protest, and file arbitration cases with the United Nations. " AND THAT sums it all-- the ugly reality. Tougher still is if Filipinos really believe that Uncle Sam will engage China in a shooting war to help Little Brown Brother! More likely it will be just threatening to put "economic sanctions" or help seek for arbitration or better still seek negotiation. Let's face it folks-- I don't think Uncle Sam has the stomach to have another Iraq or Afghanistan unless China makes a mistake of bombing a Pearl Harbor or equivalent! Assad crossed the "red line" and the Taliban are still out there and Uncle Sam is war weary!
---
Name: As I See It
City/State/Country: CebuCity/SanDiego,CA
IP Address: 107.217.12.124

Comments
It's good to hear from an American president that the MUTUAL DEFENSE between USA and Philippines is IRONCLAD; that each one won't stand alone if ever attacked by foreign aggressor. My Take: I take your word Mr. President, though it is still US Congress who has the final say.
---
Name: Manoy D Oragon
City/State/Country: Oregon
IP Address: 121.54.92.138

Comments
The deterioration of the military was deliberate after civilians have been exposed to human rights violation by the military establishment during the martial law years under Marcos. We all know that the military was Marcos's private army to keep him in power. Some military men became a destabilizing element during Cory and Gloria' s terms. The civilian government faced the choice of serving food on the table or gunpowder. All threats against the government were internal rather than external. China was no threat then until lately. For a proud nation we have to be independent, reasonable and practical. To be called America's puppet or lackey is not fair.
---
Name: Steve R
City/State/Country: California
IP Address: 98.234.22.41

Comments
Kayong lahat na nag-rally laban sa Enhanced Defense Cooperation Agreement EDCA, alam na ng marami (70%) na heto ang gusto nyong mangyari sa Pinas. "The CPP's "revolutionary bible", Philippine Society and Revolution, drew heavily on Maoist thought and characterized Philippine society as semi-colonial and semi-feudal. The solution to the country's three basic problems – U.S. imperialism, bureaucratic capitalism and feudalism – was the people's democratic revolution, to be carried out through a "protracted people's war" of surrounding the cities from rural bases in the countryside. The revolution would be rooted in the peasantry." In short, the CPP wants to replace Democracy with Communism in the Philippines." Impossible Dream na kayo. Permado na ang EDCA.
---
Name: Nick
City/State/Country: Chula Vista, CA
IP Address: 174.66.180.123

Comments
Politicians helped themselves to the money that belongs to the people. Thus, it shows on how our military men and women suffers because of the corrupt system that the past and present administration conduct themselves. It's appalling to say the least. The US specially President Obama has no stomach for war unless the US is directly attacked. By closing all the bases in the Philippines, the Philippines has lost their right to ask the US for help of any kind. The Philippines has to learn how to stand on it's feet by demanding from our politicians to work for the people's benefit by creating the infrastructures needed to create jobs. Graft and Corruption should be stopped at all cost and political dynasties should end if the Philippines wants to be in the forefront of global economic boom.
---
Name: gionni nogreg
City/State/Country: ny, usa
IP Address: 24.44.156.31

Comments
Filipinos get your self out of ignorance. knowledge is a click away.. learn quick, get smart, love and fight for our only land, its our children's land.
---