o finally the cat is out of the bag, so to speak. But we Pinoys should not be surprised at all. We all know how corrupt our country is. Even before former president Gloria Macapagal-Arroyo was accused of electoral sabotage and the misuse of public funds in 2011; even before Joseph "Erap" Estrada—an earlier president was convicted of plunder by the Sandiganbayan in 2007; even before Ferdinand Marcos, a president-turned-dictator, was booted out of the country along with his family and cronies twenty-eight years ago; we Pinoys knew they were corrupt. We also knew our Senators, congressmen, governors, mayors, Barangay chairmen, BIR and Customs officials, and our next-door neighbors were never totally on the up-and-up. And how did we know this? We knew it because we ourselves are as corrupt as all of them.
The sad truth is that we Filipinos are just as flawed and just as weak of character as the politicians we elect into office. We are not very forthright, we lie and cheat…and take the easy way out whenever we can. We choose to make money the fast, and "sleazy way," rather than the slow and honest way. We even hold in the highest esteem people who are wealthy and ostentatious…never-mind if we know they're crooks.
So how can we Pinoys appear surprised that our lawmakers are now accused of receiving kickbacks from Janet Lim-Napoles and her criminal organization? Truth be told, if you pressed any "Juan-on-the-street" they would likely tell you that as far as they're concerned, all our politicians are corrupt. A few are just better at hiding their nefarious deeds than others.
Thus all the protestations by Senators Jinggoy Estrada, Bong Revilla, Juan Ponce-Enrile, even Miriam Defensor Santiago, Chiz Escudero, et.al., blend into a cacophony of white noise that we Pinoys over the years have learned to simply tune out.
And then we have the Aquino administration that is content to simply spin its wheels until the 2016 election rolls around. They're happy basking in the glory of pretending to go after big-time crooks in government. But the stark reality is that in the end, they will likely achieve next to nothing except pass on already "cold" cases to the next administration—cases that will likely end in acquittals. So, nothing really changes. President Benigno Aquino III is simply raising the hopes of Pollyannaish Filipinos who think that real change might actually happen in their lifetimes.
We saw something similar after the EDSA revolution when Filipinos were euphoric at having booted-out Marcos and his cronies, only to wake up to the sad reality that today the Marcoses and their cronies are all back and as rich and as powerful as ever. Filipinos just have to accept the fact that in the Philippines, the more things change, the more they stay the same. And the Philippines will remain in this sad constant forever. Published 05/17/2014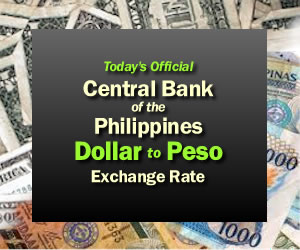 RECENT EDITORIALS
After the Pope's Visit: What We Filipinos Now Must Do


e put on a good show for Pope Francis. He loved it; we loved it; the world loved it. Now the long and painful task of bringing about the changes the pope asked for begins. Start with the Philippine Catholic Church. It should refocus its efforts towards the poor. As we wrote in previous editorials, many priests and bishops see themselves as members of the rich and privileged class. They feel more at home in country clubs and dining in expensive restaurants, than they do helping the poor who live in the squatter communities that dot most cities in the Philippines. Published 1/22/2015
---
Pope Francis Admonishes Pinoys to End Scandalous Inequalities

We had a feeling this was coming. In his first major speech in the Philippines, Pope Francis called for an end to 'scandalous inequalities' in the country. And what better example of a scandalous inequality is there than that a preposterously ridiculous wedding of Dingdong Dantes and Marian Rivera which was officiated by 8 bishops and 7 priests. In addition, this crass wedding featured a 12-foot high wedding cake, a 2-million-peso wedding gown with an exaggeratedly long train that seemed to go on forever...you get the picture. Published 1/16/2015
---
An Open Letter to Pope Francis; Please Read It Before Coming to the Philippines

Dear Pope Francis, your much anticipated visit to the Philippines is just a few days away. We expect that you will have been adequately briefed about the Philippines by the time you arrive. However, there might be a few things your Vatican handlers might have missed—or intentionally "forgot" to mention to you so we hope this letter reaches you in time for your historic visit. Before anything else, welcome! Published 1/9/2015
---
A Dingdong Fancy Wedding for a Third World Country

What is it with us Filipinos? We are a country of "all flash and no substance." Case in point: This ridiculously lavish wedding between two so-so movie stars that sought to outdo even the most "royal" of royal weddings. What was the whole point of this crassly extravagant display? Lest anyone forget, the Philippines is still a Third World country. And many, many squatter's homes (if you can call them "homes") do not have running water or even a toilet! Published 1/4/2015
---
Vice President Jejomar Binay's Aguinaldo

Money received from benefactors during Christmas in the Philippines is called "aguinaldo", a term and practice imported from Mexico during the Spanish colonial period where it now refers to the annual Christmas bonus given to employees. In the Philippines, it is now generally used to describe monetary gifts given by all benefactors, including godparents and employers. Published 12/25/2014
---
Do Filipinos Want America on Their Side or Not?

Given the Filipino penchant for "dramatics," not to mention the circus atmosphere that inevitably encompasses any event of even minor significance, one can hardly blame American government officials for refusing to hand over US Marine Lance Corporal Joseph Scott Pemberton over to Philippine authorities. The intriguing question in all this however is why some Filipinos are so insistent on having custody over the accused. Published 12/19/2014
---
Today's American Police Force Leaves So Much to be Desired

Long gone are the days when communities all across America looked up to the police officers who patrolled their streets and kept their neighborhoods safe. For cops back then it was a calling—almost like the priesthood—and those who answered that calling were brave, noble, larger-than-life individuals who kept Americans safe. Published 12/14/2014
---