n the United States former four-star General and until recently Secretary of Veterans Affairs Eric Shinseki was forced to resign as head of the VA by the ongoing healthcare scandal that has enveloped that agency. While one can safely assume that Shinseki was not involved in the actually transgressions being investigated, the fact that he headed the agency meant he had command responsibility over its entire staff. And their wrongful acts, whether he knew about them or not, cost him his job. That is the way things work in properly functioning democracies. In the Philippines however, things tend to get a little unusual.
Case in point: the scandal involving senators and congressmen involved in the Janet Lim-Napoles Priority Development Assistance Fund (PDAF) scam. PDAF as described in Wikipedia "is a discretionary fund in the Philippines available to members of Congress. Originally established as the Countrywide Development Fund (CDF) in 1990, it is designed to allow legislators to fund small-scale infrastructure or community projects which fell outside the scope of the national infrastructure program, which was often restricted to large infrastructure items." These are funds, usually in the millions of pesos, given to legislators on a yearly basis to use as they see fit (with certain guidelines) for the benefit of their constituents.
So now the word "fiduciary" comes into play. Again, Wikipedia defines it as "A legal or ethical relationship of trust between two or more parties. Typically, a fiduciary prudently takes care of money for another person." Thus whether stated or not, when the Filipino people, through their government, hand over to a senator or congressman millions of pesos as their PDAF allotment for the year, those legislators incur a fiduciary obligation to protect those funds, account for every last centavo of it, and put it to the best use possible for their constituents.
For example, when a senator or congressman decides to allot portion of his or her PDAF fund to a Non-governmental Organization (NGO), that legislator has a fiduciary obligation to make sure that the NGO he or she is funding is a legitimate going concern, and operating as stated. That senator or congressman must also make sure that the funds he or she is giving to the NGO will be used exactly as intended. The fact that legislators have other pressing matters to attend to is not an excuse to be careless or casual with their PDAF disbursements. Everything down to the last centavo must be spent wisely and be properly accounted for.
So when senators and congressmen who now find themselves on the infamous Napoles list proclaim their innocence, Filipinos need to start asking them pointed questions.
For example: if they claim that they their signatures were forged and they were thus unaware that millions of pesos from their PDAF account had been misallocated; then people should ask if these legislators ever balanced their PDAF accounts. Anyone with a checkbook knows how to do this. So when discrepancies are discovered, those discrepancies can be immediately investigated. The question then becomes, have any of these senators and congressmen in the Napoles list ever initiated an investigation regarding discrepancies they discovered in their PDAF accounts? If no investigations were initiated, then the public can only assume one of two things: a) legislators never found any discrepancies in their PDAF account; or b) legislators never bothered to balance their PDAF account and thus have no idea how much should or shouldn't be in it.
Either way legislators face serious jail-time. If legislators found no discrepancies then, they can be seen as co-conspirators of Napoles and her fake NGOs, keeping silent because of the hefty kickbacks they receive from her. If the legislators argue that they were unaware the NGOs were fake, then they can in turn be held criminally negligent for not doing their due diligence when selecting an NGO to fund.
If on the other hand legislators claim they never balanced their PDAF account and thus have no idea how much should be in it, then they can again be held criminally negligent for shirking their fiduciary responsibility to properly care for the people's money entrusted to them.
No matter how you look at it, jail time seems a certainty for those senators and congressmen implicated in the Napoles PDAF Scam. But just when one begins conjuring up visions of those politicos behind bars, reality hits them in the face when they realize they're talking about the Philippines after all—a magical place were anything and everything is possible. Remember the old Lovin' Spoonful song titled "Do You Believe in Magic?" If you do, then welcome to the Philippines, this country is just right for you. So no one should be surprised if like Harry Houdini those senators and congressmen manage to slip through all the chains and locks to avoid what should be certain incarceration, and end up more powerful than ever...and laughing all the way to the bank. This is the Philippines after all. Magic and miracles are an everyday occurrence here. Published 06/3/2014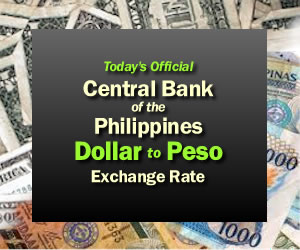 RECENT EDITORIALS
Should President Aquino Get a Second Term as President?



Many Filipinos today are realizing that the single, six-year presidential term as prescribed in the 1987 Constitution is woefully inadequate for a good president like Benigno S. Aquino III. The delegates who wrote that provision in the Constitution must have still been reeling from the almost 20 years of "kleptocratic" rule of strongman Ferdinand Marcos when they decided that one term was enough for any future Philippine president. Four years—the presidential term at the time—would be too short; eight too long. Published 08/23/2014
---
China Owns the Entire South China Sea? What are They Smoking—Opium?

The arrogance of China is becoming readily apparent with each passing day. With their newly acquired economic and military power the Chinese appear unrestrained in their assertiveness towards their neighbors. China, instead of positioning itself as a 21st century superpower appears to be turning back the clock resembling more and more the 12th century empire of Genghis Khan and the Mongol hordes who conquered most of Eurasia...just because they could. Published 08/12/2014
---
On Her 5th Death Anniversary, We Say 'Thanks for Nothing Cory Aquino'

The passage of time has a way of distilling reality and bringing out truths that are sometimes hidden or lost by present circumstances. Case in point is the overwhelming level of admiration many Filipinos have for former President Corazon Aquino. When she passed away in 2009, the entire nation seemed beside itself in grief. Her casket was mobbed by thousands of mourners as it slowly made its way through the streets of Metro Manila to its final resting place at the Manila Memorial Park in Parañaque. Published 08/02/2014
---
The Failure of Philippine Education Is Now Staring Us in the Face

Will the Philippines Ever Become a Developed Country? The short answer to that is no—at least not in our lifetime. While the country has of late improved it credit ratings as evidenced by upgrades from Moody's, Fitch, and Standard & Poor's all that perceived progress is illusory. In the Fifties and Sixties, when the Philippines was undeniably the country at the top of the heap in Southeast Asia, people said it would always be the most industrialized country in the region. Published 08/02/2014
---
So, Should Jejomar Binay Be the Next President of the Philippines?

Though his popularity rating has taken some hits lately, Vice President Jejomar Binay is still far and away the strongest contender for the Philippine presidency in 2016. But is he the right choice for the country? His legions of supporters will give you an enthusiastic "yes;" his detractors however, will tell you "no!" So who's right? To answer our question, lets look instead at Binay's deeds rather than the words of his supporters or detractors. Published 07/25/2014
---
China's Military Base on Mabini Reef Violates the Philippine Constitution

While searching for the missing Malaysia Airlines Flight 370 on March 11, 2014, a Philippine Air Force plane flying over the Kalayaan Island Group in the West Philippine Sea sighted Chinese reclamation activity in the Mabini Reef of the Kalayaan Island Group within the 200 mile Exclusive Economic Zone (EEZ) of the Philippines. His aerial photographs were transmitted to the Philippine government for analysis. Published 07/10/2014
---
Napoles PDAF/NGO Scandal: What is Ten or Fifteen Billion Pesos Really Worth?

For those who have been following the Janet Lim-Napoles PDAF/NGO* scandal these past months, it is easy to get caught up in all the rhetoric—the words and phrases repeated day after day. Words like "ten billion" or "fifteen billion" have turned into something akin to "gray" background noise.  Words devoid of any real meaning or significance. So let us try to put back some meaning into those trite and often-repeated phrases in order to better understand some of the far-reaching ramifications of Napoles' actions. Published 06/30/2014
---