n the United States former four-star General and until recently Secretary of Veterans Affairs Eric Shinseki was forced to resign as head of the VA by the ongoing healthcare scandal that has enveloped that agency. While one can safely assume that Shinseki was not involved in the actually transgressions being investigated, the fact that he headed the agency meant he had command responsibility over its entire staff. And their wrongful acts, whether he knew about them or not, cost him his job. That is the way things work in properly functioning democracies. In the Philippines however, things tend to get a little unusual.
Case in point: the scandal involving senators and congressmen involved in the Janet Lim-Napoles Priority Development Assistance Fund (PDAF) scam. PDAF as described in Wikipedia "is a discretionary fund in the Philippines available to members of Congress. Originally established as the Countrywide Development Fund (CDF) in 1990, it is designed to allow legislators to fund small-scale infrastructure or community projects which fell outside the scope of the national infrastructure program, which was often restricted to large infrastructure items." These are funds, usually in the millions of pesos, given to legislators on a yearly basis to use as they see fit (with certain guidelines) for the benefit of their constituents.
So now the word "fiduciary" comes into play. Again, Wikipedia defines it as "A legal or ethical relationship of trust between two or more parties. Typically, a fiduciary prudently takes care of money for another person." Thus whether stated or not, when the Filipino people, through their government, hand over to a senator or congressman millions of pesos as their PDAF allotment for the year, those legislators incur a fiduciary obligation to protect those funds, account for every last centavo of it, and put it to the best use possible for their constituents.
For example, when a senator or congressman decides to allot portion of his or her PDAF fund to a Non-governmental Organization (NGO), that legislator has a fiduciary obligation to make sure that the NGO he or she is funding is a legitimate going concern, and operating as stated. That senator or congressman must also make sure that the funds he or she is giving to the NGO will be used exactly as intended. The fact that legislators have other pressing matters to attend to is not an excuse to be careless or casual with their PDAF disbursements. Everything down to the last centavo must be spent wisely and be properly accounted for.
So when senators and congressmen who now find themselves on the infamous Napoles list proclaim their innocence, Filipinos need to start asking them pointed questions.
For example: if they claim that they their signatures were forged and they were thus unaware that millions of pesos from their PDAF account had been misallocated; then people should ask if these legislators ever balanced their PDAF accounts. Anyone with a checkbook knows how to do this. So when discrepancies are discovered, those discrepancies can be immediately investigated. The question then becomes, have any senators and congressmen in the Napoles list ever initiated an investigation regarding discrepancies they discovered in their PDAF accounts? If no investigations were initiated, then the public can only assume one of two things: a) legislators never found any discrepancies in their PDAF account; or b) legislators never bothered to balance their PDAF account and thus have no idea how much should or shouldn't be in it.
Either way legislators face serious jail-time. If legislators found no discrepancies then, they can be seen as co-conspirators of Napoles and her fake NGOs, keeping silent because of the hefty kickbacks they receive from her. If the legislators argue that they were unaware the NGOs were fake, then they can in turn be held criminally negligent for not doing their due diligence when selecting an NGO to fund.
If on the other hand legislators claim they never balanced their PDAF account and thus have no idea how much should be in it, then they can again be held criminally negligent for shirking their fiduciary responsibility to properly care for the people's money entrusted to them.
No matter how you look at it, jail time seems a certainty for those senators and congressmen implicated in the Napoles PDAF Scam. But just when one begins conjuring up visions of those politicos behind bars, reality hits them in the face when they realize they're talking about the Philippines after all—a magical place were anything and everything is possible. Remember the old Lovin' Spoonful song titled "Do You Believe in Magic?" If you do, then welcome to the Philippines, this country is just right for you. So no one should be surprised if like Harry Houdini those senators and congressmen manage to slip through all the chains and locks to avoid what should be certain incarceration, and end up more powerful than ever...and laughing all the way to the bank. This is the Philippines after all. Magic and miracles are an everyday occurrence here. Published 06/3/2014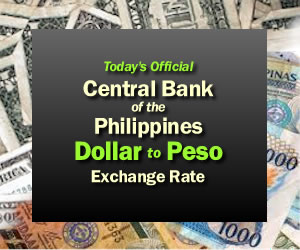 RECENT EDITORIALS
Just When You Thought Filipino Cops Were the Worst, Here Come US Cops



What in the world has happened to cops in the United States? It seems that today only psychotic, unstable, individuals are joining the U.S. police force this days. People from all across the globe were more than willing to give American cops the benefit of the doubt, at first. But in instance after instance, from Ferguson, MS and the killing of Michael Brown, a young black man who witnesses say was unarmed and posed no threat at all to police; to today's cold-blooded murder of Walter F. Scott, 50 by South Carolina police officer Michael T. Slager, 33. Published 4/7/2015
---
NPA Celebrates 46 Years of Destroying the Philippines

Founded by Bernabe Buscayno, or "Kumander Dante" as he was more commonly known, the New People's Army established on March 29, 1969 marks its 46th year of existence. From less than 40 founding members and a handful of firearms, the NPA grew to over 26,000 members in the 1980s. Today however the Armed Forces of the Philippines (AFP) places NPA membership at less than 5,000 nationwide. That number is expected to dwindle even further as progress and education creep in to the far-flung towns and barrios that were once breeding grounds for recruits. Published 3/30/2015
---
Lee Kuan Yew and Ferdinand Marcos, What a Difference!

An Australian living in the Philippines published a book titled: "The Unlucky Country. The Republic of the Philippines in the 21st Century." The author Duncan McKenzie came up with the title as the counterpoint to "The Lucky Country" a book written in the mid-sixties that refers to Australia. In his book McKenzie explains that the Philippines is unlucky because, for starters, it is an archipelago and therefore naturally fragmented. Published 3/17/2015
---
Will the Philippines Ever Speed Up Its Glacially-Slow Justice System?

We've all heard the saying "justice delayed is justice denied." That maxim has been around since time immemorial. In fact the Pirkei Avot (Hebrew for "Ethics of the Fathers") which dates back to the 1st century B.C. mentions an old rabbi saying that goes: "the sword comes into the world, because of justice delayed and justice denied." In 1215 A.D. a clause from the Magna Carta similarly declares that "to no one will we refuse or delay, right or justice." Published 3/17/2015
---
Amal Alamuddin Clooney Wants to Defend Gloria Macapagal-Arroyo ...Why?

Okay so she's George Clooney's wife, she's got great looks, a law degree and ambitious enough to make a name for herself apart from that of her superstar husband. Fair enough. So Amal Alamuddin Clooney decides to take on high profile cases of injustice around the world. Even better. But filing a complaint with the United Nations Human Rights Council on behalf of former President Gloria Macapagal-Arroyo? What's up with that? Better do your homework Mrs. Clooney. It won't take long for you to realize that Arroyo is getting exactly what she deserves. Published 3/12/2015
---
Manny Pacquiao Should Not Be Given a Tax Exemption

Senator Aquilino "Koko" Pimentel III has proposed a bill to grant Manny Pacquiao a special tax exemption for the income he will earn from his May 2nd boxing match with Floyd Mayweather Jr. Pimentel justifies his bill as a "fitting tribute" to the Filipino eight-division world champion adding that "Manny is now part of our history and of world sports history. Let's give him this tax incentive in recognition to his invaluable efforts to promote boxing and the country around the world." Published 3/4/2015
---
With Negotiators Like These on Our Team, Who Needs an Opposing Side?

What on earth happened to these two women—supposedly  handpicked by the president himself to argue on behalf of the Philippine government in peace negotiations with the Moro Islamic Liberation Front—who now seem to be mouthpieces for the Moros? Have Secretary Teresita Deles, Presidential Adviser on the Peace Process and Professor Miriam Coronel-Ferrer, chair of the negotiating panel become mesmerized by the tough "macho" image the rebels project? Published 2/27/2015
---
Why is the NBI Going After Those Who Uploaded the Sagonoy Video?

According to NBI Director Virgilio Mendez, they have identified the individuals who uploaded the video showing the coldblooded killing of PO2 Joseph Sagonoy. The cellphone video was purportedly taken by Muslim rebels during the Jan. 25, 2014 encounter between the Philippine National Police-Special Action Force and the Moro Islamic Liberation Front rebel group. The video shows a wounded Sagonoy who is shot twice in the head at close range. Published 2/21/2015
---
Twice the Heroes—the SAF 44 Who Lost Lives in Mamasapano

The 44 members of the Philippine National Police-Special Action Force (SAF) who were brutally killed in Mamasapano, Maguindanao on January 25, 2015 are heroes twice over: first, they paid the ultimate sacrifice while serving their country; second, they exposed for all to see, the dangers the country will face if the Bangsamoro Basic Law (BBL) is passed. Published 2/15/2015
---
Read more articles from our archives