[ads/468x60_02.htm]


hile searching for the missing Malaysia Airlines Flight 370 on March 11, 2014, a Philippine Air Force plane flying over the Kalayaan Island Group in the West Philippine Sea sighted Chinese reclamation activity in the Mabini Reef of the Kalayaan Island Group within the 200 mile Exclusive Economic Zone (EEZ) of the Philippines. His aerial photographs were transmitted to the Philippine government for analysis.

In reviewing the photographs, government analysts determined that China's reclamation project in the Mabini Reef is turning the submerged reef and a sandbar into a 30-hectare landmass thereby transforming the submerged coral outcrop into an islet. An aerial photo of the reclamation effort showed a Chinese dredging ship in the area sucking soil and other solid materials from the surrounding areas to pour into the reclaimed area.
While Philippine defense officials have been monitoring Chinese naval activities in the Panganiban Reef (Mischief Reef), Kagitingan Reef (Fiery Cross Reef), Calderon Reef (Cuarteron Reef), Zamora Reef (Subi Reef), and Gaven Reef, the massive land reclamation project now underway in the Mabini Reef marks a major escalation of China's creeping invasion of the Philippines.
A GAME CHANGER
Armed with the aerial photos of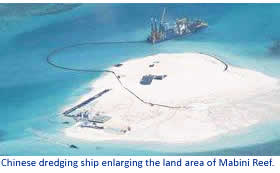 China's reclamation activities in Mabini Reef, Philippine Foreign Affairs Secretary Albert Del Rosario raised the issue at the ASEAN Summit of Foreign Ministers held in Myanmar (Burma) on May 10 where Vietnam's foreign minister also protested China's installation of two oil rigs in the Vietnamese EEZ.
China's foreign minister dismissed the protests by declaring that China has "undisputed sovereignty" over the entire South China Sea. Besides, China's spokesman said, "China was merely renovating the living facilities for troops stationed on the reef."
Earlier on March 30, the Philippines submitted a brief to the United Nations Tribunal for the Convention on the Law of the Sea (ITLOS) seeking to "clarify Mabini Reef's physical character". The Philippines had filed a complaint with ITLOS in January of 2013 seeking a ruling that China had no legal right to encroach in the Philippines EEZ and has no right to ownership of 90 percent of the 3.5-million square-kilometer South China Sea, including the West Philippine Sea.
Even though Beijing has refused to take part in the UN arbitration, it is apparently speeding up its occupation of the territories of other nations before the arbitration decision is handed which may occur in three years.
Prof. Richard Heydarian of the Ateneo de Manila University believes that China is changing the facts on the ground by reclaiming and occupying disputed waters and land features.
"The way China looks at this is, down the road, they have to face the legal opinion arbitration. And if you look at the recent trends in international arbitration, they give priority and prerogative to the countries who continue to establish and exercise effective and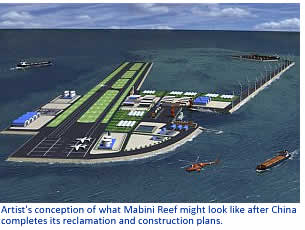 continuous sovereignty. If China will be able to build structures there, and they turn these structures into islands and project into 200 nautical mile economic zone, somehow they'll be able to argue this legally."
China is apparently aware of the American legal axiom that "possession is nine-tenths of the law" which means that ownership is easier to maintain if one has possession of something, or difficult to enforce if one does not.
What is China building on Mabini Reef?
When asked at a press conference if he believed that China was building an airfield on Mabini Reef, DFA Sec. Albert Del Rosario replied "That's a possibility." It is no longer just a possibility as China's plan for Mabini Reef was disclosed by the No. 9 Design & Research Institute of China State Shipbuilding Corporation which displayed on its official website its proposed design for the artificial island that China is building on Mabini Reef.
Former National Security Adviser Roilo Golez posted the Chinese corporation's designs on his blog and warned about the dangers posed to Philippine national security and to ASEAN stability if China completes its military installation in Mabini Reef. In an interview on ANC's Headstart with Karen Davila on June 10, Golez said:
"You can see this is probably a mile-long airstrip. It's almost like an airport, like what you see in the international airports, that support facilities, there's a dock for ships. I understand it can support and resupply frigates. But what is very threatening is that mile-long strip because now they can base their fighters there. I'm looking at, for example, a J-11 fighter jet made in China that has a range of 2000 miles… it encompasses the entire Philippines, most of Vietnam, part of Malaysia and and the whole of Borneo. So it can threaten all our vital military installations including the installations we can make available under EDCA."
Inquirer.net columnist Ted Laguatan expanded on this point in his column (No choice: Destroy China's future PH military bases now, June 27, 2014, Inquirer.net):"Having enemy fighter planes and missiles so proximate to potential target cities is like having a bag of explosives padlocked on one's neck by a bad guy with a remote control, which he could explode anytime. The baddie has the poor guy under his complete control. With these bases in place, China can demand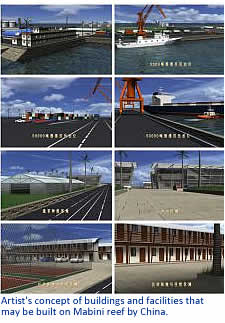 anything from the Philippines and take anything it wants. For all practical purposes, the Philippines will then be a slave nation."
"The Philippines and surrounding Asian nations have no choice," Laguatan asserted, "these future bases must be destroyed now. The fighter planes and missiles that will be deployed there will be daggers aimed at the major cities of these countries. We and they simply cannot allow these bases to be constructed."
Malaya columnist Rey O. Arcilla ("The Mabini Reef", May 27, 2014) earlier argued that "we should do as Vietnam has done in the disputed Paracels where China has planted an oil rig. She stood pat despite the ramming of her ships by the Chinese and withstood the latter's water cannons. They showed the Chinese they are ready to die for what they believe is right..."
"We should send some of our ships to Mabini Reef forthwith no matter how decrepit they are to prevent the Chinese from undertaking any more activities on the isle and turning it into another fortified military garrison like Mischief Reef. We should show the Chinese we are ready to fight and die for what is ours. Sure, we are no match for them and they can easily obliterate our naval vessels. But that would be an attack on our territory. That would be an opportunity for the US to put its money where its mouth is. Isn't that what Edca is for?"
Edca is the Enhanced Defense Cooperation Agreement between the U.S. and the Philippines which allows the U.S. to station troops in the Philippines but not to establish a permanent base. It is a supplement to the U.S. -Philippines Mutual Defense Agreement which requires the U.S. to defend the Philippines in case of an armed attack from a foreign enemy.

Nationalists and assorted leftists oppose Edca because they see it as a violation of Article XVIII Sec. 25 of the 1987 Constitution which states that "foreign military bases, troops, or facilities shall not be allowed in the Philippines" unless approved by the Congress and ratified by the people in a referendum. But (except for Akbayan) these same nationalists have not denounced China for constructing a "foreign military base" in the Philippines. While there may be a dispute as to whether Edca violates the Philippine Constitution, there is NO dispute that China's military base on Mabini Reef is a blatant violation of the Philippine Constitution and is a clear and present danger to Philippine national security.
On this fundamental issue, the Filipino people stand united. In a nationwide poll conducted by Social Weather Station (SWS) from December 2013 through January 2014, the results showed that "an overwhelming majority of Filipinos (93 percent) back the government's efforts to defend the national territory" (Pinoy Pulse:We must defend West PH Sea, don't trust China, February 10, 2014, Interaksyon.com).

When China installed a giant oil rig outside the Paracel Islands of Vietnam, the Vietnamese people erupted in outrage and stormed China-owned factories throughout Vietnam causing China to pull out 3,000 Chinese workers from Vietnam. China's construction of a military air base in the Mabini Reef poses a greater threat to the Philippines than if China had installed an oil rig in the Recto Bank.
Please join the global protests against China on July 24, the second anniversary of China's establishment of the Sansha Prefecture to "oversee and administer" 3.5 million square kilometers of the South China Sea over which China asserts "indisputable sovereignty." China's claim is the most brazen maritime territorial grab in history. LINK
The window of opportunity for the Philippines to destroy China's military base on Mabini Reef is rapidly closing. Once it is fully constructed and operational, it will be impossible to take out. By then, the Philippines and all of Southeast Asia will be at the tender mercy of hegemonist China. Published 07/10/2014

(For more information on the July 24 global protest action, please check out uspgg.org or email me at Rodel50@gmail.com).