hough his popularity rating has taken some hits lately, Vice President Jejomar Binay is still far and away the strongest contender for the Philippine presidency in 2016.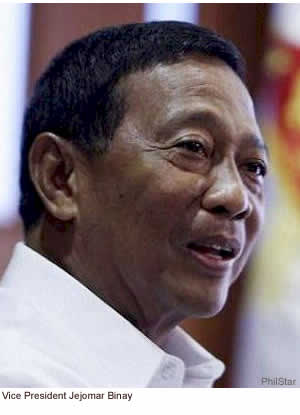 But is he the right choice for the country? His legions of supporters will give you an enthusiastic "yes;" his detractors however, will tell you "no!" So who's right? To answer our question, lets look instead at Binay's deeds rather than the words of his supporters or detractors.
Soon after he was installed as Mayor of Makati by President Cory Aquino, rumors started spreading that Binay would be "given" a unit or two in every high-rise condominium building constructed in Makati. This was to make sure things went smoothly for the builders or developers. Though these rumors are widespread, we are unaware of any occasion where the former mayor has come out to categorically deny those allegations. It may be that Binay simply refuses to dignify, what to him are silly and preposterous rumors, with a response. The problem with that tact however is the rumors don't go away and his detractors point to his non-response as proof that the rumors are likely true.
Binay's 2013 Statement of Assets, Liabilities and Net worth (SALN) declares a net worth of a little over Php60 million. Compared to other mayors and governors, Binay's net worth appears small. However, a 2013 article from an online news website suggests Binay uses a tactic extensively employed by Ferdinand Marcos during the martial law years: that of having subalterns stand in as listed owners of properties and businesses he really owns. And if an asset is not in his name, then it does not have to be declared in his SALN. If this allegation is true it would be difficult to pin Binay down on it barring actual admissions by accomplices.
So let us look at Binay's other public acts to answer the question we pose at the top. Binay was appointed by President Corazon Aquino shortly after the 1986 EDSA revolution. He then got himself elected mayor of Makati in 1988, won reelection in 1992, and again in 1995. His term ended in 1998 and he could not run for reelection due to term limits. So he fielded his wife Elenita who won as mayor for one term. In 2001, with term limits now behind him, Binay ran for mayor once more and held that post till 2010 when he was term-limited out once again. This time Jejomar Binay, Jr. took over Makati's mayoral reins from his father. Sadly many Filipinos see nothing wrong with what Binay did. Many Filipino officials from governors and mayors down to Baranggay chairmen do the same thing to get around term-limit restrictions.
A true statesman however will look at the spirit of the term limit law and understand that it is there so that an individual or family cannot monopolize an elected office. Term limits give others a chance to govern as well. Binay, a lawyer with post graduate studies from institutions like Wharton and the John F. Kennedy School of Government at Harvard cannot be cut any slack when it comes to knowing what is ethical behavior and what isn't. As we've seen with previous Philippine presidents, those who are not morally and ethically grounded end up causing great harm to the country and its people.
Also at issue with Binay is the "dynastic" ambitions. Aside from himself, four members of his immediate family have been elected into public office: his wife was a former mayor of Makati; his son is its current mayor; his daughter Nancy was just elected senator; and his other daughter Abigail is a congresswoman representing Makati. The question one might ask is: are the Binays so exceptionally gifted that the country needs to have four of them in public office? Or has Binay used his political clout to push is family into positions they could never have attained on their own. There still is no Anti-Dynasty Law in this country so Binay isn't doing anything wrong. It just doesn't pass the "smell test" for those of us who expect uncompromising ethical and moral standards from our highest public officials.
Now let us briefly look at Binay's decision-making process. He just announced that he has Rep. Manny Pacquiao listed in his party's senatorial slate. Really? Manny Pacquiao a Philippine senator? Many Filipinos believe he doesn't even deserve to be a congressman, which he is. Together with former President and now Rep. Gloria Arroyo who is under hospital arrest for plunder, Pacquiao has the most absences amongst his congressional colleagues. For most of the year, Pacquiao is away either training or preparing for a fight. And when he's not doing that, he's coaching his basketball team or planning to play professional basketball himself. The fact that he is extremely popular and will most likely win if he runs for senator does not mean that he should run. Binay's choice of Pacquiao is a crass political decision that in many ways give us an insight into what kind of president Binay will be. There is zero benefit for the Filipino people if Pacquiao becomes a senator because there is nothing "senatorial" about him—he has nothing to contribute. But having Pacquiao on his party's lineup will be a big plus for Binay, and that in itself might be good enough for him.
Just this week plunder raps were filed against Binay and 21 others in connection with alleged overpricing of a parking building built in Makati in 2007. According to the complaint, the government ended up paying Php1.56 billion for a building that cost only Php245 million to build. Binay immediately headed off the controversy by stating that one of the accusers lost to Binay's son in last year's mayoral elections. He also told the public to expect more accusations to surface now that he will be running for president in 2016. The question people have to ask themselves however is whether this flood of accusations headed Binay's way is because of his candidacy or because there have indeed been numerous anomalies he was involved in over the years.
We're not going to answer the question we posed at the top, but we'd like you to give us your answer. Tell us what you think. Published 07/25/2014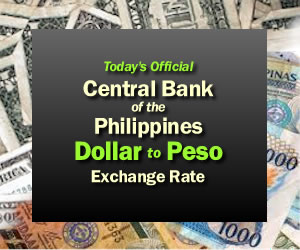 RECENT EDITORIALS
Will Pacman be China's Pitchman?



The news was officially announced by China Central Television (CCTV) in Beijing on August 25: Manny "Pacman" Pacquiao, the "national fist" of the Philippines and the winner of eight world boxing titles, signed an agreement with the Chinese government "to establish a string of boxing academies" all over China with the aim of helping to "grow the sport in China and provide opportunities for young people to take part." Published 09/07/2014
---
Napoles Prays 2,000 Rosaries a Day, So Does She Get a Free Pass to Heaven?

After leaving her August 15th bail hearing at the Sandiganbayan, Janet Lim Napoles showed the media the marble rosary she personally received from recently canonized Saint Pope John Paul II. Her lawyer Stephen David later disclosed to media that Napoles prays 2,000 rosaries a day. Given that a day has only 24 hours or 1,440 minutes, Napoles would have to complete an entire rosary in less than a minute praying non-stop for an entire day…every day. Atty. David also pointed out that Napoles paid for the schooling of at least 200 priests and helped construct many Catholic churches. Published 08/30/2014
---
Should President Aquino Get a Second Term as President?

Many Filipinos today are realizing that the single, six-year presidential term as prescribed in the 1987 Constitution is woefully inadequate for a good president like Benigno S. Aquino III. The delegates who wrote that provision in the Constitution must have still been reeling from the almost 20 years of "kleptocratic" rule of strongman Ferdinand Marcos when they decided that one term was enough for any future Philippine president. Four years—the presidential term at the time—would be too short; eight too long. Published 08/23/2014
---
China Owns the Entire South China Sea? What are They Smoking—Opium?

The arrogance of China is becoming readily apparent with each passing day. With their newly acquired economic and military power the Chinese appear unrestrained in their assertiveness towards their neighbors. China, instead of positioning itself as a 21st century superpower appears to be turning back the clock resembling more and more the 12th century empire of Genghis Khan and the Mongol hordes who conquered most of Eurasia...just because they could. Published 08/12/2014
---
On Her 5th Death Anniversary, We Say 'Thanks for Nothing Cory Aquino'

The passage of time has a way of distilling reality and bringing out truths that are sometimes hidden or lost by present circumstances. Case in point is the overwhelming level of admiration many Filipinos have for former President Corazon Aquino. When she passed away in 2009, the entire nation seemed beside itself in grief. Her casket was mobbed by thousands of mourners as it slowly made its way through the streets of Metro Manila to its final resting place at the Manila Memorial Park in Parañaque. Published 08/02/2014
---
The Failure of Philippine Education Is Now Staring Us in the Face

Will the Philippines Ever Become a Developed Country? The short answer to that is no—at least not in our lifetime. While the country has of late improved it credit ratings as evidenced by upgrades from Moody's, Fitch, and Standard & Poor's all that perceived progress is illusory. In the Fifties and Sixties, when the Philippines was undeniably the country at the top of the heap in Southeast Asia, people said it would always be the most industrialized country in the region. Published 08/02/2014
---
So, Should Jejomar Binay Be the Next President of the Philippines?

Though his popularity rating has taken some hits lately, Vice President Jejomar Binay is still far and away the strongest contender for the Philippine presidency in 2016. But is he the right choice for the country? His legions of supporters will give you an enthusiastic "yes;" his detractors however, will tell you "no!" So who's right? To answer our question, lets look instead at Binay's deeds rather than the words of his supporters or detractors. Published 07/25/2014
---