[ads/468x60_02.htm]


hough his popularity rating has taken some hits lately, Vice President Jejomar Binay is still far and away the strongest contender for the Philippine presidency in 2016.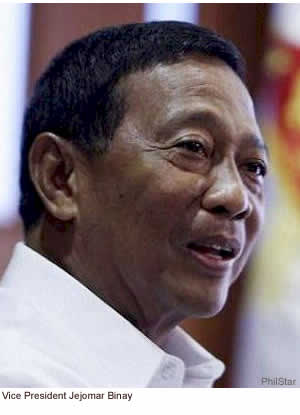 But is he the right choice for the country? His legions of supporters will give you an enthusiastic "yes;" his detractors however, will tell you "no!" So who's right? To answer our question, lets look instead at Binay's deeds rather than the words of his supporters or detractors.
Soon after he was installed as Mayor of Makati by President Cory Aquino, rumors started spreading that Binay would be "given" a unit or two in every high-rise condominium building constructed in Makati. This was to make sure things went smoothly for the builders or developers. Though these rumors are widespread, we are unaware of any occasion where the former mayor has come out to categorically deny those allegations. It may be that Binay simply refuses to dignify, what to him are silly and preposterous rumors, with a response. The problem with that tact however is the rumors don't go away and his detractors point to his non-response as proof that the rumors are likely true.
Binay's 2013 Statement of Assets, Liabilities and Net worth (SALN) declares a net worth of a little over Php60 million. Compared to other mayors and governors, Binay's net worth appears small. However, a 2013 article from an online news website suggests Binay uses a tactic extensively employed by Ferdinand Marcos during the martial law years: that of having subalterns stand in as listed owners of properties and businesses he really owns. And if an asset is not in his name, then it does not have to be declared in his SALN. If this allegation is true it would be difficult to pin Binay down on it barring actual admissions by accomplices.
So let us look at Binay's other public acts to answer the question we pose at the top. Binay was appointed by President Corazon Aquino shortly after the 1986 EDSA revolution. He then got himself elected mayor of Makati in 1988, won reelection in 1992, and again in 1995. His term ended in 1998 and he could not run for reelection due to term limits. So he fielded his wife Elenita who won as mayor for one term. In 2001, with term limits now behind him, Binay ran for mayor once more and held that post till 2010 when he was term-limited out once again. This time Jejomar Binay, Jr. took over Makati's mayoral reins from his father. Sadly many Filipinos see nothing wrong with what Binay did. Many Filipino officials from governors and mayors down to Baranggay chairmen do the same thing to get around term-limit restrictions.
A true statesman however will look at the spirit of the term limit law and understand that it is there so that an individual or family cannot monopolize an elected office. Term limits give others a chance to govern as well. Binay, a lawyer with post graduate studies from institutions like Wharton and the John F. Kennedy School of Government at Harvard cannot be cut any slack when it comes to knowing what is ethical behavior and what isn't. As we've seen with previous Philippine presidents, those who are not morally and ethically grounded end up causing great harm to the country and its people.
Also at issue with Binay is the "dynastic" ambitions. Aside from himself, four members of his immediate family have been elected into public office: his wife was a former mayor of Makati; his son is its current mayor; his daughter Nancy was just elected senator; and his other daughter Abigail is a congresswoman representing Makati. The question one might ask is: are the Binays so exceptionally gifted that the country needs to have four of them in public office? Or has Binay used his political clout to push is family into positions they could never have attained on their own. There still is no Anti-Dynasty Law in this country so Binay isn't doing anything wrong. It just doesn't pass the "smell test" for those of us who expect uncompromising ethical and moral standards from our highest public officials.
Now let us briefly look at Binay's decision-making process. He just announced that he has Rep. Manny Pacquiao listed in his party's senatorial slate. Really? Manny Pacquiao a Philippine senator? Many Filipinos believe he doesn't even deserve to be a congressman, which he is. Together with former President and now Rep. Gloria Arroyo who is under hospital arrest for plunder, Pacquiao has the most absences amongst his congressional colleagues. For most of the year, Pacquiao is away either training or preparing for a fight. And when he's not doing that, he's coaching his basketball team or planning to play professional basketball himself. The fact that he is extremely popular and will most likely win if he runs for senator does not mean that he should run. Binay's choice of Pacquiao is a crass political decision that in many ways give us an insight into what kind of president Binay will be. There is zero benefit for the Filipino people if Pacquiao becomes a senator because there is nothing "senatorial" about him—he has nothing to contribute. But having Pacquiao on his party's lineup will be a big plus for Binay, and that in itself might be good enough for him.
Just this week plunder raps were filed against Binay and 21 others in connection with alleged overpricing of a parking building built in Makati in 2007. According to the complaint, the government ended up paying Php1.56 billion for a building that cost only Php245 million to build. Binay immediately headed off the controversy by stating that one of the accusers lost to Binay's son in last year's mayoral elections. He also told the public to expect more accusations to surface now that he will be running for president in 2016. The question people have to ask themselves however is whether this flood of accusations headed Binay's way is because of his candidacy or because there have indeed been numerous anomalies he was involved in over the years.
We're not going to answer the question we posed at the top, but we'd like you to give us your answer. Tell us what you think. Published 07/25/2014
Archived Comments
Name: Aiota Po
City/State/Country: Teresa
IP Address: 96.229.36.32

Comments
I will answer your question. He is not fit to become the next President of The Philippines. The reasons why are in your article. He has no regard for the poor, he used the poor to enrich himself. He has nothing good to offer this country other than his family. Well, gee give us millions and we will serve the poor much better than you think you did, Mr. Binay. But oh wait, give me sardines, rice and pocket money and I will vote for you. That is the mentality of the poor voters that is why the Binays win. Unless this mentality of the poor changes, a Binay is on its way to Malacanang. Oh, how sad!
---
Name: Patrick So
City/State/Country: LA, CA, USA
IP Address: 108.38.133.134

Comments
I am a Fil-Am who migrated to the USA in 1984. After all these years I have kept a keen interest in the general welfare of the Filipino nation. It had been nothing but disappointments from one administration to another. So far there is no hope in sight. Mr. Jojo Binay will not be looking after the best interest of the Filipino nation but of his own family only. We don't have to look far into the future, it is obvious now.
---
Name: Pinoy hero
City/State/Country: New York City
IP Address: 173.2.79.66

Comments
You did not mention a very important point about Binay. He mentioned that he wanted Jinggoy Estrada to be his running mate. Jinggoy is now in jail being accused of plunder and is now being investigated by Sandiganbayan. Evidences have been presented and we are still waiting for conviction and yet Binay has the temerity and gall to announce that he wants Jinggoy to be the Vice President of the Phil. We are extremely pissed off with this kind of principle and character of a man aspiring to become president.
---
Name: Alexa Grace
City/State/Country: Calgary, AB Canada
IP Address: 74.200.30.4

Comments
With Binay itching this early to run the country come 2016, albeit, his numerous declarations that he apparently wants to focus on his current job, I honestly feel that history will be repeating itself, and dictatorship ala Marcos will happen. His household rules Makati, what do you then expect when he occupies Malacanang? The Binays will try to sell the argument that they have brought Makati way ahead of other cities amidst numerous allegations. I can only say that Makati is not the Philippines. I just hope that the Filipinos this time will think and be wise enough not to put corrupt people in Malacanang, the likes of Binays, Estradas, Revillas, Arroyos, Sottos, etc... Wake up plzzz...
---
Name: Concerned Pilipino
City/State/Country: U.S.A.
IP Address: 97.122.177.73

Comments
For not following the ANTI-DYNASTY LAW as well as choosing Manny Pacquio in his SENATORIAL LINEUP (capitalizing on Manny's popularity)... it is very clear that BINAY has a SELFISH MOTIVE for his family alone NOT FOR THE BENEFIT OF THE FILIPINO PEOPLE !!!..... NO NO NO NO NO !!!!!!!!!!!
---
Name: Manuel C. Diaz
City/State/Country: Montclair CA USA
IP Address: 76.90.62.96

Comments
With almost 40% of the voters being idiots and morons and look back at whom these idiots and morons voted scoundrels into public office, Binay will be the next President of Islas de Ladrones.
---
Name: Mark Williams
City/State/Country: LA Ca
IP Address: 107.132.220.67

Comments
Tell me who your friends are and I will tell you who you are. Binary's close friends are the accused plunderers now in jail. Enrile, Estrada & Reviilla. Need we say more?
---
Name: Steve R
City/State/Country: California
IP Address: 98.234.22.41

Comments
Oh Lord, not Jejomar Binay as President of Philippines in 2016. The plunder case filed against him, his son and 20 others should be a warning to all Philippine voters that if J. Binay is elected in 2016, the Philippines will have to name its new Janet Lim Napoles. Yes, unless the Philippine voters will learn its lessons from the ongoing plunder cases, short of Devine Intervention, J. Binay will be the next President of the Philippines. Thus, all concerned must constantly blog via the internet and post comments to educate Philippine voters why J. Binay must not be elected President.
---
Name: mockingmaya
City/State/Country: taft avenue, manila
IP Address: 73.48.191.193

Comments
Vice-president Binay's top choice of running mate in 2016 presidential election is a crystal-clear indication that he will establish a dangerous & extreme form of democratic governance: mobocracy, the politics of mob rule, or dregs of society. I think Montaigne's admonition to educate your rulers (despite Binay's charlatan family members elitist educational accomplishments kuno) so that they will not enslave & torment their subjects was not the only cure to the defects of third world run-away democracy like the Philippines. "For the ambitious corrupt man, it is better to reign in hell than serve in Heaven."
---
Name: SOMEONE
City/State/Country: USA
IP Address: 74.77.36.177

Comments
Binay validated himself by setting Makati's poor against the super rich of exclusive enclaves like Forbes Park, San Lorenzo and Dasmariñas Villages. He cunningly exploited the poor by giving them freebies and pretended to ignore the people in Forbes. In truth he has properties in all those exclusive villages. His daughter Abigail who is now a Congresswoman has a house in Dasmariñas without any proof that she had earned enough money honestly at her age to be able to afford that house. It was this image of "Maka-mahirap" that Binay had established which makes him formidable. The truth is this guy is a gluttonous thief who will install his entire family in power. Once elected President his next target would be to place his children in Malacañang one after the other round robin style.
---
Name: Jun Bueno
City/State/Country: Virginia, USA
IP Address: 68.238.160.252

Comments
I left Makati 1994, I was only a stone's throw away from Binay's residence in San Antonio Village, hell no, give us another choice. Another story from rags to riches.
---
Name: Vanessa Lee
City/State/Country: Kuwait
IP Address: 112.208.49.18

Comments
Mr. J. Binay for president? I hope it won't materialize. He pretends to be pure, look like different from other corrupt officials but people already knew his doings. The idea of having even Manny Pacquiao to be under his ticket shows only how greed he is to have more fame, power and wealth. At my end any civil servant who wants to stay in power for long time and have dynasty in politics as such, he wants to glorify himself rather than give chance to other aspirants- this is greediness. We civilians let's learn a lesson before it's too late we should not give leeway to ambitious man such as him we should have wise choice of candidates and do not be fooled by their words ever.
---
Name: JRH
City/State/Country: Montreal, Quebec
IP Address: 70.83.179.172

Comments
The Binay family is a very powerful political institution & dynasty; Vice-Pres J Binay, congresswoman wife, senator daughter, mayor son et al. It's a mighty force just like a snowball becoming bigger as it rolls down the hill. In short, there's no stopping them. Right now, he's consolidating a strong party of electable, questionable, rich political allies, oligarch friends, other family members in govt. It's well-fiananced & the strategic logistics are ready & in place. Should the election happen today, rest assured & chances are his party will dominate.
---
Name: Paco Sa Cruz
City/State/Country: Vietnam
IP Address: 113.170.212.195

Comments
For decades, political dynasties have been ruling the country. Under their reins, the Philippines remains poor and unprogressive. While most of us live in poverty, members of political dynasties and their close associates are enjoying life to the high heavens. Jejomar Binay has built political dynasty in Makati. A very clear indication of a politician who will do everything to enrich himself and his family. Therefore, Jejomar Binay is unfit to become the next President of the Philippines. It is obvious that under his rein, graft and corruption will flourish.
---
Name: Al Dabog
City/State/Country: USA
IP Address: 72.208.225.126

Comments
General consensus here is that Binay, as President, would be bad for the country. Agreed. I don't know the man, (I lived in Makati for a number of yrs. before leaving for the States in '73). I don't even remember if I ever heard his name the time I was there. A friend/neighbor, passed the Bar a year or so after I left, eventually worked for Binay. And I asked about that video they filmed where Binay was going around Makati and asking people, as if they were acquainted personally, about their concerns. I asked if Binay really knew those people bcoz he was calling them by their palayaw. "Ano ba, Gorio, kumusta na?" Things like that. That was staged. It's politics, he said. And then this - his whole family in politics. Be very afraid, people.
---
Name: Espie Ramos Reyes
City/State/Country: Philipines
IP Address: 49.148.18.182

Comments
No, I simply don't trust binay.. With almost his whole family in govt positions, I can almost imagine another people power..
---
Name: deo
City/State/Country: flour-flower city
IP Address: 66.66.203.16

Comments
No politician can claim credit for what Makati is now. It was the foresight and shrewdness of the Ayala y Cia., Elizalde y Cia. and other Spaniards. Check this out. Ayala subdivide the land which everybody thought "would not amount to anything". The sole structure standing then bounded by Ayala, Buendia, Makati Rd., Pasay Rd., P. Tamo, was Elizalde House. Ayala sold "cheap" the subdivided land to corporations (Banks, Manufacturers, Car Dealerships, TV Station, Phil Free Press etc.) on conditions that they will come and build their offices. One is my kano employer where I learned this fact. It was as simple as that. The rest is history.
---
Name: Roy Malanza
City/State/Country: NY, USA
IP Address: 96.224.239.117

Comments
Binay family is establishing a dynasty. Like the Marcoses as soon as they experience political position they don't want to step down. They are afraid that if they no longer held any political positions their life is in danger because of the bad anomaly they are doing behind the scene. It may take another generation before the political dynasty will cease in the Philippines cause majority of the politician have some dynasty already established in their locality. What is so pity is the future generation. It is time for the current generation to stop voting people with dynasty. It is time to stop it.
---
Name: Hermann
City/State/Country: Germany
IP Address: 89.144.196.82

Comments
Oh no, not again! When we will learn our lesson? I don't think there's a need to elaborate on Jejomar Binay's political activities in this site, just the mere fact that his wife, daughters and son holding public office is reason enough to get rid of this family.... I believe if he will become president (hopefully NOT!!) we will go back to the same political turmoil in 2001 !!! God save our land....
---
Name: Sam "The Mercenary"
City/State/Country: San Diego California
IP Address: 66.27.52.158

Comments
Jejomar Who? Oh gosh. Please. This guy mastered the art of pleasing the masses with his free coffin services but never this character known for governing. Ask Edu Manzano.
---
Name: Jun Adan
City/State/Country: New York City
IP Address: 74.64.2.99

Comments
God Forbid this man to win the Presidency because he is a distrustful, fraudulent, Robin Hood-like impostor who always announces his caring character for the poor! How can he be caring for poor when he became a billionaire while in office, together with his wife, son, and his two daughters! Imagine constructing a parking municipal garage for overpriced amount of 1.6 billion pesos, which is 635% overpriced. These are the people's money he and his son, Jun Jun Binay unscrupulously spent. VP Binay is as untrustworthy public official and concerned himself with money-making ventures in Makati. His free education and hospitalization is a public service duty of the municipal government that can afford as a prime rich City.
---
Name: JRH
City/State/Country: Montreal, Quebec
IP Address: 70.83.179.172

Comments
Let's face it, Vice-Pres J. Binay is a seasoned politician. As former mayor of Makati, he was able to establish strong political backings form his Makati constituents & was supported by the major corporations in the Ayala business hub. His pro-poor programs were extremely popular among the masa (bulwarte), accompanied by a high-tax base of Makati. Most of his projects were successful. Rumors will remain rumors. However, a plunder case against him might ultimately harm him if proven true. He's a wily fox that could not be cornered that easily. Charge that to his long political experience. I'm not pro-anybody in this issue. This is just my humble opinion. Peace.
---
Name: Paco Sa Cruz
City/State/Country: Vietnam
IP Address: 113.170.209.48

Comments
If the survey is done among us in this forum, for sure, Jejomar Binay, will have a very low rating and he will never become President. But then, I saw the trend in this forum that while majority disagreed with Nancy Binay's candidacy for senator, she won overwhelmingly. It is worrying that Filipinos who are not aware of the negative realities of politics dominate the voting population and put bad and unqualified personalities in the winning circle. We, the literates, shall group together and influence our bobotante friends and relatives to vote wisely. Otherwise, Jejomar (Dark Cloud) Binay will be the next President courtesy of the bobotantes just like what happened to Nancy Binay, et. al. and dark cloud will prevail in the country during Jejomar Binay's term as President.
---
Name: ELMO
City/State/Country: ELMHURST
IP Address: 67.250.86.169

Comments
Limiting the growth of political dynasty will face great resistance in the Philippines because some 70% of members of Congress belong to a political family. Senator Aquino is Pnoy's nephew, Imelda is the mother of Bongbong, Binay has a daughter on both houses of congress, two Cayetanos and Estradas are in the senate, etc. There is a provision in the 1987 constitution about political dynasties but there is no implementing law to really give teeth to this constitutional provision. So pass a law is all that is needed, but isn't that quite too simplistic?
---
Name: John
City/State/Country: Los Angeles, Ca
IP Address: 166.137.210.34

Comments
When will the Filipino people see that our Vice President is robbing the country and it's people! He should not be given a chance to be President, that would only hurt the Filipino People even more. It's so sad, I'm in my 40's and I still haven't seen a honest President that puts his country men before himself. Is there any Filipino politician we can Trust?
---
Name: ELMO
City/State/Country: ELMHURST
IP Address: 67.250.86.169

Comments
[Someone] (and not from middle eastern country); You are from the Philippines and you know pretty well how politicians behave. These politicians have big ambitions; Binay is no different from them. He would chose people in his team that have strong name recognition like Pacquiao, Vilma Santos, Jinggoy etc. He understands the value of being in the majority rather than in the minority if he bags the presidency. Elections are number games influence by money, name recognition more than qualification, experience or intellectual competence of a candidate.
---
Name: pidro
City/State/Country: cagayan
IP Address: 203.88.85.69

Comments
Para sa mga makakalaban ni Binay sa pagtakbo sa pagka presidente isa lang masasabi ko kung gusto ninyong manalo na hindi nagawa ni Mar at dahilan ng kanyang pagkatalo. Bantayan po ninyo ang mga member ng frat na APO lalo na yung may mga pwesto sa comelec LGU at militar mga galamay ni Binay yang mga yan. Mautak yang si Binay di ko alam paano naging apo yan, kung pwede nga mag INC yan gagawin nya para lang maka kuha ng supporta sa INC. Binay kung tulungan ka man ng demonyo at manalo ka sigurado ako isa ulit people power ang mahpapatalsik sayo
---
Name: DrEd
City/State/Country: TX
IP Address: 209.46.117.36

Comments
Binay is a close family friend of my late half-sister. He has always been there for my sister and looks up to her as an older sister. He is also a fraternity brother, and so our fraternal organization is obviously supporting him. But not all of us. I see him based on his dynastic tendencies to be a usurper of authority. His family in politics is one of multiple factors why we should not be voting for him. BUT who do we have in government who may be worthy to run against him? Filipino voters are still in the stage where they vote on popularity. As long as Pinoy voters begin to realize the power of their votes to turn the Philippines around we will continue to see a very dim future for the Philippines. May God help us in the next election.
---
Name: Jeffrey
City/State/Country: Cebu City
IP Address: 222.127.22.83

Comments
V.P. Binay is a greedy politician hungry for the presidential sit. 2016 election is far from happening and yet this man is always making sure he himself always appears on television for political purposes. If he devotes himself in helping us then he should act swiftly & shun any interviews available just to make him the topic. I'd would be happy to see the constitution revisited to make Noynoy Aquino stay for more years than to see this guy sit and indulge himself and his family in fraud that will ultimately bring the Philippines back to the stone age!
---