[ads/468x60_02.htm]


fter leaving her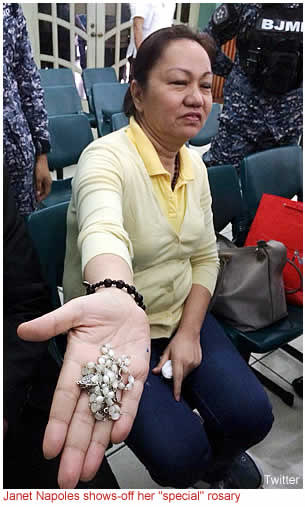 August 15th bail hearing at the Sandiganbayan, Janet Lim Napoles showed the media the marble rosary she personally received from recently canonized Saint Pope John Paul II. Her lawyer Stephen David later disclosed to media that Napoles prays 2,000 rosaries a day. Given that a day has only 24 hours or 1,440 minutes, Napoles would have to complete an entire rosary in less than a minute praying non-stop for an entire day…every day. Atty. David also pointed out that Napoles paid for the schooling of at least 200 priests and helped construct many Catholic churches.
Does this mean that God will forgive or at the very least shorten Napoles' stay in Purgatory? So that, in spite of the billions of pesos she stole from the government—billions that should have gone to marginalized segments of Philippine society but instead went to her pockets (and bathtub) and the pockets of her cohorts in crime—in the end Napoles attains redemption and gets to strum a harp with the rest of the angelic choir. Right?
All transgressions are forgivable—just repent and God will forgive you. That is what Catholic teaching has been instilling into the minds of Filipinos for almost 500 years. And they seem to have wholeheartedly bought that line, so much so that today there are many Filipinos who cheat, steal, lie and even kill but believe they will still end up in Heaven. The rich and powerful commit all sorts of nefarious deeds six days a week but attend Mass on Sunday and believe all their misdeeds are washed away. This is how all those corrupt, immoral, unethical and criminal Filipinos are able to live with themselves.
China has got it right
When Pope Francis visited South Korea this August, his plane was allowed to fly over Chinese airspace. In the past, Vatican flights had to skirt Chinese airspace whenever a Pope flew to Asia. The conciliatory gesture by China was not lost on the Pontiff who stated that he very much wanted to visit China as soon as possible. Pope Francis however was quickly though politely rebuffed by Chinese leaders who told him to refrain from interfering in China.
There are approximately 12 million Catholics in China, but the state-run church known as the Chinese Catholic Patriotic Association is overseen by Catholic bishops who are appointed by the Chinese government, not the Vatican. Pope Francis did indicate that all he is asking the Chinese government is that the Catholic Church be given the "freedom to do its job" in China. Unfortunately, that is precisely what Beijing is leery of.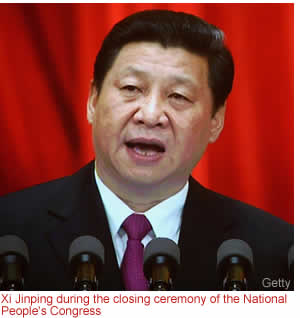 Chinese leaders need only look at their neighbor to the Southeast to see how unbridled church interference can wreck havoc on a country. In the Philippines, Catholic bishops constantly meddle in state affairs: they tell government officials what laws they should or shouldn't pass; they threaten with excommunication or otherwise intimidate those who speak out against them; they exercise tremendous authority without any corresponding responsibility.
Case in point: despite the United States, the United Nations, and the Philippine government's efforts to curb the country's soaring birthrate, the Catholic Church remains steadfast against any and all forms of birth control for Filipinos. And now that the Philippine population has passed the 100 million threshold, church leaders do not see it as their responsibility to provide for the wherewithal to house, feed, educate, and employ all these additional human beings who are the direct result of their misguided religious policies.
Chinese President Xi Jinping and the rest of China's politburo realize that this could happen to them and have thus told Pope Francis—however well-intentioned his overtures might be—no thanks, and leave us alone. Published 08/30/2014