fter leaving her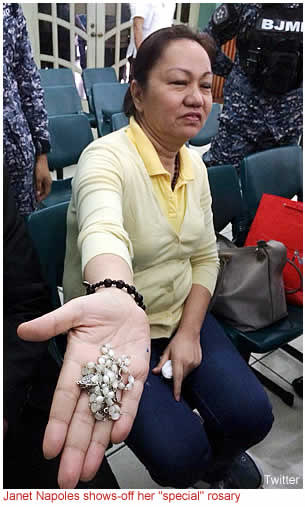 August 15th bail hearing at the Sandiganbayan, Janet Lim Napoles showed the media the marble rosary she personally received from recently canonized Saint Pope John Paul II. Her lawyer Stephen David later disclosed to media that Napoles prays 2,000 rosaries a day. Given that a day has only 24 hours or 1,440 minutes, Napoles would have to complete an entire rosary in less than a minute praying non-stop for an entire day…every day. Atty. David also pointed out that Napoles paid for the schooling of at least 200 priests and helped construct many Catholic churches.
Does this mean that God will forgive or at the very least shorten Napoles' stay in Purgatory? So that, in spite of the billions of pesos she stole from the government—billions that should have gone to marginalized segments of Philippine society but instead went to her pockets (and bathtub) and the pockets of her cohorts in crime—in the end Napoles attains redemption and gets to strum a harp with the rest of the angelic choir. Right?
All transgressions are forgivable—just repent and God will forgive you. That is what Catholic teaching has been instilling into the minds of Filipinos for almost 500 years. And they seem to have wholeheartedly bought that line, so much so that today there are many Filipinos who cheat, steal, lie and even kill but believe they will still end up in Heaven. The rich and powerful commit all sorts of nefarious deeds six days a week but attend Mass on Sunday and believe all their misdeeds are washed away. This is how all those corrupt, immoral, unethical and criminal Filipinos are able to live with themselves.
China has got it right
When Pope Francis visited South Korea this August, his plane was allowed to fly over Chinese airspace. In the past, Vatican flights had to skirt Chinese airspace whenever a Pope flew to Asia. The conciliatory gesture by China was not lost on the Pontiff who stated that he very much wanted to visit China as soon as possible. Pope Francis however was quickly though politely rebuffed by Chinese leaders who told him to refrain from interfering in China.
There are approximately 12 million Catholics in China, but the state-run church known as the Chinese Catholic Patriotic Association is overseen by Catholic bishops who are appointed by the Chinese government, not the Vatican. Pope Francis did indicate that all he is asking the Chinese government is that the Catholic Church be given the "freedom to do its job" in China. Unfortunately, that is precisely what Beijing is leery of.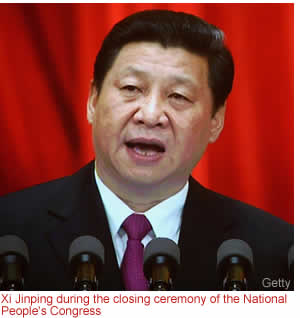 Chinese leaders need only look at their neighbor to the Southeast to see how unbridled church interference can wreck havoc on a country. In the Philippines, Catholic bishops constantly meddle in state affairs: they tell government officials what laws they should or shouldn't pass; they threaten with excommunication or otherwise intimidate those who speak out against them; they exercise tremendous authority without any corresponding responsibility.
Case in point: despite the United States, the United Nations, and the Philippine government's efforts to curb the country's soaring birthrate, the Catholic Church remains steadfast against any and all forms of birth control for Filipinos. And now that the Philippine population has passed the 100 million threshold, church leaders do not see it as their responsibility to provide for the wherewithal to house, feed, educate, and employ all these additional human beings who are the direct result of their misguided religious policies.
Chinese President Xi Jinping and the rest of China's politburo realize that this could happen to them and have thus told Pope Francis—however well-intentioned his overtures might be—no thanks, and leave us alone. Published 08/30/2014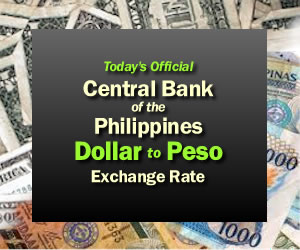 RECENT EDITORIALS
After the Pope's Visit: What We Filipinos Now Must Do


e put on a good show for Pope Francis. He loved it; we loved it; the world loved it. Now the long and painful task of bringing about the changes the pope asked for begins. Start with the Philippine Catholic Church. It should refocus its efforts towards the poor. As we wrote in previous editorials, many priests and bishops see themselves as members of the rich and privileged class. They feel more at home in country clubs and dining in expensive restaurants, than they do helping the poor who live in the squatter communities that dot most cities in the Philippines. Published 1/22/2015
---
Pope Francis Admonishes Pinoys to End Scandalous Inequalities

We had a feeling this was coming. In his first major speech in the Philippines, Pope Francis called for an end to 'scandalous inequalities' in the country. And what better example of a scandalous inequality is there than that a preposterously ridiculous wedding of Dingdong Dantes and Marian Rivera which was officiated by 8 bishops and 7 priests. In addition, this crass wedding featured a 12-foot high wedding cake, a 2-million-peso wedding gown with an exaggeratedly long train that seemed to go on forever...you get the picture. Published 1/16/2015
---
An Open Letter to Pope Francis; Please Read It Before Coming to the Philippines

Dear Pope Francis, your much anticipated visit to the Philippines is just a few days away. We expect that you will have been adequately briefed about the Philippines by the time you arrive. However, there might be a few things your Vatican handlers might have missed—or intentionally "forgot" to mention to you so we hope this letter reaches you in time for your historic visit. Before anything else, welcome! Published 1/9/2015
---
A Dingdong Fancy Wedding for a Third World Country

What is it with us Filipinos? We are a country of "all flash and no substance." Case in point: This ridiculously lavish wedding between two so-so movie stars that sought to outdo even the most "royal" of royal weddings. What was the whole point of this crassly extravagant display? Lest anyone forget, the Philippines is still a Third World country. And many, many squatter's homes (if you can call them "homes") do not have running water or even a toilet! Published 1/4/2015
---
Vice President Jejomar Binay's Aguinaldo

Money received from benefactors during Christmas in the Philippines is called "aguinaldo", a term and practice imported from Mexico during the Spanish colonial period where it now refers to the annual Christmas bonus given to employees. In the Philippines, it is now generally used to describe monetary gifts given by all benefactors, including godparents and employers. Published 12/25/2014
---
Do Filipinos Want America on Their Side or Not?

Given the Filipino penchant for "dramatics," not to mention the circus atmosphere that inevitably encompasses any event of even minor significance, one can hardly blame American government officials for refusing to hand over US Marine Lance Corporal Joseph Scott Pemberton over to Philippine authorities. The intriguing question in all this however is why some Filipinos are so insistent on having custody over the accused. Published 12/19/2014
---
Today's American Police Force Leaves So Much to be Desired

Long gone are the days when communities all across America looked up to the police officers who patrolled their streets and kept their neighborhoods safe. For cops back then it was a calling—almost like the priesthood—and those who answered that calling were brave, noble, larger-than-life individuals who kept Americans safe. Published 12/14/2014
---