[ads/468x60_02.htm]



ccording to the developer's website, "Torre de Manila, DMCI Homes' newest one-tower condominium, is an exclusive residential community right in the heart of the city." As of this writing, the 49-story edifice is about halfway complete. But as it continues to rise, so too do the howls of protest from an eclectic collection of groups and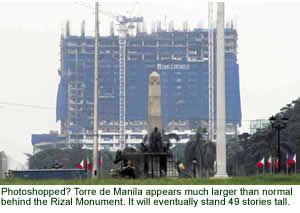 individuals who want it torn down. Why? Torre de Manila will permanently mar the skyline behind the Rizal Monument.
In 2012 DMCI applied for, and secured, a building permit from Manila's Office of the Building Official. That permit gave DMCI the go-ahead to erect a building up to 7 stories high. However, based on the building's plans and the developer's marketing materials—print advertisements, flyers, brochures and webpages, Torre de Manila when completed would stand 49 stories high. It was only in January of this year that the Manila Zoning Board of Adjustments and the Manila City Council discarded their own zoning laws and allowed DMCI to build beyond the 7-story limit of its original permit.
The readjusted permit has raised howls of protest from those who now fear that their worst nightmare may soon become a reality. Carlos Celdran, a staunch advocate for the preservation of the city's many heritage sites, was among the first to oppose the project. Even as early as October 2013 Celdran already had over 7,800 signatures from his online petition to halt the project. Another high-profile critic is Senator Pia Cayetano. As chairperson of the Senate Committee on Education, Arts and Culture, Cayetano likewise appears very concerned that the tall building will forever mar the vista behind Rizal's monument. She also noted that in her opinion, DMCI had been operating in bad faith from June 2012—when it received its original permit for only a 7-story building, to January 2014, because Torre de Manila was intended as a 49-story highrise from the start.
The Order of the Knights of Rizal, a large, well-respected organization also wants Torre de Manila removed. It filed a 26-page petition for injunction with the Philippine Supreme Court and asks that a temporary restraining order (TRO) be immediately issued to halt any further construction on the project.
So, should Torre de Manila be torn down? That is not for this website to decide. What we insist on however is that should the building be demolished, DMCI must to be compensated for its loss. After all, in a statement sent to a major daily publication in Manila, the developer noted "we followed all the rules and regulations and met every legal requirement. We also had been cleared by the National Historical Commission. We followed the law as required of us."
So how much should DMCI get back? That of course has to be agreed upon among all concerned parties including the citizens groups who want the building demolished. Civic groups can setup fundraisers and raise cash to help reimburse DMCI. In short everyone who wants Torre de Manila torn down should put their money where their mouth is and share in the pain—for so long Filipinos always seem to expect to have their way without sacrificing anything in return. DMCI should not be made to absorb a huge loss simply because the public now wants the vista behind the Rizal monument to remain as it was. The city of Manila however must shoulder the bulk of the cost because they were the ones who okayed the project in the first place.
And the city's elders cannot be allowed to weasel out of their obligation by saying they have no money to pay for it. They can always give DMCI tax breaks over a period of time until the city fully meets its obligation.
If evidence of corruption is discovered, then that issue must be investigated and dealt with separately. Anyone involved in bribery or malfeasance should be charged accordingly.
At the end of the day, it is of paramount importance that the country show the world that it lives up to its commitments. So often in the past foreign investors have been blindsided by changes in rules or requirements after a project is already underway. Whether justified or not, those changes can be extremely unsettling for investors who often end up seeing their projects stalled for decades in Philippine courts which unfortunately have a less-than-sterling reputation both locally as well as internationally.
President Benigno Aquino III recently returned from a 12-day trip to Europe and the United States and proudly brought back with him $2.34 billion in investment pledges. Those pledges could create nearly 40,000 new jobs. It is not easy finding foreign investors in today's highly competitive investment market. So it behooves all Filipinos to make the country as attractive as possible to investors. And in the simplest of terms, that means keeping our word and treating everyone fairly. Published 10/01/2014