[ads/468x60_02.htm]


hat's with Philippine civil servants these days? It seems that you can stick all their pictures on a wall; throw a dart; and whoever's photo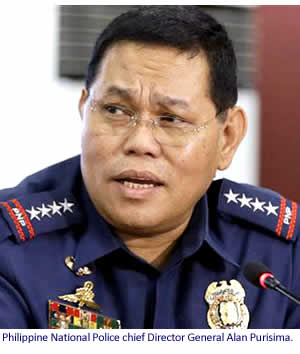 it land on, that person can be successfully prosecuted for graft. It is unbelievable how pervasive and widespread corruption has become. We go from one corruption scandal to the next and there seems to be no end in sight.
Less than a month ago we published an editorial on Vice President Jejomar Binay and why we think he shouldn't become president; now we have the head of the Philippine National Police (PNP) Alan Purisima accused of shortcomings as well.
First of all, why in the world does a PNP chief whose tenure in office usually lasts just two years at best, need to live in an P11 million peso mansion inside a government camp? What purpose does it serve other than to impress the impressionable…and stroke its occupant's ego. In addition, the fact that the entire mansion was paid for by a few friends makes it all very suspicious. After all, who has friends like Purisima's who willingly chip-in millions of pesos of their own money to build him a mansion?
How could the Philippines' top cop not be aware that those "friends" would eventually expect him to return the favor? Purisima can fain naiveté but more than likely, he knew that as head of the PNP he could easily return favors. Just like he knew that the Toyota dealership that sold him a brand new luxury SUV, for less than 1/3 the normal price did not give him that huge discount because of his good looks. The dealership did it because he is the country's top police official.
Because of both issues, the mansion and the Toyota SUV, Purisima must resign. It is unfortunate because, he may be well intentioned and may honestly want to rid the PNP of graft and corruption, but his shortcomings seem to have gotten in the way of those good intentions. In past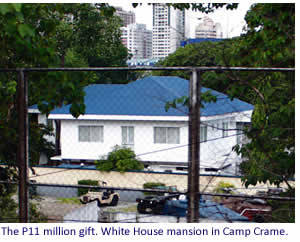 administrations Purisima might have been heralded as a great PNP chief and retired with honors. Unfortunately, today Filipinos expect much more from their public servants. The pervasiveness of social media and facile communications make hiding irregularities today so much more difficult than it was even a decade earlier.
Unfortunately, Purisima no longer makes the cut. Public servants who accept gifts or buy expensive items at greatly discounted prices have no place in government. At a time when thousands of Filipinos can hardly make ends meet, constructing an P11 million mansion, or accepting a P3.5 million discount on a P5 million SUV is unconscionable.
President Benigno Aquino III came into office four years ago challenging Filipinos to do the right thing with his "tuwid na daan" (the straight path). Now that the public has risen to the president's challenge and demands higher standards from public officials, Aquino cannot go easy on Purisima. To do so would undermine his own "tuwid na daan" campaign. Published 10/07/2014