[ads/468x60_02.htm]


or much of the last month, my Facebook friends in Metro Manila have been posting comments lamenting their helplessness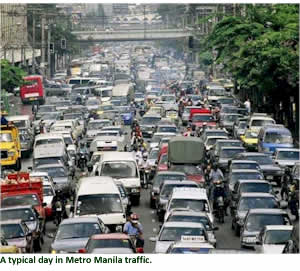 at being condemned to spend a great portion of what is left of their productive lives stuck in hours of traffic with no hope in sight. They now appreciate why Dan Brown described Manila in his book, Inferno, as "the gates of hell" specifically referring to its "six-hour traffic jams (and) suffocating pollution".
It may just feel like six hours to those stuck in gridlock hell. "These days travel time in the streets of Metro Manila can be three times longer than usual, and this is during sunny days. With a heavy downpour and flash floods, the nation's premier region becomes paralyzed" was how the Philippine Star described it.
The Japan International Cooperation Agency (JICA), a reputable think tank, estimates that Metro Manila's traffic jams are costing the Philippine economy P2.4 billion pesos ($57 million) a day in potential income, a figure that JICA warns could balloon to P6 billion ($142 M) a day by 2030.
JICA also reported that traffic congestion leads to increased fuel consumption and automobile emissions as vehicles are forced to operate less efficiently. "More vehicles on the road means increased greenhouse gas emissions which lead to increased health costs."
Greenhouse gas emissions, JICA warned, are expected to increase to 5.72 million tons a year in 2030, compared to 4.7 million tons a year in 2012. As climate scientists explain, the increase in greenhouse gas emissions affects the frequency and ferocity of the natural calamities that bedevil the Philippines.
Rappler writer Katerina Francisco explains that JICA's P2.4 billion a day figure "includes lost work hours, lost business opportunities due to delays and missed deadlines and wasted fuel." She observes that these annual losses (P576 billion a year) are greater than the P400 billion infrastructure budget for 2014. LINK
When an alternative 10 hour day/4 day work week schedule (similar to the schedule of some RNs in the US) was proposed as a way to ameliorate traffic gridlock, Sen. J.V. Ejercito expressed his opposition to the idea because of its effect on family life. According to Neal Cruz ("Will the 4 day work week work?"), Sen. Ejercito said "the employee who has to hurry home to cook for the family would get there very late and the children would be starving by the time dinner is served. Eating a late dinner means staying up late and therefore waking up late the next morning and arriving late in schools and offices. And most of the children and adults would be too sleepy to learn and work efficiently."
What Sen. Ejercito does not understand is that is precisely what happening now with a 5 day work week. Commuters who don't have chauffeurs to drive them around like Sen. Ejercito spend up to three hours commuting to and from work. The 4 day work week plan at least offers them hope of spending one less day in gridlock hell, which is precious time parents can spend with their children.
Sen. Ejercito and other government officials should follow the lead of Sen. Grace Poe and actually spend a day riding public transportation to work to appreciate the hell that their constituents are going through every day.
They may then consider other alternatives to easing traffic congestion like staggering the work hours of employees so that some of them can report for work at 10 am, 11 am or 12 noon and work until 6 pm, 7 pm or 8 pm. With less traffic, they may likely arrive home at the same time that they otherwise would when their work hours end at 5 pm.
What has exacerbated Manila's traffic mess is the decision of the Department of Public Works to embark this year on the simultaneous construction of 15 major road projects which are all expected to be completed by 2016. This has transformed an already congested metropolis into a traffic nightmare.
Government representatives explain that the public works projects are intended to solve traffic congestion and help the Philippines achieve "inclusive growth".
But UP Prof. Jose Regin Regidor questioned just exactly how "inclusive" the road projects can be when they are focused only on commuters who use cars and buses. Prof. Regidor said the government should spend more on mass transit systems to decongest a bursting mega city.
An example of what could be done to improve public transportation is what Bangkok recently entered into with a Japanese consortium to build an urban transit system there for $405 million.
As the Inquirer.net reported on November 4, 2013, "under the deal, ordered by Bangkok Metro Public Co., the consortium will construct a new 23-kilometer (14-mile) rail line in the Thai capital, the daily said, adding the rail operation is set to start in 2016. The Japanese group will supply 63 train cars and build the power grid, signals and rail yards as well as 16 stations for the project. It will also provide maintenance services under a 10-year contract and about 20 technicians with operational expertise will be stationed in Bangkok, the report said." LINK
Bangkok started its Metro Rail Transit system in 2004 serving a total of 240,000 passengers daily with 18 operational stations along 20 kilometers (12 mi) of underground route. Not content with the present MRT system, Bangkok entered into a new contract with a Japanese consortium to construct a new 23-kilometer rail line with 63 trains in 16 stations complete with power grid, signals and rail yards and a 10-year maintenance and service contract with 20 technicians with operational expertise all for $405 million.
Like Bangkok, Metro Manila also has a rapid transit rail system in place called the Metro Rail Transit or MRT-3 which consists of a single line that runs in the general direction along the north and south lanes of Edsa Avenue serving close to 560,000 passengers a day. It was constructed by a consortium of private companies led by Robert John Sobrepena of the Fil-Estate Management, Inc. under a Build-Lease-Transfer arrangement which placed all the risks on the private companies to build the MRT system. The total cost for the project was $675.5 Million with $195 million provided by private sector funds an the balance obtained from foreign loans.
The MRT-3 was inaugurated in 1999 and operated by Metro Rail Transit Corporation (MRTC), the private consortium. In 2010, the state-owned Land Bank of the Philippines and the Development Bank of the Philippines purchased a majority interest in the MRTC by buying out the holders of the foreign loans. Out of 14 members of the MRTC Board, 9 seats belong to government representatives with only 5 seats assigned to the private sector.
This effectively meant that the new MRTC was working at the direction of the Department of Transportation and Communications (DOTC) headed by Joseph Emilio Abaya, the former termed-out, three-term congressman from Cavite who previously chaired the House Appropriations Committee.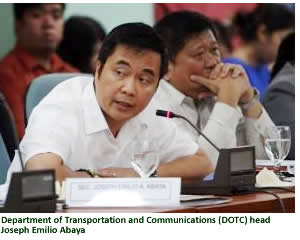 He reportedly received the largest allocation of funds (P408-M) from the Disbursement Acceleration Program (DAP) administered by Department of Budget Management Secretary Butch Abad,.
Instead of expanding the current MRT-3 system that is serving 560,000 passengers daily at full capacity, as Bangkok did, the DOTC has instead asked the Philippine Congress to approve a P54 Billion pesos ($1.285 Billion) allocation in the next fiscal budget for the DOTC to purchase the state-owned bonds of the MRTC purportedly so that it can bid out the contract for a new maintenance provider. This request was endorsed by Budget Secretary Abad.
This is utter nonsense. This P54 Billion budget allocation is a total waste of government resources. It is twice what Bangkok is paying a Japanese consortium to construct a 23 kilometer rail line with 63 cars and a 10 year maintenance contract. The government should use this allocation to construct two more MRT lines to alleviate the congestion of the roadways.
Sen. Chiz Escudero, the chair of the Senate Committee on Finance, announced that he does not accept Abaya's explanation that the DOTC needs the P54 B in order to bid out the maintenance provider for the MRT. "The DOTC can bid that out now without shelling out P54 billion of taxpayer's money," Escudero pointed out.
Escudero said that he wants the P54 Billion that the DOTC plans to use for the buyout of the MRT to be used instead for more essential services for the general public like the much needed infrastructure to ease traffic congestion and disaster preparedness programs.
The DOTC can use less than half of that allocation to enter into a contract with the Japanese consortium that is constructing a new line in Bangkok with a 10 year maintenance contract already built in along with 63 train cars and 16 rail stations.
If a new MRT line carrying 500,000 passengers riders could be constructed, this would mean that about 8,000 buses can be taken out of Edsa. That is what will relieve the gridlock hell that is costing the Philippine economy $57 million a day in lost labor and income opportunities.
This P54 B allocation requested by the DOTC to buy out the shares of the government corporations is a minefield for corruption and should be rejected. It will just be a boondoggle for corruption and will only bring Manila closer to the "gates of hell." Published 11/6/2014
(Please send your comments to Rodel50@gmail.com).