[ads/468x60_02.htm]


e had a feeling this was coming. In his first major speech in the Philippines, Pope Francis called for an end to 'scandalous inequalities' in the country.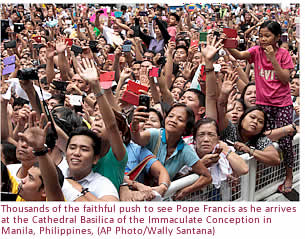 And what better example of a scandalous inequality is there than that a preposterously ridiculous wedding of Dingdong Dantes and Marian Rivera which was officiated by 8 bishops and 7 priests. In addition, this crass wedding featured a 12-foot high wedding cake, a 2-million-peso wedding gown with an exaggeratedly long train that seemed to go on forever...you get the picture. And since the average Filipino subsists on a shockingly paltry $2 a day, what could be more scandalously inequitable than that?
And besides, why did this couple need 8 bishops and 7 priests to marry them? Were they so horribly sinful that a single priest would not suffice and they needed the intersession of all those priests and bishops to receive the blessing from above? Hopefully, that was not the case. More likely the priests—especially the bishops were simply used as props to make a shamefully grand wedding appear even more grand.
Now that Pope Francis himself has pointed out this particular Filipino failing, we hope that the leaders of the Catholic Church here in the Philippines take heed and forbid anything resembling the Dantes-Rivera wedding from taking place inside one of their churches ever again.
Besides the era of over-the-top ostentatious displays of wealth went out of style almost a hundred years ago when the Rockefellers, the Astors, the Hearsts, the Vanderbilts, the Morgans and all the other American moguls who could easily afford to spend a fortune on whatever they wanted, gradually came to the realization that such showing off in public was simply in bad taste.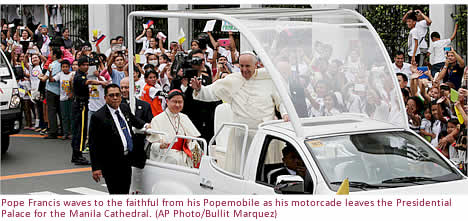 If there is a mission to Pope Francis' papacy, it would be to refocus the church to serve the poor. Unfortunately, for too long, the Catholic clergy in the Philippines has made it a point to cozy-up to the rich and powerful. All that must now change. And it will be the collective responsibility of the laity to see to it that Philippine church officials stay true to that mission. The sheep must now keep an eye on the shepherd. And if our local shepherds begin to backslide, you can rest assured that the pope will hear about it all the way in the Vatican. Thank you Pope Francis! Published 1/16/2015