[ads/468x60_02.htm]



e put on a good show for Pope Francis. He loved it; we loved it; the world loved it. Now the long and painful task of bringing about the changes the pope asked for begins.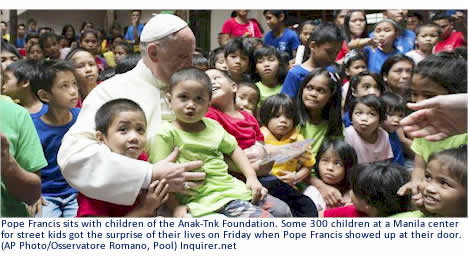 Start with the Philippine Catholic Church. It should refocus its efforts towards the poor. As we wrote in previous editorials, many priests and bishops see themselves as members of the rich and privileged class. They feel more at home in country clubs and dining in expensive restaurants, than they do helping the poor who live in the squatter communities that dot most cities in the Philippines. Priests and nuns run good schools but charge so much for tuition that only the very rich can afford to send their kids to them. They pander to the distasteful Filipino trait of "showing off" by allowing their churches as well as themselves to be used as props for over-the-top baptismal and wedding ceremonies. In short, the Catholic Church has very little in common with poor and marginalized Filipinos. According to Pope Francis, under his watch all that must change.
Next we have corruption. There is no denying that the Philippines today is straining under the weight of corruption. Everyone and everything it seems, is available for a price. This is one trait that knows no social boundaries; the person riding in a brand new Mercedes and the one riding in an old calesa are likely just as corrupt—though the rich of course cause more damage. We Filipinos suspect that many of our public officials are "on the take." These are the ones who are filthy rich when they leave office—if they ever leave at all.
It will be difficult to change a culture like ours where corruption is so deeply engrained. But change it must. Corruption does nothing for a the country, but destroy it over time.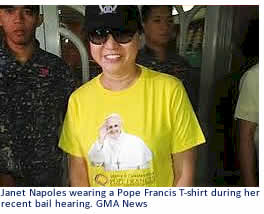 If we Filipinos are truly the devout Catholics we make ourselves out to be, then we have to do as the pope says and put an end to all forms of corruption. The very Pinoy notion that one can be corrupt and still be in a state of grace should be completely debunked once and for all. For example, take Janet Napoles, accused of robbing the poor and marginalized Filipinos of billions in government development assistance funding, she honestly believes she can pray the rosary, wear a Pope Francis T-shirt, and consider herself a devout Catholic. There are millions like her in Philippine society. So many in fact that it might be a good idea for the church to address this particular issue once and for all.

And Catholic schools should start instilling in all its students the moral foundations they will need for a corrupt-free life. So that hopefully—as envisioned by Pope Francis—for future generations of Filipinos, corruption will be a thing of the past. Published 1/22/2015