[ads/468x60_02.htm]


residents and prime ministers, kings and queens; from Prince Charles and Prime Minister David Cameron of Britain, President Francois Hollande of France, President Abdel Fattah el-Sissi of Egypt, President Recep Tayyip Erdogan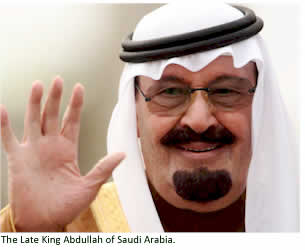 of Turkey and many other heads of state from all corners of the globe have gone or are headed to Riyadh to pay their respects to the late King Abdullah. Even U.S. President Barack Obama cut short his state visit to India to fly to Saudi Arabia.
So why is President Benigno Aquino III just sending his foreign affairs secretary to represent the Country? There is no doubt that DFA Secretary Albert Del Rosario is well respected both in the Philippines and abroad. But the fact that he is not the vice president or even the speaker of the house (the second and third in line from the president) is disconcerting given the large number of overseas Filipinos living and working in Saudi Arabia. For decades, remittances from Overseas Filipino Workers (OFWs) employed in the kingdom have helped boost the Philippine economy to the point where today its GDP growth is one of the highest in the region.
In an article published in InterAksyon.com, writer Veronica C. Uy notes that the late Saudi leader had a "soft spot for Filipinos. " It was under Abdullah's rule that Saudi Arabia and the Philippines concluded a bilateral labor agreement. It was the first such agreement the kingdom had concluded with a manpower-supplying country such as the Philippines. Not only did it give the estimated 670, 000 OFWs working in Saudi Arabia far-reaching rights and safeguards, it also gave undocumented Filipinos living there an opportunity to legalize their status or return to the Philippines without having to pay all the penalties and surcharges incurred because of their illegal stay.
Last but not least, in a supreme act of benevolence towards Filipino OFWs in his kingdom. Abdullah paid 2.3 million riyals of his own money to spare the life of Filipino worker Rodelio "Dondon" Lanuza who was convicted of murder and sentenced to death in 2001. As is the custom in Saudi Arabia, the family of the victim asked for 3 million riyals in blood money to spare Lanuza's life.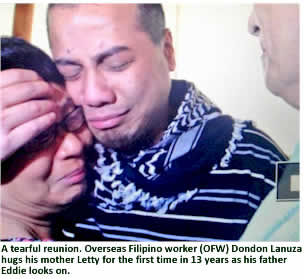 Vice President Jejomar Binay, as presidential adviser on OFW concerns along with expat Filipinos around the globe worked feverishly to come up with the money but only managed to raise 700,000 riyals. King Abdullah eventually stepped in with 2.3 million riyals to cover the difference.
Aquino's detractors quickly point out that his chosen color, yellow, aptly describes him and his administration. In 2012 the entire Philippine delegation was conspicuously absent from the UN Human Rights Council meeting that voted to condemn the grave human rights abuses in Syria. Unnamed sources at the time indicated that the order not to attend came from the "top" as Aquino was afraid that Syrian President Bashar al-Assad and his government might retaliate against Filipinos working in Syria if the Philippines voted for the resolution.
Today Aquino has a great opportunity to show a close ally that the Philippines truly appreciates all that it has done for Filipinos working there. At the same time the president can personally pay his final respects to its former king who demonstrated that he indeed had a "soft spot" for Filipinos. If Aquino showed his concern for Filipinos in Syria in 2012, he should show far more concern for the more than half a million OFWs currently in Saudi Arabia. Sending a cabinet secretary, however well-qualified he may be, unfortunately does not send the right message. Published 1/27/2015