[ads/468x60_02.htm]


hat happened in Mamasapano, Maguindanao on January 25 is a "game changer"—make no mistake about it. Reality as we saw it before this event is not the reality we see now...everything is different; everything has "changed.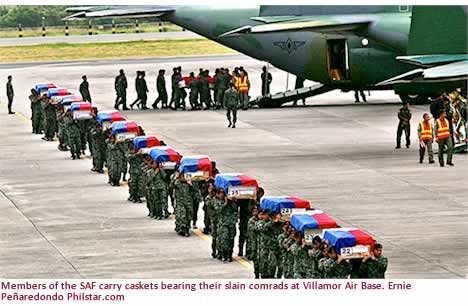 When the Philippine National Police's (PNP) elite team known as the Special Action Force or SAF set out to arrest Zulkifli bin Hir alias Marwan, it had actionable intelligence that the Malaysian fugitive was hiding in the town of Mamasapano. Marwan, an expert bomb maker, is a core member of the terrorist group Jemaah Islamiyah. He also has a USD 5 million bounty on his head as one of the FBI's Most Wanted Terrorists.
When law enforcement has "actionable intelligence" like the SAF had, moving quickly and discretely is a must. If SAF commanders held off until everyone was informed of their operation, Marwan could have been long gone by the time they reach his hideout. Worse yet, the more people that know about the operation, the more likely Marwan and his group could get wind of it.
So now you have a situation where a legitimate government authority like the PNP-SAF whose charter encompasses the entire Philippines cannot freely go into certain areas of the country without the express knowledge and permission of local entities like the Moro Islamic Liberation Front who are themselves well-armed and ready to stop even a legitimate government authority like the national police.
Such a situation would be almost unheard of in most countries but apparently not in the Philippines where the NPA, MNLF, Moro Islamic Liberation Front, BIFF, Abu Sayyaff and all manner of armed bandits have carved out their own little fiefdoms and rule over them without regard for the national government. If the Philippines allows this situation, which has been going on for decades, to continue, it will find that areas under its control will continue to shrink until the country eventually breaks apart like Yugoslavia.
In the first place if one seriously thinks about it, there really is no need for a separate Bangsmoro entity. All Muslim demands can already be met by the country's current political framework. There is no need to create something new and different just for Maguindanao. Besides, a nation should have one set of rules that apply to everyone. Is the Moro Islamic Liberation Front saying that Muslims are so different they simply cannot comply with Philippine rules and thus need to create their own?
President Benigno Aquino III might not realize this but it has become abundantly clear that the establishment of the Bangsamoro is just the first step of a long-term secession strategy that Muslim groups have been planning all along. Their ultimate goal revealed itself last Sunday when the Moro Islamic Liberation Front slaughtered 44 police officers who were conducting an operation they were duly authorized to conduct.
After just recently concluding a peace agreement with the Philippine Government, the massacre on January 25 proves that the Moro Islamic Liberation Front: (a) is still on a war footing despite its peace agreement; (b) has not laid down its arms, nor does it ever intend to do so; (c) does not see the national government as a partner but instead as the enemy; (d) will do as it pleases inside its "own" territory; and (e) wants all entities—including the national government—to seek its permission first before entering or operating it its area.
Aquino earlier dubbed the massacre a "mis-encounter." Most people will point to the fact that in this age of instantaneous communications, there can be no such thing as a 12-hour mis-encounter. This was a deliberate and sustained attack with the aim of finishing off or killing the entire SAF contingent in Mamasapano.
If the Moro Islamic Liberation Front can do what it did even without a Bangsamoro Basic Law (BBL) in place, you can imagine how much more emboldened they will behave once they have their Bangsamoro in place. They will quickly turn it into their own fiefdom and eventually into their own country. The true aim of the Moro Islamic Liberation Front, MNLF, BIFF, Abu Sayyaff, Jemaah Islamiyah, and all other Muslim separatist groups finally reared its ugly head very clearly for everyone to see on Sunday in Mamasapano. They hold absolutely no allegiance to the Philippine government.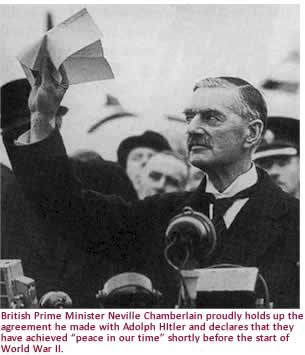 They will go through the motions of working with the government to attain greater and greater autonomy until such time as they can separate completely from this country and establish a state all of their own.
Those who continue to advocate for the creation of the Bangsamoro need only look back to 1938 when then British Prime Minister Neville Chamberlain signed a peace agreement with Adolph Hitler. His Munich Accord even offered Hitler concessions in the hope that it would halt Nazi aggression. It didn't, and many historians today believe Chamberlain's actions actually did more harm than good.
Aquino has to see the Bangsamoro for what it truly is and put a stop to it now, before it is too late. Otherwise, sometime in the distant future, Filipinos might know him as "that clueless and stupid president who gave away Mindanao." That is an awful legacy to have, especially since his father was the great patriot Ninoy Aquino Jr. Published 1/31/2015