[ads/468x60_02.htm]



ith each passing day, it is becoming increasingly clear that the idea of a Bangsamoro is a bad idea. Just as the Memorandum of Agreement on Ancestral Domain (MOA-AD) spearheaded by former president Gloria Macapagal-Arroyo was a bad idea (and declared unconstitutional in 2008 by the Supreme Court). Just as the failed Autonomous Region for Muslim Mindanao (ARMM) during the 1990s was a bad idea.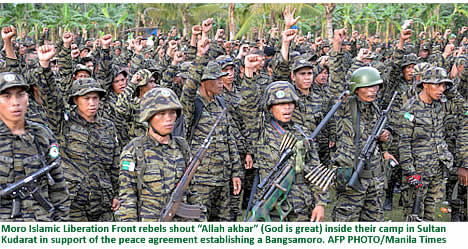 What happened in Mamasapano, Maguindanao on January 25, 2015 should have made it crystal clear to everyone that self-determination by the Moro Islamic Liberation Front—or any other rebel or minority group for that matter—is unworkable. For starters, a Bangsamoro or semi-autonomous region in Mindanao will create more problems than it will solve. By engaging in combat and killing 44 members of the Philippine National Police Special Action Force (PNP-SAF), the Moro Islamic Liberation Front has made it crystal clear that they do not see the Philippine Government or its representatives (the national police in this case) as a legitimate authority in their region. As far as they are concerned, they are the ultimate and only authority in Maguindanao. Many of our readers have pointed this out in their comments to our previous article.
And as we pointed out in that article, the Moro Islamic Liberation Front is playing this naive administration like a fiddle and pretending to negotiate in order to attain ever-greater autonomy until such time as they have the wherewithal to stand on their own. At that point, they will most likely secede from the Philippines and setup their own country—taking all of Mindanao, Palawan, Sulu, and whatever else they can take with them. Again, as our astute contributors have pointed out, if and when the Muslims decide to secede, they will immediately have the backing of their neighbors to the south—Malaysia and Indonesia which are predominantly Muslim, as well as oil-rich countries in the Middle East. And if the blundering incompetence of the present government is any guide, a future Philippine Government will be unable to stop the Moro Islamic Liberation Front from seceding.
The Philippines is such a badly run and mismanaged country because most if not all their elected leaders are mediocre and unfit for the positions they hold. They just happened to be at the right place, at the right time, and got voted into office by a clueless electorate for reasons other than their qualifications to hold that office. This is the case with Philippine President Benigno Aquino III, who never stood out as a congressman or senator, and was elected president because his mother, former President Corazon Aquino happened to pass away shortly before the campaign period for the 2010 elections.
Be that as it may, Aquino was elected president and it is now his duty to govern judiciously. And giving in to the demands of a group like the Moro Islamic Liberation Front—that has armed itself, bullied civilians, and forged alliances with other Muslim countries—is totally injudicious. Giving the Moro Islamic Liberation Front greater power and autonomy in parts of Mindanao will only make matters worse and cause untold grief for future generations of Filipinos who will find those areas increasingly difficult to govern.
Truth be told, if previous generations of Philippine leaders had properly addressed this problem instead of bungling it and then passing it on to future generations to resolve, we might not have this problem today. Aquino must do the right thing and end this whole idea of a Bangsamoro. There can be only one supreme authority in the country—and in the Philippines, it is the Philippine Government. The Moro Islamic Liberation Front it seems does not understand this, why else would they take up arms and kill police if they accept Philippine Government authority over their region.
This Administration, as well as previous ones have been played for fools by the Moro Islamic Liberation Front and Muslim groups like them. And just because we've been digging ourselves into a hole for several decades now does not mean we should continue digging deeper. It is time to stop and find a way out before its too late. There are other ways of giving the Muslims the equality they want without creating convoluted political entities that will prove unmanageable, and play into the hands of those who want to ultimately secede from the Philippine Republic.
It is imperative that Filipinos unite as one and demand that all plans for a Bangsamoro be scrapped for good. Published 2/8/2015



Philnews.com reserves the right to select and edit comments for publication.

[_private/comments_three.htm]