[ads/468x60_02.htm]


he 44 members of the Philippine National Police-Special Action Force (SAF) who were brutally killed in Mamasapano, Maguindanao on January 25, 2015 are heroes twice over: first, they paid the ultimate sacrifice while serving their country; second, they exposed for all to see, the dangers the country will face if the Bangsamoro Basic Law (BBL) is passed.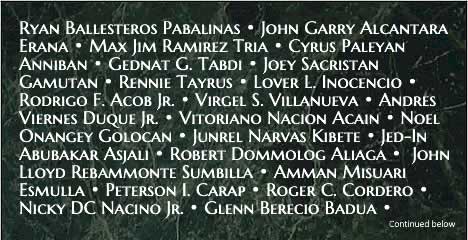 The BBL was well on its way to easy passage in the Philippine House and Senate up until that fateful day in late January when 44 SAF officers were massacred by overwhelming force of the Moro Islamic Liberation Front, in connivance with renegade elements of the Bangsamoro Islamic Freedom Fighters—a Philippine terrorist organization who in 2014 made public their support for the terrorist group known as ISIS.
The police operation which started before dawn had wound down by mid-afternoon with SAF forces either dead or dying in the battlefield. Those who lay wounded though were still breathing were finished off by shots to the head at close range. Then all their military equipment including personal items like cellphones were stolen from them.
The death of the valiant SAF troopers will be long remembered not only because they were killed in the line of duty but also because the fate that befell them opened the eyes of the Filipino people to the fallacy of peaceful coexistence with an autonomous Bangsamoro entity in Mindanao. The Moro Islamic Liberation Front, despite actively engaged in peace talks with the Philippine government, has never stood down from its war footing.
A Comprehensive Agreement on the Bangsamoro was recently signed in March of 2014. Malaysian Prime Minister Najib Razak even flew to Manila to witness the signing. But despite all the hard work and goodwill that had been built over the years, the ground troops of the Moro Islamic Liberation Front had no qualms about pulling the trigger to kill uniformed SAF police officers representing the Philippine government. Their actions prove they have no respect, only disdain and spite for that government.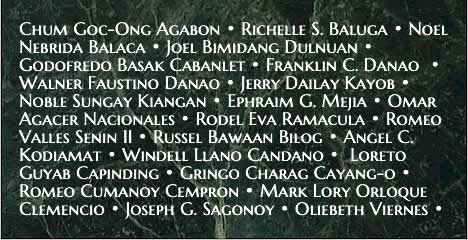 The 44 SAF troops who died that day showed their countrymen what would await them if the BBL passes both houses of congress and the Bangsamoro becomes reality. No future president will ever be able exert his or her authority over the Bangsamoro. More than likely, the Bangsamoro will spread until it encompasses most if not all of Mindanao, possibly Palawan and maybe even parts of the Visayas. It will eventually become a nation all of its own and the Philippines will at some point in time have to concede that it can no longer exercise control over Bangsamoro territory.
That might have been this country's future...if not for the SAF 44. Every Filipino alive today owes them a debt of gratitude for their sacrifice. But Filipinos of tomorrow will also see them as the heroes who kept the country whole. Published 2/15/2015