n June 12, 1898 the Philippines declared its independence from Spain. The event took place in the Kawit, Cavite home of General Emilio Aguinaldo who announced to the world the Filipinos' determination to be the masters of their national destiny.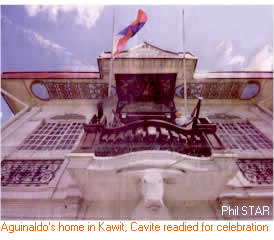 It was also the first time the Philippine flag, painstakingly sewn by Marcela Agoncillo, was unfurled, as the San Francisco de Malabon Marching band played Julian Felipe's Lupang Hinirang.
Since that fateful June day one hundred and ten years ago, the Philippines has seen the departure of one colonial power—Spain, the arrival of another—the United States of America, and the invasion by a third—Japan. Let us never forget the courage and bravery of those Filipinos who fought and gave up their lives resisting each of those three invaders.
During the seventies and eighties, the Filipino people once again showed the world their willingness to fight for freedom and democracy in the face of tyranny and dictatorship.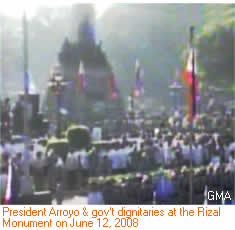 EDSA I, showed the world that Filipinos had not lost their spunk and were again, ready to lay-down their lives for those cherished ideals.
Despite the adversity that has been thrown their way, Filipinos have shown that they are resilient—they pick themselves up and move on. Filipinos have the ability to make the Philippines a prosperous country, and a place where the youth can grow to attain their full potential.
Since 1898, Filipinos have longed to take their rightful place on the world stage. And today more than ever, Filipinos are prepared to play an essential role in the emerging global community. The only thing they need is a true leader who can get them there. Published 6/11/2008