he vast majority of Filipinos both in the islands and abroad have heard of the Visconde massacre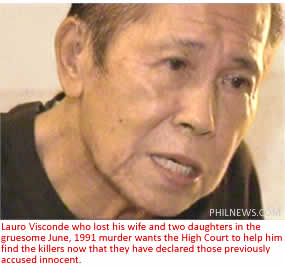 (at one time dubbed "the "case of the century") which took the lives of Estrellita Visconde and her two daughters Carmela and Jennifer. The Philippine Supreme Court on December 14, 2010 reversed the January, 2000 decision of Judge Amelita Tolentino of the Paranaque Regional Trial Court that sentenced: Hubert Webb, Peter Estrada, Hospicio Fernandez, Michael Gatchalian, Antonio Lejano II and Miguel Rodriguez, to life imprisonment.
Although the Trial Court's ruling was upheld by the Court of Appeals on December of 2005, the High Tribunal noted that it found the testimony of star-witness Jessica Alfaro questionable at best and stated that the prosecution failed to prove the guilt of the accused beyond reasonable doubt.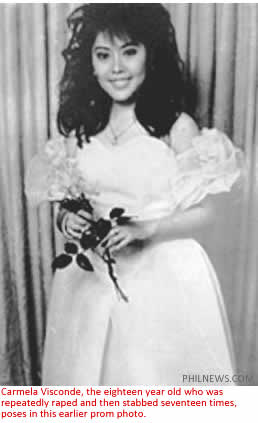 If such dramatic a court reversal had occurred in say, the United States, it would immediately be heralded as a triumph of jurisprudence. Citizens would be joyfully celebrating the victory of truth and justice, ecstatic that those falsely accused would now be set free. In the Philippines however, no such celebrating was noted other than by the friends and families of those set free. Immediately rumors began spreading that some justices had been paid-off, noting that arguments for the reversal were weak and highly predictable.
Since the Marcos era, the Philippine government—including the Judiciary—has suffered from a deep distrust by its citizenry. Nothing is ever taken at face-value and there is always a more sinister motive attributed to anything the government does. In the High Court's Visconde Massacre decision, there is widespread speculation that some justices were bribed. Whether true or not, the Judiciary's credibility suffers and that lack-of-credibility eventually affects the country as a whole.
Most of PHILNEWS.COM's readers reside outside the Philippines and we would like to get your thoughts on this issue. Do you think the justices were correct in reversing the lower courts' decisions? Click on this link to participate in our poll.